Online Dentistry Show – Zoom boom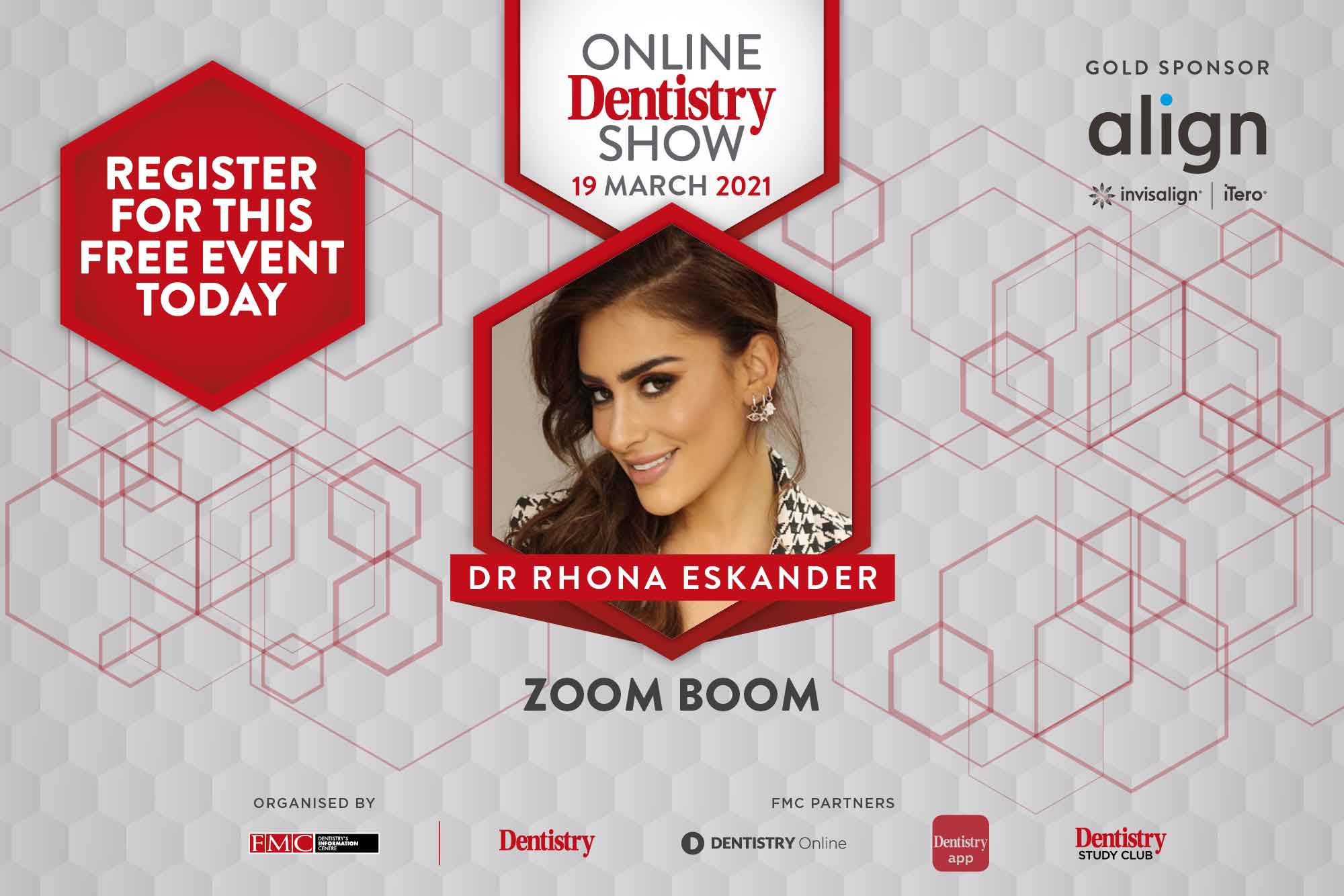 Join Rhona Eskander as she discusses the 'Zoom boom' at this year's Online Dentistry Show on the 19 March.
Now more than ever is the perfect time to do Invisalign.
There has been a demand and surge for Invisalign. Why? People have time, they have patience and they value healthcare professionals.
The motivating factors dental professionals are witnessing is being confronted with our own appearance constantly – the dynamic movements of the mouth mirroring you.
Patients want to feel confident, more so than ever on their digital platforms.
Rhona Eskander
Dentist Dr Rhona Eskander graduated from Leeds University in 2010. She completed her vocational training in a practice in Kent.
During this year she won the prize for the 'Best Case Presentation'. This was for a complex restorative case that involved several disciplines in dentistry.
She was awarded Best Young Dentist in 2016/2017 at the prestigious Dentistry Awards and has subsequently been shortlisted for several awards including wins at the 2017 and 2018 Aesthetic Dentistry Awards.
Dr Eskander has been trained by one of the UK's leading cosmetic dentists at the Smile Academy. She completed courses at the Eastman Institute and is a member of the British Endodontic Society, the British Dental Association and the Faculty of the Royal College of Surgeons.
She recently travelled to Peru where she provided dental treatments and increased oral health awareness for patients in need.
The Online Dentistry Show
The Online Dentistry Show is back by popular demand, running on the 19 March 2021 and completely free to attend.
This is the second year running the virtual exhibition and conference for UK dentistry. And 2021's Online Dentistry Show promises to be bigger and better than before.
To register for free, simply visit dentistry.co.uk/shows/online-dentistry-show.
Leading speakers from the dental profession will also offer delegates up to six hours of ECPD throughout the day. They will appear across three lecture theatres covering:
Private dentistry
Digital dentistry
Clinical dentistry.
'The Online Dentistry Show 2021 promises to deliver leading speakers covering topics delegates won't want to miss,' Seb Evans, Dentistry Online editor, says.
'In 2020, thousands of delegates logged on for the inaugural Online Dentistry Show and the feedback we received was great.
'So, this year, we've gone bigger and better. Consequently, along with a leading line up of speakers, delegates can walk around a virtual exhibition and speak to manufacturers about the latest dental tech.
'Best of all, it's completely free to attend. So make sure you register today.'
To register for free, simply visit dentistry.co.uk/shows/online-dentistry-show.
---
Other speakers announced for the Online Dentistry Show: