Online Dentistry Show – utilising the hygienist and therapist scope of practice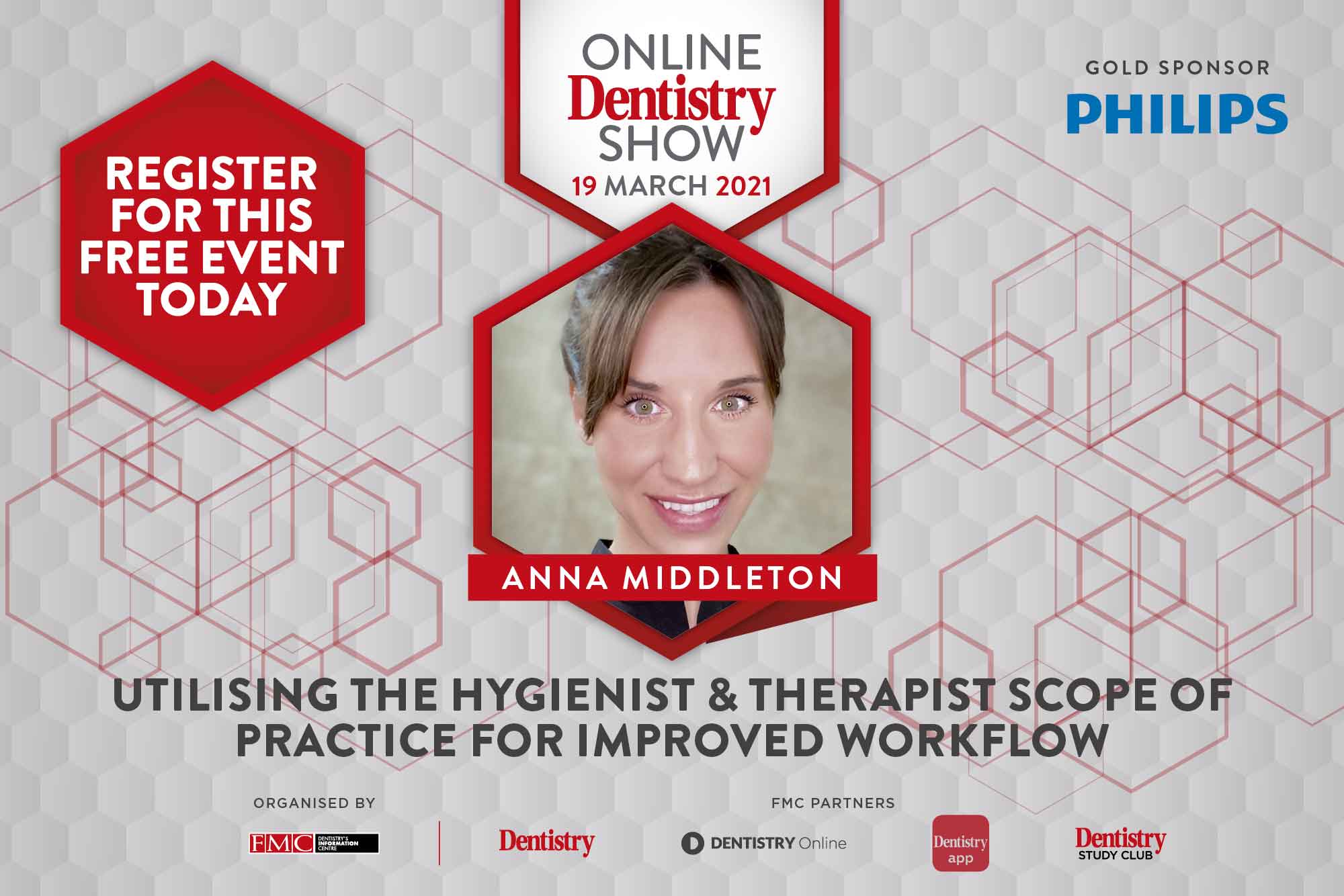 Anna Middleton will cover how practices can utilise the hygienist and therapists' scope of practice at the Online Dentistry Show.
During this webinar, Anna will discuss her experiences of how she is using her scope of practice in the dental setting.
Direct access has been a huge source of patients for Anna's London Hygienist business. Since last year she has seen an increase of new patients and now sees between five to 10 new patients every week.
She puts this success down to utilising her full hygienist scope of practice. Anna was motivated to return to university to become a dental therapist because she could see how her business would benefit, as well as that of the dental practices she works in.
This webinar will look at the new patient journey. But also how DHTs can manage existing patients. And what work a DHT can undertake in order to improve practice workflow and appointments.
This webinar will also showcase how Anna has marketed herself to gain direct access patients.
Key learning objectives:
Understand the scope of practice of DHTs and how to implement this into practice
See examples/cases of how to implement various elements of the DHT scope into a daily workflow
Gain confidence in working under direct access
Also explore marketing methods.
Anna Middleton
Anna is a dedicated and passionate award-winning dental hygienist and newly-qualified therapist. She started 'London Hygienist' with the mission to change the way oral health care is delivered to patients.
Anna studied at the Eastman Dental Hospital after working as a dental nurse, and graduated in 2015 from the Faculty of Royal College of Surgeons. She also recently completed the one-year top up BSc in oral health science at the University of Essex.
Anna is a key opinion leader for Philips as well as a guided biofilm therapy (GBT) ambassador for EMS Dental and a Swiss Dental Academy trainer.
She is an ambassador for the British Society of Hygiene and Therapy and also newly appointed early careers group representative for the British Society of Periodontology.
Anna lectures and writes regularly for both industry and consumer press. You can follow her on social media @londonhygienist.
The Online Dentistry Show
The Online Dentistry Show is back by popular demand, running on the 19 March 2021 and is completely free to attend.
This is the second year running the virtual exhibition and conference for UK dentistry. And 2021's Online Dentistry Show promises to be bigger and better than before.
To register for free, simply visit dentistry.6connex.eu/event/onlineshow/register.
Leading speakers from the dental profession will also offer delegates up to six hours of ECPD throughout the day. They will appear across three lecture theatres covering:
Private dentistry
Digital dentistry
Clinical dentistry.
'The Online Dentistry Show 2021 promises to deliver leading speakers covering topics delegates won't want to miss,' Seb Evans, Dentistry Online editor, says.
'In 2020, thousands of delegates logged on for the inaugural Online Dentistry Show and the feedback we received was great.
'So, this year, we've gone bigger and better. Consequently, along with a leading line up of speakers, delegates can walk around a virtual exhibition and speak to manufacturers about the latest dental tech.
'Best of all, it's completely free to attend. So make sure you register today.'
---
To register for free, simply visit dentistry.6connex.eu/event/onlineshow/register.
Other speakers announced for the Online Dentistry Show: