Online Dentistry Show – everything you need to know about buying a dental practice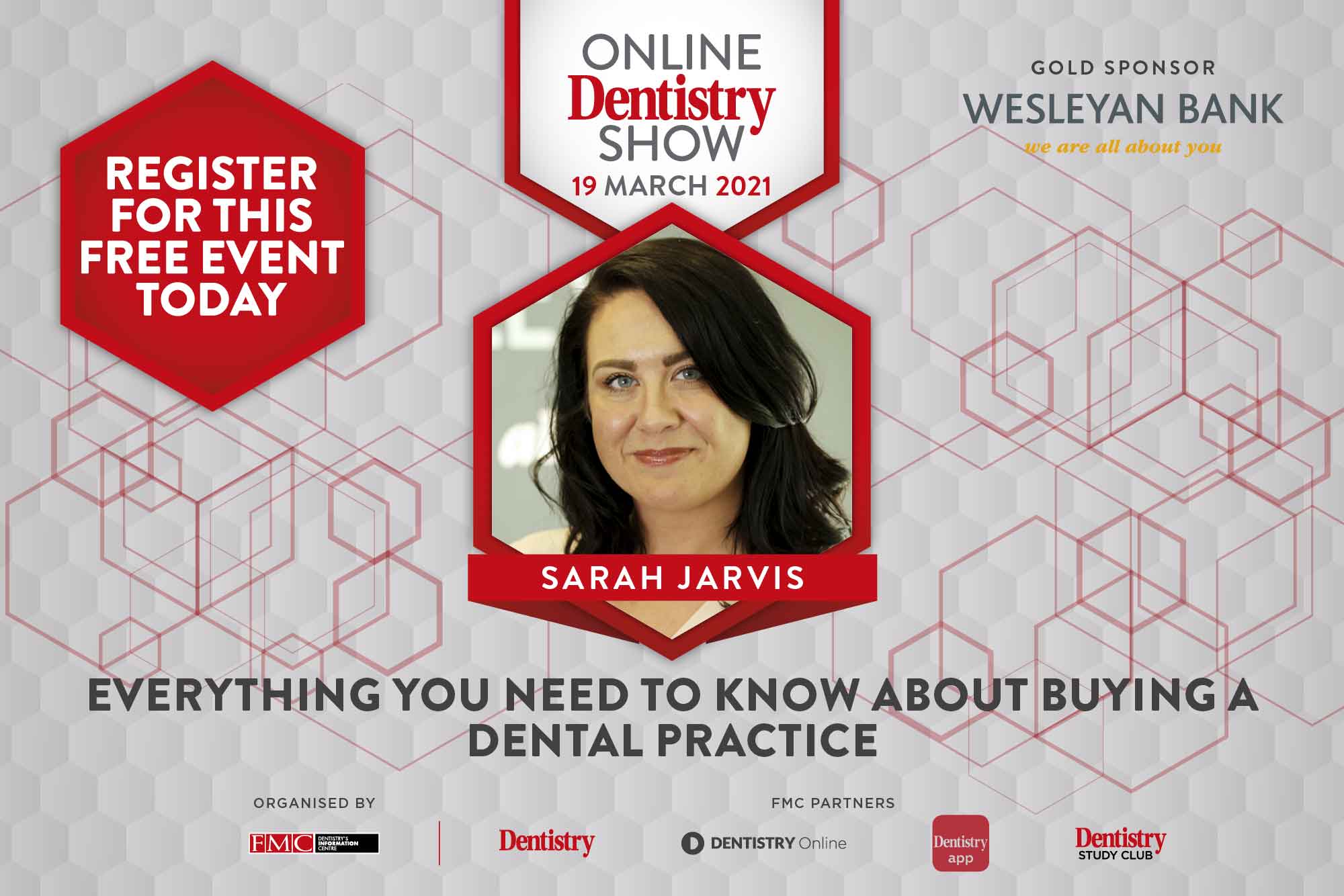 Join Sarah Jarvis as she talks delegates through how to purchase a dental practice at this year's Online Dentistry Show.
During this webinar, Sarah will take a holistic approach to buying a practice. She will look at everything from the soft skills a dentist will need, such as leadership, HR and accounting, through to finding and appraising practices and deciding whether private, NHS or mixed is right. As well as what you need to include in a business plan, and finally getting finances in place to buy the practice.
Key learnings delegates will come away with include:
Recognise what soft skills you need to develop to successfully run a practice
How to identify a practice that is suitable for your requirements
And finally, understand who can help to reduce the impact of the problem.
Sarah Jarvis
Sarah Jarvis is a professional banker. She has been working in healthcare for more than 10 years and therefore has a wealth of experience from different banking backgrounds.
She started her career as a business manager in the Baker street area and was also immersed in the healthcare industry. During this time her interest in the sector bloomed.
In Sarah's time as healthcare relationship manager, she has helped 100s of dentists to buy or upgrade their dream practices.
The Online Dentistry Show
The Online Dentistry Show is back by popular demand, running on the 19 March 2021 and is completely free to attend.
This is the second year running the virtual exhibition and conference for UK dentistry. And 2021's Online Dentistry Show promises to be bigger and better than before.
To register for free, simply visit dentistry.6connex.eu/event/onlineshow/register.
Leading speakers from the dental profession will also offer delegates up to six hours of ECPD throughout the day. They will appear across three lecture theatres covering:
Private dentistry
Digital dentistry
Clinical dentistry.
'The Online Dentistry Show 2021 promises to deliver leading speakers covering topics delegates won't want to miss,' Seb Evans, Dentistry Online editor, says.
'In 2020, thousands of delegates logged on for the inaugural Online Dentistry Show and the feedback we received was great.
'So, this year, we've gone bigger and better. Consequently, along with a leading line up of speakers, delegates can walk around a virtual exhibition and speak to manufacturers about the latest dental tech.
'Best of all, it's completely free to attend. So make sure you register today.'
---
To register for free, simply visit dentistry.6connex.eu/event/onlineshow/register.
Other speakers announced for the Online Dentistry Show: