How I did it – building Yoursmile Clinic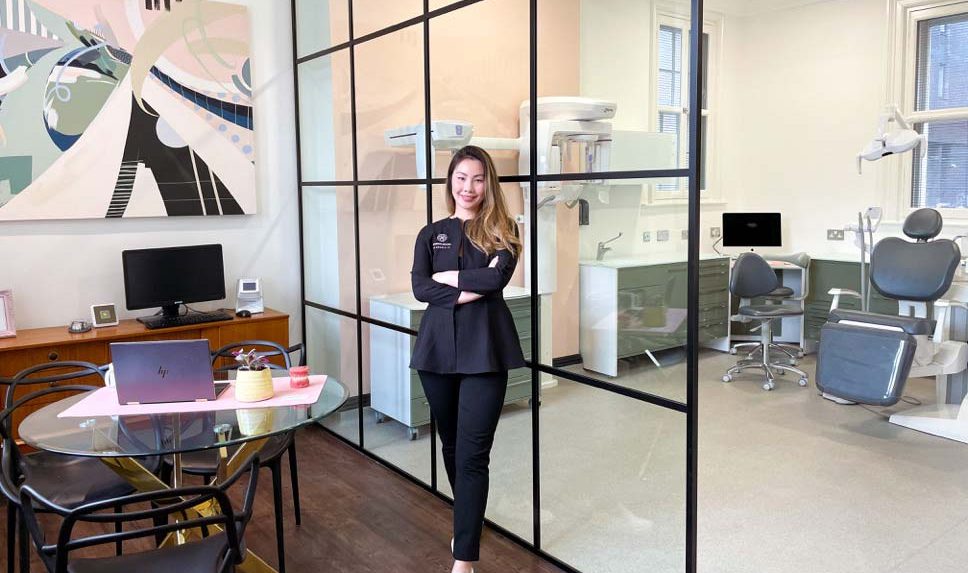 Here Angela Ly describes her experience building Yoursmile Clinic during the COVID pandemic and who helped her along the way.
Angela Ly, a past winner of Best Young Dentist, qualified with honours 10 years ago from Manchester University. She worked in an NHS general practice for several years before deciding to make the move into private practice.
Her interests have always been in minimally invasive cosmetic dentistry and orthodontics.
Whilst working in several private practices around the north west and Yorkshire, she always dreamt about owning her own practice one day.
She set up a squat practice in Manchester 2020 – Yoursmile Clinic – in possibly the most challenging year in dental history. During this interview she tells us how she did it.
Ticking the boxes
Initially I rented a room from another dentist for around four years. This gave me the opportunity to build up my patient base within the city centre.
The details of the lease on the new premises in Manchester was probably the trickiest part of the transition. It took a long time to sort out. However, I utilised this period to apply for planning permission and to work on the layout plans for clinic with RPA Dental.
This meant that as soon I had the keys in July, the RPA Dental team was able to start work on the new premises almost immediately.
I always had a very clear idea of how I wanted my practice to look like and feel.
The Rochdale Canal Company Office is a grade II listed building. It has architectural and historical significance. It is also marked by a castellated gateway and has beautiful windows and high ceilings, which was in keeping with my aesthetic vision.
The location is prime with easy access to train links, bus stations and car parks.
All in all, this beautiful old building ticked all the boxes for what I wanted. As well as the kind of experience I wanted to provide for my patients.
Selecting the right partners
When faced with the prospect of such a big project in such a challenging building, it makes a lot of sense to explore a number of companies who might be able to equip the practice.
I knew I wanted a certain type of continental chair delivery system. So I initially spoke to a few companies to see how they could work with me, not only providing the dental chairs, but in assisting with the whole project.
However, I was not impressed by how long some took to respond.
I asked around and a couple of dentists recommended RPA Dental for their chairs, cabinetry, and overall excellent service.
I made some tentative enquiries and very quickly, RPA Dental were on board and receptive to my needs. From the first impression, they scored very highly.
Then COVID struck! It presented a number of massive challenges I had obviously not foreseen.
I was due to to sign my lease days before lockdown. However, due to the uncertainty at the time we chose to delay this.
The fact that the profession had to close for three months actually provided me with an opportunity to focus on the squat practice, the planning and designing and the equipment details.
RPA Dental assisted me through this process, which was a tremendous relief. It also meant that builders were all prepped from the minute the lease was signed.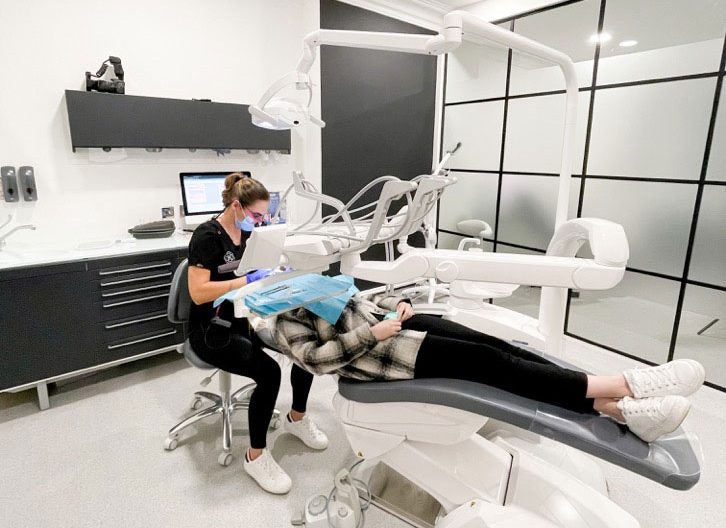 Styling the practice
I wanted to create a warm, inviting, and comfortable space. I didn't want it to feel like a typical dental practice.
From our feedback from patients, we have definitely achieved that.
I have two treatment rooms to equip and decided to go for the Stern Weber dental packages. They are very ergonomic and comfortable for both the dentist and patients alike.
I opted for the 380TRC unit because it comes with a knee break rotating chair. This means that I can sit face to face with my patients. It is ideal for assessing cosmetic work, and for the overall patient experience.
RPA dental helped with logistics, such as where to position the chair and design layouts for the best patient journey.
We then opted for Tavom and Dental Art bespoke medical furniture. These are high quality steel cabinets, built to last and they look stunning.
For my digital needs I chose the Myray X5 OPG system with lateral ceph. This is perfect, with a small footprint and gives me the option to upgrade to 3D imaging as the practice grows.
RPA Dental even kitted us out with the Pastelli medical uniforms so that we look as stylish as the practice.
Going the extra mile
RPA Dental has been consistent throughout the process.
It is comforting to see that there are still companies out there who are still happy to go the extra mile.
Communications have been constant and truly amazing. I can genuinely say that no matter how late my calls were, there was always someone ready to listen, help and advise.
Adam Shaw was always on hand to give me advice when I was unsure on how to progress. He acted as the project manager, liaising with everyone to ensure that my journey was a smooth and stress-free one.
The team was accommodating and anticipated my every need. In fact, it was a really flawless service.
Interestingly I was not treated with any favour. Other dentists reported that their experience with RPA Dental has been exactly the same, just brilliant.
RPA Dental
When you spend a lot of money, you want certainty that someone is there when you need them.
RPA Dental always sends engineers out fast when you have issues, which is so reassuring. They supply high quality chair packages that you can customise to your every need. This means each practitioner has their own settings and profiles.
The equipment also features nice touches for the patients. When you sit them up for a rinse, the electronic spittoon bowl swivels towards them automatically. The water from the three-in-one syringe is heated so that it is not too cold and sensitive for patients.
That is the kind of small details that makes a difference to me. And I like to think it makes a difference to my patients also.
Sure, some of the equipment RPA Dental provides is more expensive than other versions. However, as they are higher quality, they last longer, so are worth investing in.
They were also able to price match some equipment like the Kavo Nomad handheld X-ray and Pspix phosphor plate X-ray processor, so they were always competitive.
You also have to factor in the level of support, service and advice they offer, and that added value is priceless.
Next steps for Yoursmile Clinic
We have room plumbed ready for a potential third surgery. So RPA Dental are already in my plans for when I am ready for the next stage of my practice development.
For colleagues considering setting up a new dental clinic, I would suggest that you need to have a plan. Visualise what you wish to achieve from the outset.
Don't be afraid to ask for help and don't worry if things don't go exactly to plan.
I would ask myself why it is important I set up my own clinic and write all the reasons down. For me this was a huge motivator, especially when there were challenges and setbacks along the way. I had many challenges and setbacks!
Always refocus and keep your mind on the reasons why you are doing it.
I am so glad I took the risk, despite all the challenges. And I am so proud of how we transformed the space in such a short time.
Adam and the RPA Dental team definitely made the process easier.
---
For more information about RPA Dental please visit rpadental.com.
To view a gallery of images of the Yoursmile Clinic visit www.yoursmileclinic.co.uk/the-clinic.