Online Dentistry Show – sustainability in dentistry and why it matters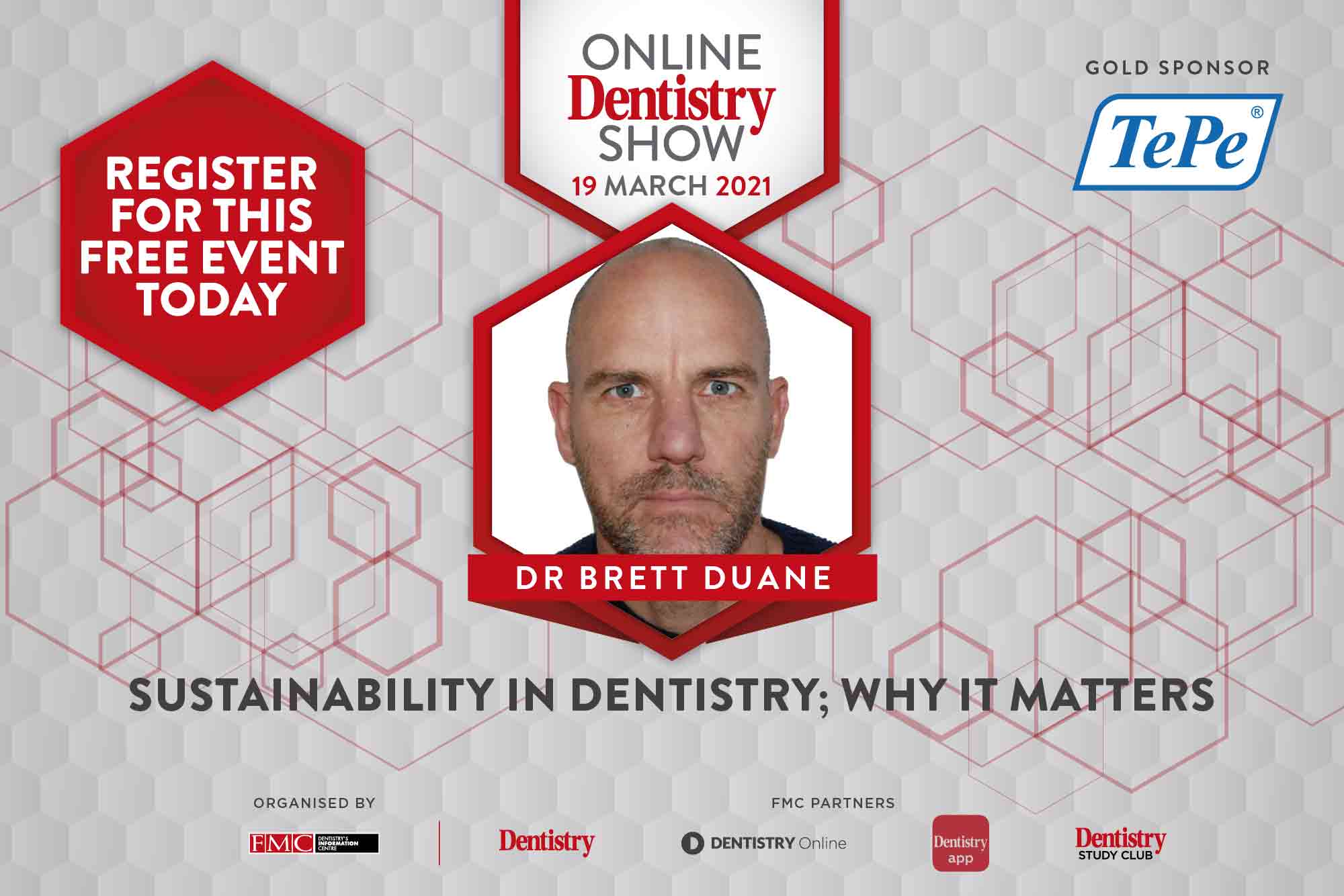 Join Brett Duane as he discusses sustainability in dentistry at this year's Online Dentistry Show on the 19 March.
Associate Professor Duane will focus on what the dental team can do within the dental practice to improve their sustainability.
He will focus on the main sustainability areas of procurement, travel, energy, biodiversity and also waste. The lecture will bring together dental and associated healthcare research carried out recently within these areas.
At the end of the lecture, delegates will:
Understand the concept of sustainability as well as why it is important within healthcare
Understand the relationship between sustainability, planetary health and also personal health
And understand ways the dental team can influence and improve environmental sustainability through changes to travel, energy use, biodiversity, procurement, and prevention.
Brett Duane
Brett Duane graduated from the University of Otago, New Zealand with a degree in dentistry.
He has worked in primary dental care as an associate dentist in England, and also a self-employed dentist in Australia and New Zealand.
Brett has a masters in management in health (University of Newcastle, Australia), a masters in public health (University of Glasgow) and a PHD in dentistry (Finland).
From 2001-2005 he worked as senior dental officer in an Aboriginal health service. Then, in 2006-2010 Brett was assistant clinical director (oral health improvement), Scotland.
From 2014-2015 he was consultant in dental public health in Public Health England and is now currently associate professor in dental public health at Trinity College, Dublin.
Brett's main interests and research are the delivery of cost-effective high quality oral health services, inequities in oral health, the oral health of the more vulnerable. And also ensuring that the delivery of oral health services are environmentally sustainable.
He collaborates with the Centre for Sustainable Health Care. Brett has spoken internationally at a number of conferences in Europe, and abroad, both online and physically.
The Online Dentistry Show
The Online Dentistry Show is back by popular demand, running on the 19 March 2021 and is completely free to attend.
This is the second year running the virtual exhibition and conference for UK dentistry. And 2021's Online Dentistry Show promises to be bigger and better than before.
To register for free, simply visit dentistry.6connex.eu/event/onlineshow/register.
Leading speakers from the dental profession will also offer delegates up to six hours of ECPD throughout the day. They will appear across three lecture theatres covering:
Private dentistry
Digital dentistry
Clinical dentistry.
'The Online Dentistry Show 2021 promises to deliver leading speakers covering topics delegates won't want to miss,' Seb Evans, Dentistry Online editor, says.
'In 2020, thousands of delegates logged on for the inaugural Online Dentistry Show and the feedback we received was great.
'So, this year, we've gone bigger and better. Consequently, along with a leading line up of speakers, delegates can walk around a virtual exhibition and speak to manufacturers about the latest dental tech.
'Best of all, it's completely free to attend. So make sure you register today.'
---
To register for free, simply visit dentistry.6connex.eu/event/onlineshow/register.
Other speakers announced for the Online Dentistry Show: