Online Dentistry Show – why now is the time to introduce patient finance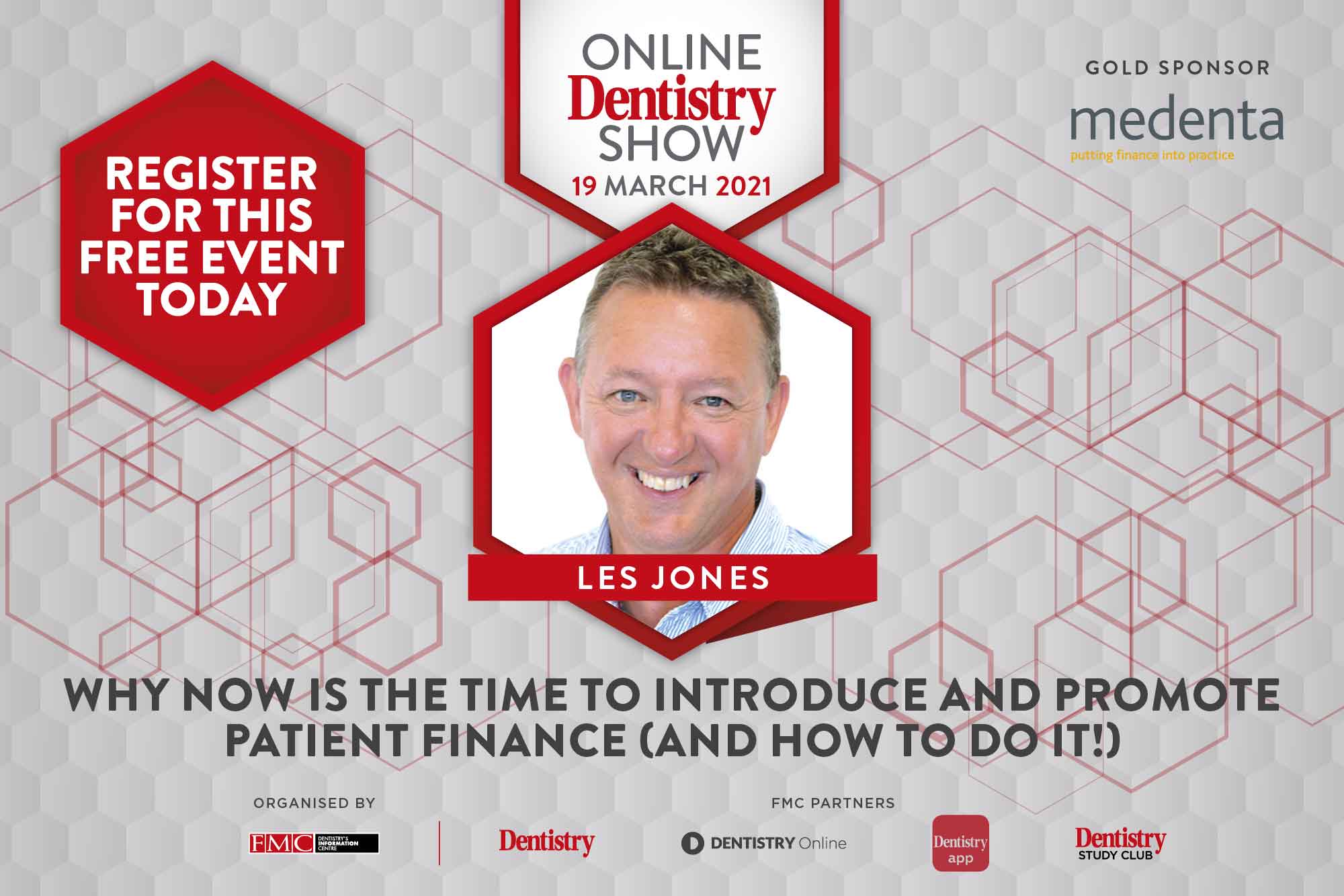 Les Jones will explain why now is the time to introduce patient finance at the Online Dentistry Show this March.
If you're considering introducing patient finance into your practice, join this dental webinar and discover why there is no better time to do so!
Richard Scarborough, head of Medenta, and Ellie Young, business development manager at Medenta, will join Les Jones to discuss the current dental landscape and how things have changed over the last 12 months. They will also cover the benefits of offering patient finance for you and your patients. And why now is a great time to introduce and promote patient finance.
The webinar will split into three 15-minute sections. So, if you're short on time you can pick and choose which section you'd like to listen to.
Outcomes you will take away from this webinar include:
Learn how introducing patient finance could increase profits
Understand the benefits of patient finance to your practice and your patients
Discover how patient finance could increase your treatment uptake.
Les Jones
Les Jones is the creative director at Wesleyan and the Practice Plan Group.
He has over 30 years' experience of working within the creative and dental sectors in the fields of design, marketing, branding and also strategic consultancy.
He is a regular speaker at dental events across the UK. Les focuses on helping dental teams to get creative in their marketing and communications.
The Online Dentistry Show
The Online Dentistry Show is back by popular demand, running on the 19 March 2021 and completely free to attend.
This is the second year running the virtual exhibition and conference for UK dentistry. And 2021's Online Dentistry Show promises to be bigger and better than before.
To register for free, simply visit dentistry.6connex.eu/event/onlineshow/register.
Leading speakers from the dental profession will also offer delegates up to six hours of ECPD throughout the day. They will appear across three lecture theatres covering:
Private dentistry
Digital dentistry
Clinical dentistry.
'The Online Dentistry Show 2021 promises to deliver leading speakers covering topics delegates won't want to miss,' Seb Evans, Dentistry Online editor, says.
'In 2020, thousands of delegates logged on for the inaugural Online Dentistry Show and the feedback we received was great.
'So, this year, we've gone bigger and better. Consequently, along with a leading line up of speakers, delegates can walk around a virtual exhibition and speak to manufacturers about the latest dental tech.
'Best of all, it's completely free to attend. So make sure you register today.'
To register for free, simply visit dentistry.6connex.eu/event/onlineshow/register.
---
Other speakers announced for the Online Dentistry Show: