Online Dentistry Show – implant planning with Exoplan 3.0 Galway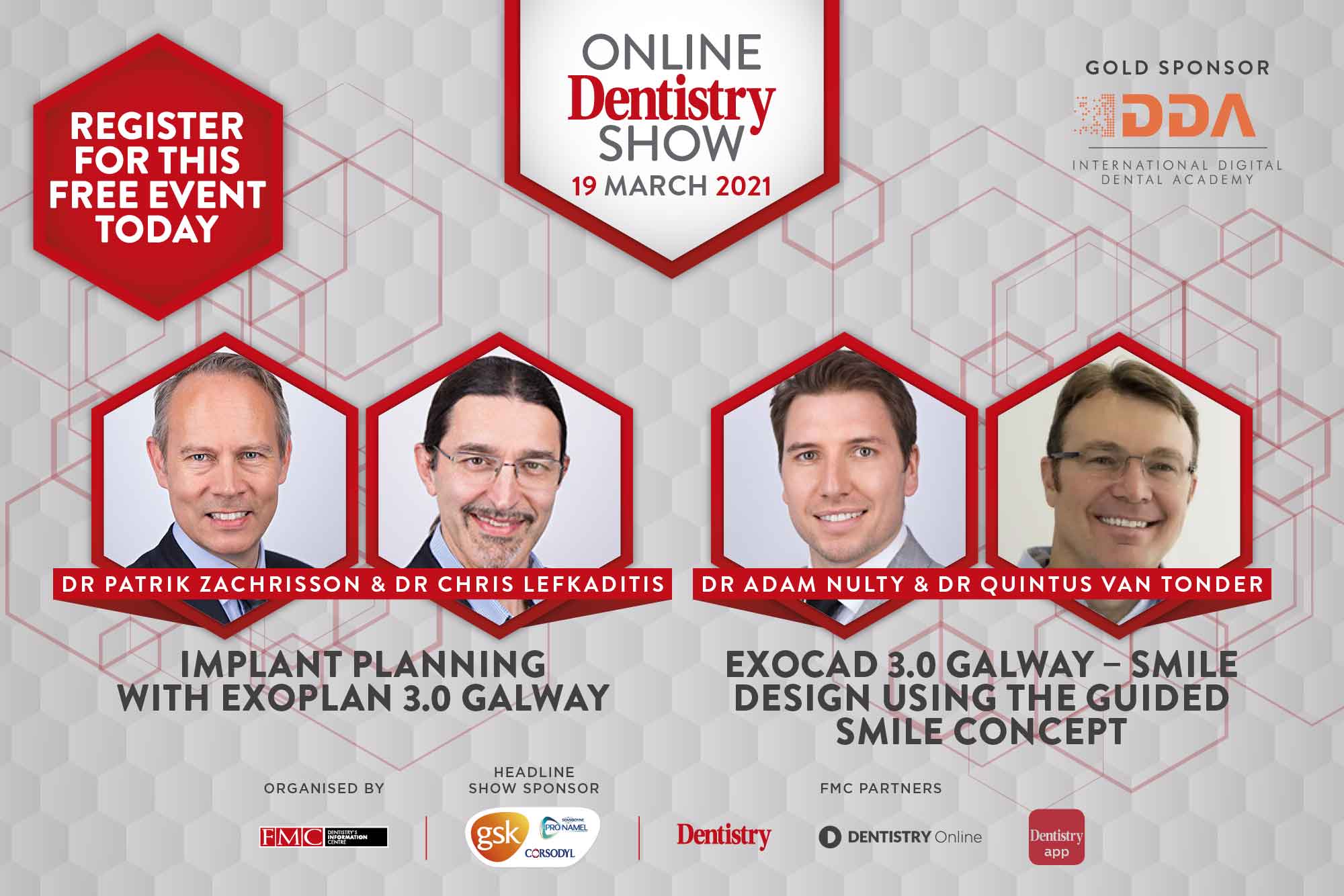 Join a panel of speakers discuss implant planning at the Online Dentistry Show on the 19 March.
The International Digital Dentistry Association will host two lectures on implant planning at this year's show.
The first lecture is with Professors Patrik Zachrisson and Chris Lefkaditis. They will discuss the summary of the new 3D concept in digital smile design.
The guided smile concept aims to make the entire implant process guided, with the end result in 3D prior to the prep of the teeth. Professors Zachrisson and Lefkaditis will show and discuss smile design principles and follow the guided smile concept through a 2D and 3D smile design using Exocad Galway.
Professors Adam Nulty and Quintus Van Tonder will then give a summary of the clinical workflow using Exocad Galway.
They will show and discuss how to set up a case for implant surgery using a surgical guide based on a CBCT.
Patrik Zachrisson
Patrik Zachrisson is a key opinion leader with CEREC by Dentsply Sirona. He is a leader in digital dental technologies and KOL for Planmeca, provider of dental equipment intraoral scanners and milling machines.
Patrik Zachrisson is a founding partner and course director for Digital Dental Academy. He teaches and mentors fellow dentists advanced techniques in restorative, implant dentistry and orthodontics in digital dentistry.
Patrik Zachrisson is an international speaker on implants, orthodontics and digital dentistry. He sits as vice president of the International Digital Dental Academy and is on the orthodontic and on the laboratory committees.
Chris Lefkaditis
Chris Lefkaditis is one of the three founding members and a course director for the Digital Dental Academy. He regularly provides courses to share his knowledge and experience with the aim of inspiring colleagues to adopt modern technologies with good working protocols.
Chris was one of the pioneers of digital dentistry in the UK. After mastering the CEREC ecosystem and chairside ceramics since CEREC entered the UK market over a decade ago.
Chris is widely respected as a dental materials master. He has an unparalleled knowledge in CAD/CAM materials and the treatment of these materials in practice and the lab.
The combination of his knowledge of CAD/CAM dentistry and implantology has also enabled Chris to be at the forefront of guided implant surgery. He has used several generations of computer aided design software.
Chris is a respected lecturer and mentor and uses this vast knowledge in his role as vice president of the International Digital Dental Academy.
Adam Nulty
Adam is a highly experienced clinician with a special interest in restorative and aesthetic dentistry, digital dentistry and implantology.
In 2013 he completed a master of science degree in restorative and aesthetic dentistry from the University Of Manchester, achieving a distinction. He is currently researching guided implantology in a PhD at Leeds University.
Adam lectures and mentors on the restorative and aesthetics MSc for Manchester University. He is course director and lecturer for the SMOP Guided Implant System.
He currently sits as president of the International Digital Dental Academy, co-founding the unbiased platform for digital dentistry along with the Digital Dental Academy Courses.
Shortlisted, finalist and winner of several industry awards, from Best Young Dentist 2013, 2014, 2015 and 2017 to Best Dental Team and Best Oral Health Promoter 2014 and 2015 and winner of several categories in the 2015 and 2018 Aesthetic Dentistry Awards.
Overall a respected lecturer and mentor in the field of 3D radiography, digital dentistry, implant planning and template guided implant placement.
Quintus Van Tonder
Dr van Tonder qualified at the University of Stellenbosch, Cape Province, South Africa in 2000 with a BChD degree.
After completion of his studies, he worked for a year in a state clinic in the Mosselbay region in South Africa.
During this time, he treated thousands of underprivileged patients in need of care. In 2001 he moved to the UK.
In 2011 he completed a diploma in aesthetic dentistry taking a keen interest in cosmetic and aesthetic dentistry. He loves technology and is constantly looking to implement the latest innovations in the practice that will benefit our customers. One of these is the CEREC system.
Since investing in the system, he has completed a tremendous amount of training and has built up a wealth of experience in working with this system to create beautiful smiles and restore patients' dentition, not only functionally, but also aesthetically.
The Online Dentistry Show
The Online Dentistry Show is back by popular demand, running on the 19 March 2021 and completely free to attend.
This is the second year running the virtual exhibition and conference for UK dentistry. And 2021's Online Dentistry Show promises to be bigger and better than before.
To register for free, simply visit dentistry.co.uk/shows/online-dentistry-show.
Leading speakers from the dental profession will also offer delegates up to six hours of ECPD throughout the day. They will appear across three lecture theatres covering:
Private dentistry
Digital dentistry
Clinical dentistry.
'The Online Dentistry Show 2021 promises to deliver leading speakers covering topics delegates won't want to miss,' Seb Evans, Dentistry Online editor, says.
'In 2020, thousands of delegates logged on for the inaugural Online Dentistry Show and the feedback we received was great.
'So, this year, we've gone bigger and better. Consequently, along with a leading line up of speakers, delegates can walk around a virtual exhibition and speak to manufacturers about the latest dental tech.
'Best of all, it's completely free to attend. So make sure you register today.'
To register for free, simply visit dentistry.co.uk/shows/online-dentistry-show.
---
Other speakers announced for the Online Dentistry Show: