The history of oral health: a 25-year perspective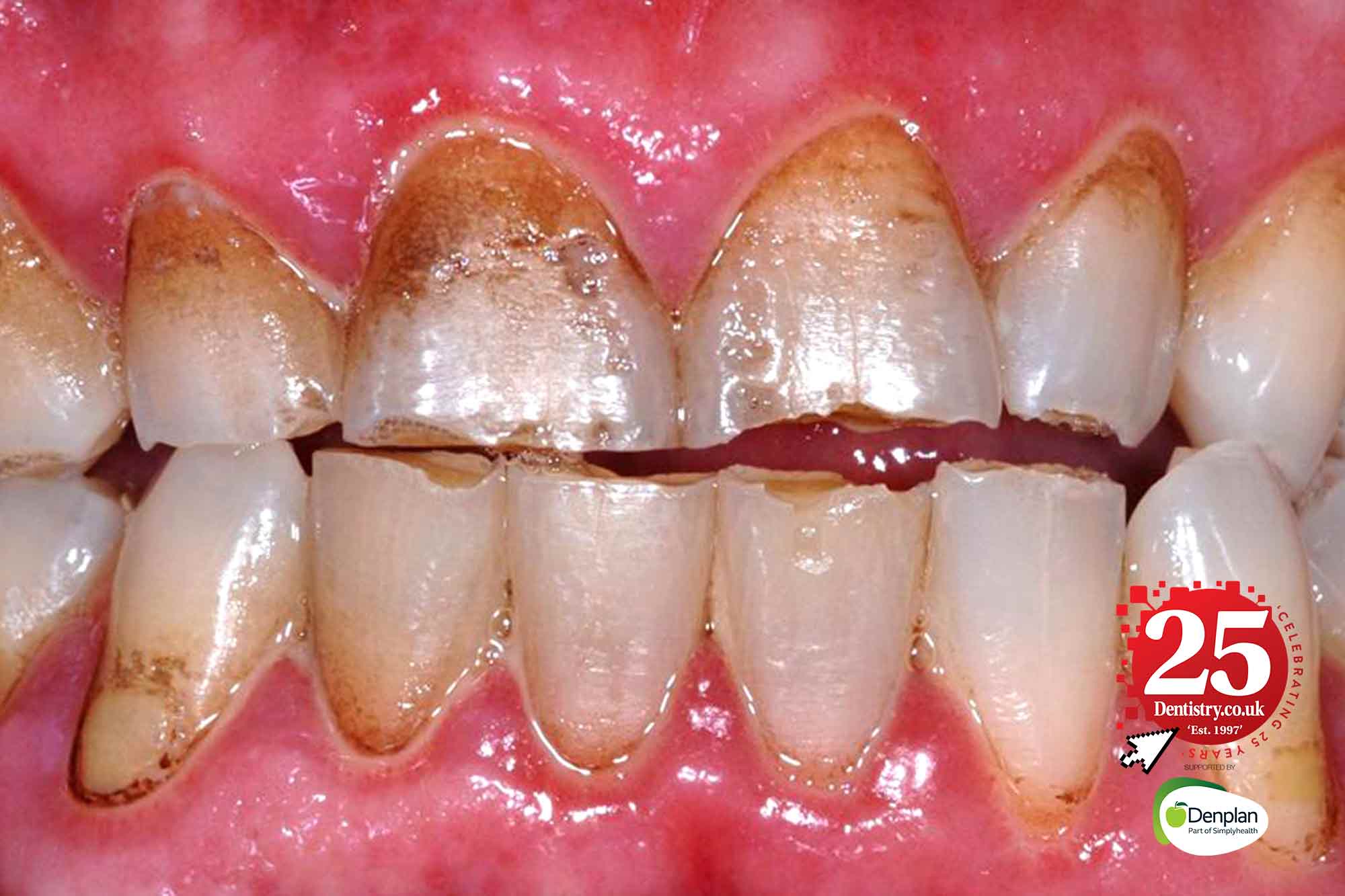 Louis Mackenzie walks through the history of oral health in the UK, highlighting the most common diseases and conditions. 
Let's start with good news
According to the latest decayed, missing and filled teeth surveys (DMFT12), the UK has the second-best oral health in Europe.
Denmark is currently number one, and Britain is tied in second place with Germany (fortunately there are no penalty shoot-outs in epidemiological surveys).
The UK population also has significantly better oral health and less inequality than the USA, firmly kicking the Austin Powers myth into touch (BMJ, 2015)!
Unfortunately, that's where the good news ends.
Oral diseases continue to be the most prevalent on earth. The global prevalence of caries and periodontitis has remained unchanged for over 25 years.
Forty-five per cent of the world's population has active caries and/or periodontitis. This combines to result in more years lost to disability than any other human disease (Lancet, 2018).
The personal consequences of untreated oral diseases and conditions are severe. However, they also result in an extraordinary global economic burden – £285 billion in direct costs and £150 billion indirectly, because of lost economic productivity.
Worldwide, large differences exist between high-, middle- and low-income countries. There is a consistent association with low socioeconomic status.
Prevalence and severity continue to disproportionally affect the poor and most vulnerable members of society.
Unfortunately, after a quarter of a century, oral health promotion and risk-based disease prevention are still not recognised as integral components of general health agendas, even though these preventable diseases share common risk factors with other common diseases/conditions eg, obesity, cardiovascular diseases, diabetes and cancer.
The history of the UK's treatment need
The 2018 Adult Dental Health Survey of 16,000 patients attending for check-ups revealed that an extraordinary 71% were in need of dental treatment (Table 1).
When reading these worrying statistics, it is important to remember that they do not reflect the >50% of the population who do not routinely access dental care, or the dramatic impact of the Covid-19 pandemic.
The decision to shut down UK dental practices in 2020, followed by the staged resumption of activity has resulted in over one year's worth of missed appointments.
Patients are now attending with even higher levels of more severe disease that will take years to effectively treat.
Table 1: Pre-pandemic adult dental health survey statistics (2018)

Patients surveyed who had attended in previous 12 months
83.6%
Patients with functional dentition (≥ 21 natural teeth)
82% (average 24.9 teeth)
Patients currently in need of dental treatment
71%
Patients needing urgent treatment
4.9%
Patients bleeding gums
53% (60.4% in deprived areas)
Patients with active caries
27% (average 2.1 teeth)

(11% of carious teeth had pulpal involvement)

Patients with arrested caries
6.1%
Patients currently in pain
18%
Patients with fillings
90%
Patients with crowns
47% (Average 3.2 per patient)
Patients with dentures
15%
Patients with bridge(s) or implant(s)
10%
Patients with missing anterior teeth (unrestored)
7.6%
The history of caries
For the last 25 years, dental caries has continued to be the world's most prevalent health condition.
Globally there are 2.5 billion untreated cases in adult's teeth and nearly 600 million in primary teeth.
The reported prevalence of untreated caries in the UK is 27% (permanent teeth) and 7.8% (primary teeth), but the real prevalence is much higher. Most epidemiological studies only record dentine caries, ignoring early and non-cavitated lesions, which may be reversed by non-operative means.
Caries is also one of the world's most expensive diseases to operatively treat; in Europe it is only surpassed by the cost of treating diabetes and cardiovascular disease.
The average sugar intake of the UK population is 39kg per year. This places Britain ninth out of 26 European countries.
Continued public health initiatives to reduce sugar consumption are essential. As is the inclusion of widespread water fluoridation in the health and social care bill.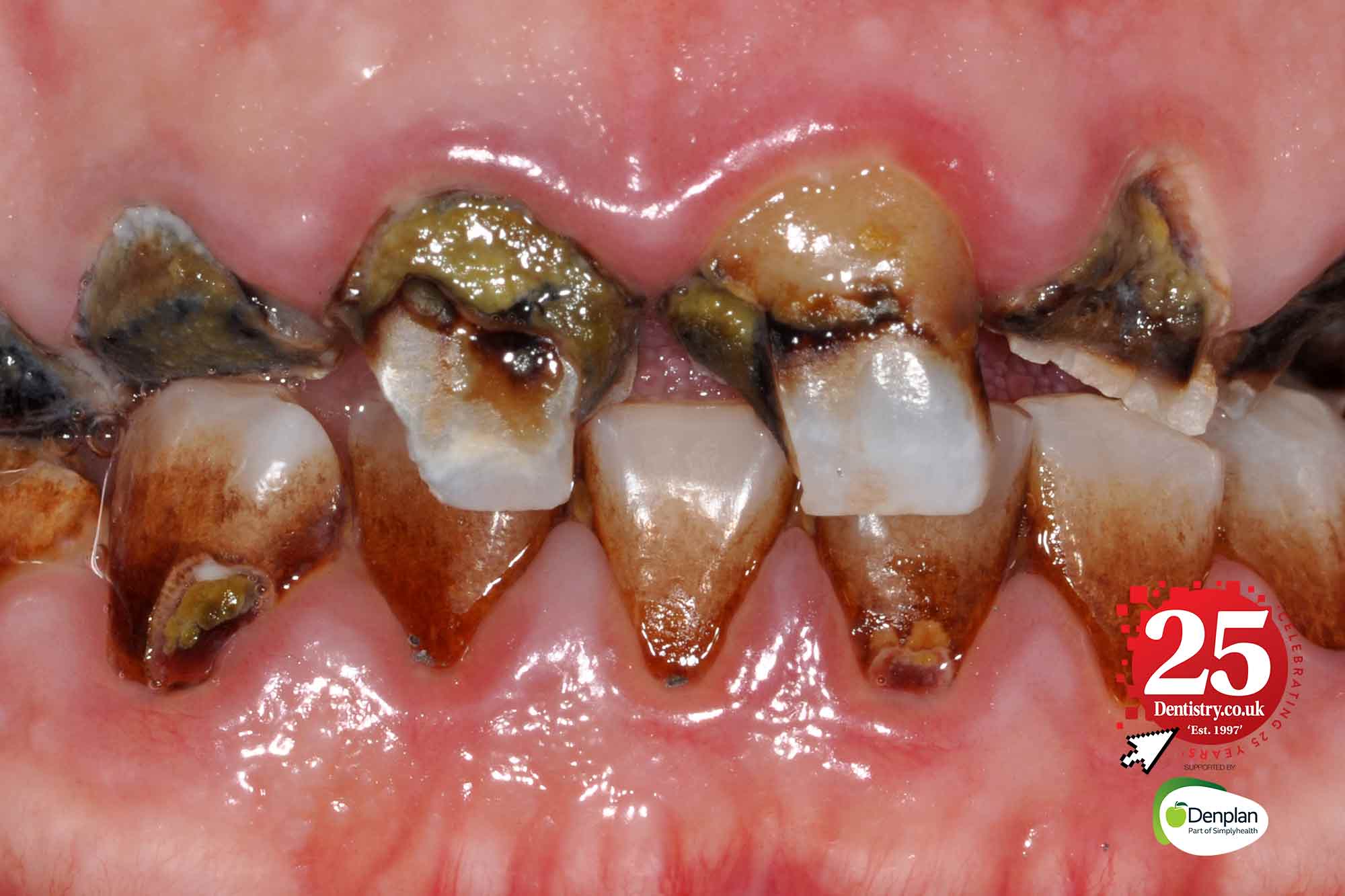 The history of periodontal disease
After dental caries, periodontal diseases (including gingivitis) are the second most common.
Periodontitis is the sixth most prevalent global health condition and is the most common cause of tooth loss.
Like caries, the prevalence of periodontal diseases has hardly changed in the last 25 years:
90% of all humans have gingivitis
Mild, moderate and severe periodontitis affect 50% of all adults (796 million people worldwide)
2% of humans have severe periodontitis.
A recent report projected that a coordinated strategy to diagnose and manage gingivitis would increase treatment costs in the short term, but over 10 years the savings would be £30 billion in the UK alone (Economist 2021).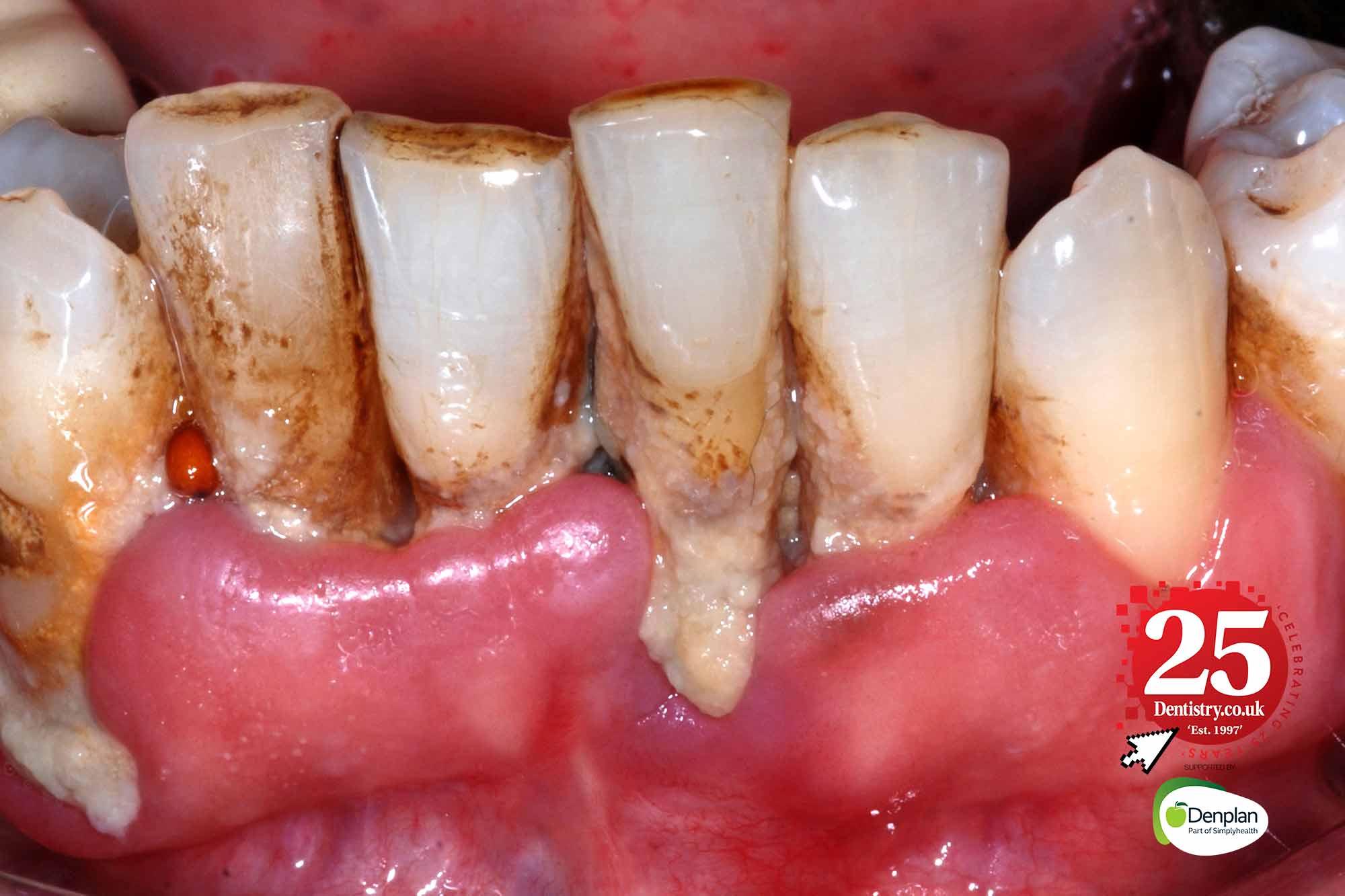 The history of tooth wear
While caries and periodontitis levels have failed to improve over 25 years, the prevalence of tooth wear has dramatically increased.
The last adult dental health survey to measure tooth wear reported that:
77% of dentate adults had anterior tooth wear
15% was categorised as moderate wear (exposing a large area of dentine on any surface)
2% had severe tooth wear (exposing the pulp or secondary dentine)
25% of 18 to 34-year-olds had signs of tooth wear.
Worryingly, tooth wear is now commonly observed in children's teeth.
The 2013 national children's survey found that 33% of five-year-olds had labial wear on their primary upper incisors and that 38% of 12-year-olds had palatal wear on their permanent central incisors, rising to 44% in 15-year-olds.
Tooth wear terminology has also evolved over the last 25 years. Use of the terms 'non-age-related tooth wear' and 'accelerated tooth wear' are now favoured to reflect the multifactorial aetiology and need for more nuanced holistic management.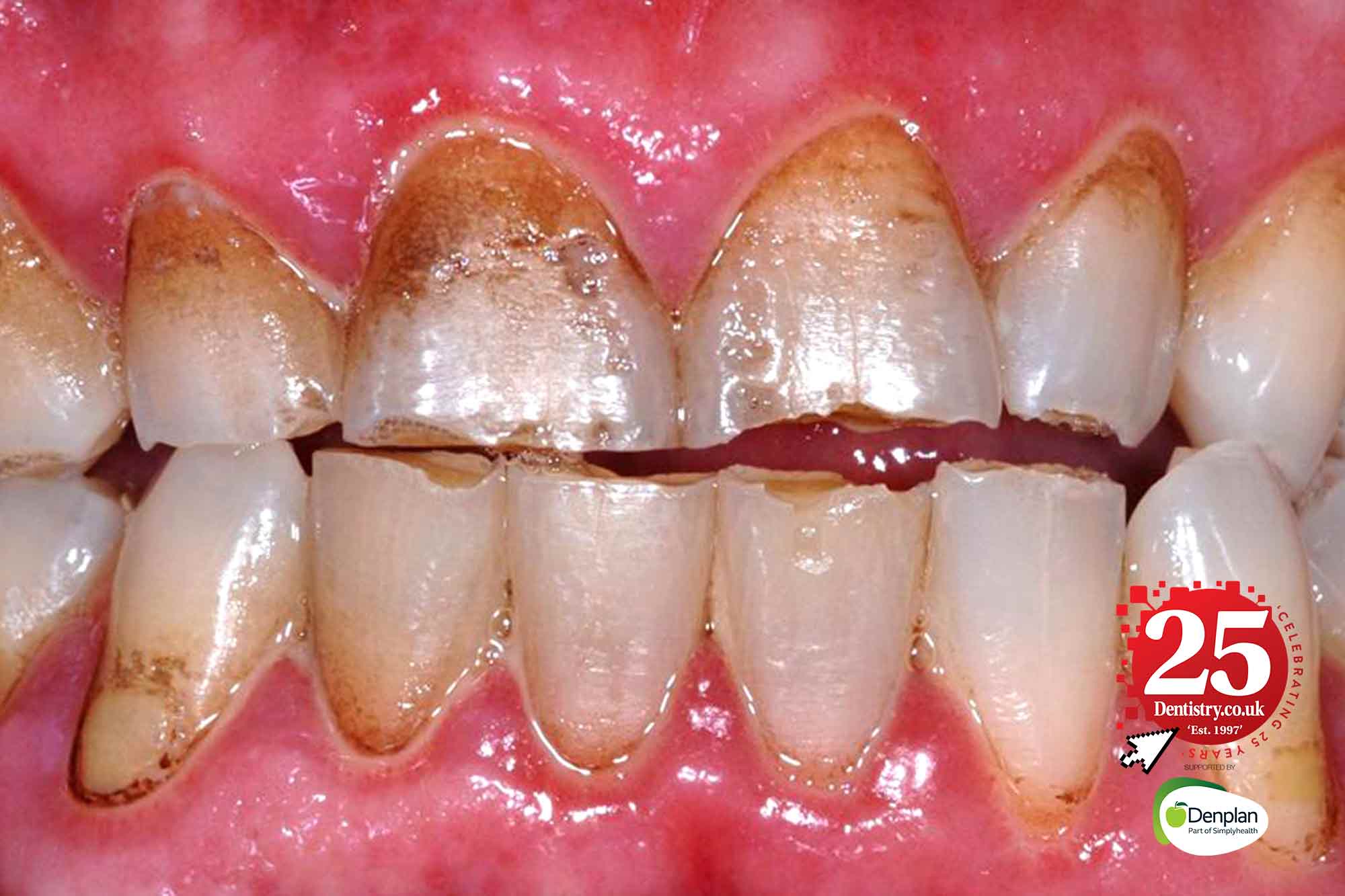 The history of mouth cancer
The most devastating oral disease is also on the rise.
Cancers of the lip and oral cavity are the 16th most common malignancies worldwide, with 375,000 new cases and 180,000 deaths in 2020.
Over the last 25 years there has been no improvement in outcomes or survival rates. And by 2040 the global rates are predicted to increase by a massive 40%.
In the UK, there continues to be an urgent need for action against mouth cancer. While most major cancers reduce in incidence, head and neck cancer continues to show an alarming increase.
To make matters worse, the extensive 'dental lockdown' has increased the incidence of diagnostic delays. This will significantly increase morbidity and mortality (Table 2).
Table 2: UK mouth cancer statistics

60,000
People in the UK expected to be diagnosed with mouth cancer over the next decade
38,000
People in the UK living with a diagnosis of head and neck cancer
7,800
Average number of new cases of mouth cancer diagnosed each year
2,300
Average annual number from mouth cancer
92%
The rise in the incidence of mouth cancer since 1970
50%
Increase in the last decade alone
Age 45
The age below which there has been a significant increase in cases over the last 20 years
Three hours
The average interval between UK deaths due to mouth cancer because of late detection
One positive development in the last quarter of a century has been the successful vaccination programme for human papilloma virus (HPV). This is a risk factor for oral and pharyngeal cancers.
We can see further glimmers of hope with artificial intelligence innovations in cancer screening.
For the last 10 years, e-cigarettes and vaping devices have been aggressively marketed.
Currently there is no long-term data to recommend them as a safe alternative to smoking. Cancer lag times mean that carcinogenic potential may not be apparent for another 20-25 years.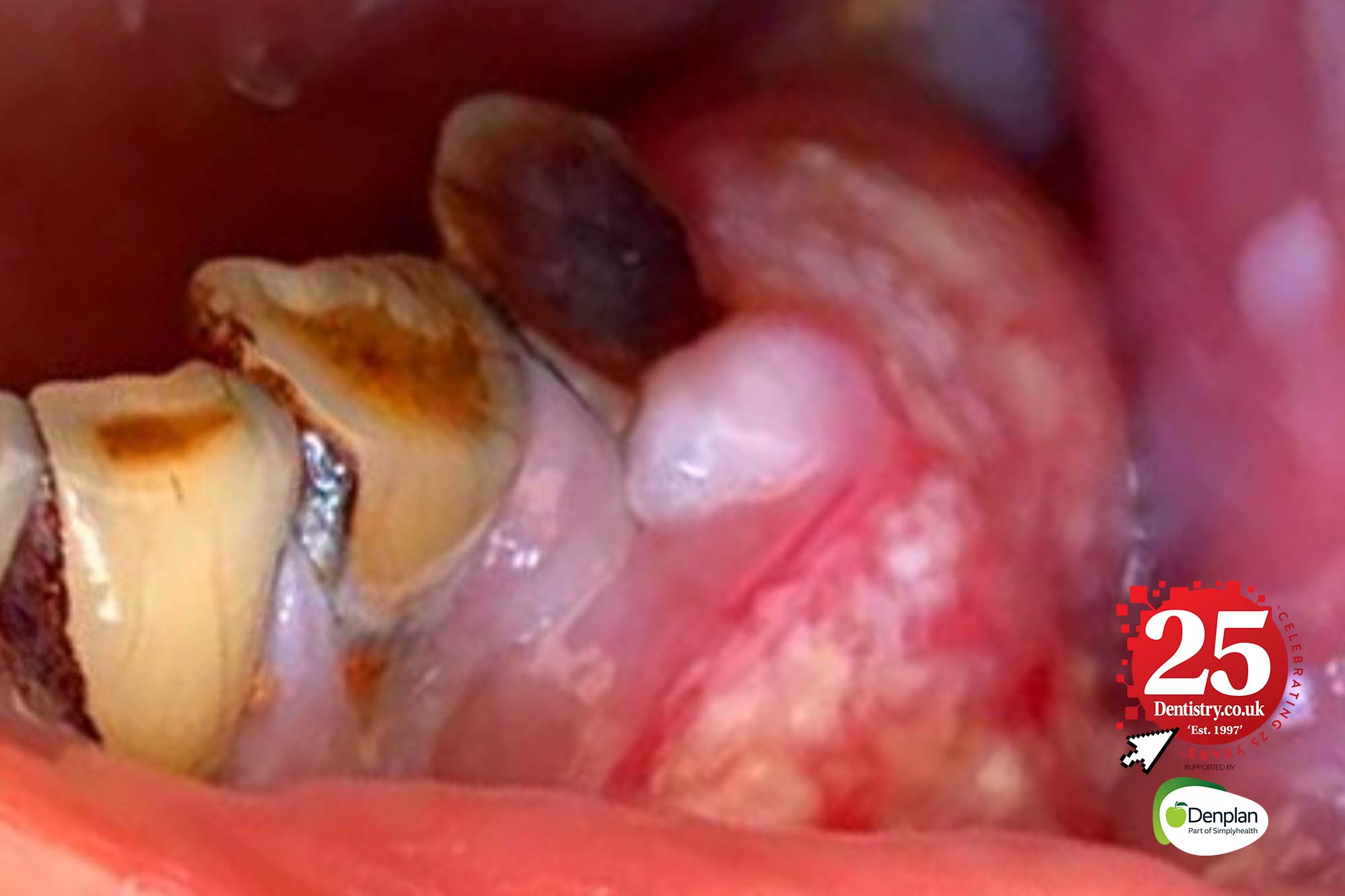 The history of oral health summary
While the UK has Europe's lowest number of dentists per capita, the British dental profession has helped the average citizen enjoy oral health that is amongst the best in the world.
The professional focus on risk-driven prevention and evidence-based minimally invasive techniques must continue, and be mirrored by immediate reforms to the outdated activity-based NHS contracts.
It is my 'wildest dream' that the next 25 years will see the UK aim to virtually eliminate these entirely preventable diseases and in doing so significantly reduce threats to the nation's general health.
---
Follow Dentistry.co.uk on Instagram to keep up with all the latest dental news and trends.