Online Dentistry Show – advancing ahead without leaving patients behind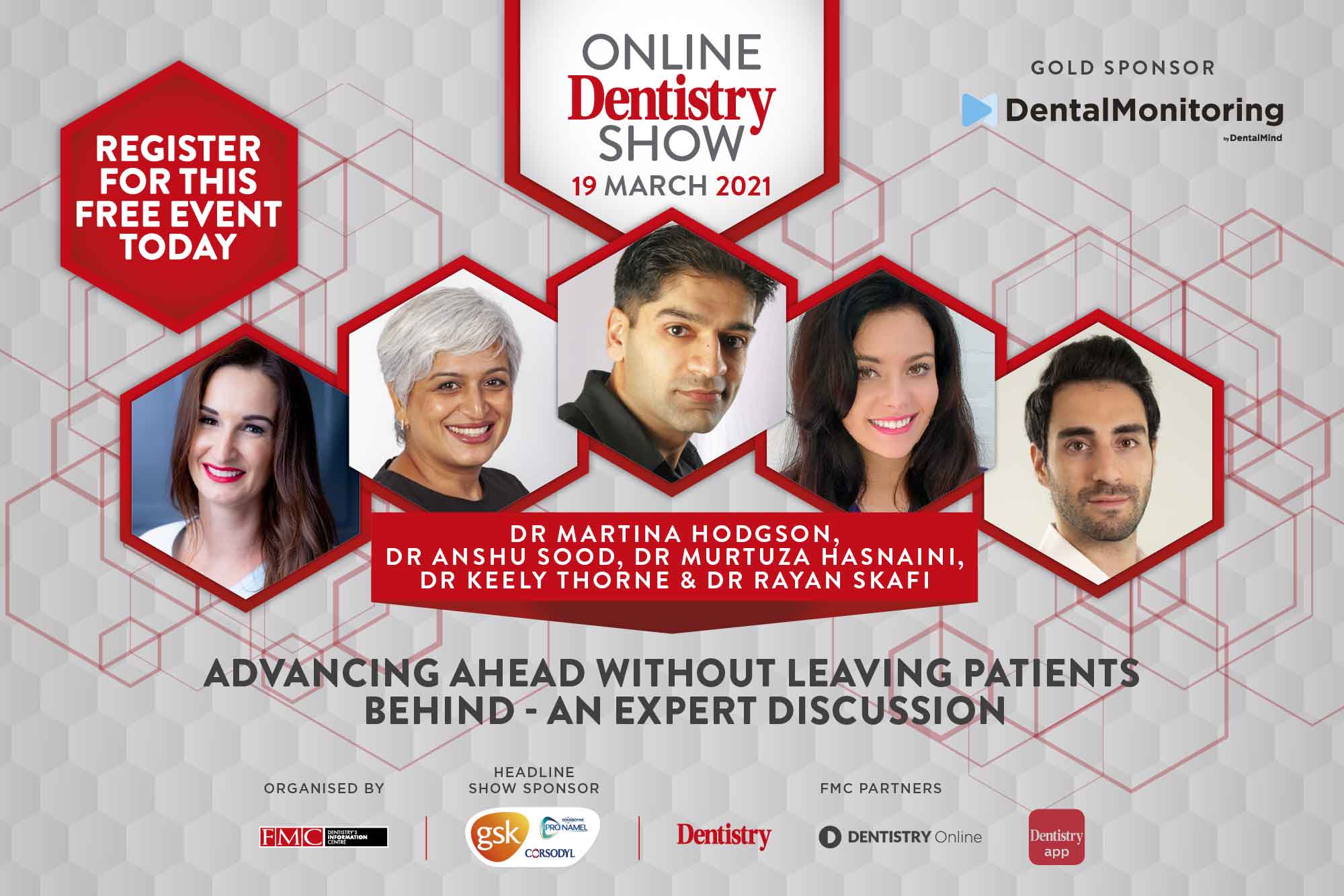 Join a panel of speakers as they discuss advancing dental care without leaving patients behind at the Online Dentistry Show.
The panel will talk about the latest developments in the world of dentistry. Including the opportunity for patients to now have remote consultations.
They will cover how to introduce these new technologies to patients and market them to prospective patients. As well as covering how to ensure you don't leave behind your current patients.
Martina Hodgson
Dr Martina is a dental practice owner, Invisalign speaker and key opinion leader for Dental Monitoring. She is a Platinum Elite Invisalign provider.
Voted Best Dentist North and Central 2020 (Highly Commended), she recently gained the postgraduate diploma in clear aligner therapy from the City of London Dental School. Martina sits on the Private Dentistry journal editorial advisory board and regularly writes articles for the dental and general press.
Martina is the co-founder of Inspiring Women in Dentistry, organising events, mentoring and support for women in dentistry. Her other awards include Best Team UK, Best Patient Care and Practice of the Year.
Anshu Sood
Anshu is a specialist orthodontist and the owner of two specialist practices – one fully private and one mixed practice. The private practice was opened less than five years ago but has utilised many technologies to make it the success that it is.
As a Platinum Invisalign provider, Dental Monitoring has allowed the practice to grow without requiring further physical investment in surgery space and workforce.
The more recent introduction of Photo Monitoring Lite has allowed us an even greater degree of communication and monitoring with our patients. Which, since lockdown, has been a fantastic tool for managing patient expectations, treatment progress and retention.
In addition, Anshu is director of clinical practice at the British Orthodontic Society. This role involves liaising with the stakeholders involved in the commissioning of NHS orthodontic services as well as other associated societies such at the BDA.
She was previously chair of the Orthodontic Specialist Group and has been on the OSG committee for over 10 years.
Whilst passionate about business development, she would always much rather be travelling the globe. A desire that has severely been limited in this current climate.
Murtuza Hasnaini
Murtuza trained at Barts and The London and passed his bachelor of dental surgery with distinction.
After further training at the Royal London Hospital and Great Ormond Street Hospital for Children he returned back to the Royal London for three years of full-time specialist training in orthodontics.
On completion of his training in 2003 he was the only person in the UK to be awarded the orthodontic specialist diploma (MOrth) from both the Royal College of Surgeons in England and Edinburgh.
Murtuza set up his practice in 2004. Before expanding to the current location in 2008.
Keely Thorne
Dr Keely Thorne qualified from The University of Birmingham in 2016.
Whilst working as an associate dentist across multiple practices, Keely developed her own brand. Here she utilises her social media presence, online marketing, and also the latest virtual tools to attract new cosmetic dental patients.
In 2020 Keely then began to offer her patients a complete 'virtual practice' experience. From the initial contact through to remote monitoring of her Invisalign patients.
This has consequently enabled Keely to make the most of her time in practice, and develop a highly efficient smile makeover service for her patients.
Rayan Skafi
Dr Rayan Skafi received his DMD degree from the University of Saint-Joseph, where he also earned a certificate of advanced graduate studies in prosthodontics.
He worked in a private dental practice for four years before pursuing a masters degree in biotechnologies management from ESCP Europe in Paris.
After that, Rayan started working at Dental Monitoring, a specialist innovator of dental technology, as a clinical education officer.
Dr Skafi works closely with global key opinion leaders in the dental industry to develop and implement a strong educational programme teaching dental professionals how to adopt innovative technologies, such as AI-driven solutions and teledentistry, in order to evolve their practices.
Dr Skafi believes that patient empowerment and technological development are making space for the delocalisation of healthcare. It requires not only the adoption of disruptive technologies, but also changes in stakeholders' systems and attitudes.
The Online Dentistry Show
The Online Dentistry Show is back by popular demand, running on the 19 March 2021 and completely free to attend.
This is the second year running the virtual exhibition and conference for UK dentistry. And 2021's Online Dentistry Show promises to be bigger and better than before.
To register for free, simply visit dentistry.co.uk/shows/online-dentistry-show.
Leading speakers from the dental profession will also offer delegates up to six hours of ECPD throughout the day. They will appear across three lecture theatres covering:
Private dentistry
Digital dentistry
Clinical dentistry.
'The Online Dentistry Show 2021 promises to deliver leading speakers covering topics delegates won't want to miss,' Seb Evans, Dentistry Online editor, says.
'In 2020, thousands of delegates logged on for the inaugural Online Dentistry Show and the feedback we received was great.
'So, this year, we've gone bigger and better. Consequently, along with a leading line up of speakers, delegates can walk around a virtual exhibition and speak to manufacturers about the latest dental tech.
'Best of all, it's completely free to attend. So make sure you register today.'
To register for free, simply visit dentistry.co.uk/shows/online-dentistry-show.
---
Other speakers announced for the Online Dentistry Show: