Online Dentistry Show – 3D printing is not the future, it's the present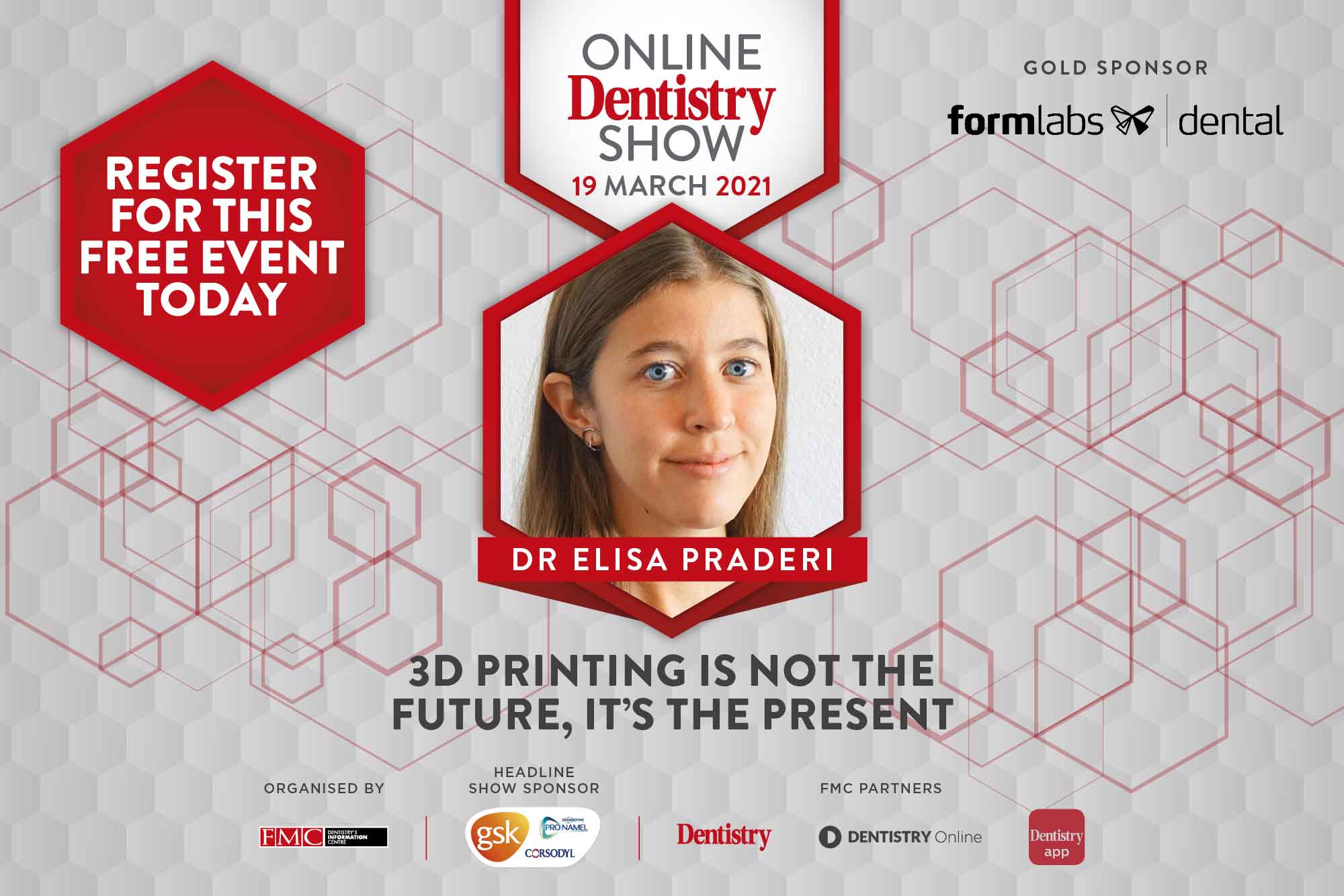 Elisa Praderi will discuss why 3D printing is essential in dentistry at the Online Dentistry Show on the 19 March.
The aim of this talk is to assess why 3D printing is a must in dentistry today.
With the multitude of solutions in the market, it is challenging for dental professionals to select the right technology that meets their demands and adapts seamlessly within their work space.
This webinar will assess the advantages of in-house stereolithography (SLA) 3D printing. Elisa will cover why it is the technology of choice for everything from restorative dentistry to orthodontics.
Formlabs user and specialist prothodontist, Dr Rory Boyd, will also share his insights on the efficiencies gained with in-house 3D printing.
Objectives and learning outcomes
By the end of this presentation, you'll have a clear understanding of the digital dentistry workflow, incorporating material selection, 3D printing technology and expected outcomes for your treatments.
Elisa Praderi
Dr Elisa Praderi is a trained dentist who graduated from Universidad Católica del Uruguay in 2017.
She conducted a research study in the area of aesthetic dentistry. Which she then presented in the 96th General Session and Exhibition of theInternational Association for Dental Research as a Unilever Hatton Award Competitor.
She has worked at the University's emergency service and in private dental practice for the last three years.
Elisa has always been interested in dental materials, clinical workflows and technology integration in the daily practice.
These components were the triggers that made her pursue a professional career in 3D printing and join Formlabs in 2019 as the clinical protocols and KOL manager.
The Online Dentistry Show
The Online Dentistry Show is back by popular demand, running on the 19 March 2021 and completely free to attend.
This is the second year running the virtual exhibition and conference for UK dentistry. And 2021's Online Dentistry Show promises to be bigger and better than before.
To register for free, simply visit dentistry.co.uk/shows/online-dentistry-show.
Leading speakers from the dental profession will also offer delegates up to six hours of ECPD throughout the day. They will appear across three lecture theatres covering:
Private dentistry
Digital dentistry
Clinical dentistry.
'The Online Dentistry Show 2021 promises to deliver leading speakers covering topics delegates won't want to miss,' Seb Evans, Dentistry Online editor, says.
'In 2020, thousands of delegates logged on for the inaugural Online Dentistry Show and the feedback we received was great.
'So, this year, we've gone bigger and better. Consequently, along with a leading line up of speakers, delegates can walk around a virtual exhibition and speak to manufacturers about the latest dental tech.
'Best of all, it's completely free to attend. So make sure you register today.'
To register for free, simply visit dentistry.co.uk/shows/online-dentistry-show.
---
Other speakers announced for the Online Dentistry Show: