Implant insights – screw versus cement retained implant restorations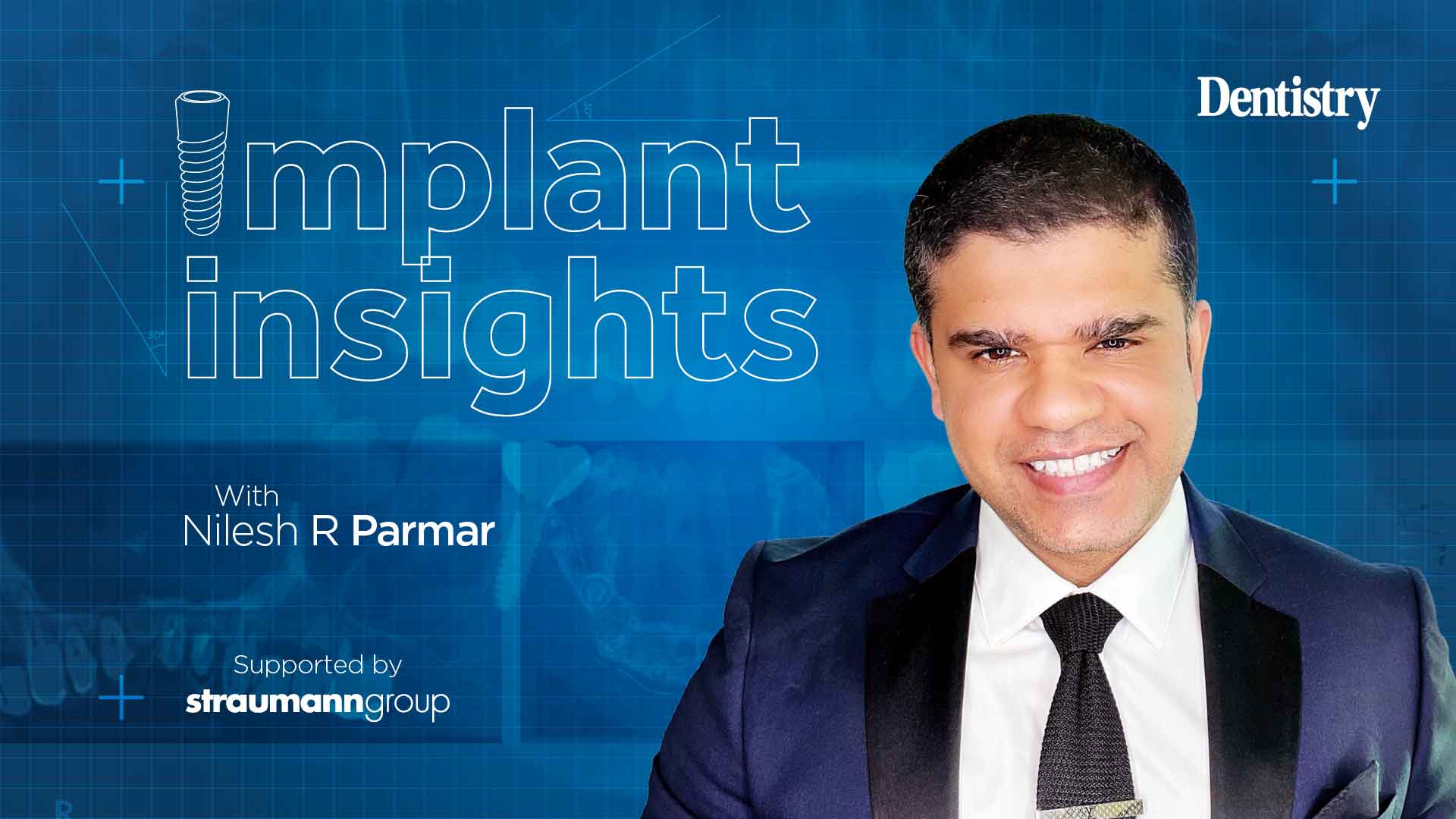 In this month's implant insights column, Nilesh Parmar compares cement retained implants with screw retained implants.
There has always been debate in implant dentistry over the optimal way to secure an implant prosthesis onto an implant fixture. Currently there are two primary ways to provide restorations on dental implant fixtures.
The cement retained solution
This is where a crown made from conventional dental materials such as zirconia, PFM etc is designed to seat over a pre-fabricated or customised abutment.
Manufacturers make these abutments in various materials, with titanium, titanium with nitride coating and zirconia the most commonly used.
The clinician uses a small dye spacer and an appropriate crown is manufactured to sit precisely on top of the abutment.
A temporary cement adheres the restoration to the abutment. The custom taper of implant abutments are exceptionally retentive. It has been found that using a permanent cement is not often necessary.
There are custom implant cements such as Premier's implant cement. However, simple temporary bond is advocated by several implant clinicians and has shown favourable levels of retention (Canullo et al, 2015).
The benefit of using a temporary cement is that of retrievability, or perceived retrievability. In truth, cement retained crowns are difficult to remove. This is due to the precise taper of the abutment giving rise to excellent retention.
Once an implant crown is fully seated and the cement set, it is hard to remove the crown without damaging either the tissues or the ceramic. This can especially become an issue if access to the abutment screw is necessary. Or if further work is needed on the implant fixture itself.
Cement retained benefits
One of the benefits of cement retained implant restorations is the provision of zirconia abutments coupled with all ceramic crowns.
In cases where aesthetics are key, with a concern of grey hue shine through with thin gingival biotypes, zirconia abutments can offer optimal aesthetic outcomes. Zirconia also has excellent biological compatibility helping to reduce inflammation in ideal conditions.
The screw retained solution
This is where we produce the abutment and crown as a single piece with a screw hole running through it.
The screw hole allows an abutment screw to pass through the restoration securing it directly into the implant fixture. There is therefore no cement meaning no clean up.
The clinician fills the resulting screw hole with composite resin to stop food ingress and to aid oral hygiene.
One of the issues using a screw retained solution is that acute angle correction is not as possible as it is with cement solutions.
Although current systems do allow some angle correction, the implant still needs to be within a limited restorative envelope to ensure the screw access hole does not extend through the buccal aspect of the restoration.
There is some concern that the presence of a screw channel through the middle of an implant restoration can lead to weakening of the ceramic. With unsupported composite in a screw channel not being an ideal surface for an opposing dentition to occlude against.
Furthermore, the metal within the screw channel is cumbersome to block out using standard techniques requiring opaquer and a layered composite addition technique.
Screw retained benefits
There are two main reasons why implant surgeons may prefer screw retained solutions.
Firstly, the elimination of cement. It totally removes the possibility of cement-induced peri-implantitis. Many publications have associated the presence of cement restorations as having a higher rate of soft tissue complications (Canullo et al, 2015). A higher rate of fistula formation with suppuration (Millen, Brägger and Wittneben, 2015). And a higher rate of biological complications (Ferreiroa et al 2015; Wismeijer et al, 2014).
Secondly cement retained restorations struggle with the concept of retrievability when compared with screw retained options.
Over time, implant restorations may need removing due to:
Fracture of the porcelain
Loosening of the abutment screw
Changing of the aesthetic nature of the restoration
Treatment of peri-implantitis.
A screw retained solution makes removal a very simple and straightforward process. Especially when compared to a cement retained crown.
In summary, the screw retained implant restoration has a plethora of advantages when compared with cement options. However in certain aesthetic considerations and extreme angle cases, the cement retained option may result in a more favourable outcome.
References
Canullo L, Schlee M, Wagner W and Covani U (2015) International brainstorming meeting on etiologic and risk factors of peri-implantitis. Int J Oral Maxillofac Implants 30(5): 1093-104
Ferreiroa A, Peñarrocha-Diago M, Pradíes G, Sola-Ruiz MF, and Agustín-Panadero R (2015)  Cemented and screw retained implant supported single tooth restorations in the molar region: A comparison study 1-4 years. J Clin Exp Dent 7(1): 89-94
Millen C, Brägger U and Wittneben JG (2015) Influence of prosthesis type and retention mechanism on complications with fixed implant-supported prostheses: a systematic review applying multivariate analyses. Int J Oral Maxillofac Implants 30(1): 110-24
Wismeijer S, Brägger U, Evans C, Kapos T, Kelly J, Millen C, Wittneben JG, Zembic A and Taylor T (2014) Consensus statements and recommended clinical procedures regarding restorative materials and techniques for implant dentistry. Int J Oral Maxillofac Implants 29: 137-40
---
Catch up with previous implant insights column
Follow Dentistry.co.uk on Instagram to keep up with all the latest dental news and trends.