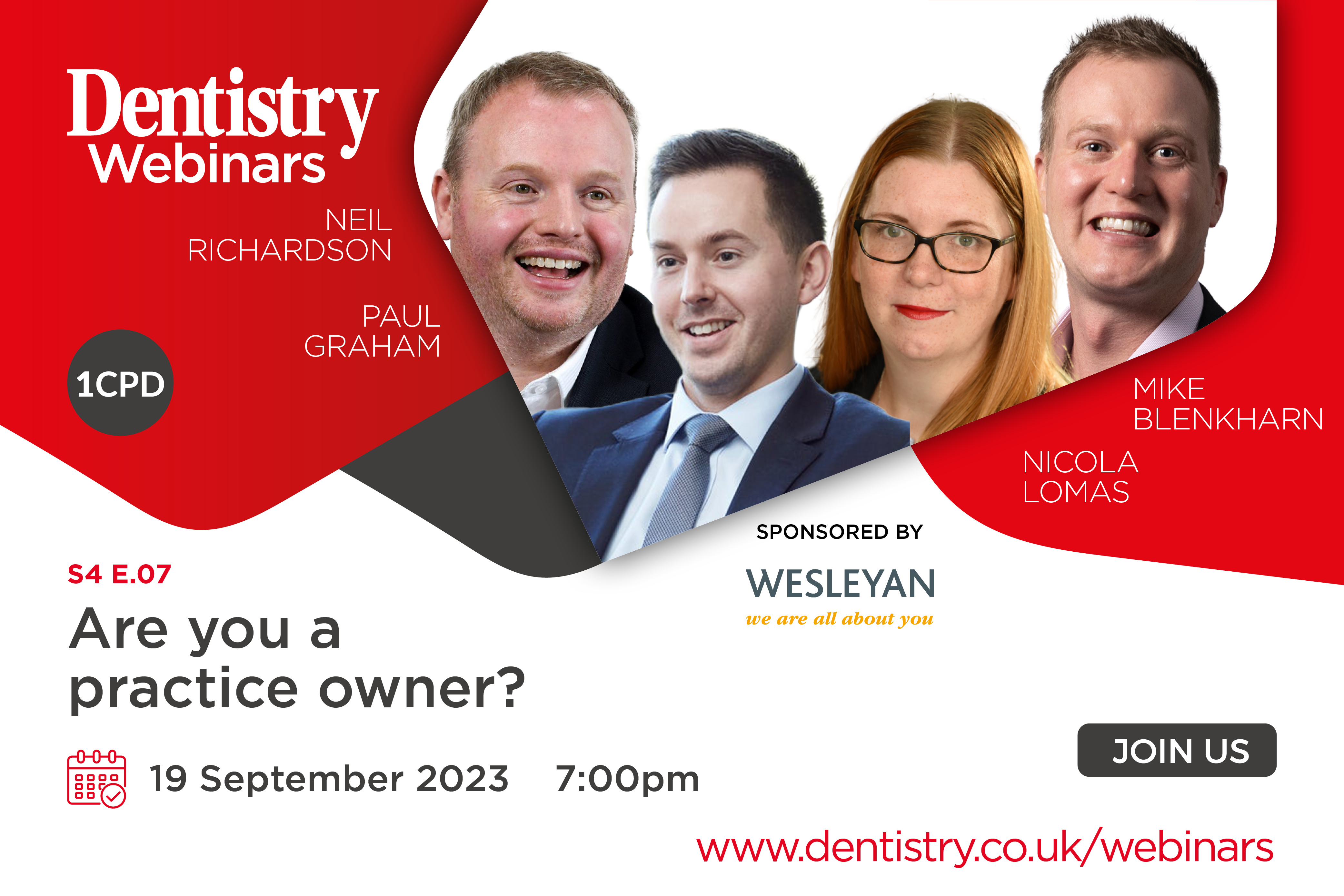 Join Neil Richardson and his panel of experts as they discuss the practice ownership journey – sign up now.
Join Wesleyan financial services regional manager Neil Richardson alongside Brabners and UNW LLP as he discusses the wide range of financial and legal considerations you need to know in order to run your business effectively with industry specialists as part of an exclusive webinar panel.
Attendees will learn the key risks, opportunities and little-known facts of practice ownership, from getting started to selling the business.
This webinar is ideal for:
Sole traders
Partnerships
Incorporated dentists
Owners of a single or multiple practices
Dentists considering buying into/owning a practice
Practice owners looking to retire and/or sell
Practice owners with families and/or key employees to protect.
Learning outcomes
How to buy and start strong on your practice ownership journey
How to sell your practice with an optimum valuation
Pinning down succession and continuity planning – why it's crucial
Planning your retirement exit strategy
Understanding your partnership/shareholder agreements
How commercial investments may provide an opportunity for business fund growth.
Neil Richardson
Neil Richardson has been a specialist financial adviser at Wesleyan Financial Services for 14 years, supporting dentists with their financial planning.
He is now running the north of England team.
Wesleyan Financial Services has supported hundreds of dentists to protect or make the most of their finances.
Mike Blenkharn
Mike, who is a chartered certified accountant, partner, and head of dental at UNW LLP, has over a decade of experience in working with dental professionals.
He has overall responsibility for over 300 practice clients and is actively involved in advising clients in respect of accounts, practice purchases/sales and restructuring.
Alongside his dental accounting experience, Mike has a wealth of experience in NHS contracts, net pensionable earnings, tax affairs, exit strategies, and retirement planning.
He is also a member of NASDAL (National Association of Specialist Dental Accountants and Lawyers) and ASPD (Association of Specialist Providers to Dentistry) and regularly provides accounting and taxation updates to national specialist healthcare lenders as well as other professionals.
Nicola Lomas
Nicola Lomas is an experienced corporate lawyer and partner at the purpose-led independent law firm Brabners.
A healthcare specialist, Nicola primarily handles the sales and purchases of dental practices, as well as incorporations, expense sharing, partnership agreements and associate contracts.
Nicola acts for both NHS and private dental practices, along with a broad range of other clients — ranging from small, part-time sole practitioners to large multi-site corporate groups.
With a strong background in non-contentious work, Nicola has over a decade's experience in providing bespoke commercial advice to dental sector clients across the country.
She is highly recommended by most dental practice brokers, banks, accountants and financial advisers, and her clients include Denticheck and Santander UK plc.
Paul Graham
Paul Graham is the head of dental at specialist business property adviser, Christie & Co.
He has spearheaded the brokerage side of the dental business, driving a number of significant high-profile single asset and group transactions.
He is based out of the company's Edinburgh office, but leads an expanding multi-disciplinary team of agents and advisers across the length and breadth of the UK.
---
To register for this webinar, simply visit www.dentistry.co.uk/webinar.
Catch up with previous On Demand webinars:
Follow Dentistry.co.uk on Instagram to keep up with all the latest dental news and trends.