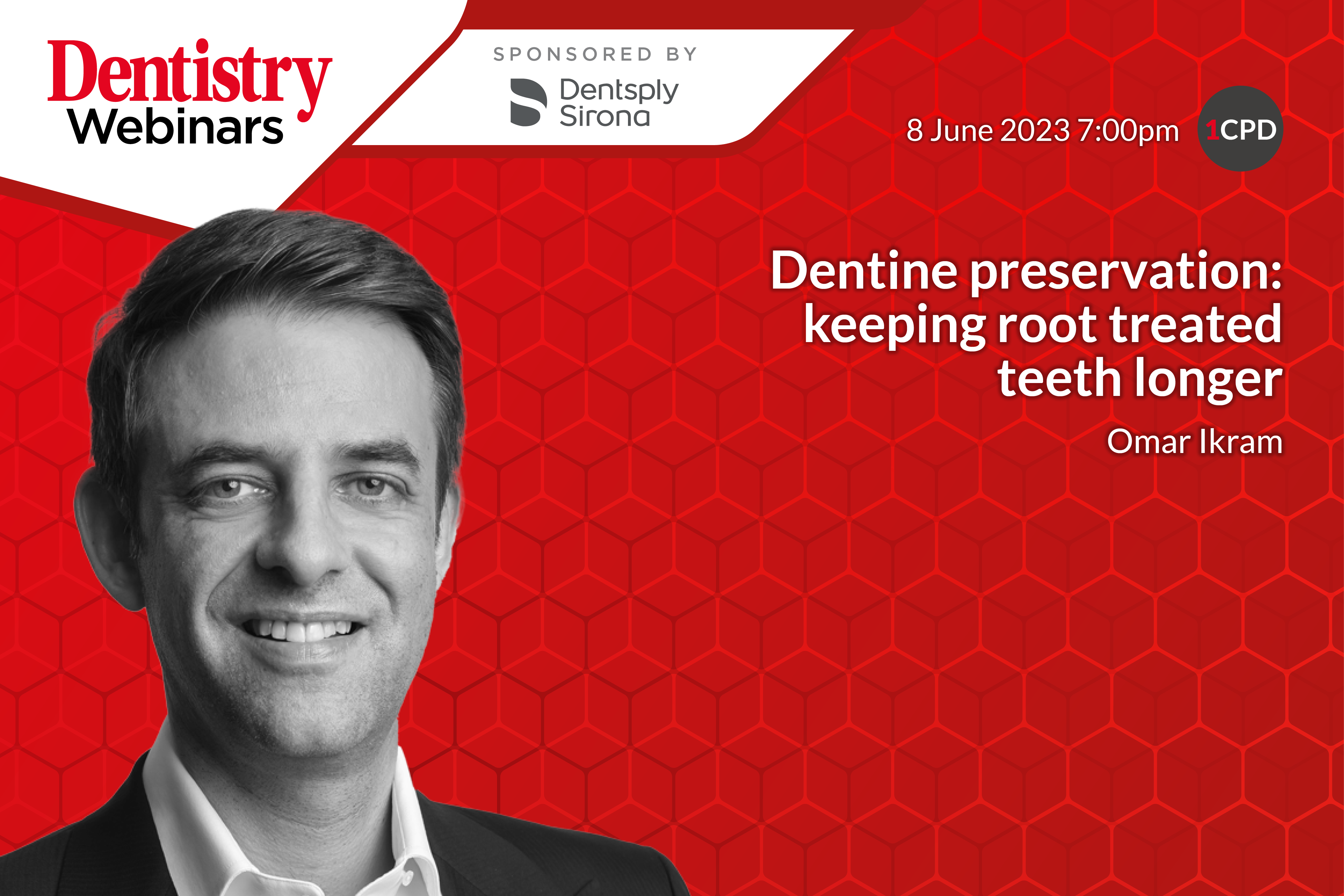 Join Omar Ikram on Thursday 8 June at 7pm as he discusses dentine preservation: keeping root treated longer.
Dentine preservation has been a focus in endodontology over the last 10 years.
Root canal treatment is not only about treating apical periodontitis, but also aims to improve survival of the root treated tooth.
A large part of improving survival is being able to restore the tooth conservatively. Conservative root canal treatment plays a major role in facilitating restoration and ultimately preservation of hard tissue.
Join Dr Omar Ikram a specialist endodontist from Sydney for this webinar which will also discuss ways clinicians can help treatment plan, to help reduce risk factors for loss of root filled teeth, leading to improved survival of these teeth.
Learning outcomes
Improve their understanding of how minimally invasive root canal treatment and dentine preservation plays a role in retention of root treated teeth
Enhance their knowledge of how conservative restoration plays a role in the survival of root canal treated teeth
Review patient factors that play a role in retention of root canal treated teeth
Understand how by combining concepts of conservative endodontics, conservative restoration and reducing patient risk factors, we can improve longevity of root canal treated teeth.
Omar Ikram
Omar was born in Christchurch, New Zealand, and attained his bachelor of dental surgery degree from the University of Otago in 1997. After working in private practice in Christchurch, he moved to London where he worked in NHS and private dental practices, gaining extensive experience in endodontics, emergency and restorative dentistry.
After completing his fellowship for the Royal Australasian College of Dental Surgeons, he began specialist training in Endodontology at King's College London.
During the final year of specialist training his masters thesis entitled Micro-computed tomography of tooth tissue volume changes following root canal treatment and post space preparation was published in the International Endodontic Journal.
He then moved to Sydney, Australia, where he established his private practice in Crows Nest called Specialist Endo Crows Nest. This focused on providing specialist dentistry for patients and educating dentists via in person courses and social media. The Facebook page for Specialist Endo Crows Nest – clinical hacks currently has 26,000 members.
In 2019 he was inducted into the International College of Dentists for his work with the global dental community. During 2021 he became a fellow of the Pierre Fauchard academy and co-developed Endoprep, a free smart phone app for dentists designed to improve worldwide standards in endodontics.
---
Catch up with previous On Demand webinars:
Follow Dentistry.co.uk on Instagram to keep up with all the latest dental news and trends.