25 years of dental technology – past, present and future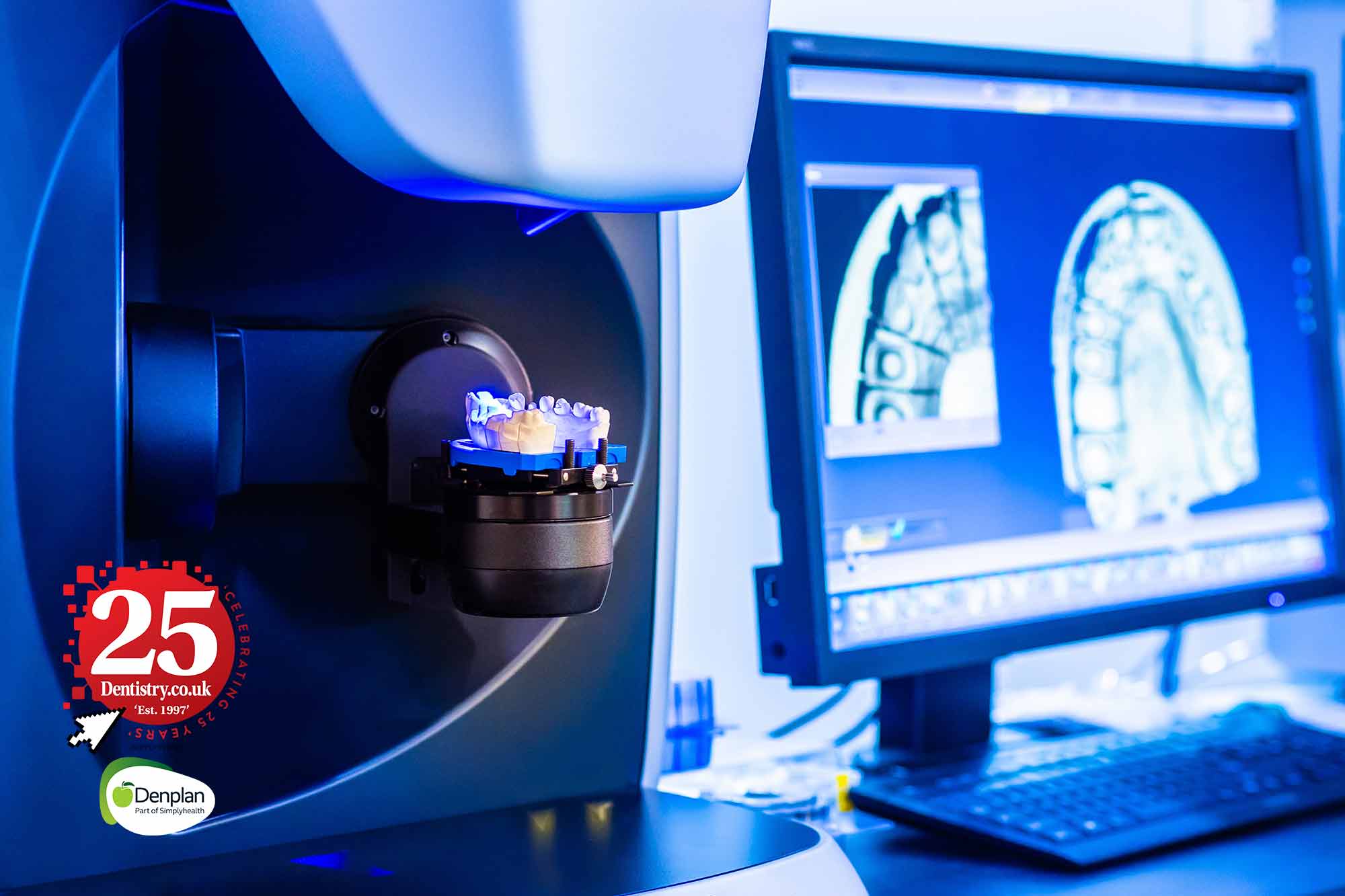 'There has never been a better time to be a dental technician' – Ashley Byrne explores the evolution of dental technology in the past 25 years, and how it has transformed from an archaic mess to aspirational art.
Whilst this article is about the history of dental technology, it's hard not to tell a little of my story. Coincidentally, I started on my journey to becoming a dental technician just over 25 years ago .
I'm 44 years young now, and 25 years ago I was a 19 year old in my second year of becoming a dental technician at Manchester Met University. This is one year after my dad, a very successful dental technician and lab owner, had said to me, 'Whatever you decide to do, do NOT become a dental technician'.
It's funny how ignoring that advice was probably the best decision I ever made.
Past
Twenty-five years ago, dental technology was a very different industry to what it is now. Wax, Bunsen burners, hot furnaces, no air conditioning, and a weird smell that I can still remember now – not unpleasant, just weird. Every lab had that same smell.
Digital didn't exist but it was literally on the cusp (pardon the pun) of hitting the industry. Yet no one knew why on earth we needed to digitise it. I remember technicians smoking at the bench and everything being dusty.
Chalk and cheese
Back in 1997, I was working at two labs – a placement at John Wibberley's implant and crown and bridge lab as part of my degree course, and at a small denture lab in Oldham. Despite being close to each other, these labs were chalk and cheese.
John was setting a new standard of high-end crown, bridge and implant work in a spacious, light, clean and tidy lab. He was also working with high profile dentists that were at the cutting edge of implant work.
My other lab was a paid role. I always remember my first day in a small dark unit, 11 people crammed in, making more than 50 sets of dentures a day. When the boss asked me how many special trays and bite blocks I could make in a day, they all laughed at me when I said two. They wanted 50 and 50 per day. I felt a bit of an idiot but they took me on. It wasn't long before I was smashing them out.
Shellac trays, hand bent metal handles, and then bite blocks in pure wax. It was filthy, messy, noisy and people were swearing left, right and centre. I loved it.
It was fast-paced hard work and it burnt my fingers, but when I finally hit 50 a day, I swear I was the best paid student in the whole of Manchester. I had money to burn, and boy was I loving dental technology.
Archaic
When I look back at my career, at the industry, and all the labs that I have visited on and off over the years in many different countries, a lot has changed.
Twenty-five years ago, our industry was archaic and out of date. It was analog and messy. Digital dentistry simply didn't exist.
It was long hours and poorly paid. Nearly every technician I knew was working late and many weekends were lost for false teeth. It was naturally a dirty industry, but labs were changing.
Both my dad's lab and John's lab were clean and tidy. People were getting work life balance back, and labs were putting themselves out there with marketing and branded packaging, rather than the usually bubble wrap and a plastic bag.
Present
Scanner advancement
The biggest changes we have seen as an industry though, has been technology and the amazing work of digital dentistry. I remember seeing a MOD-30 at my dad's lab around 23 years ago. This machine was set to change the industry.
And it did. Nobel Biocare (as it is now called) launched the scanner and it promised accurate, automated alumina copings made on a production line in Sweden. Never had anyone seen a product made outside their own labs, except for silver dies – and that was usually from a local lab.
The scanner ran on MS-DOS and its awful screen with red tops used a state-of-the-art scan probe from Renishaw. To this day, it still makes the world's most accurate scanner.
Providing the preps were good, this worked great. But I clearly remember hearing people swearing that the touch probe had snapped a small die that the model worker had tried to pour three times without breaking. Like it or loathe it, that scanner was the start of a major breakthrough for dental technology.
Scanners improved, as did the technology, and several others soon caught up. They were faster, leaner, and ran on better software. Soon bridges started appearing. This was a big switch from singles but, like all innovation, there were a lot of people with burnt fingers. But hey, that's development.
Digital dentures
The denture world also started to change. Although there was no digitisation, it was in materials and standardisation where we saw advancements.
So, Shellac was out (thankfully for my fingers). Light cure materials appeared and cartridge injection systems became the norm. The simple-to-use Ivocap system from Ivoclar was a game changer in the dental world. It was only replaced a few years ago with the launch of a new system that removed the need to use vast vats of hot water.
Now though, the hottest topic in the dental world is digital dentures.
Crowns, bridges, implants
Crowns, bridges and implants are the areas that have seen the largest technology changes over the past decade.
Scanners switched from contact to light and we started to see serious developments in software. Several start-ups appeared with their own software and scanner combinations. This helped push the manufacturing side of our industry.
Alumina copings were fast losing their popularity to materials like Zirconia. In addition, we started to see milled Titanium for abutments and even some copings for bonded crowns. Whilst bonded Titanium never really took off, milled abutments and Zirconia are simply the norm in a dental lab these days.
Driven by a desire to improve what we did as an industry, and coupled with a search for efficiency gains, labs have really embraced the digital workflow in their crown, bridge and implant labs.
New recognition
Everyone knows that I'm an advocate for technology. However, let's also recognise what it takes to enable those advancements in our industry.
It is over 15 years ago that dental technicians were allowed to be professionally registered with the GDC, taking our industry to new levels. To become a dental technician now requires a qualification and CPD, ensuring we remain informed, skilled, and accountable for our actions. This was a major step forward for the recognition of an industry that many considered a backward and unregulated aspect of dentistry.
The last eight years have been a revolution for the dental industry as whole, not just technically. Digitisation has taken a hold across all aspects, and we have seen enormous changes from how we used to work.
The launch of intra oral scans has really changed the digital revolution. Whilst this growth was slow, it is now mainstream for many labs, with a further boost in the take up of the technology post-pandemic.
Of course, intraoral scanners had a major downfall when launched – that was the limitation of model production. Companies like Cadent, now owned by Align Technology, offered a robust milled solution.
But what came next revolutionised the industry like no other product.
3D printing
3D printing was invented predominantly for rapid prototyping – one-off manufacturing at its best. Dental technology is, of course, exactly that. It is rare that we make the same product twice, so when 3D printing started appearing in dental technology, the level of excitement went through the roof.
The start was through the major players offering a printing service for models. I think everyone would agree that the initial attempts where somewhat poor, but let's face it – that's how every change in dental technology has started.
Whilst these enormous European production centres dominated the 3D printing model market, it wasn't long before small in-house printers started changing the game again. The early in-house printers were a serious winner for labs offering accurate, in-house model production.
The only downside was the 12-hour print cycle which was manageable unless you had a failure overnight. When this happened, that elation of printing soon turned into pain.
It wasn't long before these 'hobby' printers started to show just why they were called 'hobby': they broke down as fast as they got repaired. Most large labs like us had banks of them just waiting for the next failure. When they worked, it was truly magnificent, using software to make models, special trays, splints, guides, and jigs – all manageable and scalable.
This push from lab techs ensured huge investment in the market. It wasn't long before we welcomed the larger industrial printers and in-house printers that work reliably and long term.
Future
Changing for the better
Where we stand now, 25 years later, it is honestly quite remarkable how the industry has changed for the better.  The messy labs of yesteryear are disappearing and being replaced by clean, high-tech manufacturing facilities mixing incredible technology with fine art.
Printers are now making dentures and complex implant restorations. This allows the modern dental technician to eliminate the messy and time-consuming aspects of our industry to focus on the fun, clean areas like CAD, milling, printing, and artistic finishing.
The art form is far from being lost; in fact, it's having a revival.
Dental technicians over the last 25 years have maybe not realised their potential. Sadly, this has usually been our own fault – fighting for low prices, undercutting each other, and a lack of willingness to help our industry colleagues.
This has firmly changed in recent years, and the openness and willingness to share concepts, ideas and methods has never been stronger.
Sadly, we are in a serious decline in numbers. Several stats indicate the average age of technicians is around 56-58, which is rather top heavy.
New generation
Yet the future is bright. With modern CAD and 3D printing we are attracting a new generation of dental technician. They see themselves working nine til five and producing world class restorations, whilst still earning an excellent salary.
It's now a completely different industry to when I started, and I personally do not think there has ever been a better time to be a dental technician. It's almost ironic that when I started a lot of dental technicians aspired to be a dentist.
Yet now, 25 years later, many dentists who walk around my lab and admire the normal hours, the lack of stress, and the incredible tools (many call them toys!) that we have to play with…well the tables may have turned. To be a dental technician is aspirational.
'There has never been a better time to be a dental technician'
All of these advancements have ensured the dental technician is now, more than ever, also an integral part of the dental team. As technology has become our norm, dentists are leaning on labs more for information and knowledge on digital methods and solutions.
New materials, methods, and techniques have empowered technicians, and our clinicians need our assistance and advice more than ever, ensuring the dental team is very restoratively lead.
The last 25 years have been an incredible journey for our industry. As we move forward from our messy analog history, we must all be pioneers on these new, high-tech, and amazing ways of working.
The artistry is still the key aspect of our jobs. However, the advancement of technology is allowing us to remove the mundane aspects and really improve our work-life balance, our patient offerings and, all-in-all, make dentistry a vastly better place.
---
Find out more about Denplan.