Prosthodontips – occlusion revisited: part one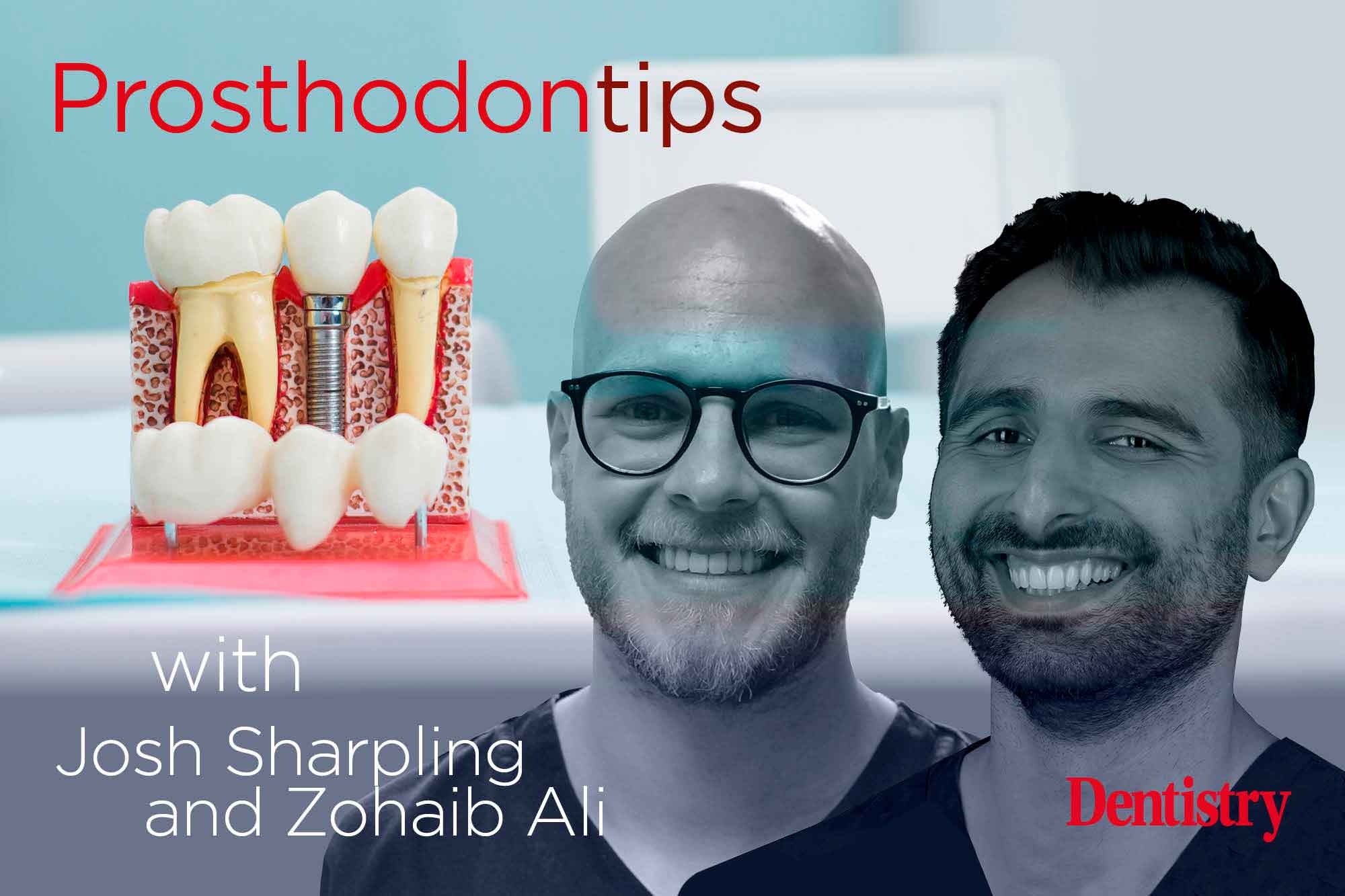 In this Prosthodontips column, Zohaib kicks off a many series where he takes a closer look at occlusion and discusses why this is important.
We have touched on this topic before and had lots of lovely feedback. There were a lot of questions and it was clear that this rather simple topic is misunderstood and sometimes even over-complicated.
So now we will take the opportunity to dive a little deeper and explain things in a clear and understandable manner.
The word 'occlusion' gets thrown around on a frequent basis. We see it pasted everywhere from Facebook posts to course flyers and leaflets.
There are a multitude of courses available for practitioners to choose from and countless books to read. This month's column aims to provide a simple yet thoughtful approach to occlusion.
What is 'occlusion?'
Simply, occlusion is the relationship between the articulating surfaces of the maxillary and mandibular teeth or their substitutes (crowns, dentures, bridges or implant restorations).
We can further divide it into static and dynamic occlusion. Static occlusion relates to the relationship of the teeth in the intercuspal position (ICP). Dyanamic occlusion, therefore, refers to the same relationships during mandibular movement.
Why is occlusion important?
Most importantly, a stable occlusion keeps our patients comfortable and allows them to masticate with relative ease.
However, there are many more reasons why we should adopt and respect certain occlusal principals:
Protect teeth and restorations
Aesthetics
Bruxism
Promote denture stability
Masticatory efficiency
Prevent tongue and cheek biting.
Figure 1 shows the result of failure to plan adequately for occlusal problems in addition to poor management of caries and periodontal disease. This presentation also illustrates very well the importance of relating occlusion to prosthetic design.

It is easy to get wrapped up in terms like 'canine guidance' and 'mutually protected occlusion', whilst forgetting about the restorative status and condition of the teeth themselves.
What I am trying to say is, harmony between occlusion and prosthetic design is paramount to the long-term success of any restoration.
Lets define some terms
There are a lot of different terms to describe the same things! The following is simply the way I learnt it. In my experience, these terms are used most frequently in the UK. The main thing I want to focus on this week is terminology of the different positions of the mandible:
Intercuspal position (ICP)

This describes the position of the mandible when the teeth are maximally interdigitating. It is generally the end point of the patient's habitual biting position. It is a tooth-guided position
This position has also been described as maxmimal intercuspation (MIP) and centric occlusion (CO)

Retruded axis position (RAP)

Unlike ICP, RAP is not a tooth-guided position. Rather, we determine it by the position of the condyles as they sit in the glenoid fossa
This position is not always easy to find, especially in patients with bruxism and/or parafunction. Their muscles tend to be very tense and often 'resist' our efforts
There are some patients where ICP and RAP are the same position
Often, patients need deprogramming to find this position. I will discuss this further in a subsequent column

Retruded contact position (RCP)

This is very similar to RAP and clinicians often use it interchangeably. However there is a subtle difference
It is simply the position of the mandible when it is closing from the RAP position. That means the condyles are in the glenoid fossa when the mandible is rotating towards closure.
There will often be an initial point of contact where just one tooth meets the antagonist before all the other teeth meet. RCP is simply the position of the mandible when this occurs.
In the next occlusion column, we will look more closely at the features of static and dynamic occlusion and how to record them. We will release the occlusion column every second month this year.
---
Please keep the questions coming for the Prosthodontips team. You can contact us on Instagram (@sharplingdental and @prostho_zo) and also email ([email protected]).
If there are specific topics you would like us to cover in a column, please let us know.
Previous Prosthodontips:
Follow Dentistry.co.uk on Instagram to keep up with all the latest dental news and trends.