Prosthodontips – dental ceramics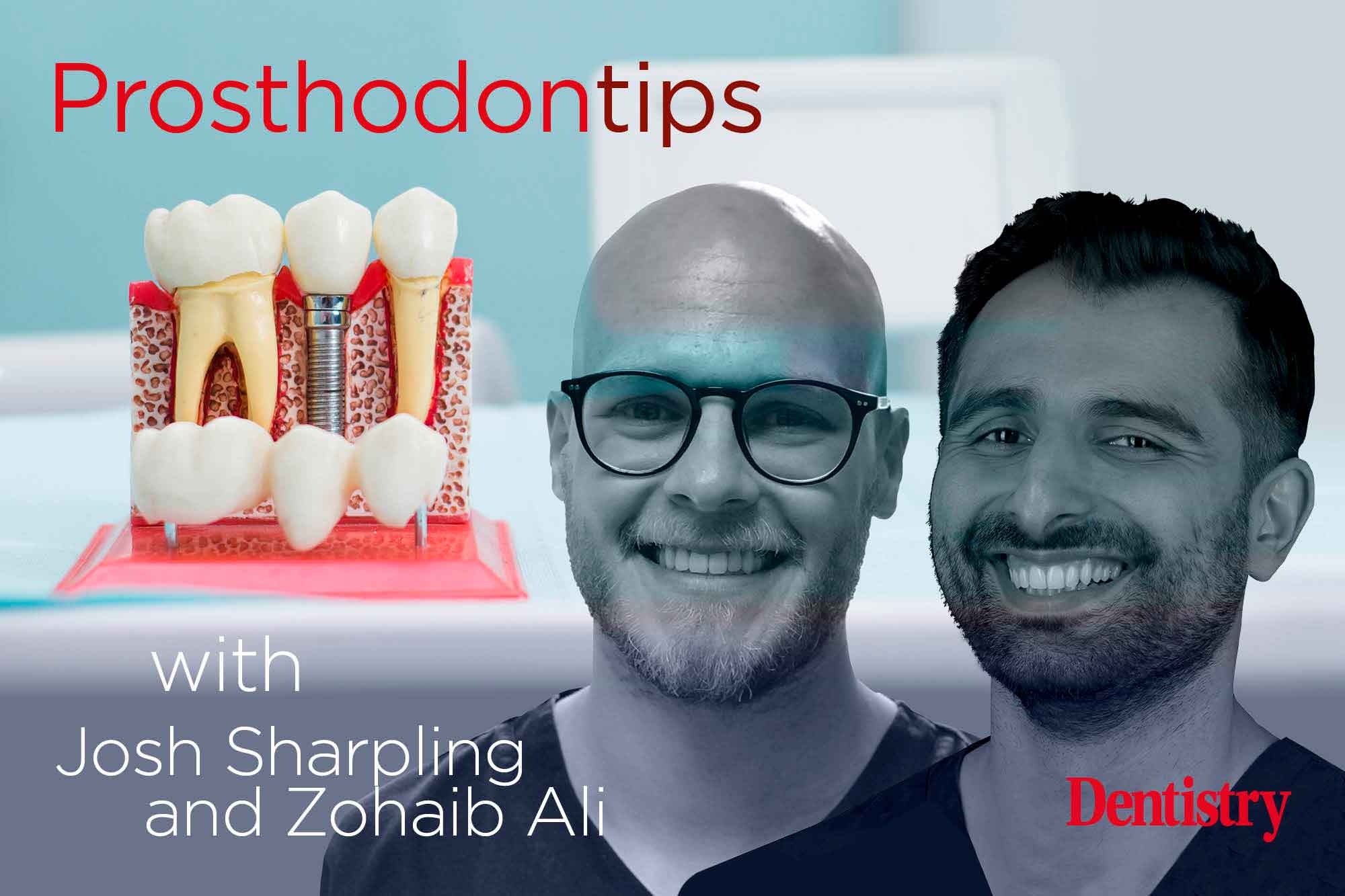 In this month's Prosthodontips, Josh Sharpling and Zo Ali take a closer look at dental ceramics and explore which material to choose.
Ceramics have been used successfully for decades in dentistry. Over time we have seen an evolution in their chemistry, physical properties and thus their uses.
The column this week basically summarises the options available today when we choose to use ceramics.
Background
Ceramics are non-metallic, inorganic structures. They primarily contain compounds of oxygen with one or more metallic elements, for example aluminium or zirconium.
They consist of mainly glasses, porcelains, glass-ceramics or highly crystalline structures.
Structural basis of dental ceramics is vitreous silican, SiO2. Specific agents modify this:

Network formers
Network modifying oxides
Intermediate oxides.
Classification
There are many ways to classify ceramics.
Just a small number of these include composite, manufacturing method, microstructure and fusing temperatures. However, I find the easiest and most practical way to group these materials is based on the nature of the high strength supporting structure. Hence this leaves us with three broad groups:
Metal-ceramics
Reinforced ceramic core systems
Resin-bonded ceramics.
Metal-ceramics
A strong bond should exist between the ceramic and the metal, which is able to withstand interfacial shear forces generated due to differences in coefficient of thermal expansion (CTE) between metal and porcelain.
Essentially, once fired, the porcelain shrinks by a different amount than the underlying metal. This is what gives metal-ceramic restorations their strength.
These porcelains or ceramics are generally reinforced with leucite. Multiple firings will increase leucite content and the CTE. So really we only have a few attempts to get it right.
Reinforced ceramic core systems
This class of materials was extremely popular 20-30 years ago. But with the advent of newer materials, their use has waned.
It includes materials with glass-infiltrated ceramic cores (eg In-Ceram Alumina) and pure alumina cores (eg Procera Allceram).
Their general disadvantages come about from their increased crystalline content. This makes them difficult to acid etch and therefore they cannot bond predictably.
Pure alumina cores also have a very high shrinkage during sintering. This makes them very technique sensitive to produce with a high quality fit.
Alumina reinforced feldspathic core
Zirconia exists in dentistry as yttrium stabilised tetragonal zirconia (Y-TZP).
As an element, zirconia exists as cubic, tetragonal and monoclinic (at room temperature) forms. Transformation to monoclinic form from tetragonal causes volumetric increase (3-5%), which reduces mechanical properties. The addition of yttria stabilises tetragonal form at room temperature.
One of zirconia's most advantageous properties is 'transformation toughening'. This is the changing to monoclinic phase at the tip of a propagating crack. It results in a compressive force and halts crack propagation. We then require a further tensile force to overcome this compressive force. Hence zirconia crowns are extremely durable and strong.
One limitation historically is the frequent chipping of veneering porcelain off zirconia frameworks. This was due to the use of conventional porcelains, which were not matched with respect to CTE. Newer porcelains optimised for use with zirconia have now been developed to address this problem.
Bonding to zirconia has also been controversial. However we are now starting to see long-term evidence in the literature relating to resin retained fixed prosthesis made entirely of zirconia frameworks. Although technique sensitive, it shows a lot of promise for the future.
Resin-bonded ceramics (glass-ceramics)
This is arguably the most common type of ceramic on the market today and is synonymous with IPS E.max.
The basis for this design is an all-ceramic crown bonded to the underlying tooth. The tooth acts as supporting substrate to reinforce the ceramic.
The resin bonding procedure improves the fracture resistance of the entire system. There is a physical bond due to micromechanical interlocking of resin and ceramic/tooth. In addition there is a chemical bond thanks to silane, which aids covalent bonding with silica oxides in ceramic.
Getting the most out of these materials is entirely dependant on bonding protocols with resin cements or composites. Whilst they are contraindicated by some manufacturers in molar teeth, there is evidence to suggest they can perform exceedingly well over a 10-year period.
So which material do I choose?
One size does not fit all unfortunately.
Each tooth and restoration needs designing in a bespoke manner.
The factors you should consider include preparation height, position in the arch, depth of finishing line, occlusion and operative access. For most cases up to and including the second premolars, resin-bonded ceramics (lithium disilicate) would suit quite well.
Further, posteriorly zirconia is often a safer bet. If all else fails, nothing beats gold!
---
Please keep the questions coming for the Prosthodontips team. You can contact us on Instagram (@sharplingdental and @prostho_zo) and also email ([email protected]).
If there are specific topics you would like us to cover in a column, please let us know.
Previous Prosthodontips:
Follow Dentistry.co.uk on Instagram to keep up with all the latest dental news and trends.