Oral Health Summit – smart way to provide preventative oral care for a profitable practice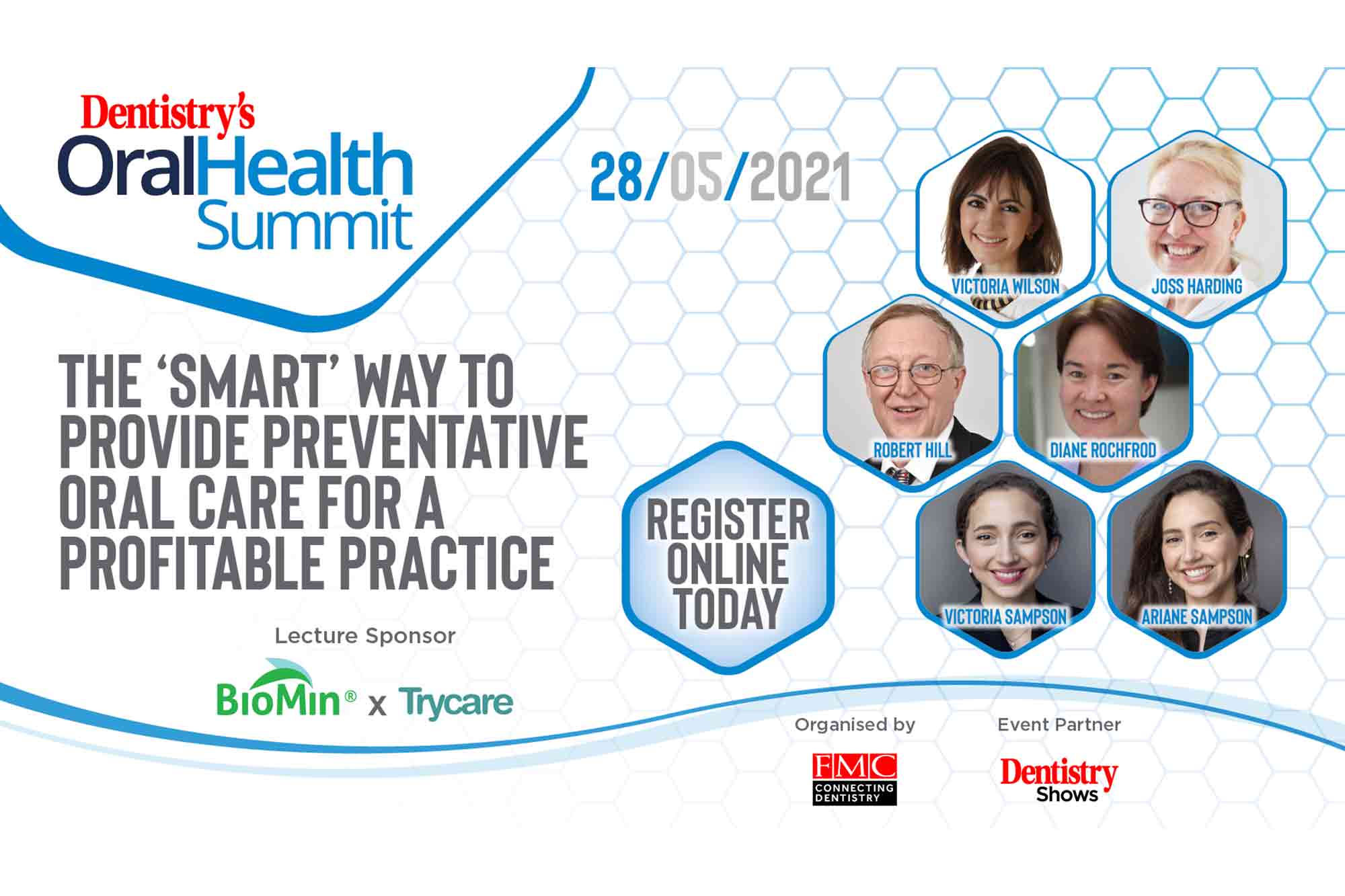 Sign up for the first ever Oral Health Summit to listen to a talk on how to provide preventative care for a profitable practice.
Kicking off on Friday 28 May 2021, FMC will welcome world-leading experts to deliver lectures on the best approaches around.
The one-day virtual event will be hosted in conjunction with charity partner, the Oral Health Foundation and National Smile Month.
The Oral Health Summit is also completely free to attend and will provide delegates with the current learnings and approaches in line with the British Society of Periodontology's latest guidelines.
Delegates can also gain 6+ hours of enhanced CPD throughout the day.
Preventative oral care
One of the lectures taking place will focus on how to provide preventative oral care for a profitable practice.
Learning outcomes include:
To be equipped with the relevant scientific information to make better informed decisions regarding advising patients on dentine sensitivity and remineralisation treatment
Integrating oral hygiene protocols into best practice for the benefit of patients and the practice
Better fulfil patients' needs and expectations and improve patients' experience, retention and recommendation.
The expert panel includes Victoria Wilson, Professor Robert Hill, Joss Harding, Dr Victoria Sampson, Dr Ariane Sampson and Diane Rochford.
The speakers
Victoria Wilson
Victoria began her journey as a dental therapist at the Eastman Dental Hospital, London, in 2001. Her professional experience spans two continents, having worked within practice in the UK, both NHS and private sector, and the UAE private sector.
She is the founder and former president of the Emirates Dental Hygienist Club. She held the position of website officer on council for the British Association of Dental Therapists (BADT). As well as this, she has been a member of the House of Delegates for the International Federation of Dental Hygienists (IFDH). In addition, she has sat on the Communication and Public Relations committee for the IFDH.
Victoria currently consults and is a key opinion leader for multiple industry leaders. She also runs the Smile Revolution, an oral health promotional hub that utilises a range of communication channels in promoting oral health. The Smile Revolution podcast has nearly 11,000 listeners around the world.
Professor Robert Hill
Professor Robert Hill is director and chief scientific officer at Biomin Technologies. He is a materials engineer with a Phd in chemical engineering from Imperial College.
In his early career Robert worked with Alan Wilson on Glass Ionomer Cements (GICs). In 1988 he was part of the group that won the Queens Award.
He was formerly professor of biomaterials at Imperial College. Robert Hill is the inventor of Serenocem a GIC for ENT surgery. As well as co-inventor of Ultradex Recalcifying and Whitening – a nano hydroxyapatite toothpaste. In 2013, he won the Alan Wilson prize for dental materials. He led the group that won the Armourers and Brasiers Venture Prize.
In 2014 he co-founded Biomin Technologies Limited, a Queen Mary University of London spin-out, based on key patents filed on fluoride containing bioactive glasses.
Joss Harding
Joss started her dental career in the Royal Navy in 1987, qualifying as a dental hygienist at RADC Aldershot in 1992. Moving to Gloucestershire, Joss has been with the team at Confident Dental and Implant Clinic in Stroud, Gloucestershire, since 2007. In 2018 Joss won Dental Hygienist of the Year.
Joss is a clinical ambassador for the Mouth Cancer Foundation. She was invited by BSDHT to be a working party member updating the PHE DBOH guidelines in the prevention and early detection of mouth cancer. Joss is part of the United Kingdom Oral Management in Cancer care group (UKOMIC).
She has recently become involved in the consensus group with the World Dental Federation (FDI) to help with the development of an interprofessional course to improve the mouth care of cancer patients.
Joss has been published in many medical and dental publications. She speaks nationally to dental, medical and patient groups to push for a holistic approach to cancer care. She is actively involved in charitable work including 'Talking Mouths Talking Cancer Care'.
Joss is currently studying an MSc in advanced and specialist healthcare with the University of Kent.
Dr Victoria Sampson
Dr Victoria Sampson obtained her bachelor in dental surgery from Barts and the London. Here, she was also chosen to represent the UK in a four-month training program at the renowned Karolinska Institute in Sweden. She completed her foundation training in central London, ranking in the top 100 newly qualified dentists in the country.
Victoria is particularly passionate about encompassing all aspects of health. She sees the mouth as a mirror of general health. She uses biomarkers and inflammatory markers in her work to diagnose and monitor patients throughout their treatment. Additionally, she often works with other specialties to treat patients as a whole.
Victoria has been at the forefront of change in dentistry. She has published numerous papers both in the UK and internationally. Her most recent publication in the British Dental Journal is the most cited and viewed article ever published.
Most recently, Victoria was shortlisted as one of the most promising young scientists in Europe for the Forbes 30 under 30 in Science and Healthcare 2021 for her efforts and devotion to healthcare. Victoria has successfully acquired the diploma of membership of the Joint Dental Faculties from the Royal College of Surgeons (England).
She is currently completing her diploma in facial aesthetics as well as restorative dentistry. Victoria currently splits her time between two private dental practices based in the Harley Street District and St James' Park.
Dr Ariane Sampson
Ariane qualified from Barts and The London School of Medicine. She initially worked as a general dentist in Cambridge, London and Devon, during which time she completed extra training in dental implants. She obtained her membership of the Faculty of Dental Surgery with the Royal College of Surgeons of Edinburgh.
Ariane held senior house officer and senior clinical fellow appointments in oral and maxillofacial surgery and paediatric dentistry at Northwick Park, The Royal London and Addenbrookes Hospitals.
She began orthodontic specialty training at Addenbrookes and Luton & Dunstable Hospitals. After this she gained her membership in orthodontics with the Royal College of Surgeons of Edinburgh. As well as her masters in orthodontics from King's College, London.
Ariane continues to carry out research into links between social media and orthodontics. She has a special interest in the use of mini-screws in orthodontics as a neat way to obtain anchorage for efficient tooth movement. Ariane is a registered specialist in orthodontics.
Diane Rochford
Diane began her career in dentistry as a dental nurse before qualifying as a dental hygienist at Guy's Hospital, London in March 1996. She joined Dr Linda Greenwall's team in September 1996 where she continues to work. She utilises her full scope of practice in all areas of dental hygiene, including tooth whitening.
Since 2008, Diane has been teaching with Dr Greenwall on her tooth whitening courses in the UK and overseas. This was before teaching her own specifically for dental hygienists and dental therapists in 2010. She has also written and published articles for various publications including dental health. In 2016, she completed the BSc (Hons) degree course in dental studies for dental care professionals at University of Central Lancashire (UCLAN).
A BSDHT (formally BDHA) member since qualifying, Diane has held the positions of elected council member, north west regional group representative on council and president-elect before taking on the role of president in November 2020.
---
To sign up for the Oral Health Summit visit www.dentistry.co.uk/shows/oral-health-summit.