Oral Health Summit – guide to using oral hygiene to reduce stress in everyday practice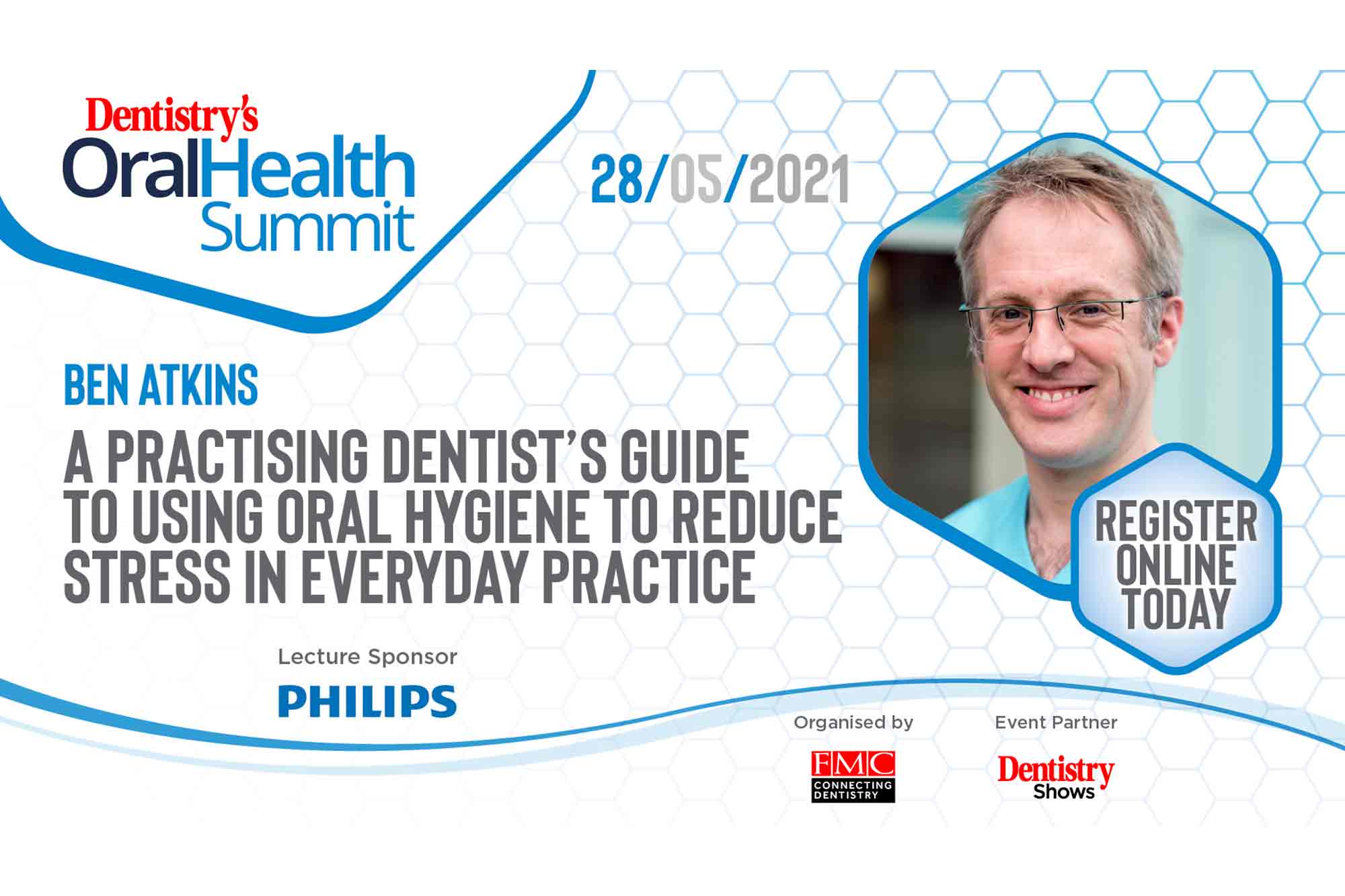 Dr Ben Atkins will discuss how to use oral hygiene to reduce stress in everyday practice at the first ever Oral Health Summit.
FMC is excited to kick off the Oral Health Summit on Friday 28 May 2021 hosted in conjunction with our charity partner, the Oral Health Foundation and National Smile Month.
The virtual event – which is completely free to attend – will provide delegates the latest learnings and approaches in line with the British Society of Periodontology's latest guidelines.
This fully interactive online exhibition will host a spectrum of lectures where leading speakers will showcase the most current clinical thinking.
What's more, delegates can also gain six hours of enhanced CPD – and you can browse at your own leisure.
Running from 8:30am to 5:30pm, the easy-to-access on-demand lectures mean you can tune it at any point throughout the day.
Leading speakers
Dr Ben Atkins – the president of the Oral Health Foundation – is among the event's leading speaker line-up.
His webinar will explore how dentists can empower their patients to take control of their oral health. This will not only improve treatment outcomes but also improve working practice and reduce stress.
Titled 'A practising dentist's guide to using oral hygiene to reduce stress in everyday practice', learning outcomes include:
To give you the tools to embed and a patient journey that allows you to utilise oral health not just give it lip service
Reduce the restorative work you have to do on your complicated new patients and to create time
Enable you to reduce your worries and improve your sanity in the work place.
Dr Ben Atkins
Dr Ben Atkins is a general dental practitioner and was clinical director of Revive Dental Care Group, Manchester.
As a clinician, Ben is a former tutor at Manchester Dental Hospital and a dentist with specialist interest (DWSI) in restorative dentistry.
His practices had a number of separate NHS contracts that cater for the oral health needs of the hard-to-reach groups. As well as the general population within the current NHS dental pilot. Ben encouraged his staff to improve the oral health of hard-to-reach patients in the UK and overseas.
He also provided a mobile dental surgery in Tanzania and three of his team undertook voluntary work in that surgery.
He is the current president of the Oral Health Foundation; press and parliamentary representative for the British Dental Association; former healthcare commission adviser on dental complaints; co-optee of the a National Institute of Clinical Excellence (NICE) Public Health Advisory Committee; member the periodontal steering group for the Department of Health (DoH); chair of Salford Local Dental Committee (LDC) and performance list panel member for NHS England.
To get involved visit www.dentistry.co.uk/shows/oral-health-summit.