EXCLUSIVE: Tony Kilcoyne discusses significant concerns at the BDA after resigning for a second time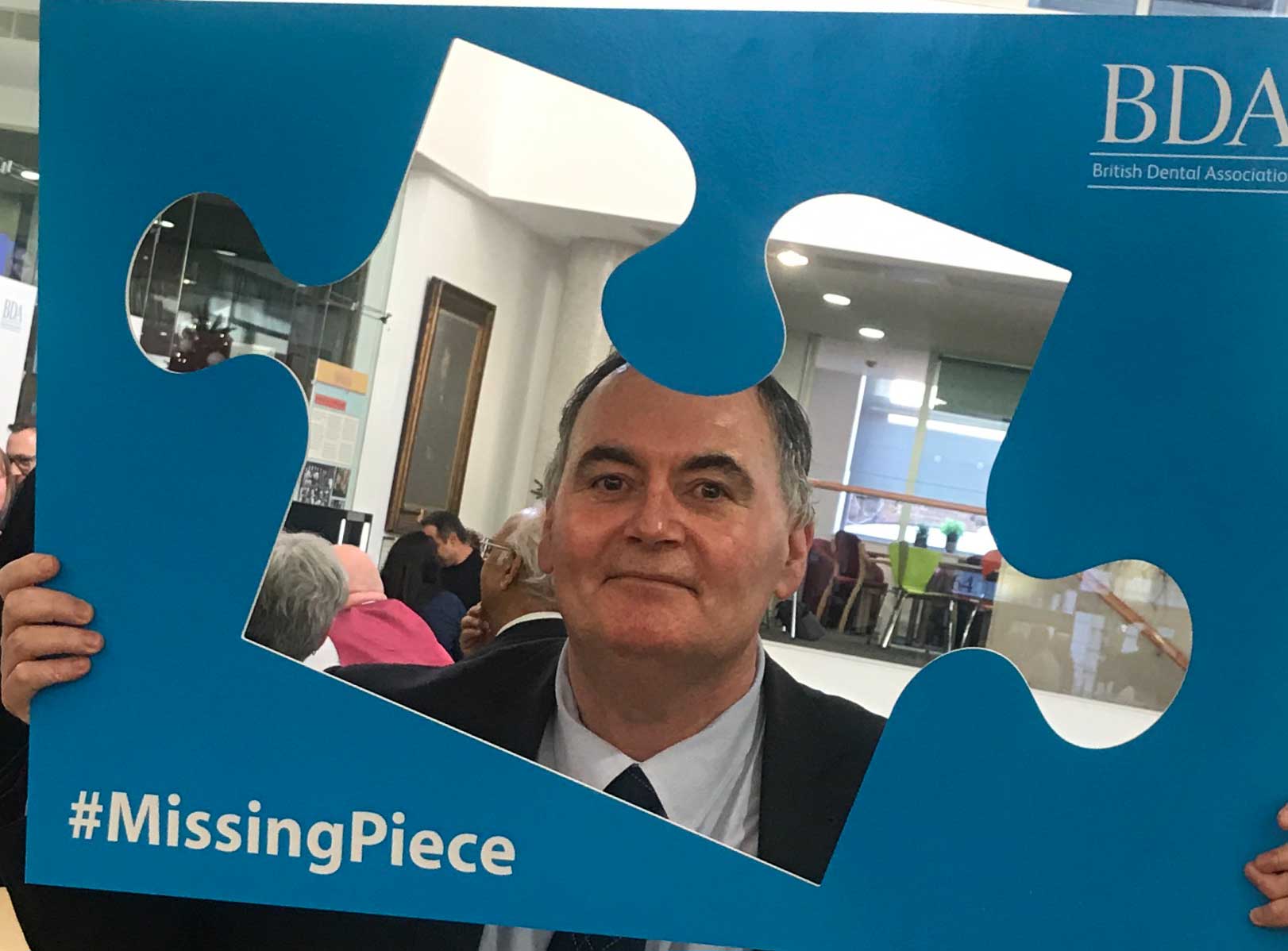 After resigning twice from the BDA PEC board, Tony Kilcoyne says significant concerns remain.
What has happened to cause you to resign for a second time from the BDA PEC board?
Tony Kilcoyne: Since being re-elected by BDA members on the 27 November, after my election statement transparently declared my significant concerns publicly, the PEC board almost immediately excluded and isolated me from routine PEC business, activities and communications unfairly and disproportionately.
This is both an insult to the democratic process and BDA members.
So is this still about the conflict of interest because of your shareholding in a testing company for COVID-19?
Tony Kilcoyne: The BDA PEC board is now claiming that even though this is a minor shareholding, with no officer or managerial responsibilities (I give colleagues training/educational sessions and use these systems in my practice), that testing is now re-defined as a massive conflict involving so much of the BDA agenda and routine business, that it is not practical to do the usual and exclude me just from any items/papers involving COVID-19 testing information.
The BDA claims I must be excluded from nearly all unrelated BDA business. Be totally isolated from board contact and I must sell all shares, cease any training or education or even mention this aspect again. As well as make a joint statement publicly with the BDA announcing this with immediate effect.
This is the only option it will consider.
PEC apparently voted upon this quickly on the 2 December. Without any warning or offer to discuss options with me and the board online first.
This goes against the BDA's own conflicts of interest (CoI) articles, describing how PEC 'usually' manage such aspects. As well as being totally out of tune with its public statement on the 22 June to our profession, after my last resignation.
The PEC states this is not because I have whistleblown my concerns about its governance and conduct. And that it is not personal at all.
So what has changed between the 22 June and my re-election by our profession? My election statement exposed these concerns and revealed my minor shareholding transparently. I was asking voting colleagues if they want me to return to help fix the BDA from within.
Can you remind us what was said in that 22 June statement?
Tony Kilcoyne: When explaining the PEC's approach to managing CoI in my particular case, the then chair of the PEC stated publicly on 22 June 2020 on the BDA website: 'In that spirit, Tony's colleagues on the board have asked him to agree to a number of conditions for his continued financial interest in and advocacy of a screening company, to seek to ensure that separation of roles was clear.'
However it is now clear on a prima-facie basis, that this was never really the board's intention. As such, that statement is therefore very much mistaken, misleading or designed to mislead our colleagues generally!
Indeed when at the end of January 2021, after many previous requests to meet with the board were refused, they finally agreed to speak with me.
When pointing out this 22 June public statement, the wording in our BDA CoI articles, its inconsistency, lack of any table of options or risk assessments (only I provided these), the eventual minutes of that meeting (involving the PEC and senior management), left out those pertinent details. I had to insist the minutes were corrected to be a true reflection.
Instead I was told the BDA board disagreed. Saying that wasn't its recollection (I had read these out word for word for accuracy). I had to continually insist they were factually and correctly included.
After multiple emails the board eventually agreed to attach my accurate version as an appendix to its incomplete and mistaken or misleading version.
However, I hope you can see how basic accuracy and many matters are unnecessarily difficult and are mis-represented generally.
That was so unnecessary last summer and now again, but more frequently!
Sadly the PEC and top executives still refused anything but the original 2 December unilateral decision. In escalation, they added any delay in total submission would bring additional charges of not being fit to be a director. And that they would look to scupper me in other ways too (the very shortened version).
It seems this was likely embedded before I had officially started on the 1 January. It was all carried out without the board meeting or even talking with me. Someone's fait accompli?
What was happening with the BDA's own investigation?
Tony Kilcoyne: I had called for an external independent investigation in my public whistleblowing and my election statement. But this was totally refused by the BDA senior management. The only thing on offer was another internal BDA-led scrutiny committee investigation. But this time with a non-BDA committee professor overseeing to ensure no obvious foul play or favouritism during the investigation itself.
I submitted as much evidence as I could. But my reduced access means I have a mix of some strong evidence, some moderate and some weak. Still very useful pointers however.
Despite submitting numerous documents, examples and concerns, I later discovered both the scope and depth of this 'investigation' was actually very narrow and shallow.
It would not dig-deep into internal communications. Or advertise for witnesses to come forward, for example.
In short, I was left with having to 'prove' everything myself. The investigation would only/mainly interview the PEC board, senior executives and some past people on the PEC too.
Now, unless someone was in 'confession-mode' and given much was hidden from most people unless at the top (it took me four years to realise what was going on), the main 'bad actors' could tell any story they liked. And the majority were likely not involved. But they were still misled themselves or victims of group-think, I suspect.
Are you not satisfied with the investigation process or outcomes then?
Tony Kilcoyne: Most definitely not!
Not only have I not been interviewed or cross-examined at all, but it was too superficial and narrow. There was no real depth or powers to investigate critically.
Worst of all, when it did come across significant aspects that needed exploring (such as audit issues), these were fobbed off as not going there. Or for conflicts of interests (not just mine), there is a one liner saying the BDA needs more consistency. This is the understatement of the year, frankly.
On the positive side their interviews at the top did show it wasn't just me that had concerns. Though the majority were neutral or even positive in their opinions. But is that a true investigation for matters that are likely hidden from or suppressed in that cohort?
Even if I was the external observer, whilst BDA scrutiny did the actual investigation, with such a narrow, shallow remit, mainly based upon interviews of those most implicated, I too might have been forced to conclude there wasn't sufficient voluntary evidence found, taking that blinkered approach.
It's hardly AC12 is it? More like AC2.5.
The BMA investigation didn't make this error. And the BMA is determined to do full disclosure to ensure it deeply examines and fixes its problems progressively. Not play hide or deny.
Absence of evidence is not evidence of absence. Especially when done so superficially.
The investigation did conclude that you shouldn't be whistleblowing and should have exhausted more internal routes. What do you think about that?
Tony Kilcoyne: In my 35+ years in dentistry, having worked in many organisations from the RCS, the GDC, HEE etc, knowing many matters aren't always perfect, the BDA is the only one where I have had to whistleblow at all. Not once but twice in short order. Because of my genuine and serious concerns remaining about the culture and governance at the top.
Whistleblowing is an important safety valve. Where genuine concerns exist, it's essential.
Please remember that my concerns involved key people at the top of the BDA. They are acting in ways that are not transparent, fair or being bad actors as a group.
I found myself standing again for the PEC election in October. This was simply because so little appeared to be done since my first whistleblowing. I shouldn't have to do that.
After my re-election by BDA members, my position there has been made a living hell; not entirely unexpected some may say. But I really wanted to give the top of the BDA further chances to move forward constructively, to benefit all.
It soon became apparent that wasn't going to be allowed to happen. As the screws were turned ever tighter and in desperation, I even sent an email to scrutiny entitled 'Help Please!!'
But they couldn't help or suggest an alternate.
So I have and did exhaust all reasonable avenues, despite BDA denials. There was no help available. So forgive me for being very sceptical indeed.
Thus, my having to whistleblow again in both the public interest and to help prevent this happening to anyone else.
Tony there has been much discussion about balancing the boards, what do you think?
Tony Kilcoyne: I'm almost certain that if at least 50% of both the PEC and the executive were female, this self-serving negative top-down restrictive culture would not get traction. Any such issues would be resolved early, transparently, fairly and constructively, for the greater good of all. There is evidence for this too.
If you want change, you are going to have to propose and support it at the BDA's AGM soon.
I hold no personal grudges. But I know the BDA must change at the top in several key ways.
BDA's response
The BDA has expressed its disappointment in Tony's decision. Underlining both the robust process and outcomes of the investigation into Tony's concerns, and his unwillingness to pursue options set out to him to resolve extant conflicts of interest.
Tony's board colleagues do not accept the account of events he has set out in various social media posts and repeats in this interview.
Having examined the evidence and having sought to determine an outcome 'on the balance of probabilities' as per the model in employment tribunals, the committee concluded that Tony Kilycoyne's complaints could not be upheld.
The committee has also concluded it 'cannot reasonably identify behaviours that would necessitate whistleblowing.'
'We took Tony's concerns about his treatment very seriously,' British Dental Association chair, Eddie Crouch, said.
'Our UK council has overseen a thorough investigation, with senior independent input.
'On the basis of the evidence received, the scrutiny committee has concluded unanimously that it has not found evidence to support Tony's complaints.
'As a trade union and professional body, we have a responsibility to manage any potential conflicts of interest on our board. Options were set out to Tony that, with his full agreement, could have achieved that.
'Unfortunately, Tony did not recognise or resolve these conflicts.
'It is disappointing that he has chosen this route when others were open to him. But this remains a robust process with robust outcomes, underpinned by expert legal advice in which we have every confidence.'
---
Disclaimer – all content is the personal opinion of Tony Kilcoyne and is stated in the public interest. It is totally independent to any posts held in the past, currently or in the future.
Follow Tony Kilcoyne's journey: