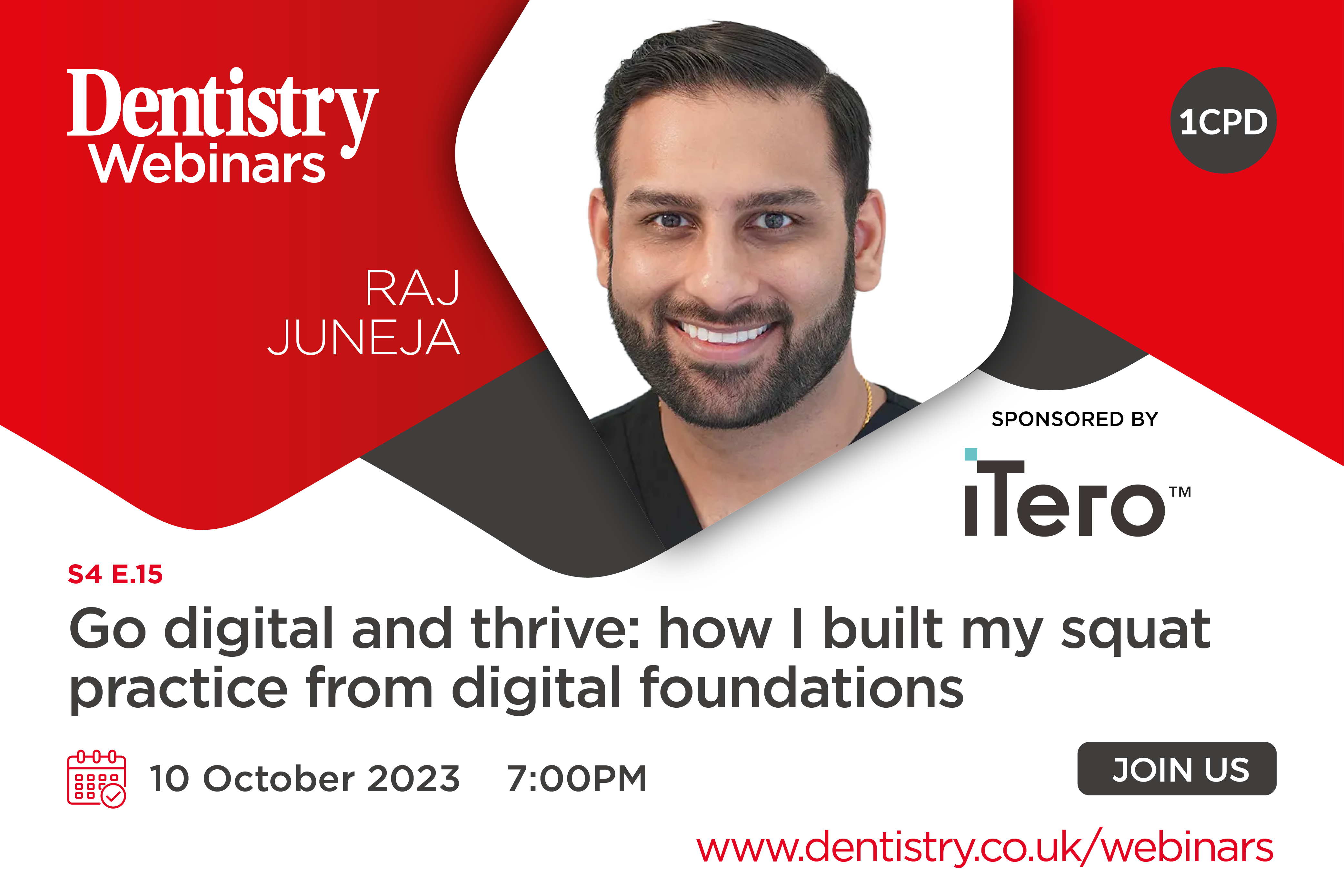 Join Raj Juneja on Tuesday 10 October at 7pm as he discusses how he built his squat practice from digital foundations.
In this webinar detailing the power of Align Technology's iTero digital scanner, Dr Raj Juneja the principal dentist at Face Teeth Smile, explains why it's the one piece of digital kit he and his team use every day, for every patient.
He explains how he became a strong exponent of iTero some six years ago after tiring of treating patients with, what he calls, 'old techniques' and finding it difficult to communicate with them about the treatments he knew were best for their needs.
'That's when I came across the iTero digital scanner. It blew my mind to find that not only could I use it as a record keeping device… I could actually use it as a huge communication device for my patients,' he says.
Every patient is now scanned prior to treatment – something Dr Juneja says has been instrumental in the trajectory of his dental career.
'The iTero scanner enabled me to build a patient base that recognised me as a leader in digital dentistry, as someone at the cutting-edge of digital dentistry and who wants to do the best for their patients.'
Team effort
In this webinar he explains how his practice now has two iTero scanners which every member of his team understands how to use – from associate dentists to specialists, the hygienist, nurses and treatment co-ordinators; if they are GDC registered, they use the iTero scanner.
He also talks through a case study in which he performed a same-day smile makeover, fitting 10 porcelain veneers, something Dr Juneja stresses would not have been possible without the latest digital technology – specifically the iTero scanner.
'Simply put, if I didn't have my iTero scanner, it would be like losing my right hand,' he concludes.
To find out more and to watch Dr Raj Juneja's webinar register here.
Learning outcomes
How to use digital tools available on the iTero scanner to increase case acceptance
How to use the iTero scanner as a chairside scanner, digital designs, same day 3D printing and restorative work
Use of iTero features in your Invisalign workflow
Empowering the dental team by going digital
Grow your practice and productivity using digital workflows.
Raj Juneja
Raj has embraced digital dentistry in his brand new clinic Face Teeth Smile Dental Clinic. From digital scanning to chair-side milling, he has unlocked the power of digital dentistry to help him exponentially grow his patient base whilst delivering the highest standard of care to his patients.
With a keen interest in aesthetic dentistry and orthodontics, in particular the use of the Invisalign system, Raj has managed to become an Invisalign Diamond Provider within a short period of time.
And as a finalist as 'Best Young Dentist' in both the Private Dentistry and Dentistry Awards, and a winner of numerous undergraduate awards, Raj has continued to grow by striving for perfection for his patients and using digital dentistry as a tool do so.
He was also appointed as a clinical speaker with Align Technology in 2019 and thoroughly enjoys spreading his passion for digital dentistry through study clubs and online webinars. He enjoys mentoring other dentist in clinical cases and optimising their workflows to improve efficiency in their practices and grow case numbers.
---
To register for this webinar, simply visit www.dentistry.co.uk/webinar.
Catch up with previous On Demand webinars:
Follow Dentistry.co.uk on Instagram to keep up with all the latest dental news and trends.