South West Dentistry Show – catch Deepak Simkhada on 2 July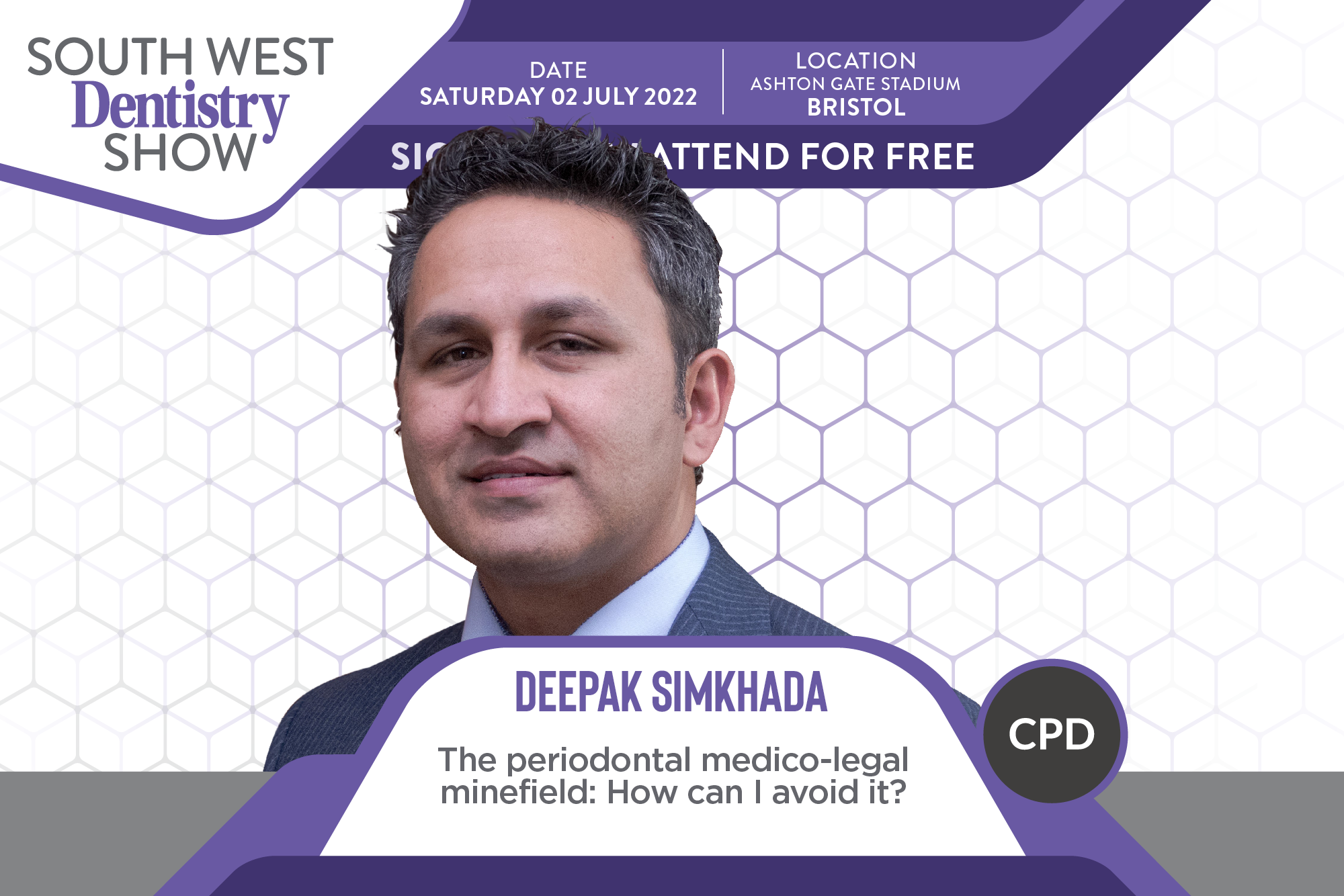 Tackling the periodontal medico-legal minefield, catch Deepak Simkhada at the South West Dentistry Show on 2 July. Sign up for free now!
A major dental exhibition will make its way to the south west of the UK for only the second time in recent history.
For everybody in the south west of the UK, make sure the 2 July is in your diary – don't miss the South West Dentistry Show in Bristol!
FMC's South West Dentistry Show proved a huge hit when it first ran last year and now it's back by popular demand.
With an impressive array of power lectures on a variety of clinical topics, as well as a whole range of companies exhibiting, the South West Dentistry Show is your chance to learn, engage and experience the very latest in dentistry.
'It was great to see so many people last year who hadn't been able to attend shows in other major cities around the UK last year,' said Leanna Ellis, events director at FMC.
'This is the whole reason we launched our regional calendar – to bring the show to you.
'And we aim to make this year one that certainly doesn't disappoint.
'With something for everyone, it'll be a day your whole dental team won't want to miss.'
Deepak Simkhada – the periodontal medico-legal minefield: how can I avoid it?
Deepak qualified from the University of Dundee in 2007 with a BSc in oral health and a MSc in advanced periodontal practice from the University of Essex in 2008. Later on, he completed a PGCE from the University of Greenwich.
 He has a special interest in managing advanced periodontal problems in primary care settings through non-surgical periodontal treatments. 
Deepak annually organises a volunteering trip to Nepal (Oral Care for Developing Countries) to promote oral and general health, and provide pain relief and general dental treatments.  
Currently, Deepak practices as a dental hygienist therapist two days per week in a general dental practice and runs courses on various aspects of periodontology internationally (www.periowithdeepak.com).
On his lecture, Deepak commented: 'Delegates will learn six crucial steps they can implement to minimise periodontal medico-legal challenges.'
Following his lecture, he hopes delegates will have the ability to:
I

mplement documentation required for periodontal patients

Outline steps that help to minimise periodontal risks

Work towards creating a periodontally focused team.

 
What's on at the South West Dentistry Show?
As with all FMC shows this year, we're bringing attendees leading speakers, specialist manufacturers and hours of CPD.
You'll be able to hear about, try and purchase the latest dental innovations – all under one roof.
And best of all, to access all of this it's completely free of charge!
Leading line up of speakers
More speakers will be announced closer to the time. Keep checking www.dentistry.co.uk/south-west to find out who's been added.
In the meantime, here's a small selection of the line up already announced:
Ashish Soneji – Focusing practice on minimally invasive cosmetic dentistry
Alison Large – Managing patient expectations
---
To register for the South West Dentistry Show, simply visit www.dentistry.co.uk/south-west.
Follow Dentistry.co.uk on Instagram to keep up with all the latest dental news and trends.