South West Dentistry Show – don't miss Aly Virani on waterless bone drilling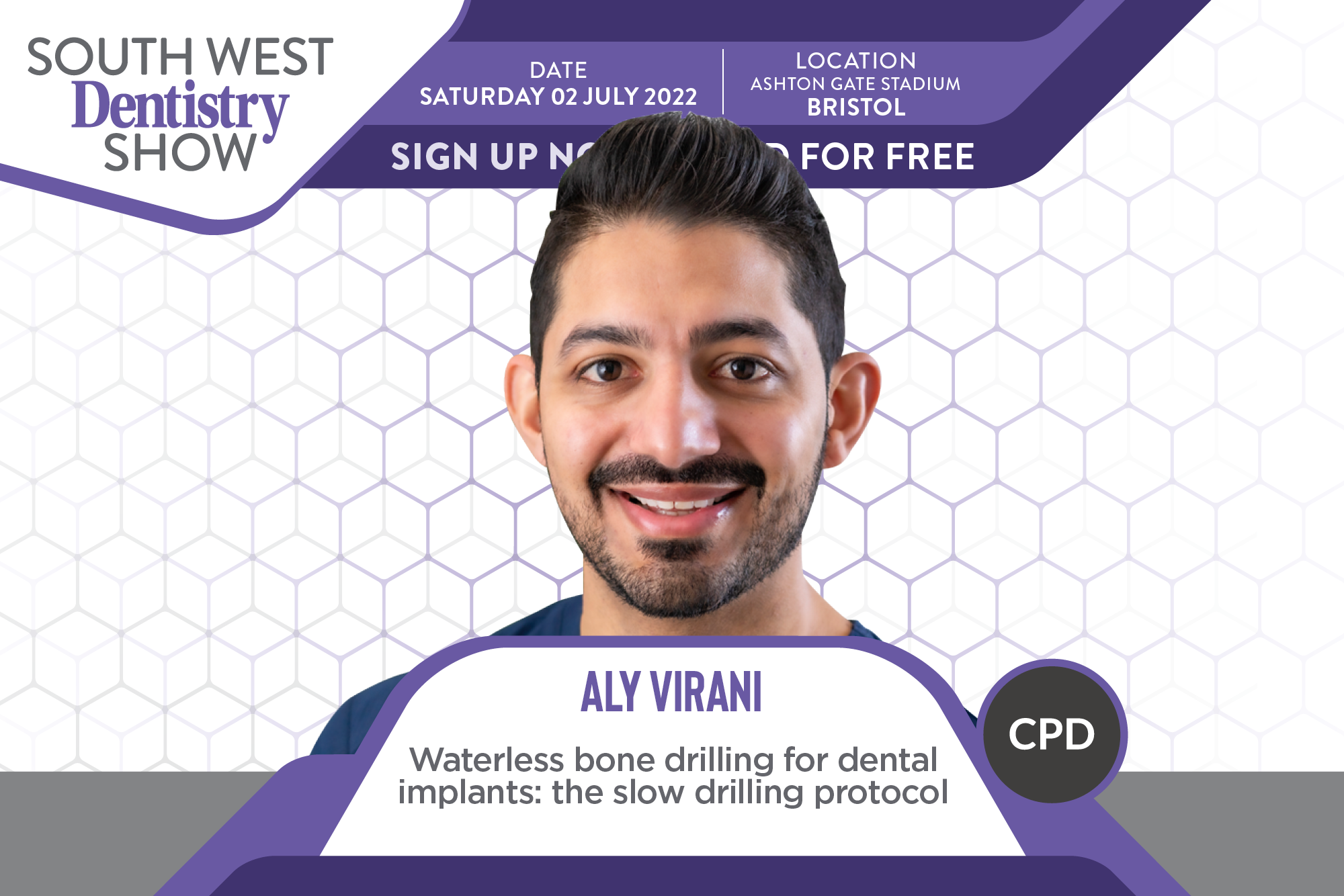 Aly Virani will take to the stage at the South West Dentistry Show on 2 July to discuss waterless bone drilling for dental implants – sign up for free!
For only the second time, FMC will bring a major dental exhibition to the south west of the UK.
Taking place on Saturday 2 July, FMC's South West Dentistry Show proved a huge hit when it first ran last year.
Now it's back by popular demand, with more speakers and exhibitors than before.
The South West Dentistry Show is your chance to learn, engage and experience the very latest in dentistry. It includes an array of power lectures on a variety of clinical topics, as well as a whole range of leading companies.
'We cannot wait for another year of fantastic shows,' said Leanna Ellis, events director at FMC.
'By launching our regional calendar, we will bring the show to you. With that in mind, we will be sure to make it an event to remember.
'From dentists to dental nurses and technicians, it's a show with something for everyone. Make sure you register and get yourself signed up for free.'
Aly Virani – waterless bone drilling for dental implants: the slow drilling protocol
Aly Virani is a graduate of Cardiff University and holds a diploma in implant dentistry from the Royal College of Surgeons of Edinburgh.
His practice of dentistry is focused solely on the placement and restoration of dental implants.
He currently holds a position on the board of directors of the Association of Dental Implantology (ADI), where he was the Welsh Representative from 2015-2017 and again in 2021.
Aly continues to lecture (and learn!) in the national forum. He currently spends his time travelling between his newly acquired practice (North Cardiff Dental & Implants) and Portman's Hereford Dental & Implant Clinic. 
Aly says of his lecture: 'I aim to share my reading and experience with this technique and hope that the connections that I make between bone physiology theory and our daily clinical practice will be of use to you'.
He hopes delegates take away from his lecture:
An exploration of the biological effects of surpassing these temperature thresholds

 

An understanding of the rationale behind using a slow drilling technique

 

The practical considerations for implementing a slow drilling protocol

 

Clinical scenarios where this may be useful

 
Who else is speaking?
Keep checking www.dentistry.co.uk/south-west to find out who's been added.
In the meantime, here's a glance at those already revealed:
Ashish Soneji – Focusing practice on minimally invasive cosmetic dentistry
Deepak Simkhada – The periodontal medicolegal minefield, how can I avoid it?
Alison Large – Managing patient expectations
---
To register for the South West Dentistry Show, simply visit www.dentistry.co.uk/south-west.
Follow Dentistry.co.uk on Instagram to keep up with all the latest dental news and trends.