The history of dental nursing – a 25-year perspective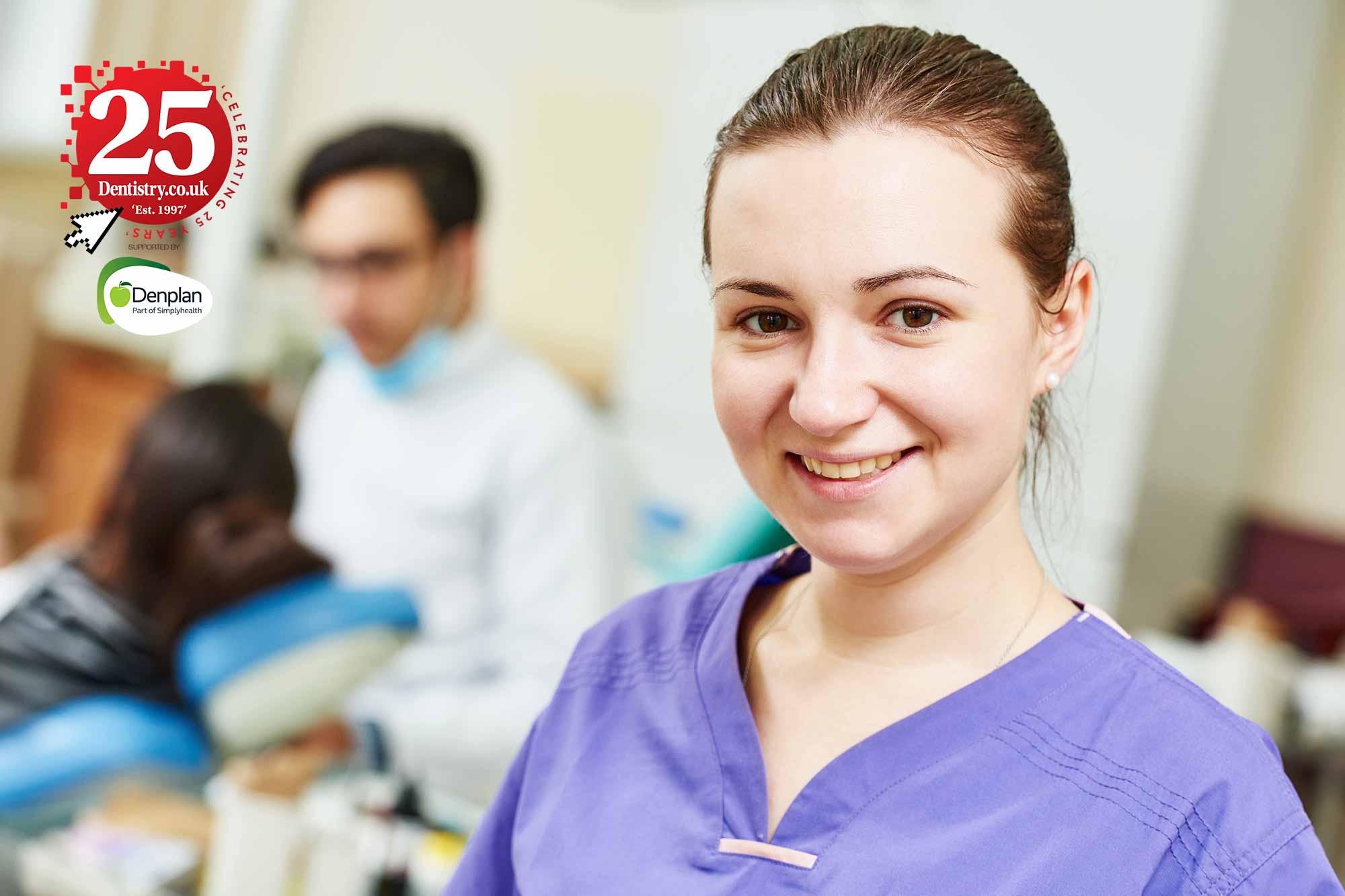 Fiona Ellwood BEM, a registered dental nurse, reflects on the history of dental nursing over the last 25 years, and highlights some of the profession's changes over her career.
Reflecting on the history of dental nursing since 1997 perhaps provides an opportunity to revisit one of the fastest moving periods of dental nursing in the UK.
This is of course not to dismiss any of the great achievements prior to this, or those involved, which undoubtedly influenced where we are today.
In fact, perhaps one of the greatest influences along the way came from the Nuffield Foundation Inquiry in 1993 (Nuffield Foundation, 1993).
The 1993 Nuffield inquiry
The inquiry was the turning point towards modern day dental nursing requirements.
In 1994/1995 dental surgery assistants in the UK became known again as dental nurses. This was the beginning of the end of the dental surgery assistant (DSA) title as many of us knew it.
In 1997 the National Voluntary Register for dental assistants/nurses was still in place. Dental nursing qualifications were optional.
However, a response to the Nuffield report in May 1998 from the Dental Advisory Review Group (DARG) suggested that all professionals  complementary to dentistry (PCDs) should be statutory registered with the General Dental Council (GDC), qualified or on an approved training course. This was presented to the GDC.
By May 1999 the GDC agreed in principle that all PCDs, inclusive of dental assistants/nurses should be registered, qualified or in training.
In 2001 a steering group was formed to implement registration by the GDC.
In 2003 in response to the Nuffield Report in parliament, the Dental Auxiliaries (amendment) Regulations 2003-11-07 Section 60 of the Health Act 1999, recorded in column 1,047 makes clear that plans relating to the historic shift to include dental nurses as registrants was progressing.
Several committees and groups were involved in bringing this to fruition.
New opportunities
Meanwhile, in the year 2000, there was the introduction of an additional qualification, the National Vocational Qualification in Oral Health Care: Dental Nursing, awarded by City and Guilds.
With the new qualification came opportunities to become tutors, assessors, internal verifiers and external verifiers. As well as centre managers.
Up to this point only the traditional qualification existed, which related back to the 1940s. This qualification was originally awarded by the British Dental Nurses and Assistants Examining Board (BDNAEB).
There was a name change to Examining Board for Dental Assistants (EBDSA) and then to the National Examining Board for Dental Surgery Assistants (NEBDSA). It is now formally known to many as the National Examining Board for Dental Nurses.
Registry changes
In 2006, the two-year window opened to registration. It offered three routes to allow existing dental nurses entry to the register by:
Qualification,
Demonstrating competence via the successful completion of the Access to Registration Training (ART) and
The grand-parenting route, which required supporting references and a need to have worked as a dental nurse for a minimum of four years in any eight-year period.
It was hoped at this point that registration would also raise the profile of the dental nurse. Those who were titled DSA by examination, were taken on to the register through application and became known as dental nurses.
By 2006 the umbrella term professionals complementary to dentistry (PCD) had become dental care professionals (DCP). This is commonly applied today.
In 2008 the time-limited grand-parenting opportunity and competence-based training period came to an end. Additionally, statutory registration became compulsory via qualification only.
Those with qualifications dating back to before 1994, the dental surgery assistants needed to have joined the register before the 2008 cut-off window to avoid having to re-take their qualification. There was a lot of confusion at the time, and some missed the registration window.
Extended duties and additional skills
This was a mere 14 years ago. As I write this it is perhaps the point that only some dental nurses will remember, knowing the high turnover of staff some dental workplaces face.
At this time, we were guided to not use the title of registered dental nurse (RDN). This is because it this does not reflect the registrable title and of course, it is a take on an Americanism. They have the title of a registered dental assistant.
The changes then seemed to come along quickly. With registration came extended duties and additional skills. As well as the introduction of continual professional development (CPD) and indemnity requirements.
The extended duties category was soon removed. Only additional skills are evident in the GDC Scope of Practice document today (GDC, 2013), despite some making use of the title extended duties dental nurse (EDDN), which is not a registrable title.
The Scope of Practice document outlines the skills that dental nurses can develop. It lists the dental activities which can be carried out on prescription from a dentist or under the direction of another registrant.
It also makes clear that dental nurses do not diagnose disease or treatment plan. They are however allowed to undertake fluoride varnish application. Not only under prescription from a dentist, but as part of a structured dental health programme (GDC, 2013).
The evolution of CPD
It is worth noting that in 2011 the NEBDN made extensive changes to the examination format. Likewise, a number of alternative qualifications have evolved since.
These qualifications range from level three up to degree level. Some delivered in further education settings, some in the higher education setting. And others by private providers and of course within the military.
In the earlier days dental continual professional development (CPD) 2008-2017 was set at 150 hours over a five-year period. It was required that at least 50 hours of verifiable CPD and thereafter general or non-verifiable CPD could be undertaken.
All of this needed documenting and was subject to sampling by the GDC.
The GDC also in this first phase of the introduction to CPD identified CPD topics and highly recommended their undertaking, stipulating a minimum number of hours per topic, per cycle and per year. The GDC also provided a list of topics that registrants were expected to keep up to date with.
In 2018 CPD became enhanced continual professional development (ECPD). The required hours were reduced for dental nurses to a minimum of 50 hours and non-verifiable CPD no longer had to be recorded (GDC, 2018).
The GDC also provided clearer guidance on ECPD and guidance for providers of ECPD.
Societal turning points
In 2015 the Society of British Dental Nurses was founded by a number of experienced dental nurses. It had a key focus on the development of dental nurses through education, learning and training.
The society has evolved and expanded its work and added to its expert consultant's board, its regional representatives and the ambassador team from across all of the nations.
Of equal interest may be the formation of the International Federation of Dental Assistants and Nurses (https://ifdan.org/), which the society are involved with. I am currently the nominated president of the society.
It is also worth noting that we now celebrate National Dental Nurses Day on the 22 of November annually. This represents the recognition of the first dental nursing examination in 1943.
In addition to this the DSA Alumni was launched in 2021. This marks the sad loss of Dame Margaret Seward in 2021, who was an influential figure during the times of change for the then DSA.
Breaking tradition
Fast forward to more recent times, there have been several new dental nursing qualifications appearing. Some are at level three, some nation specific, some at level four and at foundation degree level, some at higher education certificate level and finally, at degree level.
The primary qualification opportunities have certainly expanded.
Meanwhile, the traditional and early ones have morphed into more modern qualification formats. This has changed the landscape of dental nursing, as have advancements in treatments, materials, and technology.
Dental nurses are rarely required to attend college after a day's work. In some cases, they are required to have 20% off the job training.
Opportunities to get involved in wider dental working, charitable working both in the UK and in the underdeveloped countries has expanded over the years and more charitable groups have evolved.
Dental nurses are keen to expand their skills outside the traditional dental settings. Many are looking to work independently where possible.
The dental nursing agency landscape has grown beyond recognition. There are more self-employed dental nurses than ever before. In some instances, dental nurses are working in the dental trade industry, some in research and some have moved to working in higher education institutions away form the dental nursing floor.
Of course, the corporate dental arena has expanded over this period too. This has brought a very different dimension to working within dentistry.
The world of social enterprise has also found a place in dentistry. Where once the dental arena was predominantly NHS with a small amount of private work being undertaken, again there has been a distinct shift.
The specialist field has expanded. Some dental nurses are therefore working in specialist setting. Implant dentistry has also become more widely practised.
New challenges
The pandemic has certainly brought challenges at all levels. Dental nurses have been key in the management and maintenance of infection prevention and control.
Many were furloughed, some worked in urgent care settings and many secondary care dental nurses were redeployed. Sadly many lost their employment and others simply decided to leave the profession.
We, yet again, find ourselves with a shortfall in experienced dental nursing staff.
There is much talk of career pathways for dental nurses. However, as with general health, advancing of skills and qualifications is not often rewarded and can result in not being patient facing.
From my own perspective, the last 25 years, as you have read in this surface level description of what has happened over this period, has been remarkable.
I have personally achieved so much, and hope others will now feel that they can knock on similar doors and plan their careers.
My research amongst all of the studies I have undertaken have also indicated that whilst money is important, being valued, respected, listened to and invested in, have been more popular solutions.
Many will not know the challenges of the early times of mine and other's careers. Many will not know anything other than being a registrant. Others right now are perhaps meeting true dentistry for the first time.
My interests and passions in dentistry have changed as I have studied. Whilst clinical work has always been important to me, I do seem to currently be undertaking a disproportionate amount of non-clinical work.
Find your path
Since my masters degree I have given much time to education, leadership, mentorship, public health, patient safety sciences and mental health. I have roles as an external examiner at three universities, associate roles with the GDC, and I am currently employed one day a week as a subject expert at Bangor University.
I am a regional representative for the Royal College of Surgeons Edinburgh, and I am privileged to have been part of the SDCEP work during the height of the pandemic and to be a co-investigator in an extensive NIHR research project that is currently underway.
Additionally, I have been fortunate to have been presented with an honorary fellowship from Faculty of General Dentistry and was awarded a fellowship from the Dental Trainers Faculty at Royal College of Surgeons Edinburgh.
I also hold the Outstanding Contribution to Dental Nursing Award of 2011 and a Special Recognition Award from the National Examining Board for Dental Nursing 2020 and was honoured to accept a Queen's honour for my contribution to dentistry 2019. All of these are awards of recognition that any dental nurse could achieve.
My message to anyone entering the profession is to take time to find your path and your interests. Plan your future with someone who knows the field. I would not encourage the collecting of ad-hoc courses or qualifications. You may not have the opportunity to utilise them and you may become deskilled.
Whilst it may not seem like it, it is an exciting time to be a dental nurse. Part of me wishes I was just starting out again now that the opportunities are there.
I say this with a word of warning though. Do not sit and wait for opportunities to find you. You need to use your initiative and seek out opportunities too.
References
Nuffield Foundation (1993) Education & Training of Personnel Auxiliary to Dentistry Recommendations
UK Parliament (2003) Dental Auxiliaries (Amendment) Regulations, Vol 654
C (2005) The rise and rise of PCDs, Vital 2, 16-18
N, and Gelbier. S (2012) The Changing Role of Dental Care Professionals: Witness Seminar 3, British Dental Association
GDC (2013) Scope of Practice
GDC (2018) Enhanced CPD Scheme
---
Follow Dentistry.co.uk on Instagram to keep up with all the latest dental news and trends.