'Severe lack of support' – why dental nurses are leaving the profession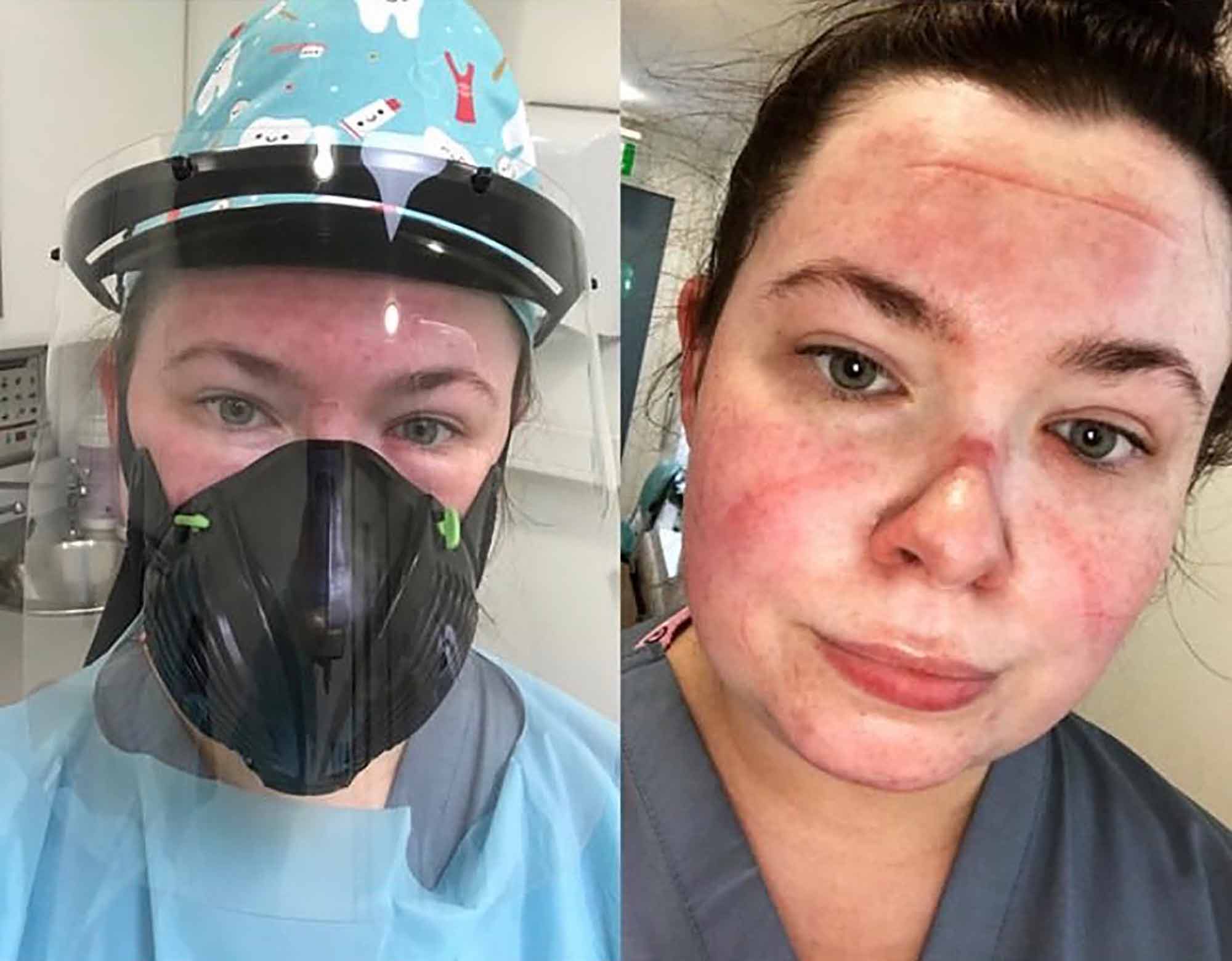 We hear from three dental nurses about how their role has been shaped and changed by the pandemic – and why they think so many have chosen not to re-register with the GDC. 
Danielle Schroven – 'you are all superstars'
From the minute COVID-19 happened, it was a worry for all workers in the healthcare sector.
Throughout the pandemic there have been a lot more lows than there has been highs. Especially within clinical and medical aspects. I never thought it possible for the whole world to lockdown and everyone stay home.
It was an experience I'll remember forever. I have witnessed dental nurses leave their jobs and not return. I've seen dental nurses cry, bruise and have anxiety attacks because of the changes. The PPE struggle was a huge impact on our daily jobs and tasks.
From wearing standard, gloves, masks and visors – it turned into full surgical AGP kits with FFP2/3 masks. From the moment I stepped into my AGP kit, I knew it was going to be hard. I remember reading 'what to do when you feel claustrophobic' in our return to work policies.
I was scared, fearful and terrified of going to work during a pandemic. In my opinion, nurses are turning away from their careers because of the pressures and stresses of what our jobs now entail. The extra PPE, the safety measures, the different shift patterns – all these things that come into it.
Worried for the future
I've heard a lot of nurses express their concerns for their families and their own wellbeing. Worry about carrying unwanted germs home and passing it through to family members. It's understandable and it's a sad and worrying time for all. I feel nurses need more support.
I feel anxiety and confidence needs to be spoken more of too. Support groups, chat rooms, Zoom calls – anything to help guide anyone who feels uneasy about getting back into their job roles. It must be such a scary time for all new student nurses, especially starting off during a global pandemic.
I have witnessed a lot of dental nurses going through this transition and they are all doing so well and haven't been put off, which is absolutely amazing. Those that are going into their exams and working at the same time, you are all superstars. I worry for the future of dental nursing careers, because I feel others may be put off by the struggles that have occurred.
Bigger and better
It's sad that current nurses have decided to not re-register with the GDC, but I understand the concerns. I recently spoke to a few dental nurses who have been in dental nursing for a long time. I have explained the changes that have been made since COVID-19 has been extremely intense to what they are used to.
Having two sets of scrub bags, two sets of scrubs for morning and afternoon, showering straight away once arriving home, wearing a mask throughout the whole day and, most of all, adjusting to PPE. Wearing a mask all day at work and also wearing one whilst out and about can cause a lot of anxiety and stress for some.
I struggled with the fact I wouldn't sit next to my patients and have a little chat before their appointments. Or a little chinwag before they enter the surgery. Or giving them a hug after they finish their final treatments. As a dental nurse, comforting and supporting your patients is key, and when you feel you cannot do that to the best of your abilities, it's a real struggle.
I can't wait for things to return to how they once were. I send out my best wishes to all dental nurses going through the same situations. It's a difficult time, but we can get through it – bigger and better!
I'm also an ambassador for students with the Society of British Dental Nurses. Especially with COVID-19, everything has changed and this has such a massive effect on anyone learning and studying. I'd like to let people know my inbox is open.
Sophie Cross – 'we know how to keep our patients safe'
COVID-19 has been life changing for all professions, but especially in health and social care.
I'm a GDC-registered dental nurse and since returning to work on 8 June, the role has changed dramatically. I can no longer hold a patient's hand if they are scared of treatment. I can no longer pass a little boy a sticker after being super brave at his appointment. We can't offer the same treatments as we used to. I have to dress like someone from a nuclear power plant and sit behind an FFP3 mask and a heavy duty gown to do any aerosol treatment.
I leave my clinic at the end of a long day and I feel drained. My face is bruised and I wonder if it will ever get back to the way dentistry was.
It is so frustrating because as a dental nurse, we are so clued up on infection control and prevention. We study for exams solely on infection prevention and how to stop the spread of infectious diseases.
There have always been infectious diseases around. We are taught how to prevent them from spreading and now, we feel we have to change the way we work. Even though we deal with bacteria from colds, flu, sickness bugs, and even infectious diseases such as HIV and hepatitis.
We know how to keep our patients safe, but people are scared to come and see us because the media portray dental clinics as a 'danger zone' for COVID-19.
More support needed
Many nurses haven't re-registered this year. There may be many reasons for that. Some nurses or their close ones may be vulnerable, so they are choosing not to work. I also think the reason why some dental nurses haven't chosen to re-register with the GDC this year is because the job simply isn't the same and is not what it was.
As I said before, we can no longer support patients in the way that we want.
Part of our role is chairside support, not only to the dentist but for patients as well. We can't have the close contact anymore and that's what made dental nursing so special to many people. Other dental nurses may not have been able to afford to re-register and insure themselves for the year due to furlough or fear of losing their job.
For me, re-registering wasn't an issue. I love my role and it's my job to support patients and help the dentists no matter what – COVID or not. But I completely sympathise with the nurses who have chosen not to re-register. In terms of support for dental nurses, I feel as though there is none. I feel there should be more governing bodies or even charities to support dental nurses.
People seem to forget dental nurses and the hard work that's involved in our role. I definitely think there should be more support and help out there for all health care professionals. Particularly in the forgotten field of dentistry.
Gemma Forsythe – 'nurses feeling unappreciated'
COVID-19 has affected my job role – and dentistry as a whole, massively. Routine dental treatment has been put on hold and we are busy triaging emergencies and working through getting emergency treatment finished from lockdown also. This is challenging as due to the one-hour fallow time after an AGP, that room then cannot be used or cleaned for an hour. This means we see a lot less patients per day than before coronavirus.
We also have the new role of the runner nurse. They are responsible for decontamination of instruments, collecting materials and instruments that the surgery nurse may need (as the surgery nurse cannot leave the surgery during an AGP), cleaning down and setting up the surgery for the next patient. And, of course, greeting patients at the door, taking their temperature and ensuring they sanitise their hands. We are all taking turns in this role.
Staff also have to get their temperature checked every morning when they arrive into work. The biggest challenge for me during all of this is having to wear so much PPE. I wear a stealth mask for AGP treatment so it has a very tight seal and it leaves marks and hurts my face. For me, it was very hard to adjust to, but I'm getting there!
Severe lack of support
I think some might not be re-registering due to nurses feeling unappreciated and the role and responsibilities associated with it are not reflected in pay. Some nurses also feel the new regulations and new way of working due to COVID-19 are too much for them. It is no longer the role they once knew and loved.
Another factor is the GDC refused to allow dental care professionals to have the option to pay their £114 annual renewal fee in instalments instead of as one lump sum. I think this highlighted a severe lack of support for DCPs, especially those who were furloughed or out of work due to the COVID-19 pandemic.
We are losing so many nurses due to lack of support. Dental nursing is not an easy job and having to adapt so rapidly to the new changes is overwhelming. We are the number one support for dentists, hygienists, therapists and orthodontists. I would, of course, love to see the pay reflect the responsibilities of the role and the work you have to do to become qualified. Although I understand this is company dependent in a way – but we can dream!
The BADN (British Association of Dental Nurses) – which I am a member of – is great at speaking out about issues regarding our role and providing support to dental nurses. I would highly recommend joining a professional organisation that you can turn to for support when you need it.
---
Follow Dentistry.co.uk on Instagram to keep up with all the latest dental news and trends.