Ukraine war – 'have you ever cemented crowns with explosions nearby?'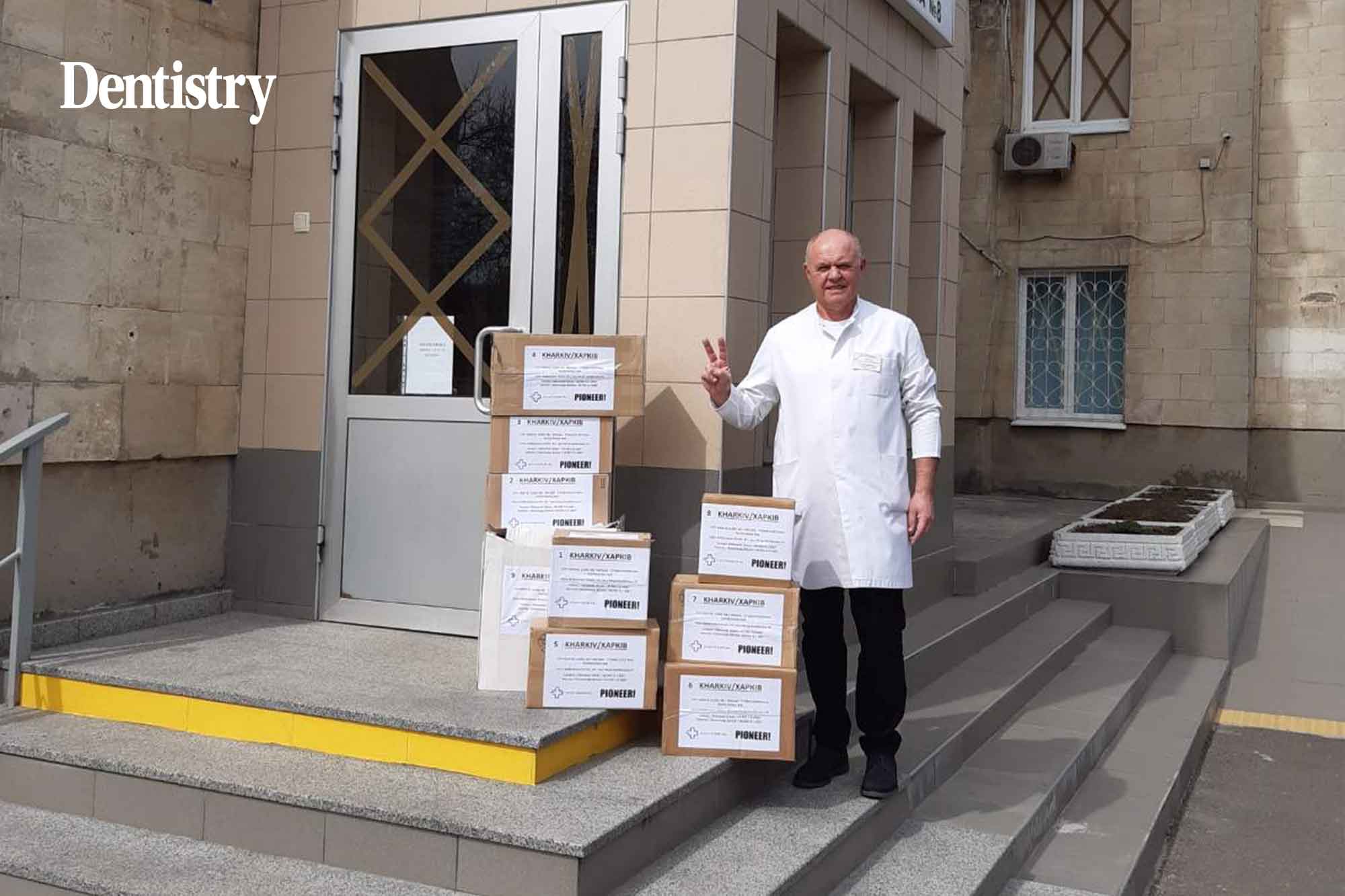 Leo Jurkiw speaks to Oleksandr Dikalo, director of Dental Clinic 8 Kharkiv, about life practising as a dentist, whilst in the middle of a war with Russia.
Please tell me about yourself.
I have been the head of one of Kharkiv's dental clinics for 18 years now. And I've been working in dentistry since 1979. I'm a graduate of the Kharkiv Medical University.
I was in Kharkiv myself in the early 1990s, I'm sure a lot has changed since then.
It was just the beginning of Ukrainian independency in the 1990s. We still had the legacy of the Soviet Union, and the system inherited was one from the Soviet Union. 
We have a completely different system now.
Today all dentistry in Ukraine is not free of charge. All state dental clinics now became communal non-for-profit enterprises.
There is a package of free services guaranteed by the state. This includes free medical help for children under 18 (planned as well as emergency dental services), emergency services for adults including pensioners over 65 and prosthetic dental treatment for pensioners, which is covered by local authority.
All planned treatments for adults are not free of charge. There are also specific programmes under which local authorities release funds for old age pensioners.
I understand that you work in a municipal dental clinic in Kharkiv. How many other clinics are there in the city?
There are seven other dental clinics in Kharkiv. In addition, there is a dental clinic for children, and another that offers services to the whole Kharkiv region.
So we have eight dental clinics for the population of Kharkiv, another one for children, and one other for the whole region.
No doubt your clinic would normally have many dentists working there. Have they all stayed or have some left?
You should understand that it is every person's right to stay or leave the city. You probably understand that there are powerful explosions in Kharkiv, it is constantly shelled. We have a lot of casualties here. It is difficult to stay here in Kharkiv.
Have you ever cemented crowns when there are explosions nearby? Yesterday I cemented crowns hearing explosions – that's how it was.
So, now we have five dentists working, one medical nurse, two cleaners, and two security personnel who guard the clinic at night.
What specifically was it like for you when the war broke out? What were your thoughts, and what impact did it have on you?
There was confusion. When you wake up at half past four in the morning, and something flies over your head and explodes, at first you have confusion, you don't understand. It is unclear what's going on.
And the first thing I said to my wife was: 'You go to work by yourself, and I'll go to mine quickly, because I don't know what's happening'.
I was at work by half past six in the morning. Certain decisions need taking. And I needed to get in touch with the local Department of Health Services.
The response from the city authority in Kharkiv was very prompt. Certain targeted actions were undertaken: they determined what to do, how, why, and in what order. That is to say, their actions were structured, concerted, and well ordered.
We work in the same way now. I'll tell you this: every single institution stays in operation. Where facilities are destroyed – staff offer consultations online or on the phone. Where facilities are intact – we work non-stop day and night, no days off, no holidays, we work and work, every one of us.
There is a hospital for emergency aid, where the head of the Dental and Facial Surgery Department has been living there for 44 days already.
The department is full of patients with periostitis, phlegmon, abscess. Surgical operations are carried out non-stop, he never leaves the place. He entered it on 24 February and just lives there. The rest of the staff are the same.
So you understand what's going on. But the healthcare system in Kharkiv functions in wartime just as it did in peacetime – non-stop. And no one, not a single member of our city council has left, they all stay put.
Every day we stay in touch with them via phone and messenger.
I understand that your daughter Daria is currently in Budapest. Did your wife also leave the country?
My wife stays in Kharkiv. She is a doctor – head of the Physiotherapy Department in the City Hospital of Ambulance and Emergency Medical Care. 
And do you have other family living in Kharkiv?
No one has left. My mother lives in Kharkiv, she is 86 years of age. She lives on the fourth floor of a 12-storey apartment block. And she said: 'I am not leaving my flat. This is my home and I am not going anywhere'.
My mother-in-law is also here. She is 92 years of age, she cannot leave because she is physically too frail.
Tell me what the city looks like where you live and where you work.
The city is kept tidy, being cleaned, rubbish is taken away, communal services restore electricity supply, water supply, gas supply very efficiently.
And let me tell you that they are even planting flowers in the city. Our mayor said: 'The war carries on, but Kharkiv has always been a beautiful city, and we are going to keep it that way.'
Is there a lot of war damage in the city?
This is official data – more than 1,200 residential buildings have been destroyed [to date].
Large 12- and 16-storey apartment blocks, not small houses. This is official information, you can look it up on the Kharkiv city council website.
Geographically, Kharkiv is 40km away from the Russian border. Therefore this question is rhetorical. 
Is there a lot of work for you just now?
In the first few days there were not many people. They were in shock, but now life is coming back to normal.
People who left Kharkiv in the first days of the war are coming back. There are more cars around, more people. For example, yesterday we treated 66 patients, today 69.
So people are coming to get help. That is why I believe the city goes on living.
What is it that you need right now to continue providing dental services for the population?
What we are short of!
Leo, what can I say, right now Dasha, my daughter, has organised a delivery of supplies from Budapest, which arrived today. It is enough for a certain period of time.
I also offered a colleague of mine to share what I have.
Having said that, anaesthetics are important, you can never have too many. If I have a surplus, there are seven more dental clinics in the city, and I can share supplies with colleagues.
In short, anaesthetics, anaesthetics, anaesthetics are important. We have a lot of bandage material coming through humanitarian aid. But we don't get specific dental supplies we are in need of, namely the anaesthetics. 
Obviously, we need needles as well. For each cartridge of anaesthetic, we need one needle.  
Final question, what are your hopes and expectations for the future?
I want to do my work in peace as before. Live in peace as before, in my own state.
I don't have long to go before retirement and I want to go on doing my work in peace until then.
I would like to go on working and stay on as head of the clinic. To go on offering treatment to our people in our country.
I do not want to live under shelling, I do not want to see people die, and I do not want to live under the flag of another country.
Do you understand what I mean by living under another flag? Yes, we have our own yellow-and-blue national flag, and I want it to stay that way.
---
Leo Jurkiw is currently organising dental humanitarian aid to go to Ukraine.
To help Leo, visit his Justgiving page www.justgiving.com/crowdfunding/dentists-stand-with-ukraine or email him on [email protected].
Hear more from dentists in the Ukraine below: