Digital Dentistry Show – last chance to register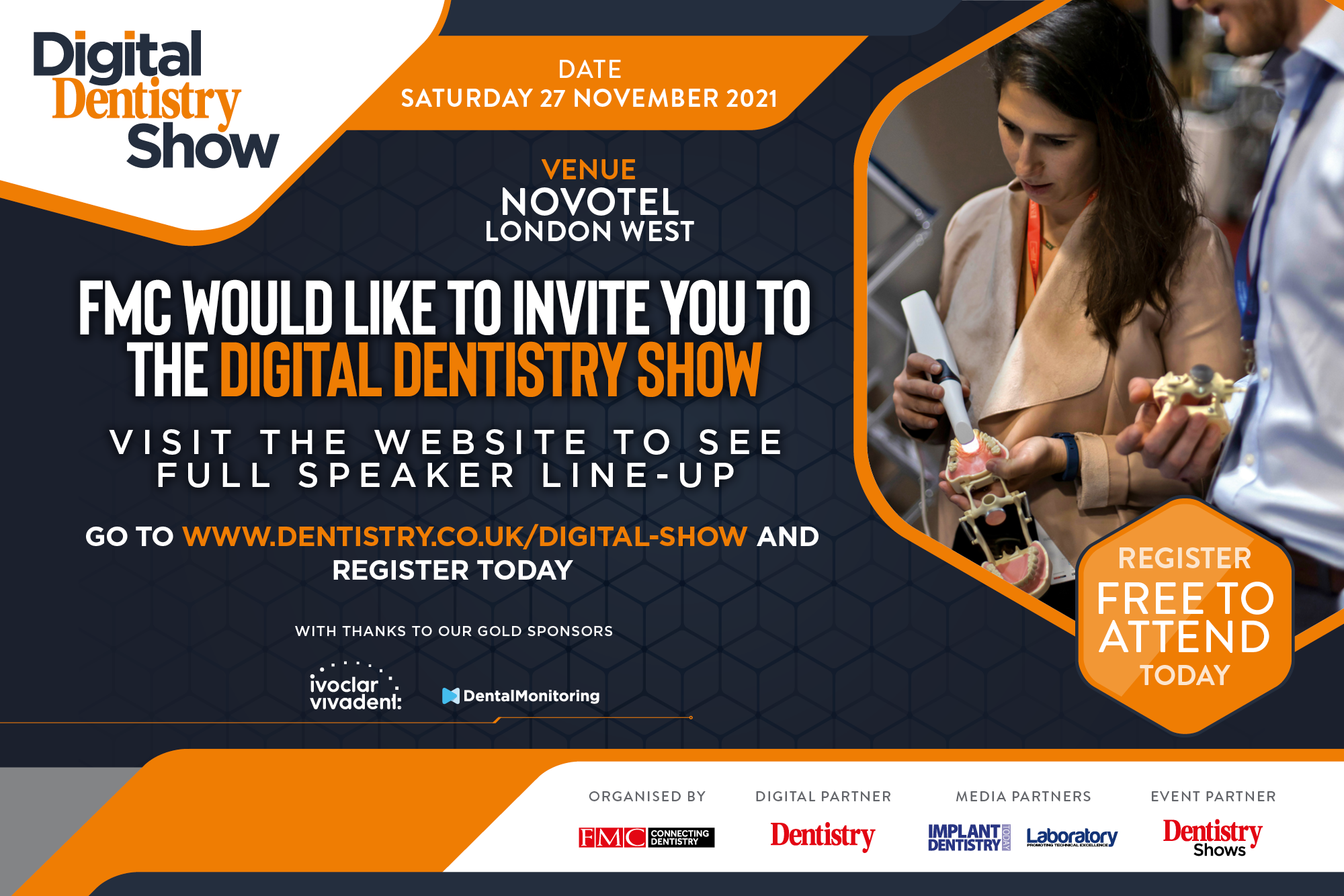 With just one day to go, sign up to the Digital Dentistry Show for free to avoid missing out on lectures from leading voices.
Taking place on Saturday 27 November at Novotel West, London, an all-day exhibition is available to those who attend. This will not only feature stands from leading brands but also provide an array of networking opportunities.
Taking place from 9:00 to 16:00, enjoy a vast range of power lectures by leading experts focusing on both clinical and business topics.
Whether you are new or familiar with digital dentistry, there is something for everyone.
For more information or to register for the Digital Dentistry Show visit www.dentistry.co.uk/shows/digital-dentistry-show.
Who's speaking at the Digital Dentistry Show?
Dr Chris McConnell
Chris will go through the benefits of using a Trios scanner in every day practice and share the experience he has had with the scanner.
From improving patient experience, saving time to see more patients, saving on impression materials and shipping costs to digital accuracy and limiting manual errors and reducing retakes.
He will highlight the ease of use of the scanner, the simple interaction with the labs, the wide range of treatment workflows as well as the return on investment.
He will also cover the patient engagement aspect including patient monitoring for prevention and early intervention, and advance case acceptance with treatment simulator.
Chris is a general dentist with a special interest in cosmetic and sedation dentistry and is principal of St Piran Dental based in Perranporth.
Chris is an active member of the British Academy of Cosmetic Dentistry. He works as a product consultant with a number of different dental companies. He has extensively lectured on composite dentistry throughout the UK and Europe.
Speaker line up for the Digital Dentistry Show
Dr Emma Laing – digital advances in orthodontics and orthognathic surgery
Wayne Williams – expanding and optimising the benefits of intraoral scanning
Murtuza Husnaini – how to use AI to revolutionise your practice
Adam Nulty and Chris Lefkaditis – accuracy, budget and ROI – factors affecting scanner choice
Mario Beretta – digital workflow with one-piece implants in full arch implant restorations
Adam Nulty and Quintus Van Tonder – beautifying your in house CAD composite ad ceramics
Chris Lefkaditis and Patrik Zachrisson – guided surgery with Exoplan
Jonathan Schwarzmann and Andrew Flatters – getting started with digital dentistry – our experiences and how to avoid the pitfalls
Manuel Leimgruber – creating excellence with speed and precision
Steven Campbell – advantages of Exocad for the surgeon and technician
Dr Chris McConnell – why should I take digital impressions?
Suman Saha – The power of reviews: the new word of mouth in healthcare is online.
Dr Amro Tuhami – the digital dentistry society – setting the standards for digital dentistry worldwide.