Digital Dentistry Show – sign up now!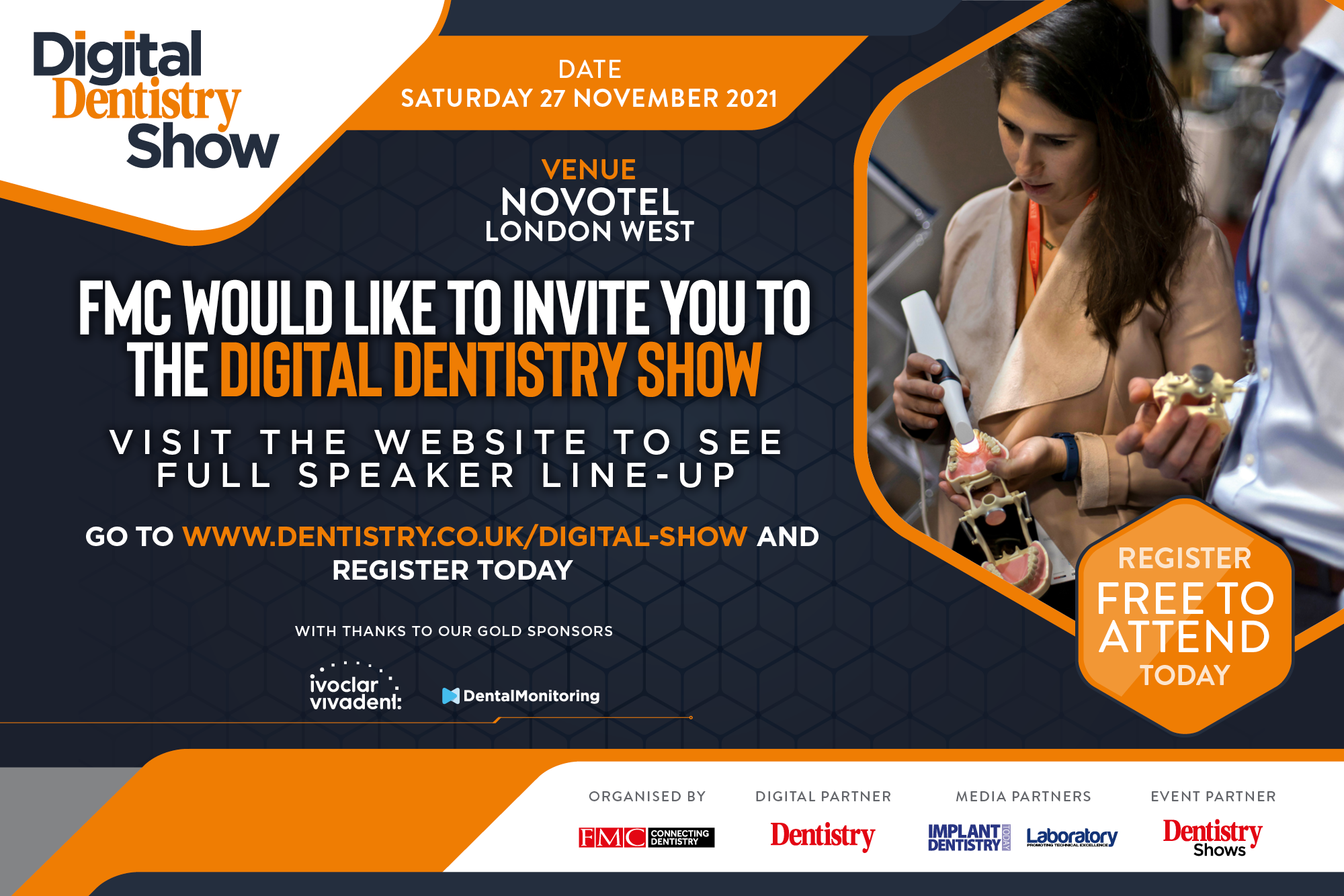 The Digital Dentistry Show is coming to London this month – and you can sign up completely free of charge!
Taking place on Saturday 27 November at Novotel West, London, the show will include a range of power lectures focusing on clinical and business topics.
Taking place from 9:00 to 16:00, delegates can also explore the all-day exhibition. This will not only feature stands from leading brands but also provide top notch networking opportunities.
Whether you are new to the digital side of dentistry or well-seasoned in the world of scanners and workflow, there is something for everyone.
For more information or to register visit www.dentistry.co.uk/shows/digital-dentistry-show/
Speaker line up for the Digital Dentistry Show
Dr Emma Laing – digital advances in orthodontics and orthognathic surgery
Wayne Williams – expanding and optimising the benefits of intraoral scanning
Murtuza Husnaini – how to use AI to revolutionise your practice
Victoria Sampson – the future of dentistry: the use of artificial intelligence and salivary diagnostics for optimal patient care
Adam Nulty and Chris Lefkaditis – accuracy, budget and ROI – factors affecting scanner choice
Mario Beretta – digital workflow with one-piece implants in full arch implant restorations
Adam Nulty and Quintus Van Tonder – beautifying your in house CAD composite ad ceramics
Chris Lefkaditis and Patrik Zachrisson – guided surgery with Exoplan
Jonathan Schwarzmann and Andrew Flatters – getting started with digital dentistry – our experiences and how to avoid the pitfalls
Manuel Leimgruber – creating excellence with speed and precision
Steven Campbell – advantages of Exocad for the surgeon and technician
Dr Chris McConnell – why should I take digital impressions?
Exciting opportunities
'We can't wait to welcome you all to this year's Digital Dentistry Show,' says Leanna Ellis, events director at FMC.
'From artificial intelligence to selecting the perfect scanner, our expert speakers will cover a spectrum of exciting topics.
'What's more, you can browse a selection of leading brands at the exhibition and take advantage of some excellent networking opportunities.
'Don't forget to sign up for free.'