The NHS to Private Dentistry Show – how to replace your NHS pension and benefits when going private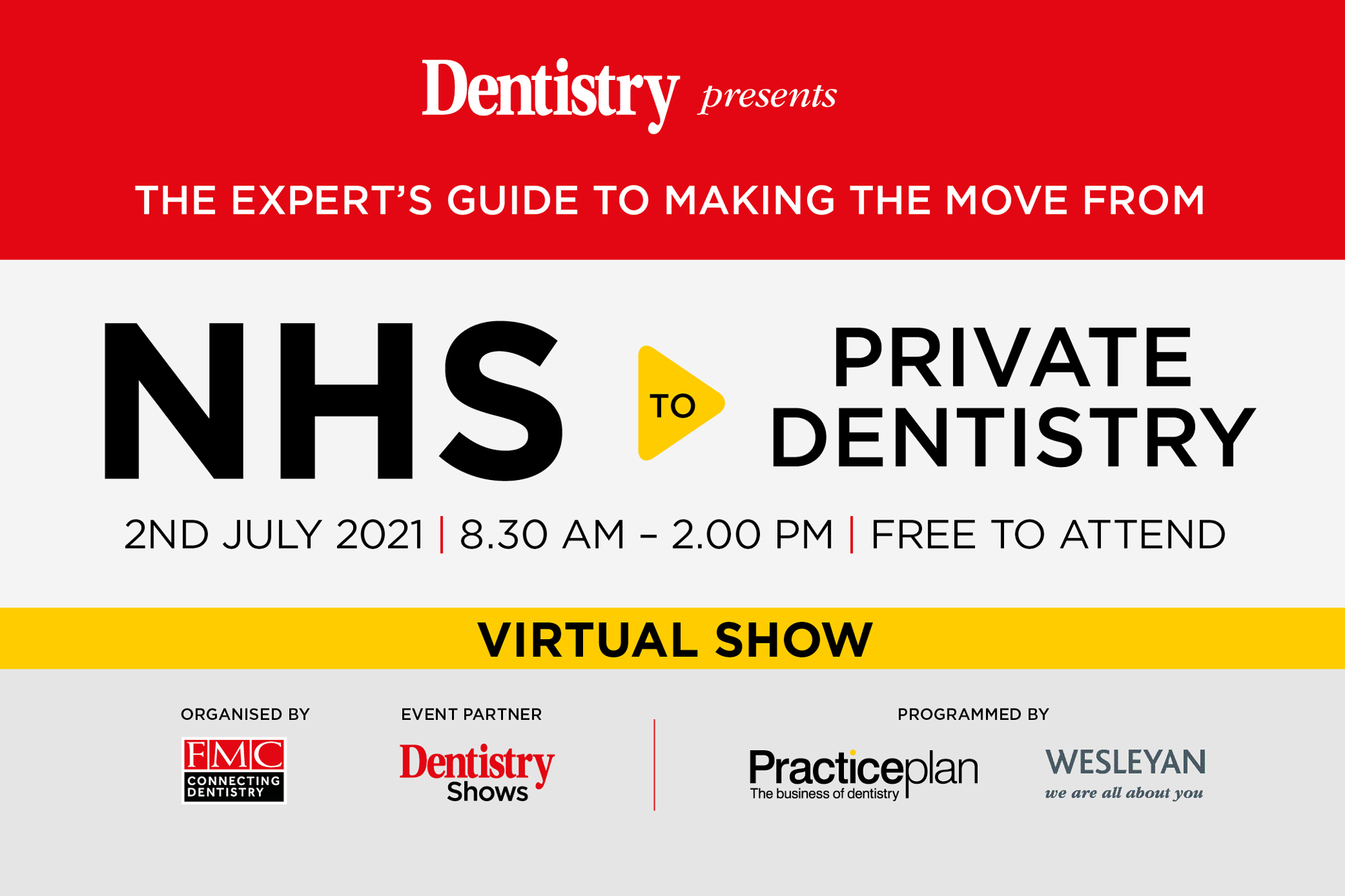 Join us on Friday 2 July as Practice Plan and Wesleyan give delegates an expert guide to transitioning from NHS to private dentistry.
Are you unhappy working within the constraints of the NHS and thinking of making the journey towards private dentistry, or leaving the NHS altogether? If so, this event is designed with you in mind.
To register for The NHS to Private Dentistry Show, visit dentistry.co.uk/shows/nhs-to-private-dentistry.
Over the coming days we'll introduce you to the topics each of the leading speakers will discuss and we'll find out a little more about the speakers too.
How to replace your NHS pension and benefits when going private (12:10-12:55)
When moving to private dentistry, the benefits you receive as part of your NHS contract, including your NHS pension, will need replacing to help you maintain a secure financial future.
It may sound a little daunting. However, the financial experts are here to guide you!
Join Michael Copeland, Wilf Moralee and Nigel Jones for this live webinar. They will help you to make sense of the financial considerations and solutions available to you when converting to private dentistry.
Michael, Wilf and Nigel will talk you through:
The NHS pension scheme and other benefits you currently receive including life cover and sick pay
What will happen to your NHS pension scheme when moving to private dentistry and the different options available to you
How you can successfully replace the financial benefits you received from working within the NHS
What the McCloud judgement (pension age discrimination) may mean for you and your pension.
Plus, there is a live Q&A where you can ask the experts any burning, financial questions you may have!
Nigel Jones – sales and marketing director, Practice Plan
Nigel Jones is the sales and marketing director at Practice Plan. He has been working in the dental sector for over 30 years. He has a special interest in the development and future of NHS dentistry in the UK.
His knowledge and passion for dentistry has led him to become a trusted voice, offering invaluable advice on how to strategically and successfully run a practice and be named in the Dentistry Top 50 of influential people within the profession.
Michael Copeland – senior area manager, Wesleyan
Michael is a senior area manager for Wesleyan, who offers specialist financial advice and products to dentists. He has 30 years of financial services advising experience and has specialised with dentists and dental professionals since 2004.
Michael has in-depth knowledge of the NHS pension scheme, annual and lifetime allowance calculations and headroom checks, business financial planning including partnership and keyman protection, exit strategies and succession planning, protecting your wealth and also estate planning.
Wilf Moralee – professional development consultant, Wesleyan
Wilf Moralee is a chartered financial planner with 19 years' experience in financial planning. He now also spends his time coaching and developing other financial consultants at Wesleyan.
He has specialist knowledge of the NHS pension scheme and how to replace your NHS benefits if moving to private practice.
---
To register for The NHS to Private Dentistry Show for free, simply visit dentistry.co.uk/shows/nhs-to-private-dentistry.
Other lectures also on at The NHS to Private Dentistry Show: