COVID-19: control bacteria in the mouth to prevent superinfection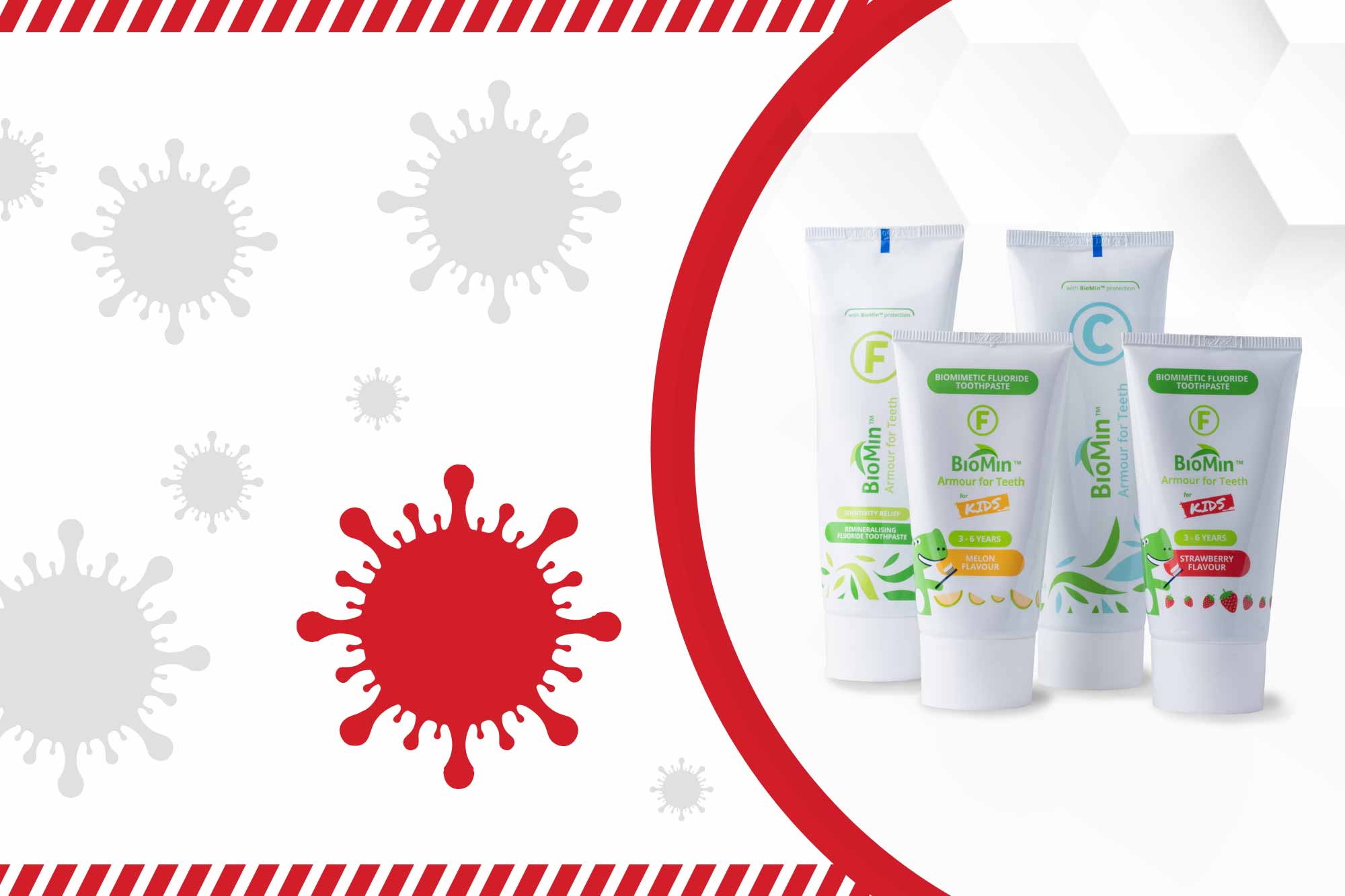 We should not abandon oral health during the COVID-19 pandemic; rather we should improve it through regular use of toothpaste and mouth rinses to reduce bacterial load in the mouth. Biomin explains why.
This is the view of two dentists whose very similar views Biomin has published recently on our blog pages. And who have collaborated to write a new paper for us, stressing the importance of oral hygiene in preventing bacterial superinfections in sick patients.
They quote research showing that 80% of patients in ICU with severe complications of COVID-19 also suffered bacterial superinfections. Potentially preventable with improved oral hygiene.
Professor Martin Addy, emeritus professor of dentistry at the University of Bristol, and London dental practitioner Dr Victoria Sampson are both strongly of the view that any interference with normal oral function and hygiene results in increases in bacterial plaque and salivary bacterial counts.
Notably stopping or reducing oral hygiene practices does both (full article).
'Wash your hands, brush your teeth and wear a mask'
'Studies in the elderly in residential homes, where toothbrushing and denture cleaning was not provided by carers, showed very high levels of plaque, gingivitis, root caries, and denture stomatitis,' they argue. They add: 'It has been concluded that one in 10 pneumonia-related deaths in care homes could have been prevented by improving oral hygiene.'
Patients hospitalised with COVID-19 are likely to have an oxygen mask over their mouth and nose. Or even be intubated, which is expected to have adverse effects on their oral flora and predispose them to superinfection. This causes a significant proportion of the deaths in the current pandemic.
'We should probably extend the slogan: "Wash your hands and brush your teeth" to say: "Wash your hands, brush your teeth and wear a mask", argue Prof Addy and Dr Sampson.
They state that antimicrobial compounds in toothpaste, notably detergents, and a range of antiseptics in mouth rinses, reduce salivary bacterial load considerably. Chlorhexidine in mouth rinses for up to 12 hours and toothpaste detergents (SLS) for three to five hours.
'Many agents in toothpastes and mouth rinses should kill coronavirus,' they say.
Prof Addy and Dr Sampson call upon the dental team to play a frontline role in advising twice-daily, two-minute toothbrushing with toothpaste (such as Biomin F). As well as the use of mouth rinses where necessary and giving denture hygiene advice.
Superinfections
If self-isolating at home, oral care is down to the individual. But in severe disease oral care needs delivering by nurses, particularly for those on ventilators.
Unfortunately, the authors feel there is a lack of knowledge about the importance of oral hygiene. Knowledge that can both prevent infection in the first place and superinfection by oral micro-organisms.
'The majority of the population, and healthcare workers outside the dental team, only follow two of the components of the slogan. "Wash your hands and wear a mask,"' they say.
They conclude that the dental team can provide oral care advice to large numbers of people. Particularly those at high risk of COVID-19 infection.
'Poor oral hygiene has shown a direct link with systemic disease and bacterial infections long before COVID-19,' they say.
'If we allow oral bacteria to increase, they could possibly introduce bacterial superinfections through aspiration or inhalation of salivary bacteria. This creates further complications.'
Dr Sampson has written an article in the BDJ and has been putting her words into action during the pandemic. She is appealing for oral hygiene products and delivering them. She is also giving oral care advice into care homes and homeless shelters.
Biomin has donated nearly 1,000 tubes to her effort.
---
You can contact Biomin for more information on www.biomin.co.uk, email [email protected] or call +44 (0) 203 281 7282.
For purchasing please contact Trycare by calling 01274 88 10 44, email [email protected] or visit www.trycare.co.uk/biomin-toothpaste.