Implant Dentistry Today – now available to read online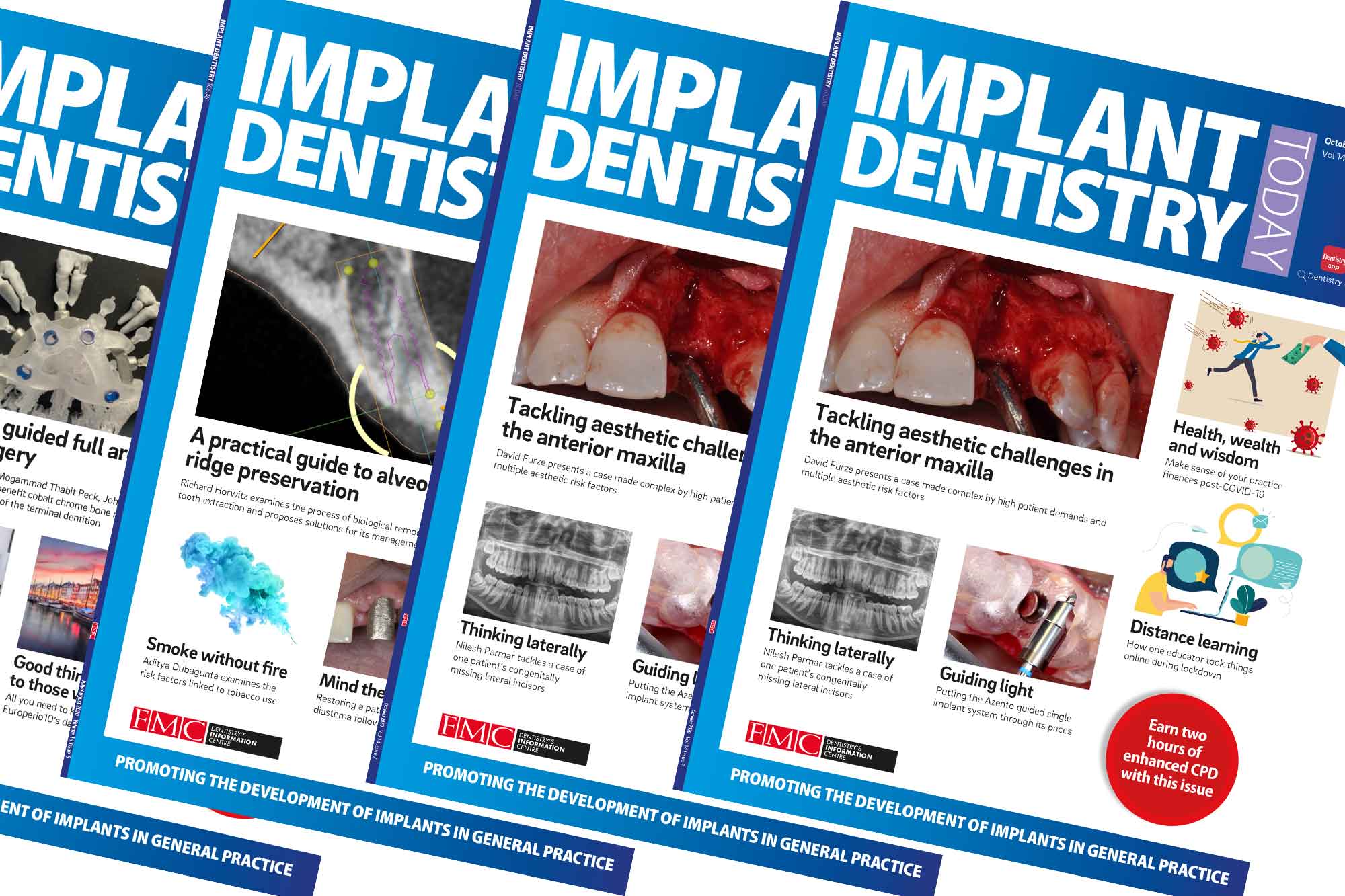 Implant Dentistry Today is now available to read online, every month, completely free. Simply follow the link to see the latest issue.
Implant dentists have long been at the forefront of digital innovation in dentistry.
The adoption of new workflows has catapulted practices into a new era of predictability and success.
Now, the UK's best-loved implant dentistry title for general dentists is following suit.
The digital edition of Implant Dentistry Today is now available online. Simply click on the link to access the January issue (and many more).
Previously available by subscription only, the new edition opens up the journal to a wide new audience.
Implant Dentistry Today
Implant Dentistry Today will be hosted as a page turner, replicating the look and feel of a print issue through reader's web browser. The January issue features Implant Dentistry Today's typically close look at the intricacies of implant dentistry.
An article examining the impact of COVID-19 on implant treatment is particularly timely. Written by Professor Curd Bollen, Yasna Maji and Professor Maher Almasri, the article looks at every aspect of treatment through the lens of COVID-19. From the clinical ramifications of piezosurgery to the psychological impact on patients and surgeons, no stone is left unturned.
Good bone volume is a prerequisite of successful implant surgery, making Dr Teoh's look at augmentation techniques devastatingly relevant. Here, Dr Teoh deftly highlights some of the key approaches to augmentation before sharing one of his own cases.
The January issue delves into the science and practicalities of implant practice too.
A tour of the most recent abstracts on implant fractures points readers to the evidence underpinning successful surgery.
Elsewhere, we hear from Ruth Findlay on conquering the fear of discussing finance. She acknowledges how common it is to be apprehensive of this – but lays out exactly how dentists can overcome it.
January's Implant Dentistry Today includes a further look at marketing, patient plans, and some of the latest innovations. It's worth a closer look for any GDP with an interest in deepening their understanding of implant rehabilitation. And now that it's free, what's stopping you?
---
Find the latest issue of Implant Dentistry Today here at Dentistry Online.