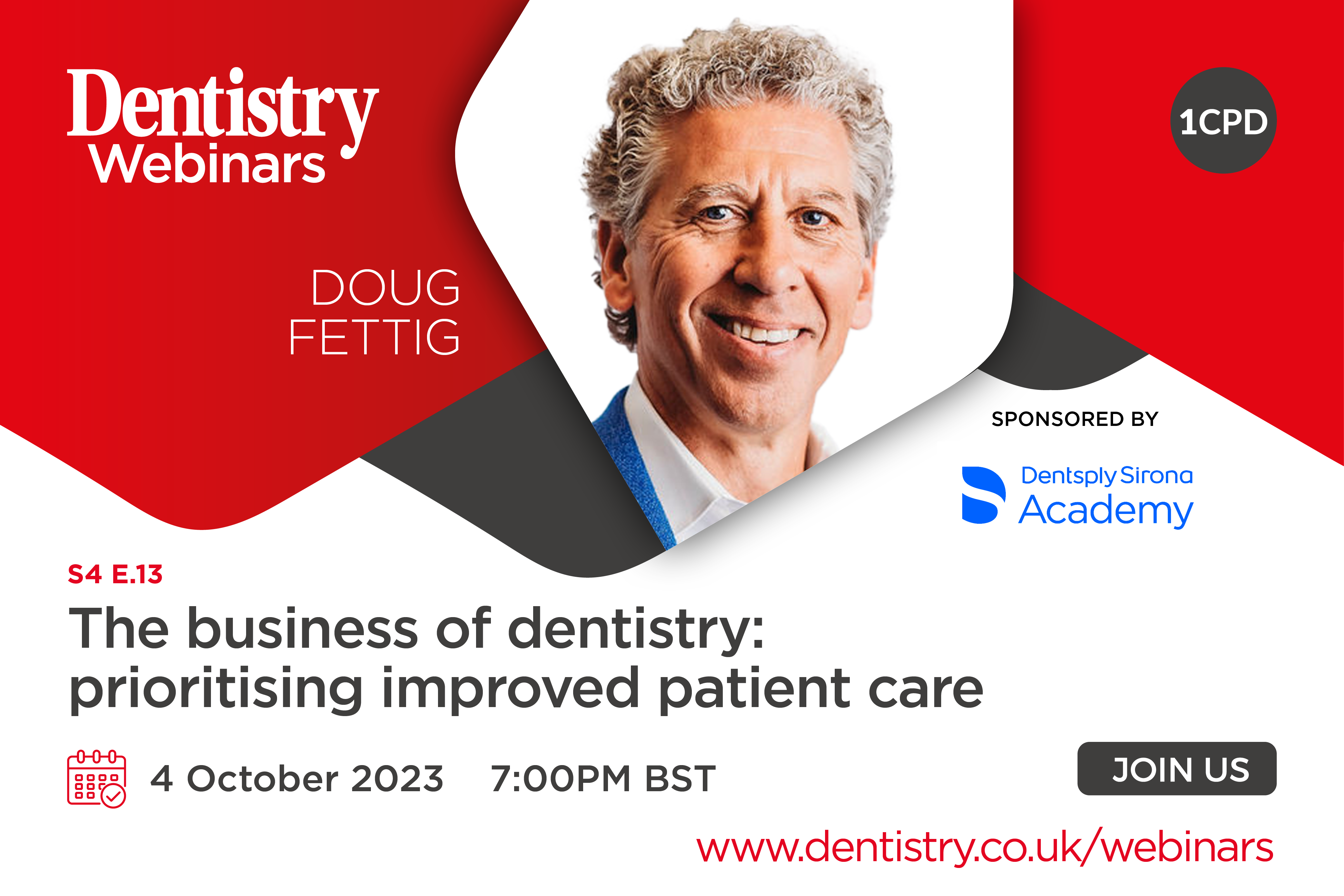 Join Doug Fettig on Wednesday 4 October at 7pm as he discusses the business of dentistry: prioritising improved patient care.
Do you want to improve the patient experience but are not sure where to invest your time and money?
Are you considering investing in a new technology but aren't sure how to weigh the benefits to the expense?
The business of dentistry is all about your end user – the patient. In this webinar, we will discuss how to orient business practices towards improving oral health outcomes for the patient.
Learning outcomes
Orient your business practices to better support the patient
Implement business concepts that will help support improved patient outcomes
Utilise the SWOT tool to strategically manage your practice.
To access additional resources, such as a patient communication toolkit and on demand learning, visit the Dentsply Sirona website to continue your journey towards elevating your practice. Access more tools here.
Doug Fettig
While proud of his academic and professional achievements, Doug believes the best decision he ever made was dropping out of college at 20 years old. He bought a one-way ticket to from Bismarck, North Dakota to Hamburg, Germany where he began hitchhiking around Europe.
That incredible time led to a wealth of opportunities to authentically connect with humanity, and it changed Doug's perception of the world permanently.
Now, Doug has over two decades of experience as a certified public accountant and a finance professional, providing him the unique ability to understand dentists' needs and help them grow efficient and profitable practices, while strategically addressing tax, investment, and retirement planning needs.
Doug has spoken at numerous dental seminars, academies, study groups, and vendor forums around the country and is known for his energetic, engaging, and entertaining speaking style. His insight allows him to effectively communicate business, management, and leadership concepts.
In addition to his dental speaking roles, Doug has been an adjunct faculty member at Portland State University's College of Business. He served as president of Precious Beginnings, a nonprofit organisation, speaking at numerous medical and charitable events to further the mission of supporting parents with critically ill newborns.
---
To register for this webinar, simply visit www.dentistry.co.uk/webinar.
Catch up with previous On Demand webinars:
Follow Dentistry.co.uk on Instagram to keep up with all the latest dental news and trends.