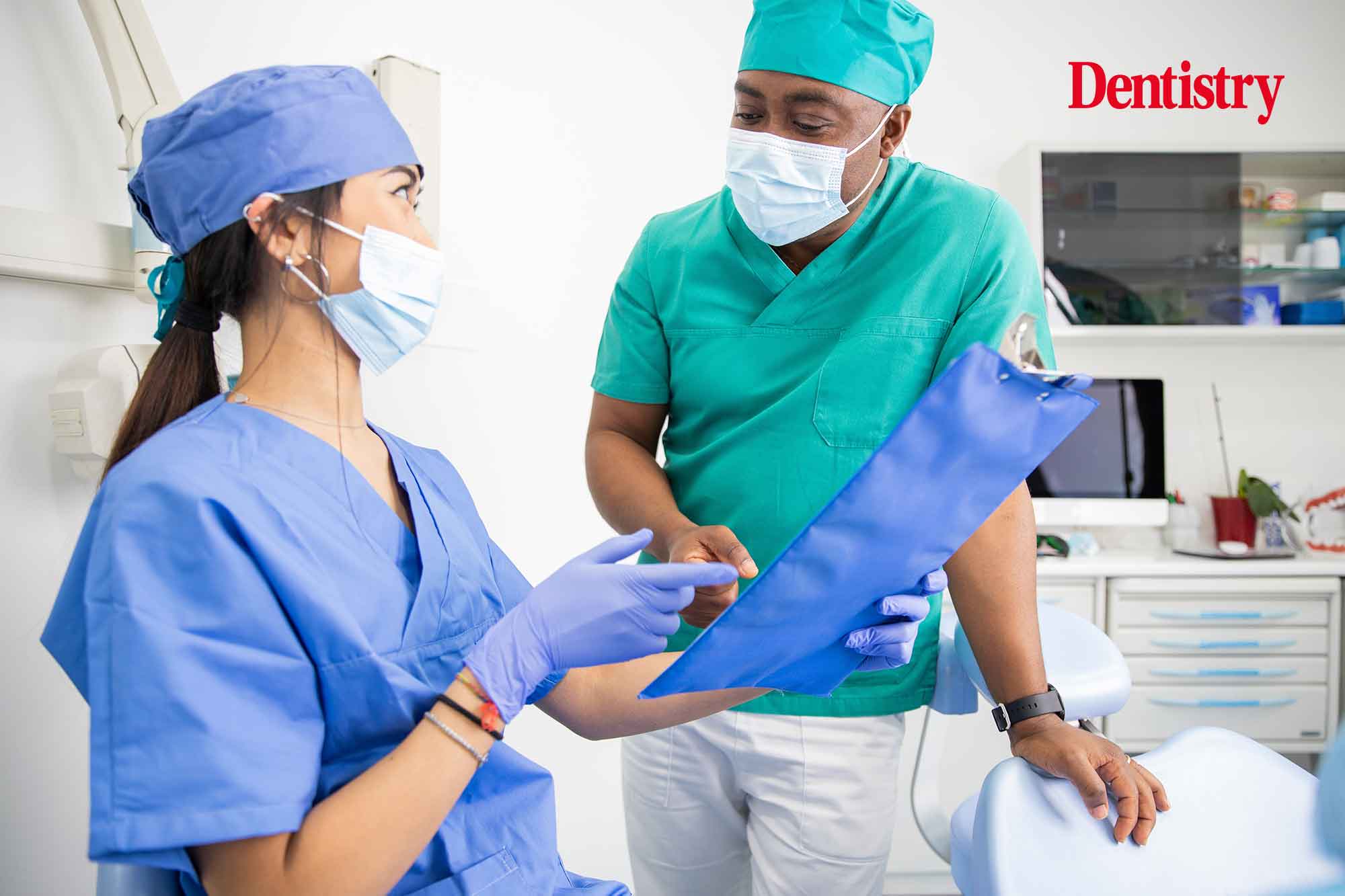 Toyin Aiyegbusi explains why leadership is so important and how teams can be supported through change in the practice setting. 
Changes in dentistry
It is often said that the only thing certain is change. There are a number of changes that have occurred in the last few years, including the COVID-19 Pandemic, Brexit, the rise in social media dentistry, increasing staff shortages and the NHS dentistry exodus.
Since the COVID-19 pandemic, certain shifts in dentistry have been exponential. With these changes, there is a 'new normal' and it would be difficult to go back to how things were. More positive changes in dentistry relate to the rise of mental health awareness. It is more commonplace for people to prioritise work-life balance and cultivate a healthy lifestyle beyond dentistry.
The climate is also prime to embrace new ways of working and there are technological advances to support this. Let's take for example digital dentistry and the array of benefits it offers.
Why support teams through change?
This article focuses on why I became an advocate for supporting people through change and my personal learning points that can be applied to any workforce setting. As a dentist who has worked in various primary and secondary care settings, I thoroughly enjoy dentistry and can see some of the benefits NHS dentistry offers to patients.
However, I became increasingly aware of the need for positive changes within the system.
It was through my own personal experiences and searching how I could make a change in my environment that I came across a unique opportunity – the NHS Clinical Entrepreneurship Programme. I embarked on this one year programme in March 2022.
This provided a platform to develop commercial skills and gain the knowledge to accelerate health care innovations. I was also able to work with different medical professionals. They equally shared a passion to bring about change within the UK healthcare system.
The NHS Clinical Entrepreneurship programme application window is October 2 to 9 2023 and is open to anyone working within the NHS with an idea that could bring about change. I would encourage anyone wanting to gain entrepreneurial and leadership skills to find out more about the programme with the following link www.nhscep.com/the-programme.
My key learning points gained from the programme which can be applied to any working environment are: your mindset matters, your team matters and your environment matters.
Your mindset matters
The right mindset is needed to create positive outcomes for the workforce during periods of change and uncertainty. In these periods, an innovative mindset is particularly advantageous. It is a solution-oriented mindset that focuses on presenting fresh approaches to improving on the status quo.
Your team matters
Working with people that believe in the overarching vision of your establishment is essential. The strategy to achieve this vision should be clear across all levels of the workforce. During times of change, it may be particularly difficult to communicate the vision or strategy, due to high levels of fluctuation to establish a 'new normal'.
Clear and timely communication about the challenges to meeting the team's expectations is key and avoids the risk of people becoming frustrated. Leadership is the true test of being able to take people along with you, especially in seasons of change or adversity.
It is therefore important to reinforce the core values (unchanging) that you want people to identify with and give opportunities for people to feel heard and appreciated.
Your environment matters
Environment is important for the empowerment of teams. When people are allowed to be themselves and not fear the critical judgement of others, they can hone in on their strengths, develop their weaknesses and in turn empower others. During times of adversity and change these assets can really come to light.
Every workplace has its own culture: 'way of doing things'. There are strengths and weaknesses in all established cultures. Some environments facilitate proactiveness during seasons of change and thrive. This is where an innovative mindset is key.
It allows you to look beyond current circumstances and explore ways to produce positive outcomes, out of the most challenging of situations. This is particularly crucial in systems like the NHS dentistry. By identifying even just one problem and finding the solution, it may be possible to bring change within such spaces.
The change curve
The change curve is a concept that helps to explain the impact of change and was first attributed to Dr Elisabeth Kuber-Ross in 1969. It is designed to help individuals understand the stages of personal transition and organisational change.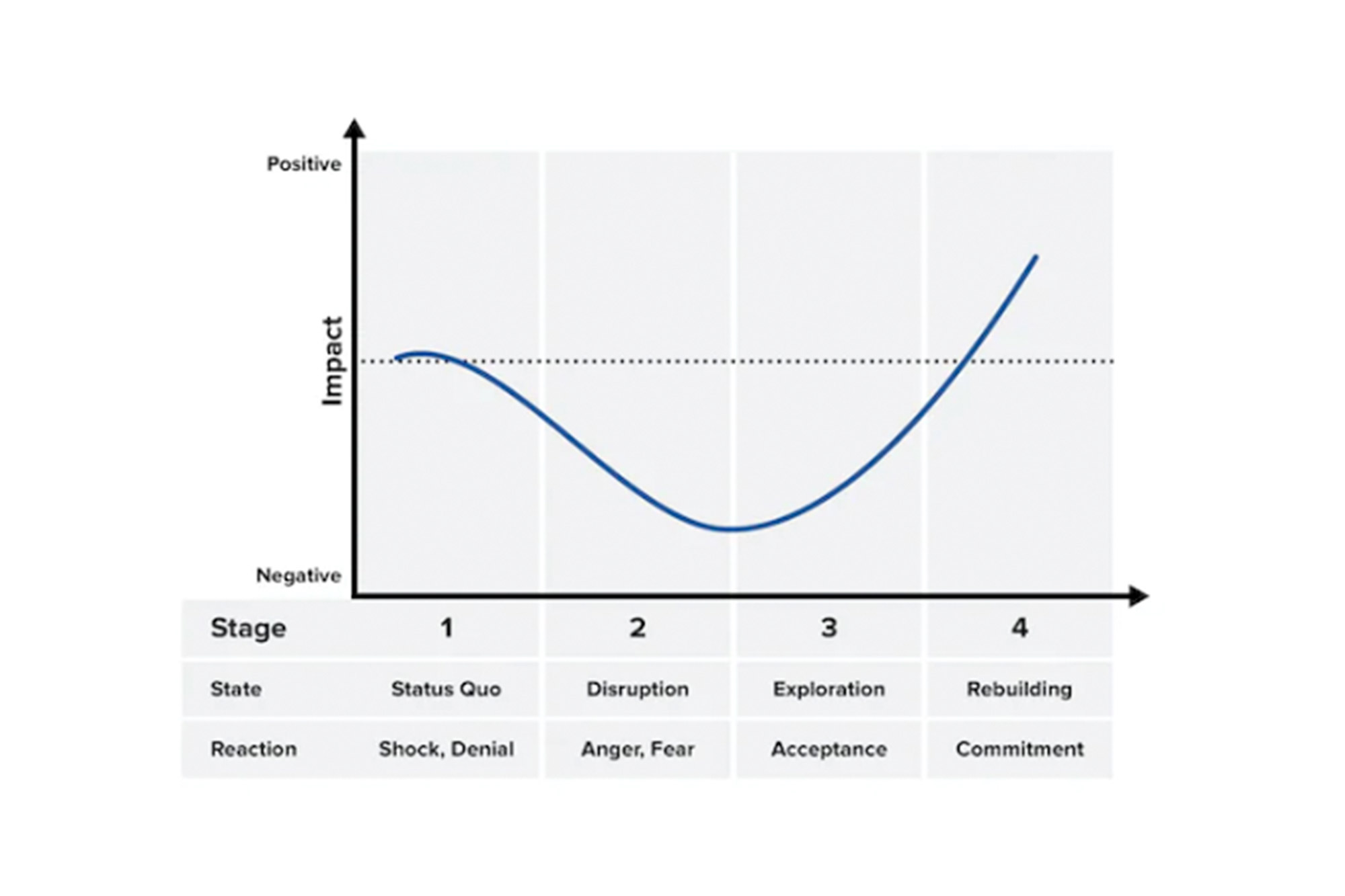 The four stages in the change curve are as follows:
The first response is often shock and denial, so it's vital to keep people fully informed about what's going on
Anger and fear follow. At this stage, handle all emotions involved with care and sensitivity
People gradually come to accept their new situation, but they will still need time to adapt. This process can vary considerably between individuals in the same team
Finally, when people are fully committed to the changes, help them to celebrate their success!
How to support others through times of change
Understanding the stages of the change curve helps you predict the likely responses to change. It allows you to give people the time and space to make their own personal transitions and know when additional reassurance and reminding of the overarching is needed.
The aim is to provide guidance, timely help, support and empower people through periods of change. As the leader, this can be difficult when you may also be experiencing personal challenges in the period of change. It is therefore important you receive support and are able to articulate your experiences outside of the work environment.
It is really important to accept that there are generally some outcomes we have liberty to control or influence. There are also some things that just have to be accepted and are out of our control. Understanding what you have the capacity to control or influence is really important in allowing you to put your energy to best use.
This article is not designed to be prescriptive in giving you a step-by-step guide in supporting people. However, it is designed to get you thinking about the ways we could improve on working together. So I leave you with a question to reflect on: what three actions can you implement today to support your team more?
References:
www.nhscep.com/the-programme
www.mindtools.com/au03rgg/the-change-curve.