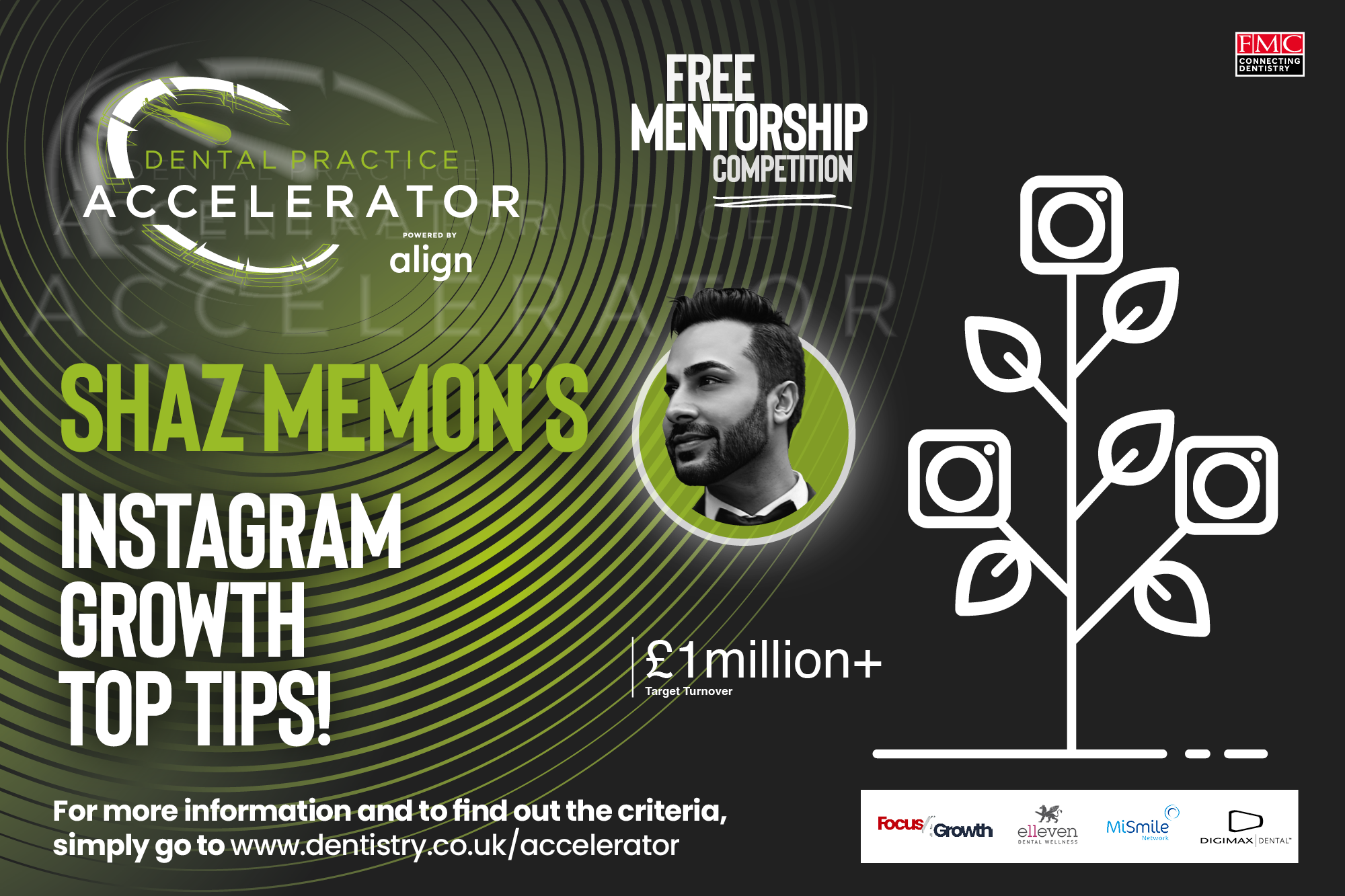 Shaz Memon, marketing expert and Dental Practice Accelerator's newest mentor, shares tips on how to grow your practice's Instagram account.
Regardless of our personal feelings towards social media, many of our target patients are active on Instagram or are influenced by those who are, such as children influencing their parents.
The following concepts are just a few of the key points I will share with the winning Dental Practice Accelerator (DPA) practice to help it grow its Instagram successfully.
Power of nine
As dental professionals know too well, first impressions count. Whether it's your physical appearance or your website homepage, that first look or initial visit is key.
Your Instagram profile is no different. In fact, with Instagram, the attention span is far lower and visitors need to be hooked from the moment they lay eyes on your page. This means your account is likely to be judged on the first nine squares of images they see. This is what I like to call 'the power of nine'.
The first nine squares say a lot about you and your brand. If you want visitors to scroll further down, at least 75% of these images should be telling your story. If your first nine squares are all pictures of your dog, then this is not representing the professional you.
Always be conscious of the overall story those nine squares are telling. Do they epitomise you, your brand and your practice in a way that will make people want to see more? Think of these nine squares as your book cover – how would you like to be judged?
This hit home when I realised one Christmas that the first nine squares on the Digimax Dental Instagram account were pictures of gifts and hampers we received from clients. I am sure it looked great to some, but many first-time visitors would have disengaged. They wouldn't have seen how amazing and powerful our dental websites are, how we are bespoke in our approach to dental practice branding, our associated identities and so on. We corrected this immediately.
Avoid gore
I highly advise that you refrain from posting any gore or close-ups of complex treatments. Patients are more interested in the outcome and are likely to be very put off by candid treatment footage.
The only time posting clinically revealing photos would work is if your account is entirely focused on your referral network rather than for patients' viewing!
Your Instagram is your classroom
We all remember our favourite teachers – they were the ones who made learning fun and easy. They did things differently and presented learning materials in a way that made it simple to understand. They stood out from the rest, and they made you want to come back and learn.
With Instagram, it is your turn to be the teacher! Your account is your classroom, and your followers are your students. With every post, story and reel you share, you are educating users about your brand, treatments you offer, and your dental products. When people follow your account, they are essentially choosing to 'attend' your class.
Think about how you can make their learning experience fun, entertaining and unforgettable. What will make you stand out? How will you present your materials in a way that is engaging and informative? How will you share your expertise to keep your followers coming back and telling others about you?
No one knows your brand better than you do, so be the best teacher you can and help your followers learn everything they need to know about you and your practice. For every post you make, ask yourself: 'What's in it for them?'
I look forward to assisting the winning DPA practice in understanding its ideal patient base and guiding the team in devising a straightforward content strategy to captivate its desired audience using simple techniques.
---
Apply now for the chance to grow your practice to a million-pound turnover in just one year through the help and mentorship of key leaders in dentistry. Best of all, it's completely free!
Don't miss out on this once-in-a-lifetime opportunity to grow your practice and gain invaluable advice from leaders in the profession.
For more information and to submit your entry, visit dentistry.co.uk/dental-practice-accelerator.