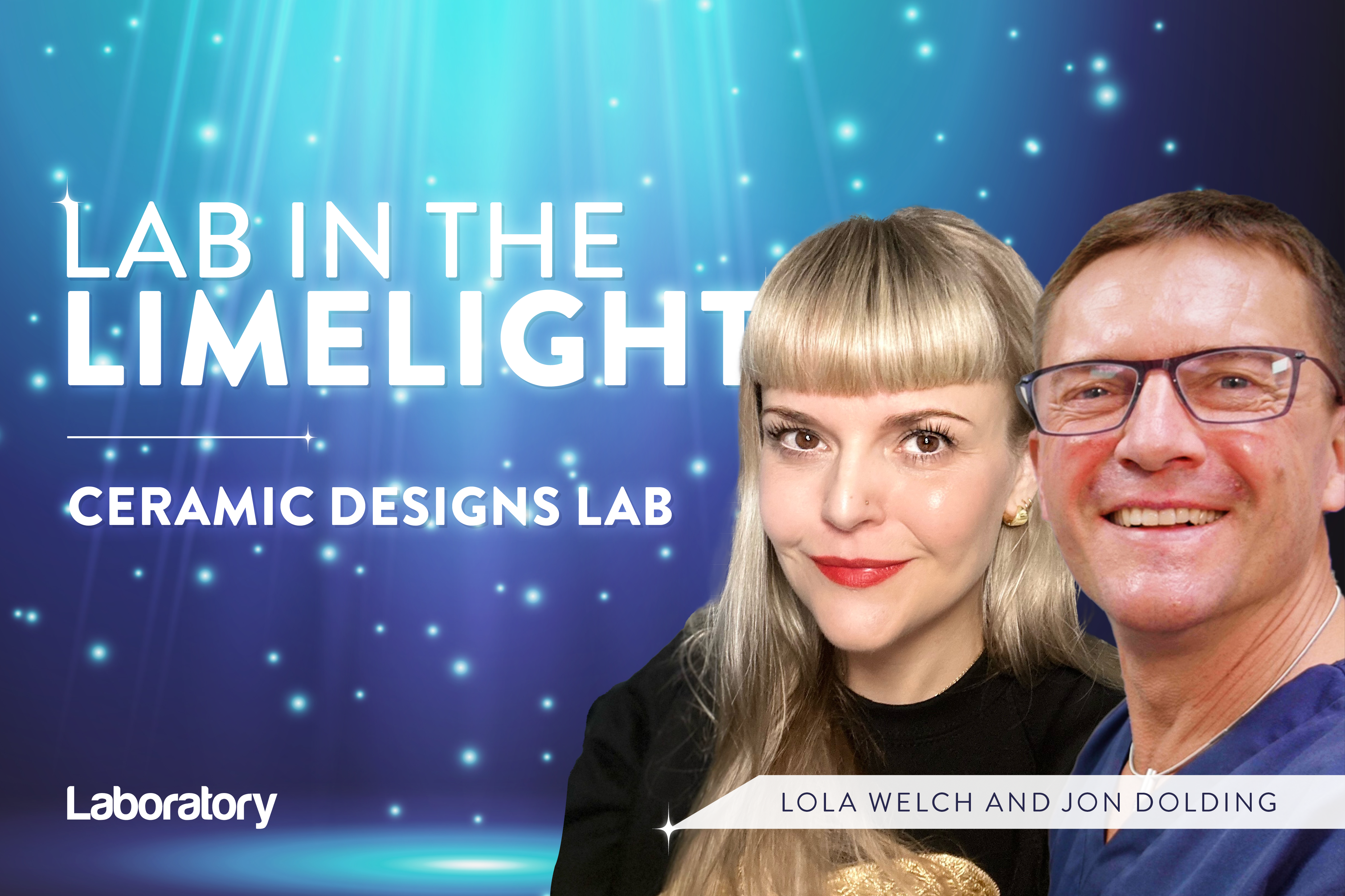 Jon Dolding and Lola Welch from Ceramic Designs Lab share how the business has grown and how to maintain a successful lab.
Please introduce yourselves
Jon Dolding (JD): I'm Jon Dolding, owner and director of Ceramic Designs Lab in Hove and I've been qualified as a dental technician for more than 35 years.
Lola Welch (LW): My name is Lola Welch and I'm a senior prosthetic technician working at Ceramic Designs Lab since 2016. I have 20 years of experience in the profession. I'm a proud member of Dental Technicians Guild and the new group called Nightshift (follow us on social media)!
We thought it might be a good idea to write this article together to talk about our lab from two different perspectives.
Can you please tell us a little about how and when your lab was created?
LW: This one goes straight to Jon as I wasn't there!
JD: The lab was created in 2011, soon after Kath and I chose to relocate to Brighton. When we moved to Brighton I didn't know many dental professionals in the area, so I decided to sponsor a couple of local British Dental Association (BDA) evenings and this is where I met Guy and Bill from The Implant Centre. At the time, they were looking to open an onsite lab at their Hove centre.
How has the business grown since then?
JD: The lab is still growing. It started small with one onsite crown and bridge technician and myself running between Hove and Southampton, where my other lab was. It wasn't long before I realised that I couldn't run both labs and decided to put all my energy into building Ceramic Designs.
We now have a great team of ceramic, prosthetic and digital technicians all hands-on and doing incredible designing and bench work. Our administration team ensure the amazing work is dispatched in good time ready for the patients' next appointment.
LW: The lab has doubled in size, equipment and employees in the seven years since I joined it. At first I thought the growth was scary (I don't like too many changes in general) but I learned how to embrace it.
The team is still small enough to have the 'family business' vibe, but big enough to provide a full service, educate one another and provide high quality restorations all produced in-house.
I think in-house metal milling was one of the biggest changes and challenges. Like seriously, do you know how big and heavy our Zirkonzahn M2 is? Jon had to hire a crane to bring it into our back door!
What renovations/additions/changes have you made to your lab and why?
JD: So many…everything and everyone used to be in one room. We now have a logistics office, ceramic suite, prosthetics department, plaster room, digital design stations, model room, plant room, conference room, kitchen, private office, stock room, bathrooms and a shower room.
LW: Funny enough with all those changes, my bench is still in the same place. It's like everybody else moved around the prosthetic department, leaving us in peace. I just thought…maybe we are the heart of the lab?
What type of work does your laboratory carry out ?
JD: We offer a comprehensive range of private services at Ceramic Designs with 70% of turnover being ceramic work on both implant and natural teeth.
LW: We do pretty much everything apart from orthodontics and chromes (which we are outsourcing). I personally love implant work the most. I'm very happy that I can now confidently plan implants, design surgical guides, work on immediate loads and finish high-end restorations.
What kind of high-tech equipment/technology do you use at the lab?
JD: The lab has always invested in the best technology. We are passionate about research and learning. When team members bring new technology ideas to me, I will make time to investigate.
LW: Yes, we are spoiled. We have multiple CAD stations, 3D printers, mills, scanners. The only thing we don't have yet is the photogrammetry – but it's actually on the cards as we speak.
What have been the biggest challenges in establishing and running the business?
JD: Far too many to mention…
LW: As an employee, I don't face the same challenges as Jon. I'll be honest, I wouldn't like his job!
What do you enjoy most about your job?
JD: The team I work with!
LW: I just love helping people and being able to use my artistic flare every day. Being onsite of a big implant practice means that I can meet my patients and there's nothing as rewarding as seeing the impact your work can have on someone.
What are the future aims of your lab?
LW: Personally, I want more people to know about us and learn what a great place it is and the outstanding laboratory work we are providing. We won multiple awards in the past and I hope we can add a few more to the collection.
JD: To continue building a talented team who share our values and for us all to be exceptional every day, remembering that through passion and creativity we change people's lives and smiles.
Where do you see dental technology going in the next decade or so?
LW: The answer is simply digital! But let's not forget that we will all still need skills to design and make things 'pretty'. I'm already considering myself, not only a prosthetic technician, but a digital one too.
Or maybe let's say I'm half/half at this moment, but I'm not worried about my future. I know I'm in the right place that will help me to move my career in the direction that's best for the lab, but most importantly for me.
JD: I have to agree that digital is the way forward, but not losing traditional hand skills is also something that should not be forgotten.
What are your top tips for maintaining a successful laboratory?
JD: Listening to the team.
LW: It's all about the team. Of course, skills and talent are important. But if we don't feel 'right' about somebody during the recruitment process, Jon always listens to us.
There was one time when we were bench testing a CAD designer. He was good at the job, but very unfriendly and borderline rude. He didn't get the job and we all feel it was the right decision.
Is there anything else you'd like to add?
LW: Yes! Come and work with us! We have recently said goodbye to one of our ceramists as she decided to relocate to another part of the country. Plus, we are always happy to see a good CV, so if you are looking for a change and fancy some seaside living, Ceramic Designs Lab might be the right place for you.
JD: Thank you, Lola, you've finished off in exactly the way I was going to.
---
Previous Labs in the Limelight:
Follow @Laboratory_Dentistry on Instagram.