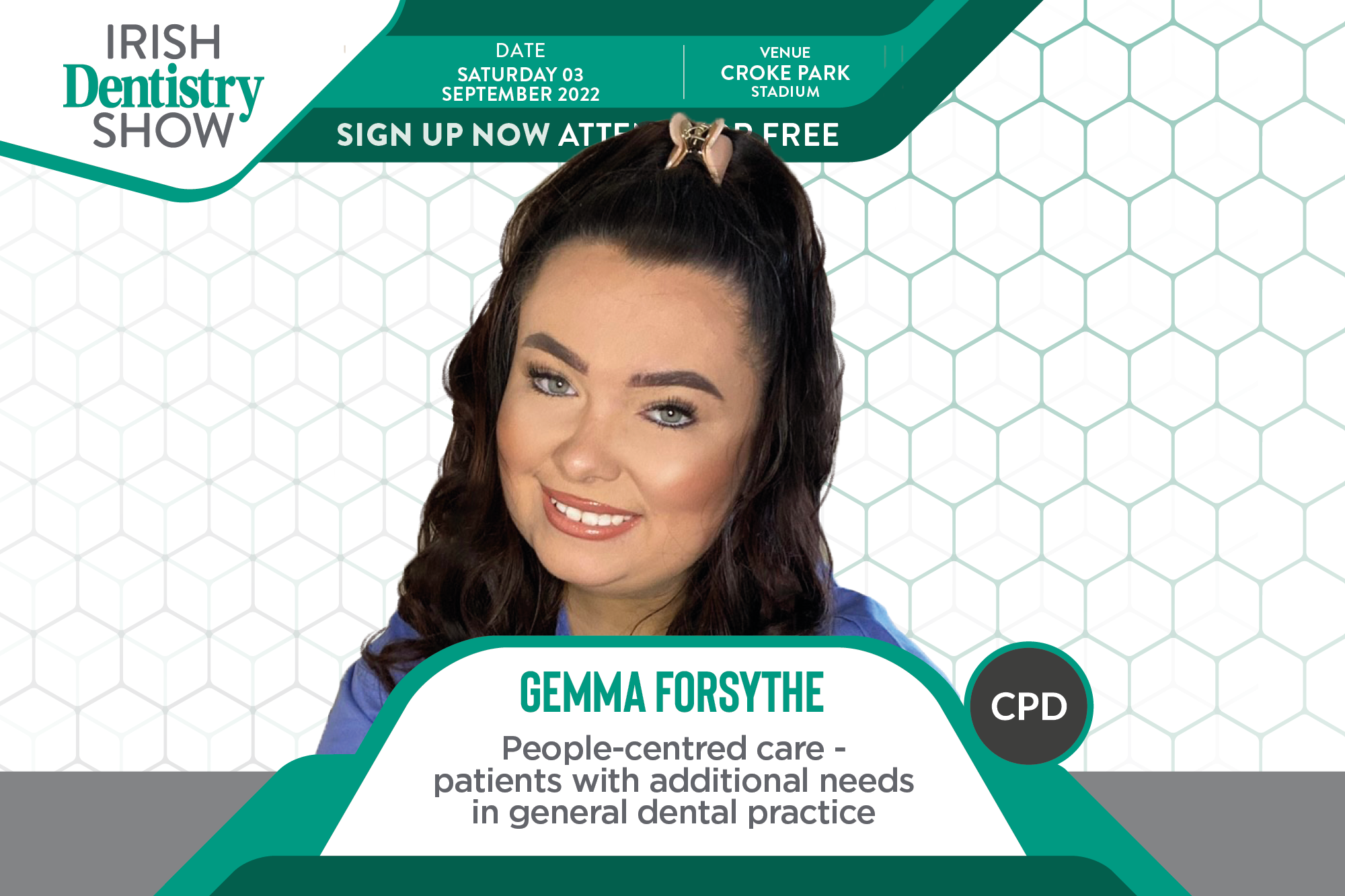 Catch Gemma Forsythe at the Irish Dentistry Show as she discusses people-centred care for patients with additional needs in general dental practice – sign up now!
The Irish Dentistry Show is returning to Dublin on 3 September this year.
Taking place at Croke Park, the day promises to bring key brands, leading speakers and the latest topics in dentistry for every member of the practice team.
It's back by popular demand, with more speakers and exhibitors than before.
'We are really excited to get back to Dublin this year,' says Leanna Ellis, events director at FMC.
'We have a fantastic line-up of expert speakers to deliver top-class lectures. And, as always, there will be an array of stands at our exhibition so you can stay abreast of the latest technologies in dentistry.
'But that's not all – that weekend we are also hosting the Irish Dentistry Awards. If you've been shortlisted, don't forget to buy your tickets by visiting www.dentistry.co.uk/awards.'
Gemma Forsythe – people-centred care: patients with additional needs in general dental practice
Gemma Forsythe is a registered dental nurse and oral health educator from Northern Ireland.
She works in general practice and is on the editorial board for the Dental Nursing Journal.
In addition, Gemma her own column called 'Nursing Matters' about all things dental nursing on Dentistry.co.uk.
Gemma was also a finalist for Best Dental Nurse in this year's Dentistry Awards.
On her lecture, Gemma said: 'Although some additional support needs patients need to be seen in a special care setting, it is not the case for all.
'Many of these patients can be seen in general practice and it is important for dental staff to make these patients' visits as comfortable as possible.'
She continued: 'I think it is so important for the dental team to be aware of disabilities, especially those which are hidden.'
Gemma hopes delegates take away from lecture:
To be able to name three types of additional support needs patients
An understanding of three barriers of good oral health for a patient on the ASD spectrum
To know three barriers that prevent a patient with additional care visiting the dentist.
What's on at the Irish Dentistry Show?
We have a whole host of speakers lined up for the show, including:
Avijit Banerjee – Advanced Minimum Intervention Restorative Dentistry: it's time to build back together!
Bronagh Keane – Smile design
Shazad Saleem – The stepwise approach to managing periodontitis: An overview of the S3 guidelines for managing stages 1-3 periodontitis
Rachel Derby – Enter the Multiverse: a journey from single tooth dentistry to multi tooth dentistry
Alessandro Cucchiaro – Engineering immediate prototypes
Grant McAree – The secret of success: the formula for building a multimillion pound dental business
Claire Berry – Introduction to guided biofilm therapy.
We'll bring you more information and more speakers over the coming weeks – stay tuned.
---
For more information and to register, visit www.dentistry.co.uk/irish-dentistry-show.
Follow Dentistry.co.uk on Instagram to keep up with all the latest dental news and trends.