Biomin F keeps summer sensitivity at bay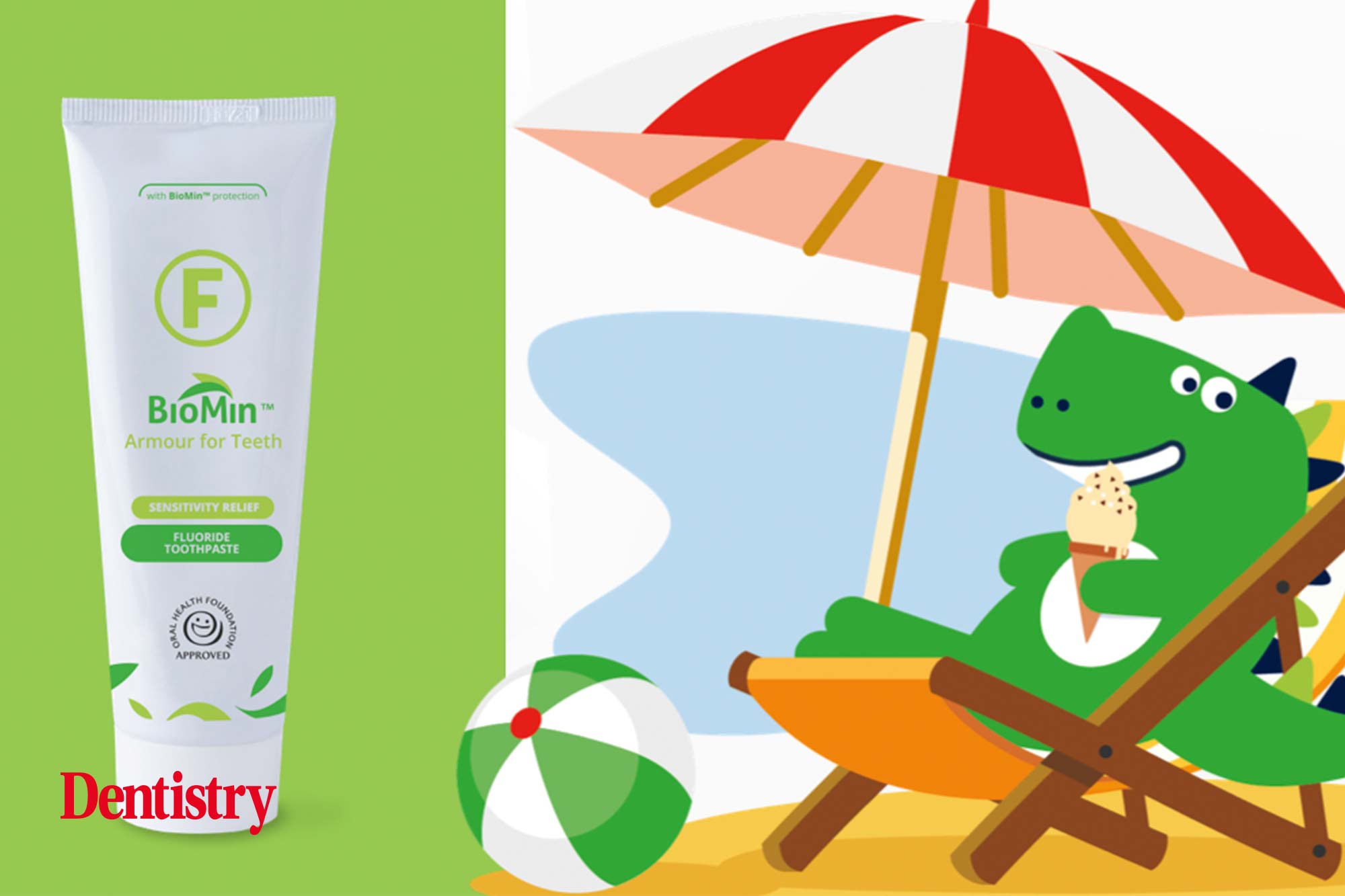 Cool drinks and ice cream are part of the holidays – brushing your teeth with Biomin F means sensitivity won't be a pain.
The summer holidays are here sun – sun, sea, sand and, for some people – sensitivity. Dentine hypersensitivity can affect up to a third of people at any age. For about 10% of those, it can be severely debilitating.
Sensitivity to hot or cold, especially cold drinks or ice cream on the beach or by the pool, is particularly common. For many people the pain of dentine hypersensitivity can severely impact their quality of life – and certainly get in the way of enjoying a holiday.
It doesn't have to be that way, though. Regular brushing with Biomin F toothpaste has been proven in trials around the world to reduce dentine hypersensitivity. In some cases, it eliminates it completely.
How Biomin F works
Unlike conventional fluoride toothpastes, which contain soluble fluoride, Biomin F is based on a unique patented formulation. The fluoride is incorporated within the structure of the toothpaste.
When you brush with Biomin F, the toothpaste particles adhere to the surface of the teeth. Here they work slowly over several hours, gradually releasing the fluoride ions, together with calcium and phosphate, in an ideal ratio to form fluorapatite (FAP) which closely resembles natural tooth enamel.
The tiny particles are deposited on the surface of the teeth and enter the dentinal tubules, gradually blocking or occluding them and preventing the fluid movement which triggers dentine hypersensitivity.
Thanks to its slow release action, Biomin F contains lower levels of fluoride than conventional toothpastes, but it is used more effectively – in this case, less really is more.
The fluoride contained in regular toothpastes, and even high concentration toothpastes, is rinsed away by saliva within an hour. BioMin F carries on working for up to 12 hours. This gradual release process means that FAP is formed more effectively.
What's more, Biomin has a 'smart action'. When you eat or drink something acidic, like a fizzy drink or a sweet treat, it gets to work faster, dissolving more quickly to start releasing the fluoride, calcium and phosphate. This restores the pH balance and forms stable, acid resistant fluorapatite.
Patients are finding it really works for them when nothing else has helped their sensitivity. Dr Don Gibson, a dentist in Yeovil, Somerset, commented that it had helped almost all the patients that had tried it.
'It's been better than I dared hope,' he said. '90% of them are passionate about it and come back for more.'
London dentist Dr Rash Patel agreed. 'The overwhelming majority – over 90% – got benefit from using Biomin F,' he said.
Remineralisation
Biomin F is not just for sensitivity, though. The FAP produced is highly effective at remineralising lost or damaged tooth enamel. This helps to protect against the development of caries.
Studies have shown that it replenishes the tooth enamel not just on the surface, but penetrates deeper into the sub-surface. This reverses the enamel damage and hardening softened enamel.
The proof
Users are delighted with the reduction in their sensitivity following just a few days of brushing with Biomin F. Calum commented: 'By far the best toothpaste I have tried. I swear by it. It's fantastic stuff – stops sensitivity, leaves teeth feeling they have a layer of glass over them.' Robert said:
'Within a couple of days I began to realise the benefits of using BioMin F and have continued to use it daily. I am totally pain-free with zero sensitivity.'
The experts agree. Biomin F was the first toothpaste to be approved by the Oral Health Foundation. Their expert panel scrutinised Biomin's evidence and agreed that it lived up to its claims for reducing the symptoms of dentine hypersensitivity.
Biomin F also carries a CE mark, rigorous tests proving that it can substantiate its claims, and is approved by the FDA in the USA.
So if the fear of sensitivity is stopping you enjoying your holiday ice cream, or sipping on that cool cocktail, think again – and give Biomin F a try! It could change your life.
If you don't want to use a fluoride toothpaste, Biomin C is available, based on calcium and phosphate. For your little ones there is Biomin F for Kids, in child-friendly melon or strawberry flavours.
---
For further information on the science behind Biomin visit biomin.co.uk.
Want samples or a practice visit? Speak to our exclusive UK Dealer, Trycare on 01274 88 55 44 or [email protected]