Predictable guided immediate implant placement in the aesthetic zone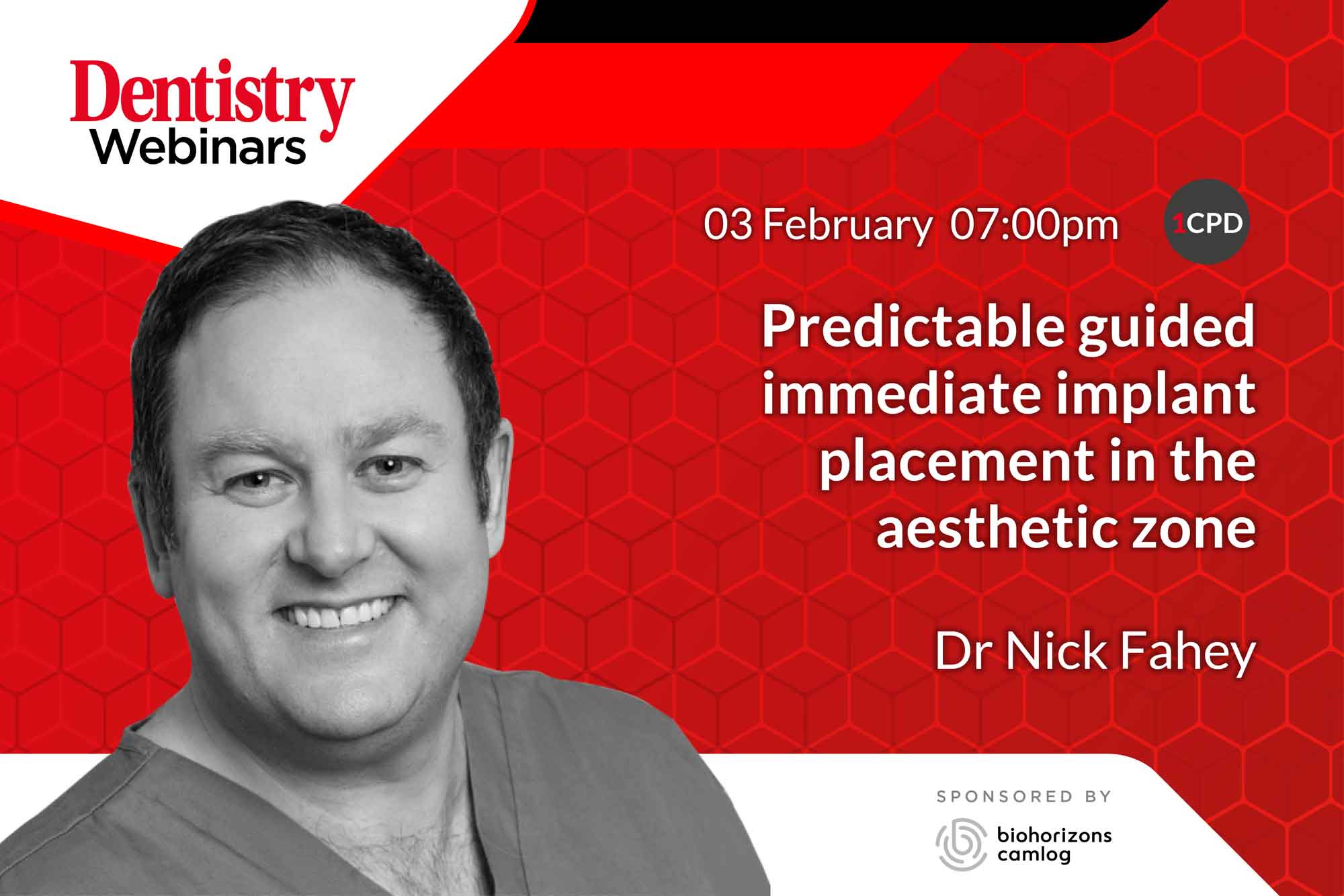 Join Nick Fahey as he discusses predictable guided implants during a free webinar on Thursday 3 February at 19:00.
This webinar will cover the fundamentals of the prosthetically-driven treatment modality of immediate placement in the aesthetic zone.
Delegates will learn a methodical approach for case selection and the benefits of virtual planning for precision surgical placement through guided surgery to achieve enhanced primary stability.
The session will also consider key features of selecting a suitable guided implant system to achieve optimal results with hard and soft tissue and minimise the risk of aesthetic compromises.
Learning outcomes
At the end of this webinar delegates should, in relation to guided immediate implant placement, understand:
The principles of case selection
Virtual planning workflows
How to predictably achieve primary stability
How to minimise aesthetic compromises.
Nick Fahey
After many years working in Devonshire Place and Harley Street, Nick now works solely in Woodborough House, his referral practice in West Berkshire.
Nick works as a specialist prosthodontist. He accepts referrals related to prosthodontics. As well as having a special interest in all aspects of dental implantology.
As a pioneer in computer guided surgery, Nick has taught a generation of dentists about guided surgery.
He is particularly interested in all aspects of computer-guided surgery and guided surgical navigation for simplification of surgical placement of dental implants.
Of recent interest is the amalgamation of 3D facial scanning and real-time jaw movements into the implant planning process for complex cases.
Nick has lectured, worldwide on topics such as computer guided surgery and virtual implant planning. He currently has a book titled Guided surgery – making implant placement simpler in publication for release early this year.
---
To register for this webinar, simply visit www.dentistry.co.uk/webinar.
Catch up with previous On Demand webinars