Barrow and Buxton Live! – 'I would 100% recommend'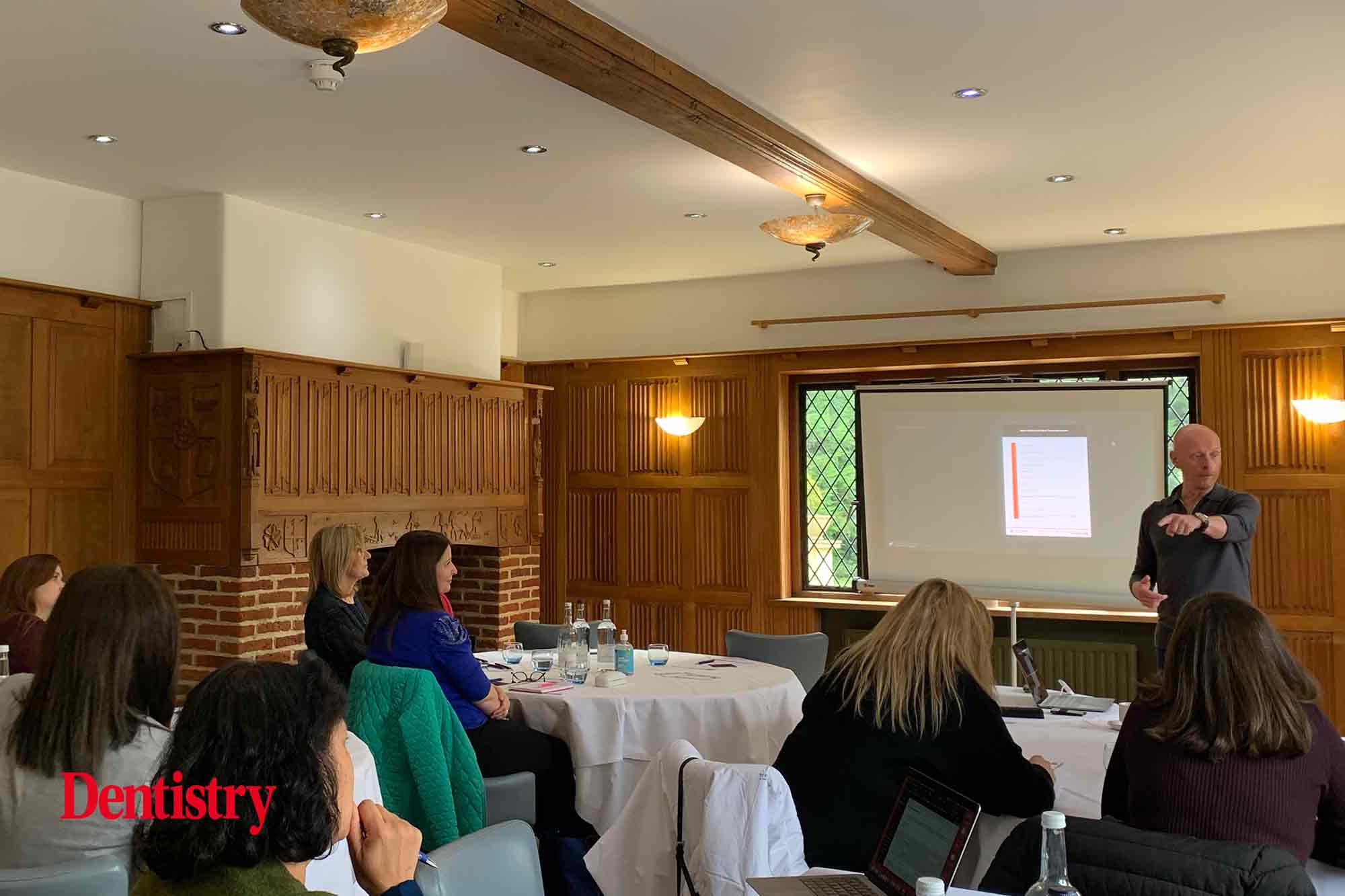 Chris Barrow and Sarah Buxton hit the road for an interactive and informative session to help prepare practices for the challenges ahead.
Practice Plan's live events are back with a bang as Barrow and Buxton Live! continues its tour across the UK.
Headed up by dental business coach Chris Barrow and employment and HR solicitor Sarah Buxton, the pair answer all the key questions around managing change and leading people as 2022 approaches.
On Wednesday 3 November, the interactive workshop – exclusive to Practice Plan clients – welcomed dental professionals from the south east at Great Hallingbury Manor in Bishop's Stortford, Essex.
Tania Ross, a practice owner based in Watford, is one of the delegates who attended the day.
'I would 100% recommend it,' she said. 'They were great speakers and it was really nice to meet other practice owners who are with Practice Plan.
'It was also nice to meet and talk about something other than teeth – a lot of CPD courses revolve around teeth but this was about the whole business.'
Appetite for private dentistry
Chris kicked off the event with a conversation on the challenges faced by the profession.
Quoting an example of a dental nurse leaving the profession to be an Uber driver, he tackled one of dentistry's most topical crises – recruitment.
With demand meaning increased wages are on the horizon, he argued that practices have two options financially – the practice owner takes a hit or the patient pays. And in the case of the latter, the only option is to go private.
He pointed out that there is an 'inexhaustible appetite' for private dentistry in the current climate.
Chris also handed out his top tips on how to recruit, encouraging delegates to offer competitive benefit packages that go beyond a good hourly wage.
After a short break, the workshop returned – this time with Sarah sharing her legal wisdom on how to manage negative team members.
With a recent 90% increase in employment claims, she discussed the changing legal landscape when it comes to employment and how practice managers can stay on top of it.
She also walked practices through the recruitment and retention of staff members and what practices need to ask – and avoid – during the interview process.
Real pressure
After lunch, the pair opened up the floor to delegates, who were able to pick their brains for the answers to their questions.
Expanding on the topics of the day, questions ranged from price listing and vicarious liability to employed versus self-employed hygienists.
'When we first put this workshop together as a concept, which was early in 2021, the idea was anticipating that as we rolled into 2022 there was going to be a lot of change in the dental landscape,' said Chris.
'So the original idea was how to manage people during change. Events transpired to create what is currently a recruitment and retention crisis during dentistry. It's very serendipitous that this crisis has arrived at the very moment Sarah and I are on the road with these events.
'We've ended up talking to people about how to recruit in the current landscape, about how to retain the good people they've already got and how to review their overall remuneration strategy in which there's real pressure on pay scales across the board.
'We've ended up being in the right place at the right time. One of the best things about that is that it's generated questions from the audience that have been very topical, very relevant and very contemporary. Sarah and I have had the chance to address these to the best of our ability.'
Dramatic change
Sarah said she embraced the opportunity to get back on the road and help practices prepare for the incoming change.
'The dental business has changed dramatically over the last 18 months,' she said.
'This was identified by Practice Plan, who invited Chris and me to speak about managing people and managing change.
'Managing both people and change is one of the most difficult tasks that a practice owner/manager will have to undertake. So, with the knowledge that both Chris and I have, we were able to produce a full day's worth of content to really help and support practices.
'It's been so great being on the road again seeing old clients and new. The Barrow and Buxton Live! events have been informative and a lot of fun!'
---
For more information visit www.practiceplan.co.uk/events