Renfert – for the progress of the dental industry since 1925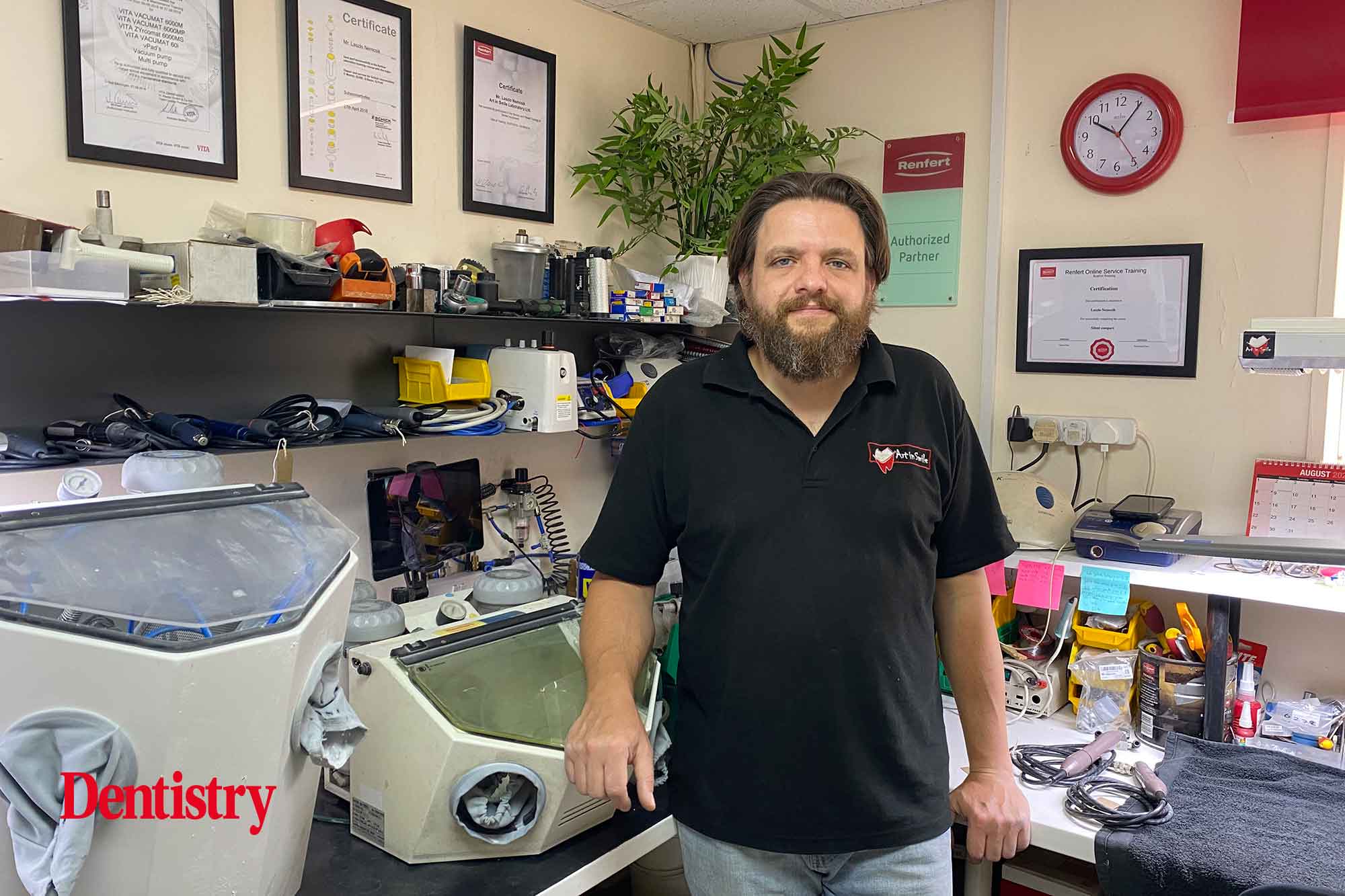 Renfert is a German company that has been supporting the development and progress of the dental industry since 1925. Yannick Schneider and Laszlo Nemcsik (pictured above) speak about the service Renfert provides in the UK.
Today, Renfert's high-quality dental equipment and materials are sold in over 120 countries. Around 180 people work at the company's headquarters in Hilzingen, Germany.
Renfert offers technologies and products developed by dental technicians for dental technicians. Materials and devices are continuously optimised or sometimes even completely re-designed in close cooperation and intensive dialogue with customers.
Yannick Schneider
To learn more about this company, we interviewed Yannick Schneider, area sales manager.
You are exhibitors at the DTS that will take place in May next year. Are you planning to present any new products?
The participation in the 'DTS Birmingham' has always been important for us.
It is an extraordinary event and an excellent showcase for presenting our new products. For the upcoming edition, visitors will have the opportunity to discover several new products. Some of those products are really a novelty, not only for Renfert, also for the market.
Following our motto 'making work easy' we are trying to develop our products in a manner that allows users to work in an innovative and ergonomic way. We are convinced that it will simplify the work of the dental technician. But at the end of the day, it is still the customer who decides whether we made it!
I invite everyone to come to our booth to try it out.
Renfert offers in addition to consumables and instruments a wide range of small equipment for the laboratory. This makes a very strong argument for technical assistance because even the best equipment needs servicing or repair. Whom can your customers contact in case of need?
We offer three-years warranty and full service for our equipment. In case of need, customers can turn to our authorised service partners. For the UK our responsible and authorised service partner is Art in Smile.
Art in Smile is a company based in Marlow Bottom that carries out the repair of equipment for the dental office or dental laboratory. The experience gained over the years and the continuous collaboration with the most prestigious brands in the industry, coupled with continuous training, have made Art in Smile a modern, dynamic company, that is able to meet the needs of medium and large dental depots. The company is able to fully meet the needs of the market. It offers an efficient, timely and quality service to its customers.
The particular service program allows a detailed history of all incoming repairs putting the company in a position to supply all the data requested by the customers in a very short time.
All repairs carried out by Art in Smile are guaranteed and tested according to the tests indicated in the service manuals supplied directly by the equipment manufacturers. Art in Smile has a wide range of original spare parts purchased directly from the manufacturers.
Laszlo Nemcsik
We asked Laszlo Nemcsik a few questions to find out more about this company, which is fundamental for a company as important as Renfert.
When did you found Art in Smile?
My wife Sarolta started her dental lab under this name. Our limited company was founded in 2017 but since 2007 I always worked as a dental laboratory engineer.
How are you organised, how many people work with you?
Art in Smile Laboratory Ltd are two people, my wife deals with all the paperwork, accounting and deliveries. I'm dealing with all the repairs, quotations.
What kind of education do you have?
I have a university diploma of industrial electronics as well as certificates stating we are qualified for the equipment what we provide assistance for.
It is very important that since my wife has about 25 years' experience working in this industry, I always felt myself too when equipment is broken, how desperate you can be as a technician. It's so important to get something back in good condition, as quick as it possible.
Do you have an emergency phone number?
The best way to contact us is to call my mobile number 07581455564.
Let's take an example. I'm a Renfert customer and my old model trimmer is no longer functioning. What should I do?
Very simple. There are several ways to request technical assistance:
Contact us on 07581455564 normal call or Whatsapp me on the same number
Send an email to

[email protected]

.
We always ask our customers to send the faulty goods to our address. Within 24 hours, we will send you a free estimate of the repair. Afterwards, we will return the repaired piece of equipment with a six-month guarantee on spare parts.
Another example. I have purchased a pin drilling device by Renfert, which is still under warranty but not working properly. What should I do?
Simple, you have to send it to us for repair, attaching the purchase invoice to check the warranty period of the product. It is important to know that Renfert provides a three-year warranty on their equipment range!
You can then return the malfunctioning equipment to us by contacting your Renfert dealer. Or send it directly to us.
In some cases, a defective device can also stop the production of the entire laboratory. How quickly can you carry out a repair?
Our service requires us to be fast and precise in order not to stop the customer's work.
For this reason, we have a well-stocked warehouse with several spare parts. We usually carry out repairs in about 48 hours (from the acceptance of the cost estimate).
We also have several pieces of Renfert equipment available for use as a loaner device.
What kind of equipment do you repair besides Renfert equipment?
We repair any dental laboratory equipment. All kind of micro motors, steamers, furnaces, extractors, trimmers, etc.
---
For more information, please visit our website www.artinsmile.co.uk.