Smile Clinic Group – the story behind the success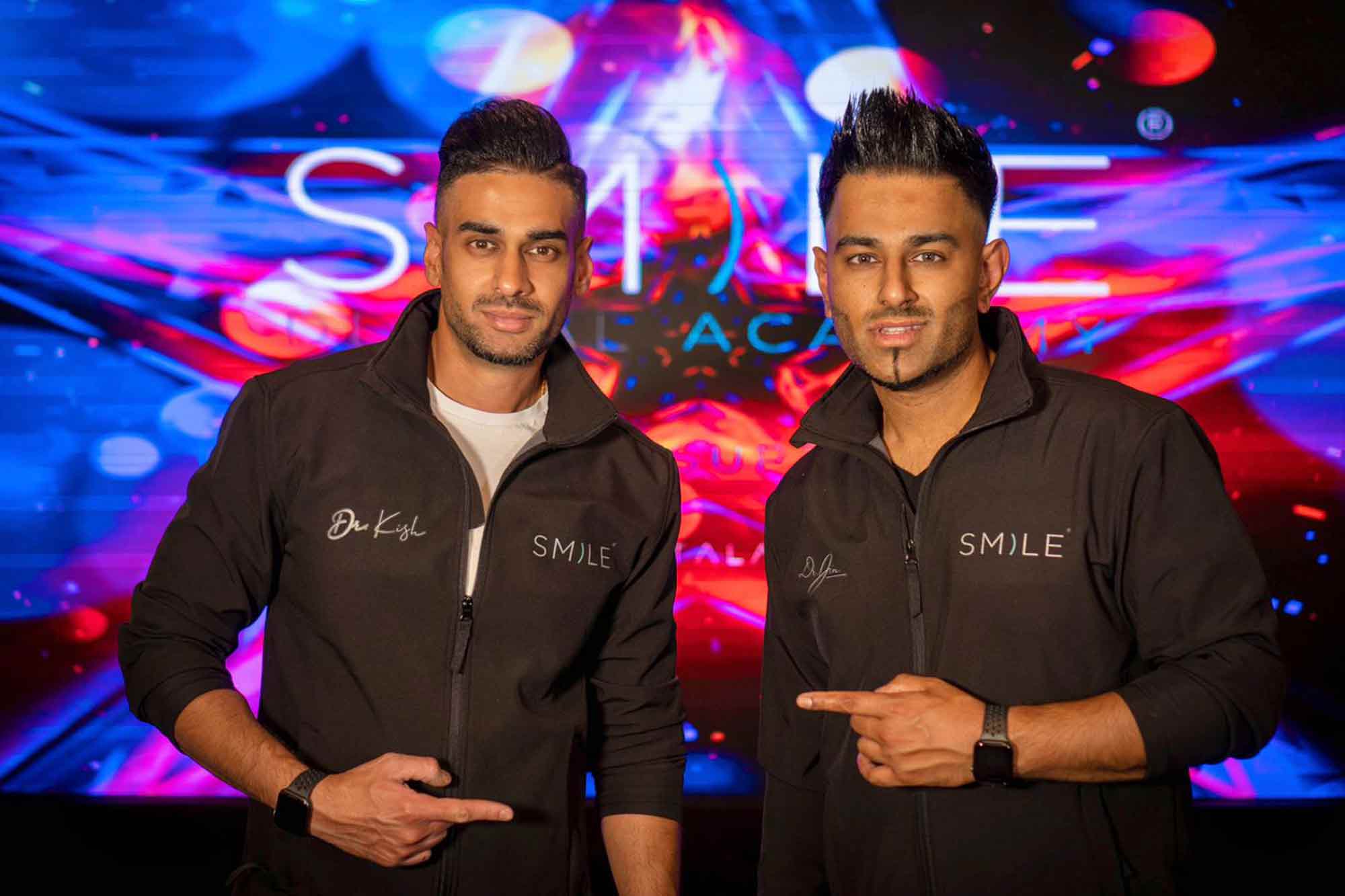 Jin Vaghela and Kish Patel, founders of Smile Clinic Group, open up about their steps into dentistry and how their early visions match up with their reality. 
How did you both get into dentistry?
Jin Vaghela: My parents are both pharmacists – I come from a family with a medical background. At school I loved art and the sciences and thought a combination of the two would be amazing. I did a bit of work experience in dentistry and decided to go for it. Best decision I made! I met Kish on the first day of university at the age of 18.
Kish Patel: Similar to Jin, my parents are in pharmacy. Both of them were keen for me to do something medical or financial, and having a passion for art, science and numbers, I found dentistry to be a good medium between the two.
How did you meet?
Kish Patel: Jin was the literally the first person that I met at King's College London. Within a few minutes, he told me he was a DJ and was doing sets at some of the uni nights. Thought it was a good idea to stick around him! It just so happened that we were in the same tutor group and got on really well.
When was the Smile Clinic Group born?
Jin Vaghela: I'm from Camden Town, and a couple of doors along there was a dental practice. I did my work experience here and loved the variety of patients coming in. I just loved the whole general practice environment. During our time at university, I told Kish that I'd love to own a practice and create a brand we can be proud of. So, I pretty much knew that at university.
The funny weird thing is, even back then, we used to read your magazines: Dentistry magazine – a lot of the people who work alongside us now, they were at the forefront pushing the profession forward back then. So we thought it would be amazing to be lecturers and inspire the next generation, but also having a practice that we can actually make a change to local communities, patients and the team as well.
Kish Patel: Before applying for dentistry at university, I was speaking to my cousin the night before filling out my UCAS form. I told him that I'm very good with my hands, I love art and science, and I'm very good with numbers. He goes, Kish, why don't you do dentistry, because you can do the clinical and the business side. So, it's kind of the best of both and there's so much opportunity.
Going into university, I had that mindset that I wanted to be the best clinician I can possibly be and give the best possible care to my patients. But, at the same time I want to build something that will inspire the next generation. It's not just about clinical dentistry, but there's other things that you can do. It's just a career with so many opportunities, it's amazing.
Jin Vaghela: We finished our five years undergraduate training from Kings. Then during our FD training year was where everything sort of came together. Being in general practice, working at the practice where we worked and where we met our mentors, we realised that being in general practice was where we wanted to be.
Kish Patel: That in itself was a journey, we went through five years of university, and had a great time. It just so happened that out of 220 students, only 10 people failed their finals. Two of them are sitting in front of you. Let's just say it was a shock to the system!
Kish Patel: Given the news we had failed, we looked at it and decided we had six months to take whatever we were going to do to a different level.
Jin Vaghela: Everything happens for a reason. If we had passed first time, I'm not sure if we would've been where we are now.
Kish Patel: The way it worked out was that both of us ended up in the same FD scheme and both of us found incredible mentors that were doing exactly what we wanted to do with our careers. Both mentors had done postgraduate education, they both owned practices – they were business owners, they both had a great network and were very well respected and liked within the profession. It was everything that we aspired to be and we fell into that at the right moment in our careers.
What about the pandemic? When it first hit in March last year, what were your initial impressions?
Kish Patel: I remember this day very clearly. We were all sitting in front of the TV, everyone was listening to Boris Johnson. As soon as he said everything was going into full lockdown, I got on the phone with Jin and there was silence. I've never heard Jin silent before! I said that we don't know what's going to happen over the next few months, we need to be patient. As challenging and worrying as it will be, we need to assess the situation day by day and week by week.
I said that the two most important things are: 1 – that Smile Clinic Group staff are properly looked after and 2 – our patients are properly looked after.
Jin Vaghela: We were more stressed financially; no patients and no finance coming in. We've got loans to pay for banks etc, that was one issue. Then, we've got a whole work force of over 200 staff. I'm thinking about their families and that's what we were stressed about. How were we going to pay them?
Kish Patel: We just told all our staff not to worry, and we've got you.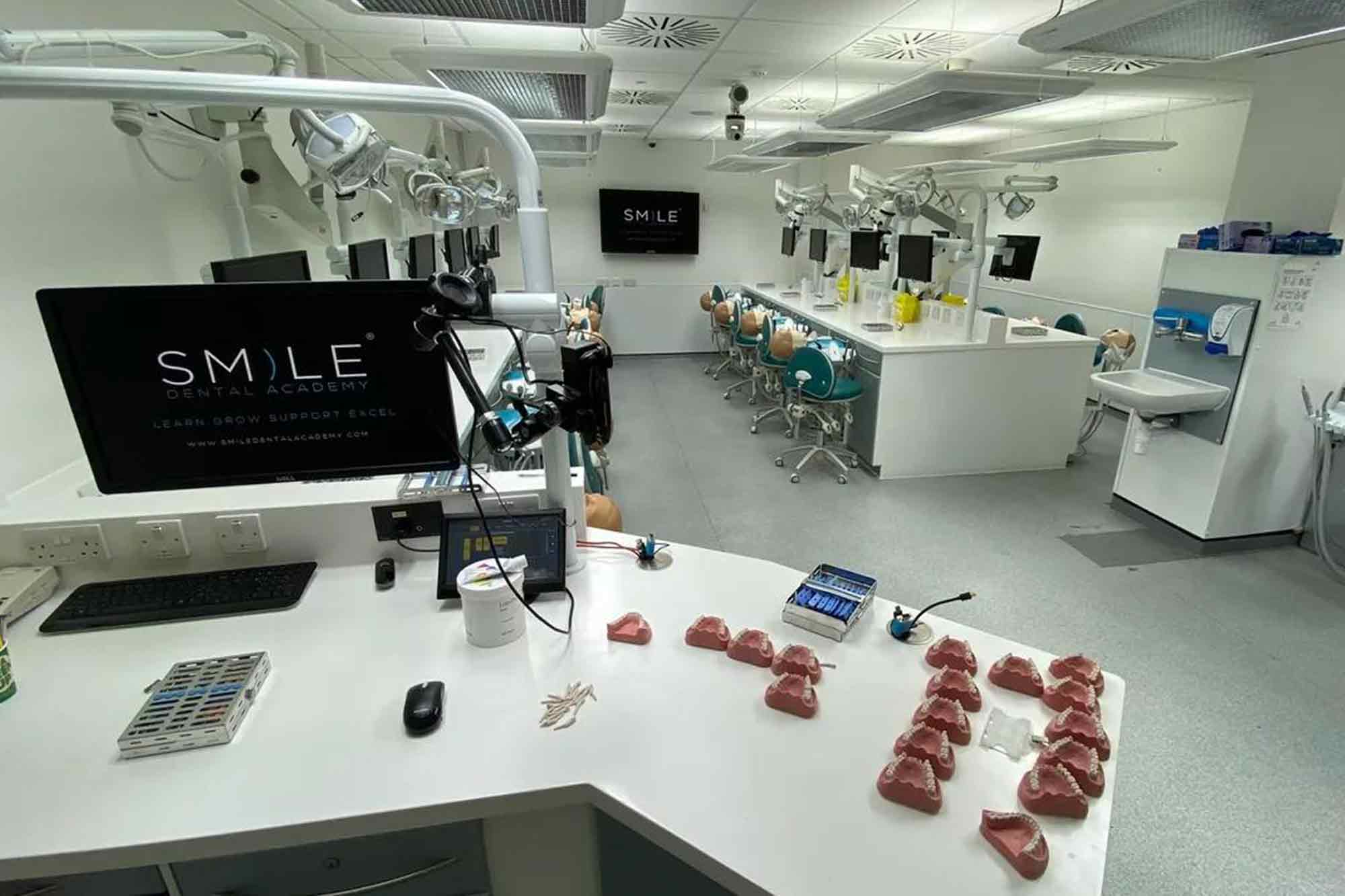 After that initial bump at the beginning, did you find that the pandemic helped to boost income?
Jin Vaghela: From our point of view, we've never taken a month off work. That time away allowed us to look even more into our business fully.
Kish Patel: Whatever happens, there's always room and opportunity for growth – be it on a personal level or a business level. All of a sudden we are given guilt-free time away from clinical practice. We took that time and dissected our business and put it back together in a way that was even more scalable, but maintaining the quality at every single level.
I think that was probably the most instrumental part for us because that then gave us the platform to be able to grow whilst maintaining our high level of patient care and clinical practice.
So you have 12 practices within the Smile Clinic Group? What will the end of this year look like?
Kish Patel: Yes we have 12. By the end of the year we will have 15. The first practice was bought in 2008, so six months after VT training.
Jin Vaghela: If it was me on my own, it would've been terrifying. But because I was in a partnership within a group – that's what's important, the team around you.
Kish Patel: A question that we get asked a lot is 'how do you achieve what you have achieved?' One of the most important things is having partners that are on the same vision and wavelength as you. None of us would do this by ourselves. Because it's the three of us, it's quite nice that we can lean on each other. If one person is stressed they can go to another to talk to. We check in with each other at least 10 times a day. I speak to Jin more than I speak to my wife!
Do you think your relationship is integral to what you've achieved? Are there times when you do clash or face obstacles?
Jin Vaghela: The beauty of having three of us is that we are all totally different personalities. Where Kish is more focused and keeping the whole momentum going, I'll be more creative, risky and driven – and then my brother will be looking at the nitty gritty of the operations.
Kish Patel: I'm more rational. In order to grow you have to scale something you need to have a foundation that's strong enough to be able to allow that. The beauty is that he will say I want to buy this, this and this and we will focus on which practices will be most beneficial to the group and prioritise it, and then create a strategy that works.
Jin Vaghela: My brother will be looking at the current ones and saying this is what we need to do to streamline it on a daily basis to make it more effective. So all three of us are like the Avengers. That's how it has become with us all together.
Kish Patel: One thing we are all about is positivity. Even if there is something that's not going right, we will spin it into a positive situation. That's the one message that we are really keen to get out to the dental world. Be positive, be happy, be kind and everything will work itself out.
Jin Vaghela: Our ethos is the same, don't chase money. Someone asked me are you buying practices for the money, I said no we aren't chasing the money, never chasing it. If you do good things, the money will come. Look after your patients and do right by your patients and then money will come. If you do dentistry to have private jets, you're in the wrong profession. This is not a sprint. This profession, the beauty of it is that it's a long profession. You can enjoy it and pace it.
Kish Patel: I remember my first day in my FD year, shadowing my mentor, Nicola. She had 12 patients in her diary, most of which were NHS. She would spend about 30/45mins with every patient, whether it was NHS or private, it didn't make a difference. Nicola never had the concept of spending longer with a patient because they were paying for it.
Her ethos was give your patient everything you've got, regardless of money or time and you will get the best out of that patient and you'll be able to treat that patient to the best of your ability. This is something I will always remember.
Jin Vaghela: A lot of people look at patients as either NHS or private. I say treat them like a human. When they come into your practice, it's not about selling treatments to them, it's important to give them all the options. Certain things are available on the NHS, certain things are unavailable. Just give them the options and spend time getting to know them.
Did you always want to expand your Smile Clinic Group practices beyond London?
Kish Patel: We initially acquired the first couple in and around London, and then the next two were outside of London; Norfolk and Suffolk. The reason why we did that was because we knew the sellers in Norfolk and the practice in Suffolk came up as a great opportunity.
The practices in Norfolk and Suffolk forced me to let go of certain things but it also taught me how to really trust our team and how to inspire our team. It is well known that great leaders inspire other leaders. That's what we are about. For example, at our Beech House Smile Clinic in Norfolk, Mark who is our practice manager there, started off as an administrator 10 years ago. Now he's a dual site manager.
Jin Vaghela: We love seeing growth in people. We've had trainee nurses become dentists now.
Kish Patel: With all of our staff, it's a case of saying to them: what is your five or 10-year plan. It's important for us to know, because we are all about career progression, and want to make sure we can help develop them.

The education side of things, is that also something that you wanted from the beginning? Is that not difficult juggling that with everything else?
Kish Patel: It goes very well together. Both, myself and Jin have multiple postgraduate degrees, and have always believed in investing in yourself, because again, it's about that drive to be the best version of yourself, to be the best clinician possible. To do that you need to educate yourself. That's what we said from day one.
Having the Academy fits really well into our ethos of providing the best quality of care for our patients. I remember when we were growing as a Group, people said, how can you monitor the quality that your dentists are providing. I said, well, it's through the Academy and our Smile Clinic Group Symposiums for our associates. It's a great way that allows us to touch base with a lot of our dentists, on the courses, outside of the practice setting. But, in addition, we can also help to inspire the rest of the generation to provide that quality of care. It's possible, everything is possible if you put your mind to it.
Jin Vaghela: At university I used to do a lot of sets and parties and events at university, almost every night. We used to do Ministry of Sound – I used to love interacting with people and getting them together. In a weird way that's how the Academy came together – on a more educational front. Even when we do education now, it's a different vibe to normal courses. We try and bring an energised enjoyment perspective to it.
Kish Patel: Education is education. Learning is always better when you are having fun. We do it because we love what we do, but at the same time we want to make it as fun as possible. It's all about creating an energetic atmosphere.
Jin Vaghela: Yep totally, and the live DJ equipment set up is essential to that! I've actually got the microphone on, doing shoutouts, if someone has a request, I'll mix it in. It's just a bit different flavour to the educational side.
What we said is our brand has to represent us. If we don't believe in it down to the logo and colour scheme, if we are not fully on board, we're not going to feel it. Because we are the voice of the whole brand, the academy, the practices, we need to be fully on board with what it represents and because we've got a lot of experience on the educational front – from being students and lecturers, we knew how to tailor make what we wanted.
Kish Patel: It goes back to university. When we were studying for exams, we used to live together. It was literally the night before the exam. He'd have his DJ decks out, we'd have something playing in the background – everyone is revising and having fun and hanging out. It was so productive.
It's not just about retaining information to that level, you've got to understand it. You're going to understand something more if you're having a good time whilst that information is being delivered.

How often do the courses run?
Jin Vaghela: Every weekend. We've both been teaching since 2009, we love it. Now we've got over 250 delegates registered on our diplomas with Smile Dental Academy. We've got diplomas in restorative and aesthetic dentistry, implant, orthodontics. We've got endodontics coming up, advanced aesthetics and now we've got the little short courses, every weekend.
Kish Patel: When we started we had about 25 associates at a time. They wanted to do all of the courses and were asking which was the best course. They are all great courses. Then I said to Jin, we've done all of these courses ourselves, so it would be nice to nurture them. Hence, we created that course and it was so popular.
Jin Vaghela: It's not just us lecturing all the time, we get lecturers at the top of their game to come in. We fly lecturers in from all over the world. When it first started, we thought it would be more impactful to hear from external lecturers instead of me standing there telling my own associates how to do things. I said, let's get the best people out there on the topic. The beauty of what we can do is, supplement it with our own experience relatable to everyday clinical practice. We will show them these skills and that's how we stay connected with them.
How do you ensure that you continue to enjoy all that you do?
Jin Vaghela: I think the pandemic has shown as well, life is too precious. When we grew up, our parents generation's ethos was: work work work, until one day I will retire and enjoy that. Unfortunately my dad, he had a kidney transplant at the age of 50 which was not part of the plan. Our ethos is keep that balance, as much as you're pushing the work, family life is just as important – if not, more important.
Kish Patel: Work life balance is really important to us and that's why we always check in with each other on that front. It's very easy to carried away with everything that we've got going on. One thing we will always do when we check in with each other is ask each other how the kids and family are.
Jin Vaghela: That's why we work hard play hard, and enjoy every moment, but the balance has to be key. We are so passionate about it, we can easily get carried away. We've both got kids, and at these ages when they are 3 or 4 years old, it's the most important time. So our ethos is work hard play hard.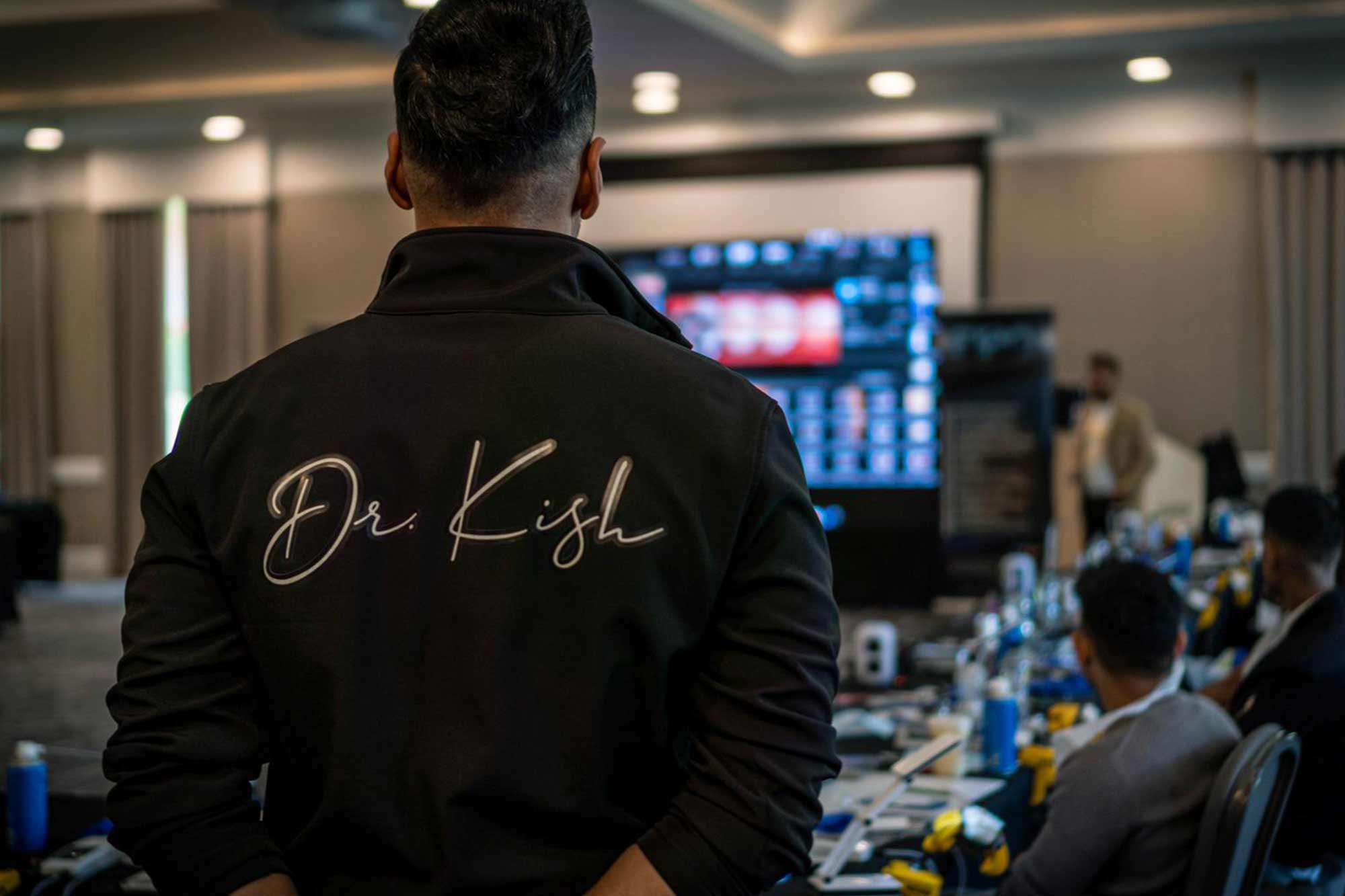 How do you unwind yourself? It must be difficult to detach yourself from thinking about it constantly, because it can become quite consuming.
Jin Vaghela: We love sports, we go to the gym a lot. Tennis, golf – if you've got hobbies, continue them. I still DJ, whatever you do and what you grew up with, continue with that. Whatever it is, you have to have it. Keep your chemical levels balanced. That's how to you get the energy to do whatever you want to do.
Kish Patel: It's very important in your day to carve out some time for yourself. If that's 10 minutes, 20 minutes, an hour, whatever you need. You need time for yourself. Never let everything else take over that side of it.
People ask me how I find time to go to the gym. I don't have time, I make time. If it's important to you, you make time. It's about balance and wellbeing. It's easy to get consumed in the work side.
What advice would you give to young dentists, or people aspiring to follow in your footsteps?
Both: Three main things:
Firstly, have a clear vision – invest in yourself, dentistry is constantly changing and adapting. We are first and foremost dentists and clinicians, so know your trade inside out and then adapt
Team – Have a good team around you
EPDP – Energy, passion, dentistry and party: energy and passion are the most important things.
Kish Patel: The Why and the Vision go quite well together. I've had a lot of young dentists saying 'I want to buy a practice'. My first question is why. If their first response back is that they will get more money, it's not correct. You actually end up in a lot more debt in the short term. Know your Why. Why you're doing it. We had a very clear vision. Your dental practice serves the community. We want to serve that community and provide the best possible care we can. Then you adapt and grow.
Jin Vaghela: Invest in yourself. It gives you more credibility. So when you're buying a practice, presenting in front of a bank, we can say to the bank that I know dentistry inside and out. If you don't know dentistry that well, the banks won't look at you favourably. Even now with the pandemic, it's become stricter and harder to get finance.
Kish Patel: What people forget, is when you're buying a practice, the banks are not just investing in the business, they are investing in you because you're a clinician. I've written up multiple business plans, outlining exactly what myself and Jin do from a clinical perspective. All the bank managers have been impressed by what we can do. You need to be convincing on paper. That CV that you've got is hugely important to you being investable.
Jin Vaghela: Invest in yourself, then find the right team to help you along the way. We still get young dentist's reaching out to us. Find the people who are doing what you want to do.
Kish Patel: We always tell young dentists, increase your network and spend time with people who are doing things the right way. Having a strong team around gives you the support to keep growing in your career.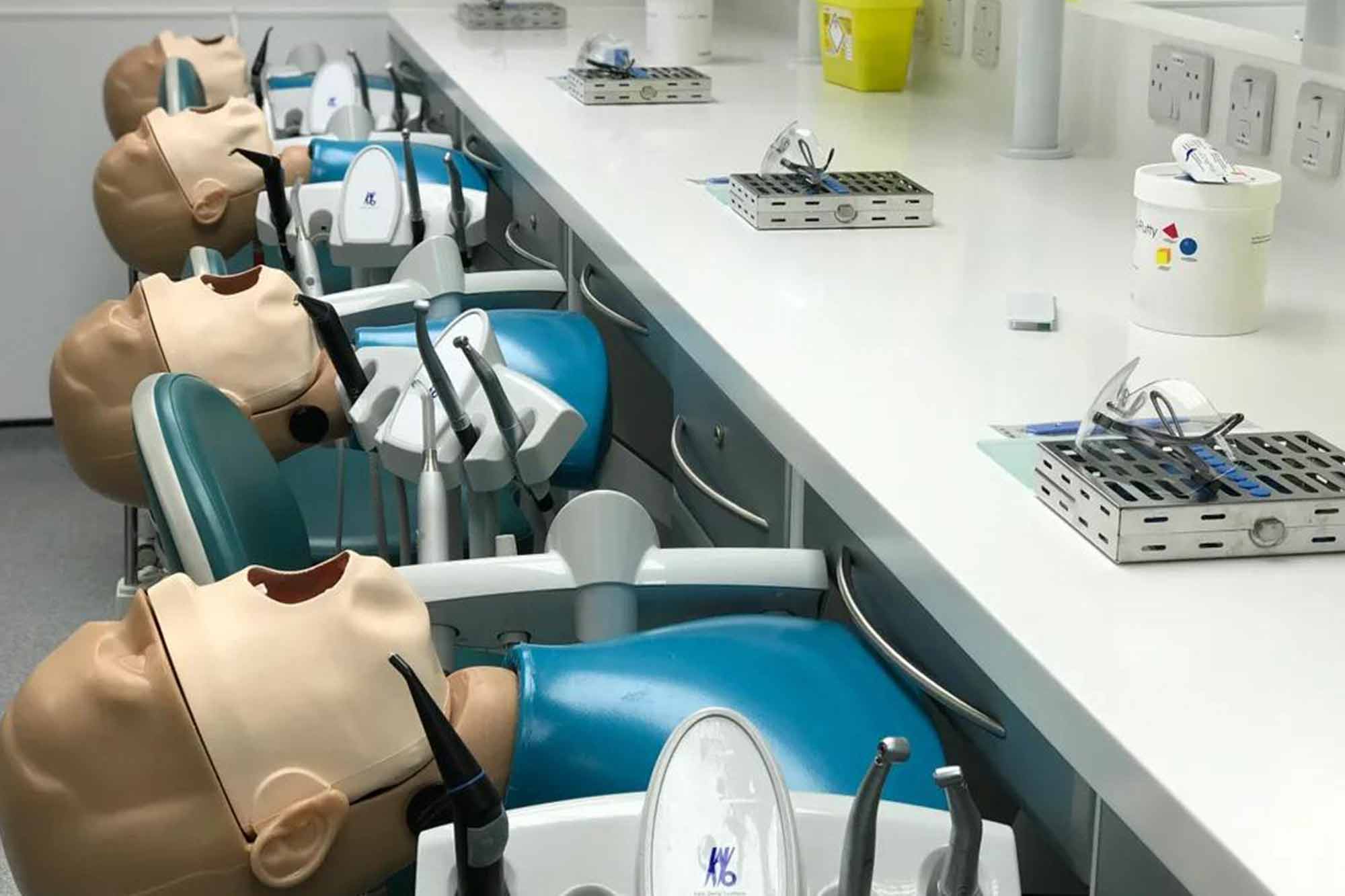 ---
Follow Dentistry.co.uk on Instagram to keep up with all the latest dental news and trends.