My journey into periodontology specialist training – what I learnt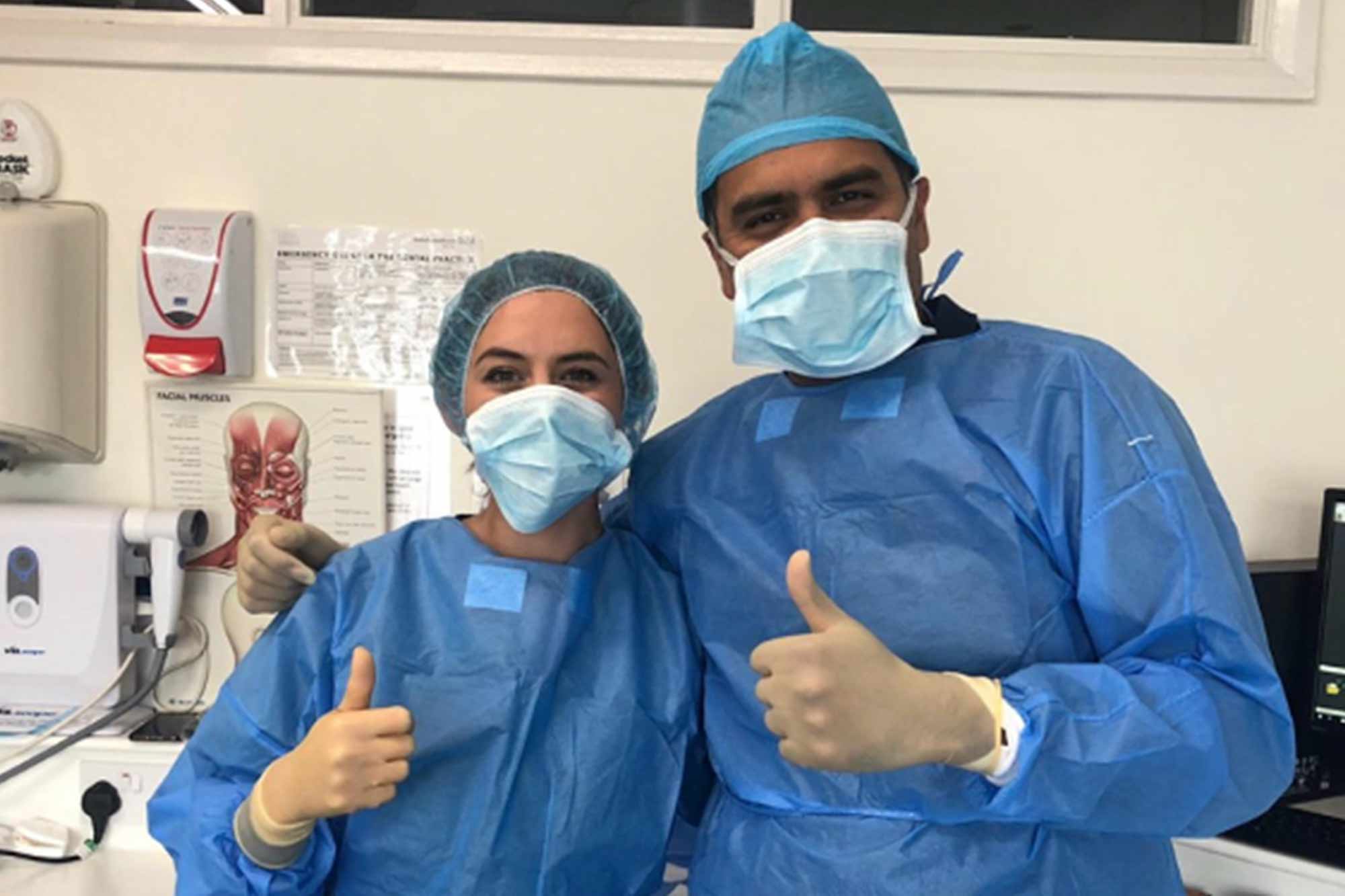 Payvand Menhadji opens up about her journey into the world of periodontology and what she learnt along the way.
If you told me 10 years ago, I'd become a specialist in gums I would probably laugh and dismiss this statement. I attended a seminar in my fourth year of dental school where we were taught the basic principles of implant dentistry. Someone in the audience asked the lecturer how he has got to the stage he is currently and what route he took in order to be a leader in the field of implant dentistry.
The lecturer simply explained he didn't really choose a particular path. He just worked hard, followed his passion and ended up in this position. I remember at the time I thought that can't be true. But now five years on I can wholeheartedly agree with him.
Dental school
After finishing my degree in Biochemistry in 2013, I knew I wanted something more clinical. I loved science but I needed something more hands on and dentistry seemed liked the perfect solution. After being accepted onto the BDS course at Liverpool, I soon realised the importance of periodontal health. It is arguably the most fundamental component of clinical dentistry. Like many undergraduates, I found the clinical application at UG level not as exhilarating as a crown preparation or performing endodontics.
Rounds of non-surgical periodontal therapy was as exciting as it got until we started having more advanced periodontology lectures by Ian Dunn. For those that you who know Ian, he is a fantastic lecturer. He is charismatic and his passion just oozes when he speaks about perio. At the time, I loved his adoration for perio and liked the gory pictures of surgery.
I successfully completed my BDS with honours and distinctions. I was ready to be a general dental practitioner for life with the hope of one day opening my own practice. Little did I know that my dental foundation training year was to be the most important year of my career to date.
Foundation training
I was accepted onto the Bedfordshire scheme and whilst moving back home to live in North London… this was the perfect commute for me out of London. I was fortunate to have 2 trainers at my practice, both of them extremely knowledgeable and supportive. One of my trainers, Victor Gehani, I consider as close as family now and he has really mentored me to be the dentist I am today.
I worked in a busy mixed NHS and private practice, that was very high-needs and periodontitis was rife. Clinically, I exceeded all clinical requirements within 4 months because there was just so much to do! The satisfaction I gained by helping patients with periodontitis to maintain their dentition by improving their oral health, and accordingly their quality of life, cannot be overstated.
They were so grateful and they listened to every word of advice I would give them. I loved the psychology behind changing people's behaviour and I rose to the challenge.
Life-changing profession
Victor limits his clinical work to mainly placing and restoring implants now. I was fortunate enough to assist him on a weekly basis and he would encourage me to develop my surgical skills, by assisting me on crown lengthening procedures and encouraging me to attend many extracurricular workshops, talks and conferences.
I soon realised that periodontology and implant dentistry go hand in hand. With that thought, the BSP soon changed their name to the British Society of Periodontology and Implant Dentistry.
At this point in time, I couldn't get enough of periodontology so I started shadowing several periodontists to see whether I would enjoy limiting my practice in this field. What I found inspiring was that every single periodontist I have met to that, loves their field, and has such passion when they speak about periodontology and are true leaders in their field.
They expressed that even within the speciality there is so many different types of periodontist you could be. It is truly a life changing profession. I was sold. Now I had to get onto the pathway.

What next?
I did my research and found that the monospecialities (Endodontics, Prosthodontics and Periodontics) are a lot more challenging to get onto as there are less funded positions. The pathways were confusing and they sort of fell under the umbrella term of Restorative Dentistry. I soon realised that being a restorative consultant didn't necessarily mean you do lots of crown preps, mucogingival surgery and multi-rooted endodontics. Restorative Consultants deal with very complex multi-disciplinary cases including hypodontia, cancer patients, cleft lip and palate and trauma. I knew that wasn't what I wanted to do so I ruled out Restorative Dentistry.
During my research, I found that it is necessary to have a dental core training (DCT) year or two under your belt before applying to becoming a specialist in any field of Dentistry. Particularly a year of oral and maxillofacial (MaxFax) surgery is deemed desirable. After that it really depends where abouts in the country you live and what the needs of the local area are for whether you can get funding or not.
There were a few academic routes academic clinical fellow (ACF) and academic clinical lecturer. For the ACF, you get your specialist training funded. But the university is preparing you to complete a PhD once you finish. An ACL on the other hand is someone who already holds a PhD and wants to get clinical training to become a specialist in their chosen field.
Different routes
Having done eight years of university already, the idea of doing specialist training and then a PhD truly frightened me. I did not consider these two routes at all.
The simplest (not so simple really) route I could find was the MClinDent in periodontology. A masters in clinical dentistry. Most of the periodontists I had shadowed had taken this route and it seemed like the most favoured route. The major downside was it is privately funded, the fees go up every year and I had already done eight years of university. Eek!
I mentioned it to my now fiancé and family and they thought I was crazy for wanting to do another 3-4 years of university. I thought to myself, lets see what happens with DCT and take it from there. Financially, I knew it would be a huge sacrifice as it is not only years studying but loss of earnings also.

Dental core training
I completed my DCT post in restorative and oral surgery at Guy's hospital in order to develop my surgical and restorative skills. On my restorative rotation, I gained exposure to a variety of cases ranging from patients who could be treated in primary care to advanced multidisciplinary cases including cleft lip and palate and hypodontia.
During my oral surgery rotation, I gained ample surgical experience and assisted in oncology and day case surgeries. Here I have had the pleasure of placing implants, performing surgical extractions and treating MRONJ cases. The evening clinics enabled me to be become involved in research, where I studied the success rates of implants placed on irradiated patients compared to non-irradiated patients, amongst other projects.
My communication and diagnostic skills developed immensely whilst working in the fast-paced Acute Dental Care (ADC) unit, where I have continued to treat emergency patients during the COVID-19 pandemic.
The biggest success from my DCT year was meeting Professor Nibali, head of the periodontology department. I kept approaching him, expressing my interest in Perio and that I wanted to help out with research, audits etc. He realised how relentless and keen I was so he gave me a soul-destroying data collection task. When I look back at it now, I do consider it a test. I completed it, presented it to the department, and we became good colleagues.
Additionally I applied for the MClinDent course that year (having only 1.5 years out of BDS). I got through to the interview stage, I couldn't believe it. The day of the interview we had a family tragedy and I completely messed up my interview. At the time I thought my world was over, but now I know it was for the best that I didn't get in last year.
DCT plus one year
My DCT year came to an end and the pandemic hit hard. Clinics were cancelled, postgraduate students were finding things difficult and I thought it was a blessing in disguise that I didn't get accepted that year. I applied for DCT 2 and got a MaxFax post in Kent. I didn't want to go. The pandemic made it clear what was important in life.
I didn't want to leave my friends and family again. So I was stuck. I thought I'd go back into practice and apply for the MClinDent again next year…knowing that it would be frowned upon that I did not take my MaxFax position.
I got a phone call from Prof. He offered me a part-time research assistant position in the Periodontology department at Guy's hospital under his supervision. A miracle. I could actually work in the department I want to study in.
I accepted the offer and started working straight away. In the meantime, I went to about 30 associate interviews. It was a tricky time with the pandemic and I decided to just apply to private practices.
I knew I wanted to be a specialist and perform gold-standard work without the pressure and stress of the NHS targets. I had no previous experience in practice apart from my FD year. But I had a pretty good clinical portfolio (I am incredibly organised). I got the job. So, I currently work in private practice as a general dentist part time and in periodontology department at Guy's Hospital on my other days. I also continue to work in oral surgery and ADC once a week. Here I also supervise and teach BDS5 students.
The time came again and I got my interview for my MClinDent and this time I was much more confident and in a better head space generally. I successfully gained my position onto the course (four positions and about 80 applicants). I start specialist training this September and I cannot wait.

What's the point?
I'm sharing my story for a number of reasons. No one ever talks about their failures. People assume because I got onto the course fairly early in my career I haven't had any bumps on the road. I have had so many bumps! I didn't get in the first time I applied. Now I know that at the point in my life I was not ready.
Do not be afraid of failures, as cliché as it sounds, failure is a part of success. It drives you to want more and to achieve more. If everything came easy it wouldn't be fun and it would be worthless. Enjoy the journey.
I want to express that sometimes your path is chosen for you. It's up to you whether you direct more positive energy down that path. I had so many amazing opportunities put in front of me. For example, getting a DCT position at Guy's Hospital. I went out of my way to work hard for the head of the department without knowing he could even offer me a part time position in the future!
Always do your best and put 100% in all that you do. You never know what can happen as a result of that hard piece of work or that patient you treated well.
Finally, help people on your journey. So many dental colleagues have helped me on my journey. I wouldn't be where I am without their help, guidance and their support. I wish to help the generation younger than me, so feel free to reach out any time. Always ask your more seniors for advice. They have made the mistakes before so they can help you a bit better!
To all those aspiring to specialise, there isn't really any need to rush. It is just the pressure you may put on yourself. Take a moment to appreciate all that you have achieved.
---
Follow Dentistry.co.uk on Instagram to keep up with all the latest dental news and trends.