Maintaining dental implants away from the dental practice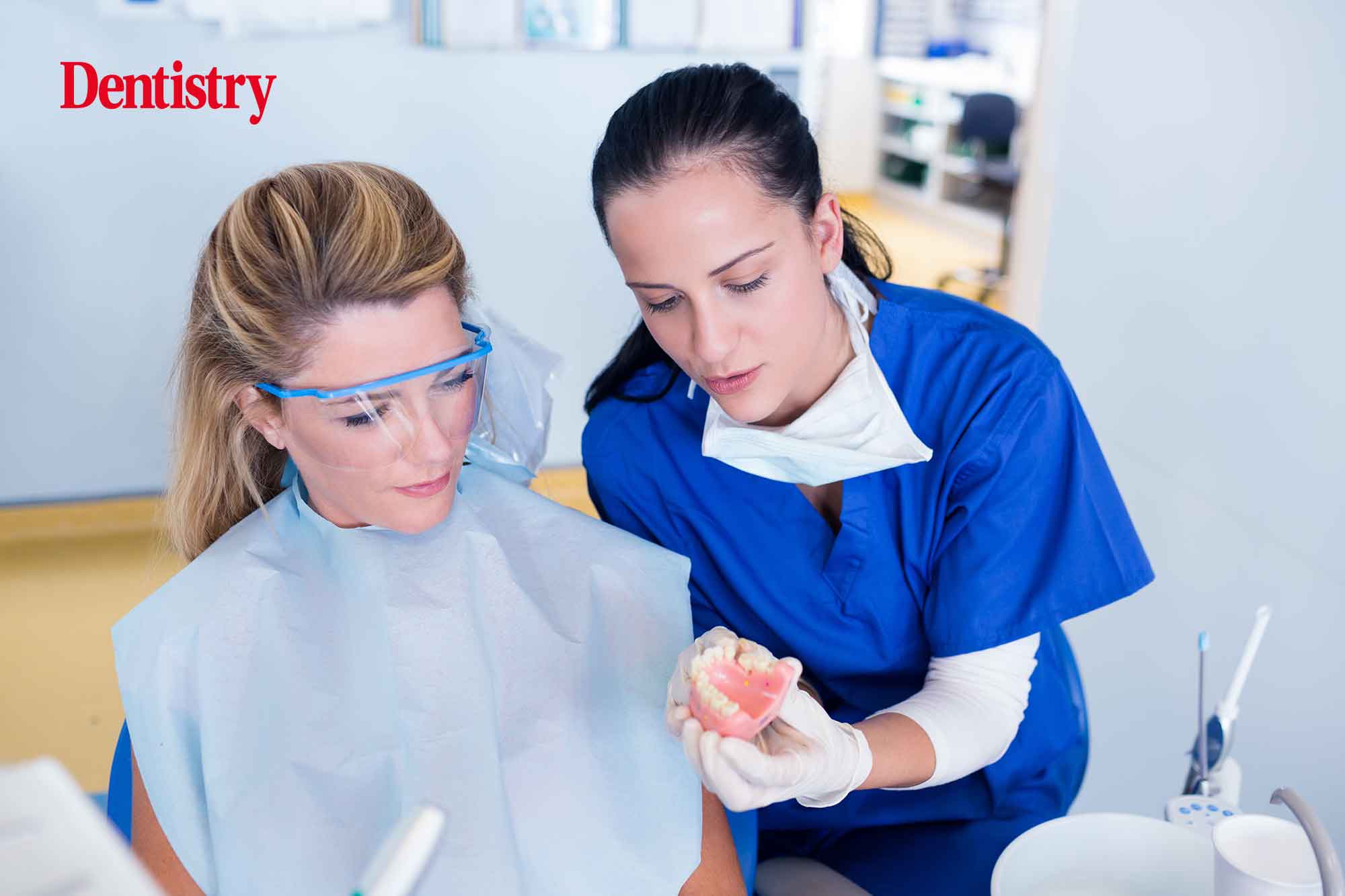 Dental implants are commonplace in dental practices across the UK. Maintaining them is of utmost importance to the dental team. Kayley McCauley explains why dental hygienists need several things to do this optimally.
Firstly, they need to have excellent communication skills. This is so patients can understand the need for professional maintenance and feel supported and motivated.
Secondly, the underpinning knowledge and protocol for implant health, maintenance and monitoring.
Lastly, hygienists need a directory of current home care devices and techniques. They can then demonstrate to patients effectively for all types of implant restoration.
Maintaining dental implants
We need to carefully consider the risk factors such as smoking, diabetes, occlusion, general health and wellbeing.
Studies have shown time and time again that plaque biofilm is the most crucial factor in peri implant disease. The importance therefore of a low plaque score is evident.
However, more significantly the host response is the real deciding factor on how deadly that patient's biofilm is to their oral health and implant health.
So, as well as a visual examination of peri implant tissues, the bleeding index is the key player to ascertain how healthy our patients are. Particularly as this is not dependent on their habits of that day or just in one moment of time.
They need arming with these facts and understanding what we are checking at each appointment. As well as why we need to optimise their home care to protect the peri implant mucosa, which is protecting the underlying bone and supporting the implant.
So, if controlling plaque biofilm is critical for our implant patients, we need to ensure we have spent the time not just communicating that we need them to maintain a healthy implant, but also why and how.
The advice depends on what implants and what prosthesis the patient has. And then how we tailor home care to suit that individual.
Electric toothbrush
We can maintain a single implant just the same as natural teeth. This is by ensuring the patient uses floss, and soft or regular interdental brushes, if they fit safely, to clean interdentally once or twice a day. Followed by systematic brushing.
I recommend Philips Sonicare Electric toothbrush (specifically over 31,000 brush strokes per minute) for implant patients.
Even for single dental implants, the pulsating and vibrating action flushing toothpaste, water and saliva around the crown of the implant is far more beneficial, to our patient's ability to effectively break down and remove biofilm, compared to a manual brush.
Another benefit I have found over the years with Philips Sonicare brushes is the neck of the brush is narrower than other electric brushes. So positioning is easier for the patient.
The toothbrush heads have extra-long bristles at the tip of the brush. This extends over the terminal tooth in the arch.
Plus, the Sonicare bristles curve to fit and hug around each tooth. Another benefit for dental implant crowns, which are often bulbous and more difficult for patients to reach along the gingival margins.
Additionally, the Philips slide and glide technique is more acceptable to patients converting from manual brush to electric. So they are already accustomed to moving the brush back and forth and this movement, I always find, is what makes it easier for patients to adapt the brush to the correct positioning to clean along the gingival margins and improve their plaque control.
Philips Sonicare is also great to clean dental prosthesis like implant bridges. It is even safe to use on abutments if a patient has a removable over denture.
Peri implant cleaning
Peri implant tissue is sensitive to patients depending on their implant treatment and tissue thickness. So we need to be able to adapt and offer extra soft interdental brushes as an alternative.
This can be said particularly for patients with over dentures with thin peri implant tissue. I have recommended children's or very small-headed manual brushes with lots of flexible bristles to my patients. This way they can stay on the abutment cleaning in a controlled circular motion, 360 degrees around the abutment.
Too many times I have seen patients struggling to clean these with a single tufted brush. They just slip constantly off the abutment.
Again, this is why a Philips Sonicare brush – with the compact brush head being a similar size to children's brush heads – is so useful to these patients.
Specialised floss is needed by most implant patients and all fixed implant bridges.
X-Floss by Idontix is one of my favourites. It comes in regular or lite for tighter spaces.
There are also specialised tufted brushes and implant brushes. Use these along the gingival and crown margins, after flossing and brushing. These are angled and designed with implants in mind.
Water flossers to irrigate under fixed implant bridges are very valuable if enough water is creating that flushing action. But implant floss is still a must. I see water flossers as an added extra.
Sensitivity
In an ideal world, the implant should have 2mm of bone around its circumference, and 3mm of keratinised tissue overlying that bone to give the implant its best chance of long-term health, function and survival.
If you find your implant patient is sensitive when carrying out their home care regime, this is often because they have thin tissue overlying the implant and/or implant abutment.
We can assess this at the initial examination. Furthermore, this helps build a better rapport with your implant patients when they establish that trust in you as a clinician. They know you care and are truly looking after their best interests.
If they have ongoing problems, then this is the time you consider referral for tissue grafting procedures.
This is why dental hygienists play an integral part in the monitoring and health of peri implant tissues. They can see implant patients regularly for maintenance and advice.
Knowing how peri implant tissues differ to periodontal tissues is essential to managing dental implant patients effectively.
Offering a combination of theoretical and hands on weekend courses for dental hygienists and therapists in this area is something I am deeply passionate about. I look forward to starting later this year. This way hygienists and therapists are armed with theoretical and clinical knowledge to manage any case for dental implants, no matter how challenging it is!
---
Follow Dentistry.co.uk on Instagram to keep up with all the latest dental news and trends.