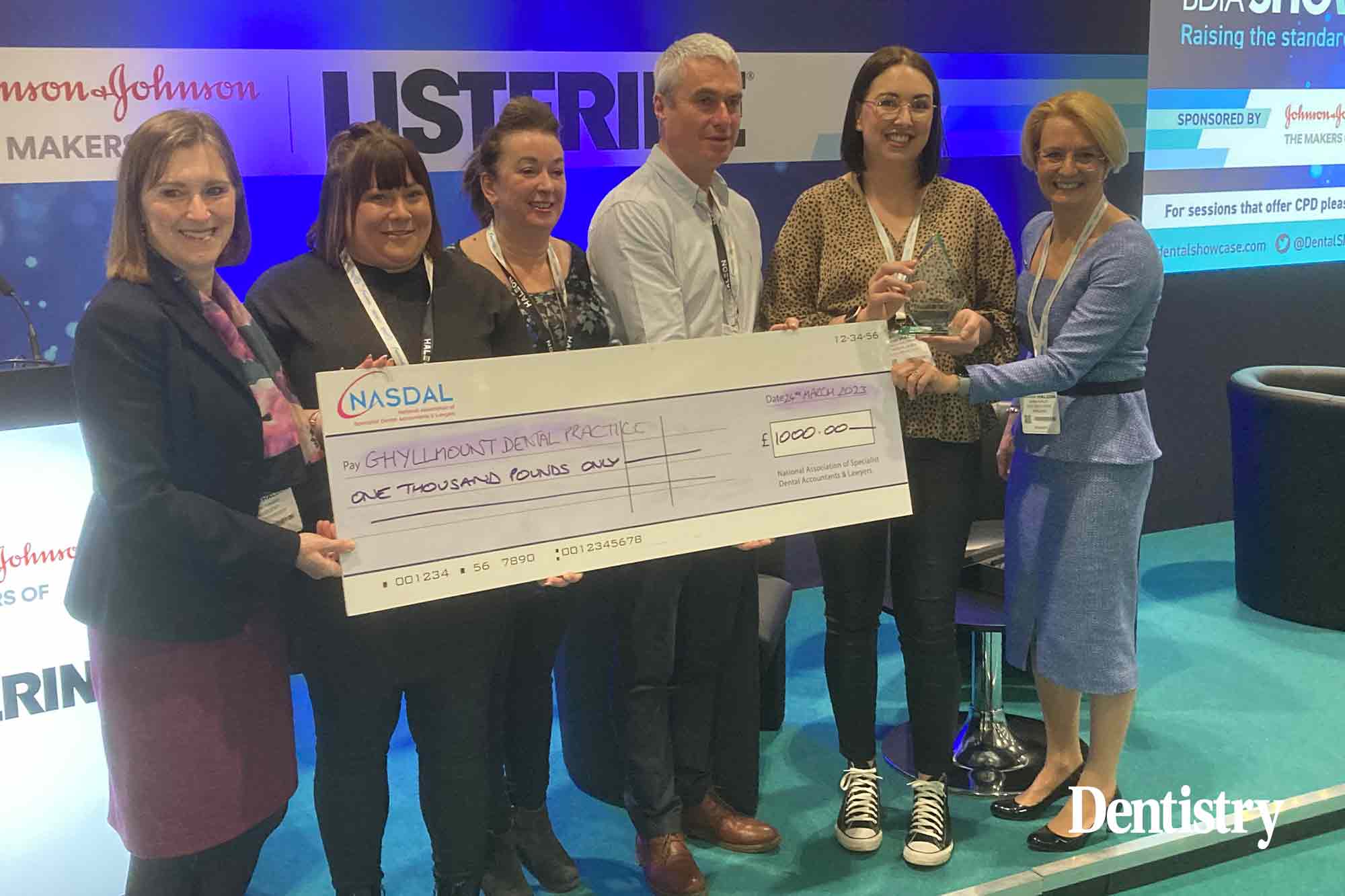 'It's important to get out there and spread the message': Chris Baker speaks to Leanne Birkett about Ghyllmount Dental's success at encouraging early-years oral health.
Ghyllmount Dental Practice is a multi-award-winning practice based in the pretty market town of Penrith in Cumbria. Led by principal John Lewis, the practice has always been at the forefront of doing the right thing in the local community.
Leanne Birkett is part of the practice's nursing team. She explains how her involvement in the local community began: 'As a practice the hygienist team had often visited local schools but this had been done on an ad hoc basis.
'In 2017 I was on maternity leave and my sisterin- law (who is a teacher) asked me to come and present to the children at her school. I did it and really enjoyed it!
'When I returned to work, John and Karon (our business manager) asked me if I would like to continue with the project. I had been a keen supporter of the Dental Check by One scheme and doing more of this seemed to give me the opportunity to reach more people – why wouldn't I?'
Communities in need
There is a need for good oral health education across the country – but perhaps even more so in Cumbria. NHS dentistry is severely limited and many of the independent practices in the area are not taking on new patients. There are so many under-fives who may not have seen a dentist: a tragic missed opportunity.
'I knew that we could make a real difference across our local communities,' continues Leanne. 'So I started contacting all the relevant local schools and organisations – nurseries, playgroups, mother and baby groups and so on. I wasn't sure what response that we would get but was delighted to hear back from several of the schools and organisations.'
The rollout of the programme was progressing well – and then, disaster. The pandemic happened. 'This was a stressful time for all of us and like many, I think we wondered how on earth we could carry on as a business. It was clear to me that all lockdown had done was make the need for the education we were offering even more urgent. We just had to deliver it differently!
'This is what kicked me off on making my educational videos. These were aimed at children (and parents too), but with a light-hearted quality so as not to come across as too preachy. These were featured on my YouTube channel and my Instagram account. They let patients and non-patients alike know that they were not alone and we were there for them.'
Taking things further
As the UK came out of COVID-19 restrictions, word amongst the local community had clearly been spreading as schools and local groups were getting in touch with Leanne, not the other way around. Leanne says: 'There is always a waiting list now. In 2023 I now see a school every month or so.'
As Ghyllmount has done more, the resources being delivered by the team have evolved too. When the team goes to see a class of children they provide:
Toothbrushes and toothpaste
Toothbrushing chart
Activity booklets
Colouring sheets and wordsearches
Stickers
Balloons.
Launched by the British Society of Paediatric Dentistry (BSPD) in partnership with the Office of the Chief Dental Officer England, the Dental Check by One (DCby1) campaign aims to increase the number of children who access dental care aged zero to two years, by encouraging dental appointments for babies before their first birthday.
Ghyllmount's involvement with the scheme goes back to its launch in 2017, but the practice has continued with its commitment from the very outset. New parents are encouraged to register their children straight away and to start bringing them along from birth.
Winning the award
The National Association of Specialist Dental Accountants (NASDAL) DCby1 award was developed to recognise the outstanding commitment of practices to the DCby1 campaign. The award judges were particularly impressed with the growth in patient numbers since Ghyllmount started with the programme. Patient numbers have grown from 3,730 to 4,206 – an increase of more than 12%.
The team have continually reached out to the community and earned an excellent reputation for the care they offer to children and the peace of mind they offer their parents. Indeed, patients have joined specifically because of the reputation for the care Ghyllmount provides to children.
And Leanne is clear about how it felt to win the NASDAL DCby1 Practice of the Year award. 'Obviously delighted,' she says. 'We were so, so honoured to win the award. But it is not an end in itself for us – it's purely recognition on our oral health education journey.'
So what does the future hold? Leanne says: 'I am already a volunteer at Dentaid and have been using its "Bright Bites" resources in the schools and groups.
'I hope that the £1,000 we won will allow us to reach even more local people and spread the word still further. I just love doing what I do and feel very privileged to be able to deliver it.'
Entry now open
Entries for the 2024 winner NASDAL Dental Check by One Practice of the Year Award are now open and all those who are interested should visit www.nasdal.org.uk/award, where they will find all the relevant details and can register.
All entries must be submitted before 5pm, Friday 9 February 2024. The winning practice will receive £1,000, a trophy, and the right to use the NASDAL Dental Check by One Practice of the Year 2024 title.
---
This article first appeared in Dentistry magazine. 
Follow Dentistry.co.uk on Instagram to keep up with all the latest dental news and trends.