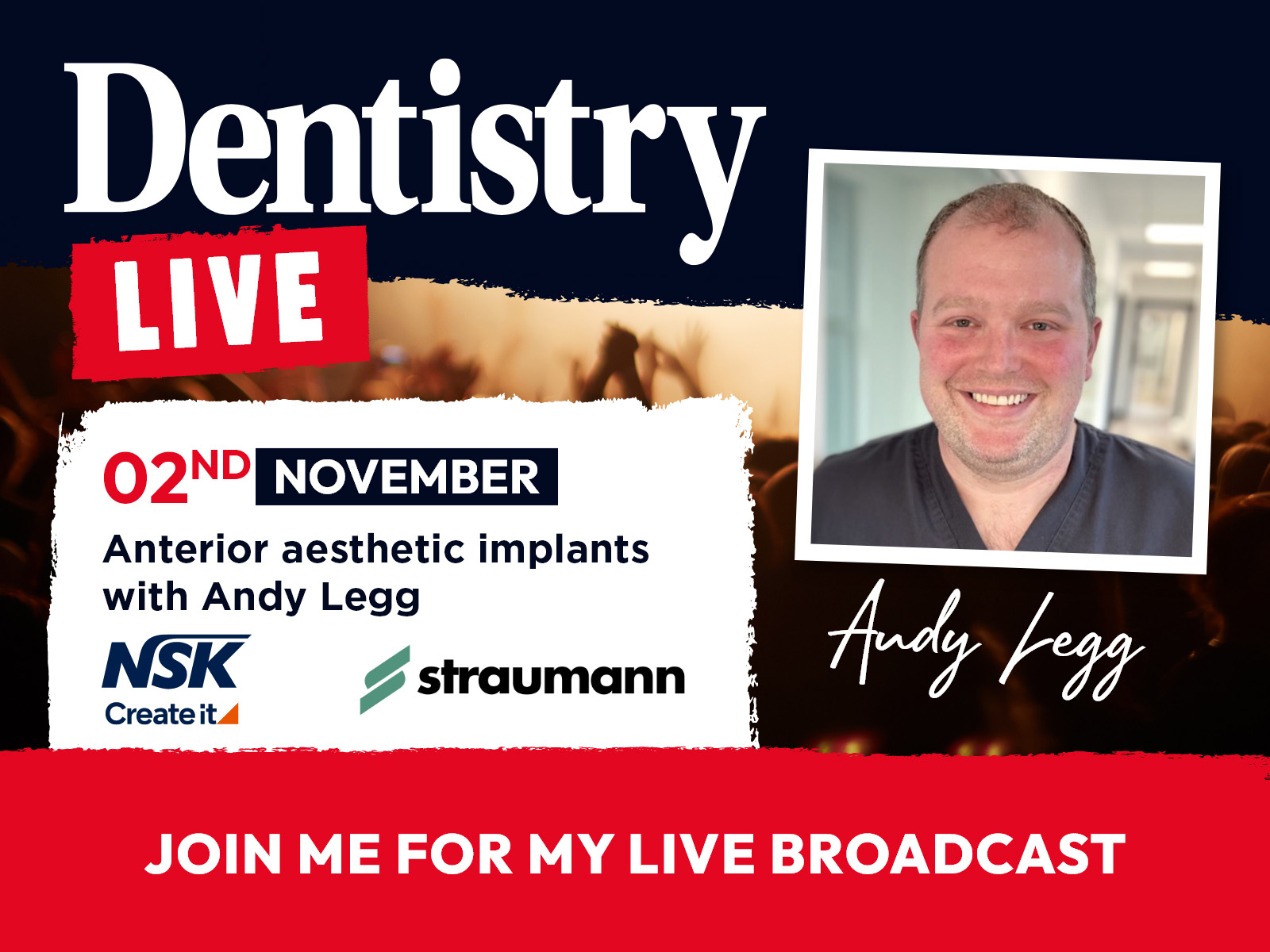 Join Andy Legg on Thursday 2 November at 7pm for his live broadcast on anterior aesthetic implants.
In the next edition of Dentistry Live, Andrew Leg will demonstrate how to use provisional crowns and anterior aesthetic implant dentistry to provide extraordinary aesthetic results.
Using the provisional crown technique, Andy will demonstrate using a live patient, the ability to shape the gingival architecture with a provisional crown, and then the capture of the emergence profile of the crown and a final ceramic crown to gain optimum aesthetic results and implants that are placed in the correct positions with the correct techniques.
This technique is a game changer for all dentists working in the anterior aesthetic zone and the opportunity to watch a live demonstration of provisional to final crown and impression taking using IOS digital impression techniques.
An experience like no other
Curious about dental implants? Wondering about the latest advancements in the field? We've got you covered! Prepare your questions and get ready for an interactive experience like no other.
During the live Q&A session, renowned implant dentist, Andy Legg from The Campbell Clinic, will be on hand to address all your queries. With his wealth of expertise, he'll provide invaluable insights into the procedure, techniques, and advancements in implants.
Don't miss this unique opportunity to learn and engage with leading experts in the field. By signing up for this webinar, you'll gain exclusive access to:
Live broadcast of an anterior aesthetic implant procedure
In-depth explanation of the procedure and implant placement techniques
Interactive Q&A session with Andy Legg, an esteemed implant dentist
Step-by-step demonstration of shaping the gingival architecture with a temporary crown.
Whether you're a dental professional seeking to expand your knowledge or an individual interested in dental implants, this webinar is a must-attend event! Reserve your spot now and secure your front-row seat to this remarkable live surgery broadcast.
Andy Legg
Andrew graduated from the University of Manchester in 2001. He joined a large dental practice in South Manchester the same year becoming an associate in 2002. He then became a partner in August 2003 following the departure of two esteemed colleagues. This extensive experience in general practice has given Andrew grounding in all aspects of dental care allowing a fully comprehensive approach to patient care.
In 2004 Andrew began his postgraduate training in oral surgery and implant dentistry and has since undertaken over 500 hours of training including advanced surgical training at the Royal College of Surgeons.
Andrew has experience with several of the major implant systems and is experienced in all aspects of surgery including bone and sinus grafting.
He has a particular interest in immediate full arch implant dentistry and has completed several hundred cases using a variety of techniques. Recently, in his role at The Campbell Academy, Andrew has developed the first Straumann Pro Arch course in the UK and is working closely with Straumann to develop this provision across the country.
Andrew is passionate about the use of dental implants in helping restore patients to a more natural form and function and believes they play a pivotal role in improving the quality of life and general health of patients.
---
Click here to sign up for the live broadcast.
Catch up with previous On Demand webinars:
Follow Dentistry.co.uk on Instagram to keep up with all the latest dental news and trends.