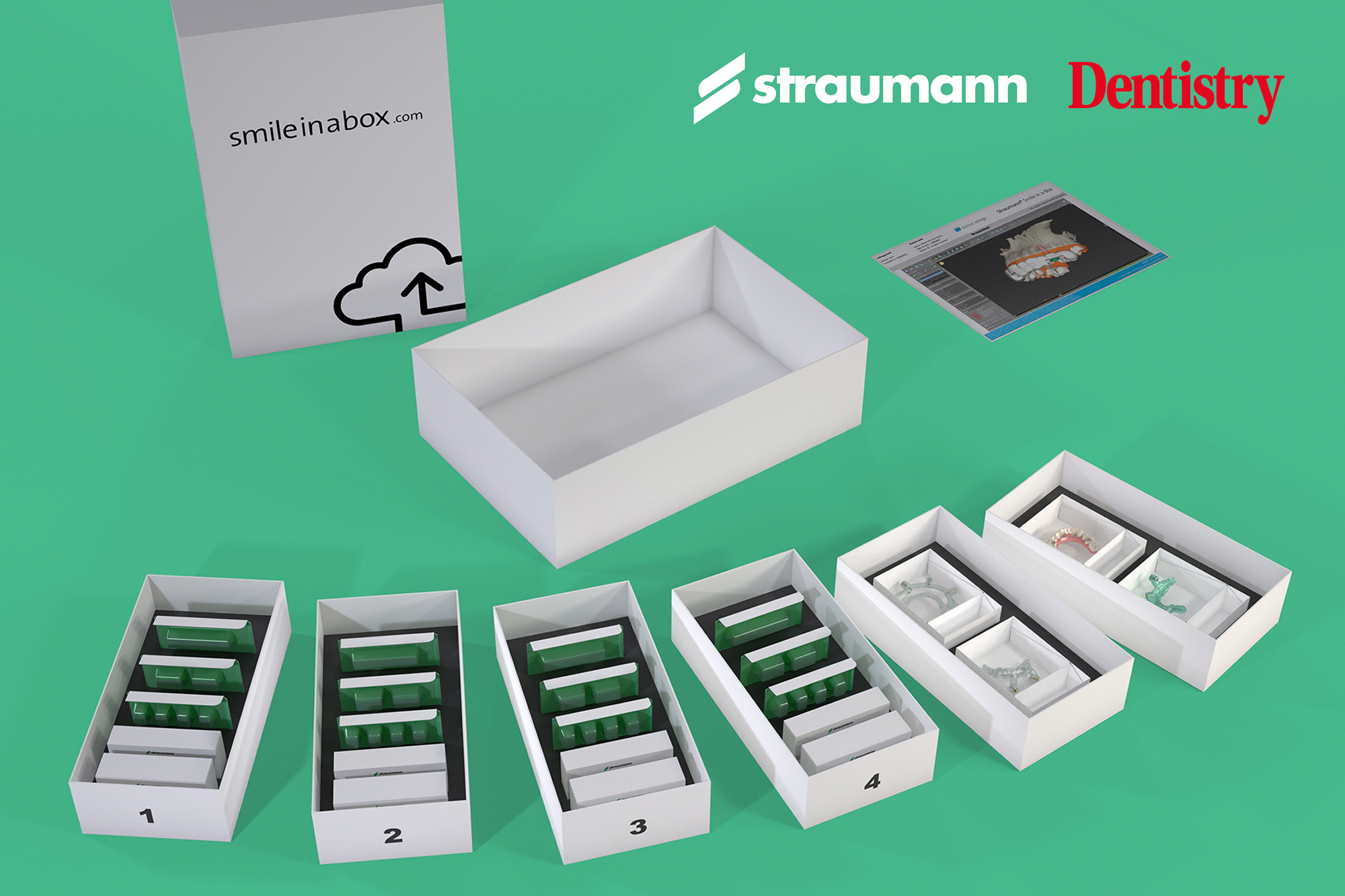 Straumann explains how the Smile in a Box system can help practitioners expand their dental implant offering.
Every patient's smile is different. For practitioners getting started with guided implant placement, it may be difficult to meet the unique needs of each case.
Technology can be a very helpful tool when treatment planning. It can enable you to produce excellent results for every smile type, and every clinical situation. This being said, it is not always realistic to invest in new technology and equipment when you're looking to optimise and further your guided dental implant treatment workflow.
Smile in a Box is the ideal solution here. It allows clinicians to choose which parts of treatment planning they'd like to outsource, and which to carry out in-house. So, what are the options?
Implant dentistry case submission and treatment planning
When a patient requires dental implant treatment, submit your case to the Smile in a Box team. This will be carried out in practice. It requires you to upload a patient's CBCT scan, along with STL files of the patient's upper and lower jaws and bite registration. There is also an additional option of providing patient photos.
Following this, you can opt for treatment planning to be completed by the team at Smile in a Box. A treatment plan will be developed based on your case data. This will be reviewed and approved by you via a webinar session. You can therefore maintain full control over the case, and access the high standard Straumann digital treatment planning workflow, without needing to bring the software in-house.
High-quality production
Once your treatment plan is finalised, the Smile in a Box team is able to produce a completely customised surgical guide and restorative design. This is all based on the treatment plan you have approved. Having approved these aspects, the Smile in a Box team will carry out precise, high-quality centralised CAD/CAM production of these aspects, in plenty of time.
Smile in a Box uses the highest quality restorative and surgical guide design and production technology. You benefit from this quality without the need to make these investments yourself. Of course, you may choose to carry out these steps in-house, should you have the facilities to do so.
Convenience for predictable workflows
Once manufacture of your components is complete, they are carefully packed into a box. They are then shipped to you 10 days after your final approval. This means that, when the day of the dental implant treatment arrives, you'll have everything you need. It is ready to go, conveniently available for you to provide your patients with high-quality guided dental implant treatment.
Flexibility for the best implant outcomes
No matter the case, whether single implant, multi-unit solutions, or full arch treatment, Smile in a Box is able to offer you support at each stage. Should you require assistance with just some or all stages of treatment planning, design, and manufacture, Smile in a Box allows you to pick and choose which areas you prefer to carry out in-house, and which to outsource.
This allows practitioners to access the Straumann digital workflow and decades of expertise without the need to invest heavily in new software or equipment. This also helps to reduce the number of implant cases that clinicians need to refer out. The result of this is more predictable workflows.
If you provide high-quality guided dental implant treatment in your practice, and are looking to increase your capacity, consider outsourcing parts of the process with Smile in a Box. Discover the benefits of efficient treatment planning, high-quality design and manufacture, and predictability, as well as the convenience that it offers. Both you and your patients will benefit from the high standards of technology utilised in the Smile in a Box workflow.
---
For more information on the Straumann Smile in a Box, visit www.straumann.com/digital/en/discover/smile-in-a-box.html.