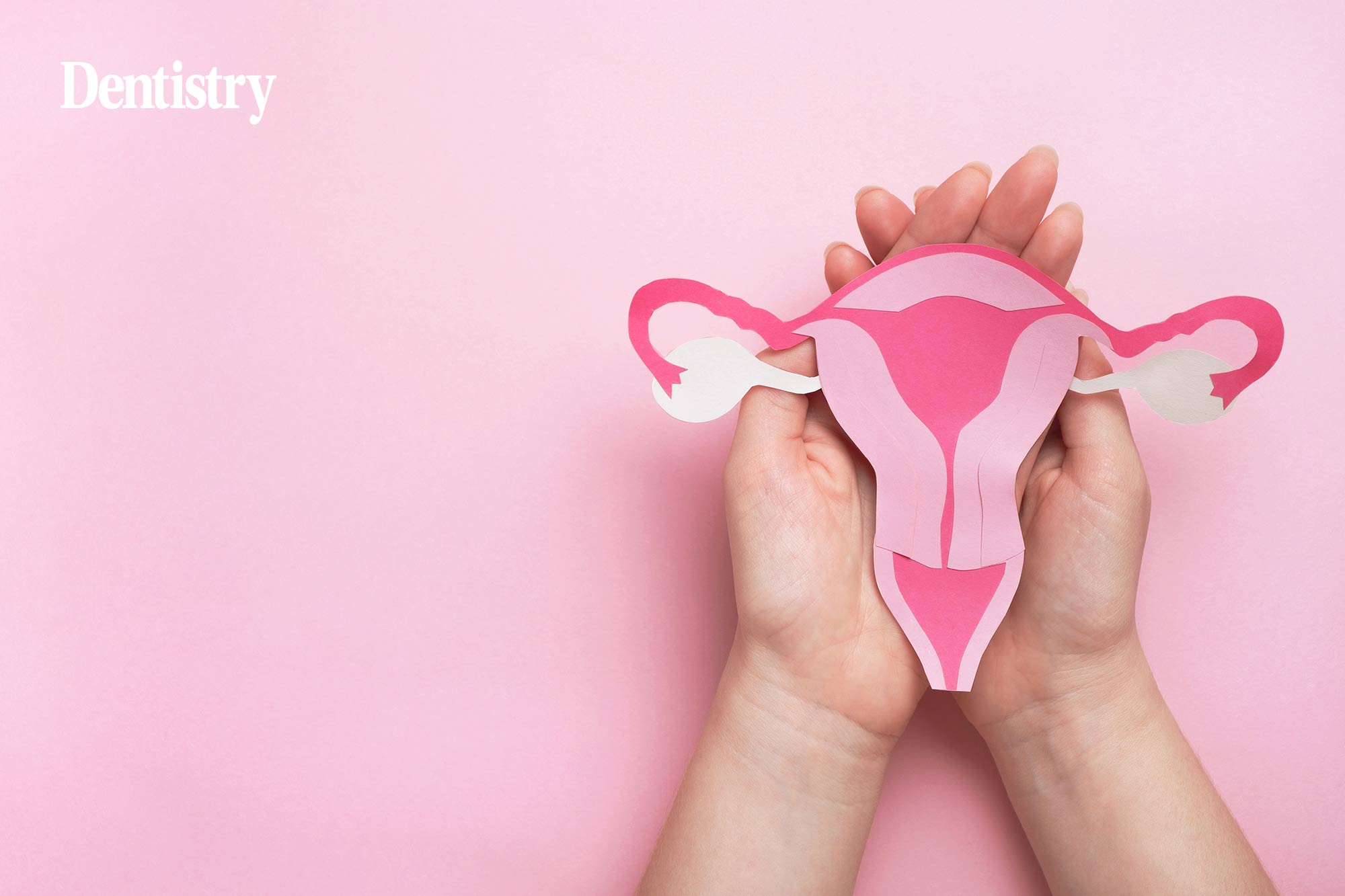 Looking beyond the often-perceived limits of dental hygiene care, Zara Shirvani explores the role of professional and at-home interventions in helping patients experiencing perimenopause and menopause improve their oral health and counteract any hormonal symptoms.
You were recently appointed a Guided Biofilm Therapy (GBT) ambassador. What does that mean to you?
Being a GBT ambassador is a great honour for me.
I genuinely believe in the eight-step protocol which has helped me deliver excellent dental hygiene in a non-invasive, gentle, and highly effective way. It represents everything that I strongly feel an oral health session should be and stand for.
How long have you been using GBT and what difference does it make to you, your practice, and your patients?
I have been using GBT for over two years now, and it has made the world of difference to my work.
The antibacterial Plus powder helps lower plaque and bleeding scores, as well as reduce inflammation. It has provided my patients with the most comfortable and relaxing hygiene sessions. I have not had a single patient say that they didn't like it – they are so impressed with the technology.
What they have told me has ranged from initially hating their 'conventional' hygiene appointments to now absolutely loving them with GBT. That's patient satisfaction right there!
The efficiency of GBT also then gives me a lot more time to educate and motivate my patients, to talk through the effects of oral health and systemic health, enabling me to tailor these associations to each of my patient's needs and their medical background.
In turn, patients have healthier mouths and dentists are able to proceed with restorations and cosmetic work a lot more quickly.
The patients often talk enthusiastically to their family and friends about the treatment, and we get so many referrals to the practice just from word of mouth. It has tripled my practice revenue and helped grow our patient base exponentially.
What are your ambitions as an ambassador?
As an ambassador, I would like to create more awareness surrounding oral health, something that I care about deeply. Especially in relation to the mouth being the gateway to rest of the body.
Most importantly, I want to raise wariness about the effects of biofilm and inflammation affecting the whole body. I have a specific desire to help patients who are going through the hormonal changes associated with perimenopause and menopause, by broadening the public's appreciation for what they have to go through, and how they can help to ease some of their realted oral health symptoms.
How do you aim to do this?
As health care professionals, we should be looking at the overall health of our patients as well as their oral health. I ask my female patients if they are going through perimenopause or menopause and explain the oral health symptoms they might be experiencing.
Having an improved understanding of this means there are better ways of managing these symptoms.
What are your top tips for managing menopause in oral health?
As a dental hygienist or therapist, during their appointment ask relevant questions to ascertain if the patient might be experiencing perimenopause or menopause oral health symptoms.
There are several possible solutions that can be put forward to ease such symptoms.
For instance:
Using a dry mouth relief mouthwash with fluoride at different times to brushing
Using a fluoride toothpaste
Choosing products that are SLS-free
Using saliva substitutes
Drinking a lot of water
Snacking on hydrating foods like cucumber, grapes, celery, tomato, and berries
Consuming foods with a good source of calcium, e.g. milk, cheese, soybeans, tofu, and nuts.
Do you think that this is a well-known topic?
No, unfortunately I don't think this is a very well-known topic at all.
There is a lot of information on the effects of perimenopause and menopause on the body and mental health, but there is very little information on the impact of perimenopause and menopause on oral health.
How can clinicians be better informed in this area?
Research is the best way to gain more information on this topic, and then communicating this to patients.
They are ever so grateful and most of the time surprised to learn about how the two link together.
How does GBT specifically support patients going through the menopause?
GBT allows for gentle and effective biofilm removal. This is imperative, as many women experiencing perimenopause and menopause are already dealing with so much, emotionally and physically.
They don't need to feel added stress and anxiety going into their hygiene session. GBT allows for a painless and sensitivity-free modern hygiene experience, using warm water and non-abrasive powders.
With GBT, a patient's mindset can change. They start to enjoy coming for their hygiene visits because it's comfortable and educational (as well as removing all the disease-causing biofilm).
GBT helps improve their oral health and clearly has a positive impact on their lives.
A case study for menopause awareness
Figures 1 and 2 show a menopausal patient who was complaining of dry mouth and sensitivity.
She also had gingivitis and caries that needed to be addressed. She had not been to the hygienist for many years, and I saw her over a course of several visits.
In figure 1, you can see the biofilm, which was disclosed. Using the GBT protocol, I explained the areas she was missing during her at-home regimen, especially on the lower anterior teeth.
Educating and motivating the patient, we went through tailored oral hygiene advice, I showed her how to use the oral hygiene aids specific to her needs, and the areas of inflammation.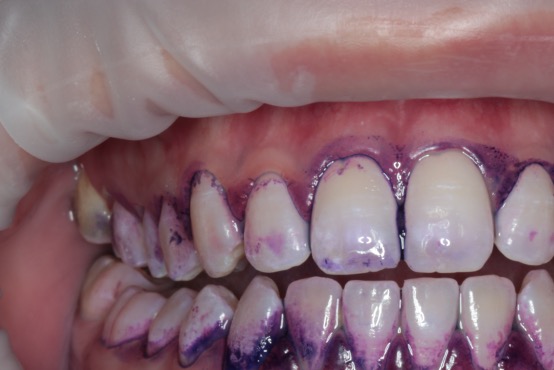 I also explained all the oral hygiene symptoms of menopause and made her aware of how to manage her symptoms, and how this would also help her overall oral health and symptoms. I gave her sensitivity and dry mouth advice, for which she was very grateful.
Figure 2 shows the result following her first GBT treatment. Bearing in mind her sensitivity, I assured her that she would not experience additional sensitivity from my equipment, as I was using the Airflow Prophylaxis Master with warm water and the non-abrasive Plus powder.
I was able to remove all the biofilm, including from the tongue, and was confident it was all gone as the disclosing also allowed me to clean more effectively.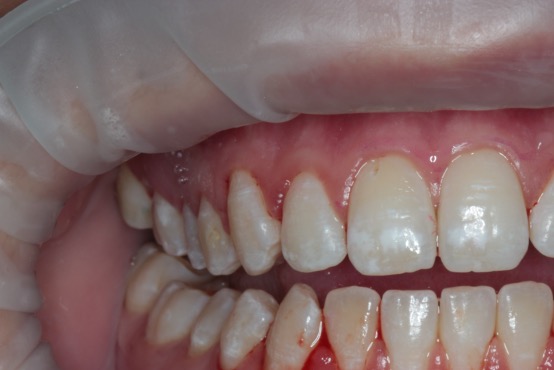 She now looks forward to seeing me every three months and her home care is excellent, as she understands the role of biofilm and can see the improvement at every visit when I disclose her.
We can both monitor her biofilm management and celebrate the decrease in her plaque and bleeding scores.
She no longer suffers the oral health symptoms at the same level as previously and has expressed the positive effects in terms of helping her deal with the emotional challenges that come with menopause.
The GBT protocol in eight simple steps
Assess – probe and screen every clinical case
Disclose – make biofilm visible
Motivate – raise awareness and teach
Airflow – remove biofilm, stains and early calculus
PerioFlow – remove biofilm in >4 to 9 mm pockets
Piezon No Pain – remove remaining calculus
Check – make your patient smile
Recall – a healthy patient equals a happy patient.
---
GBT is an evidence-based, indication-orientated, systematic, modular prevention for prophylaxis and a therapy protocol for all dental applications. Please visit www.ems-dental.com for further information about GBT.