Prosthodontips – the value of ceramic abutments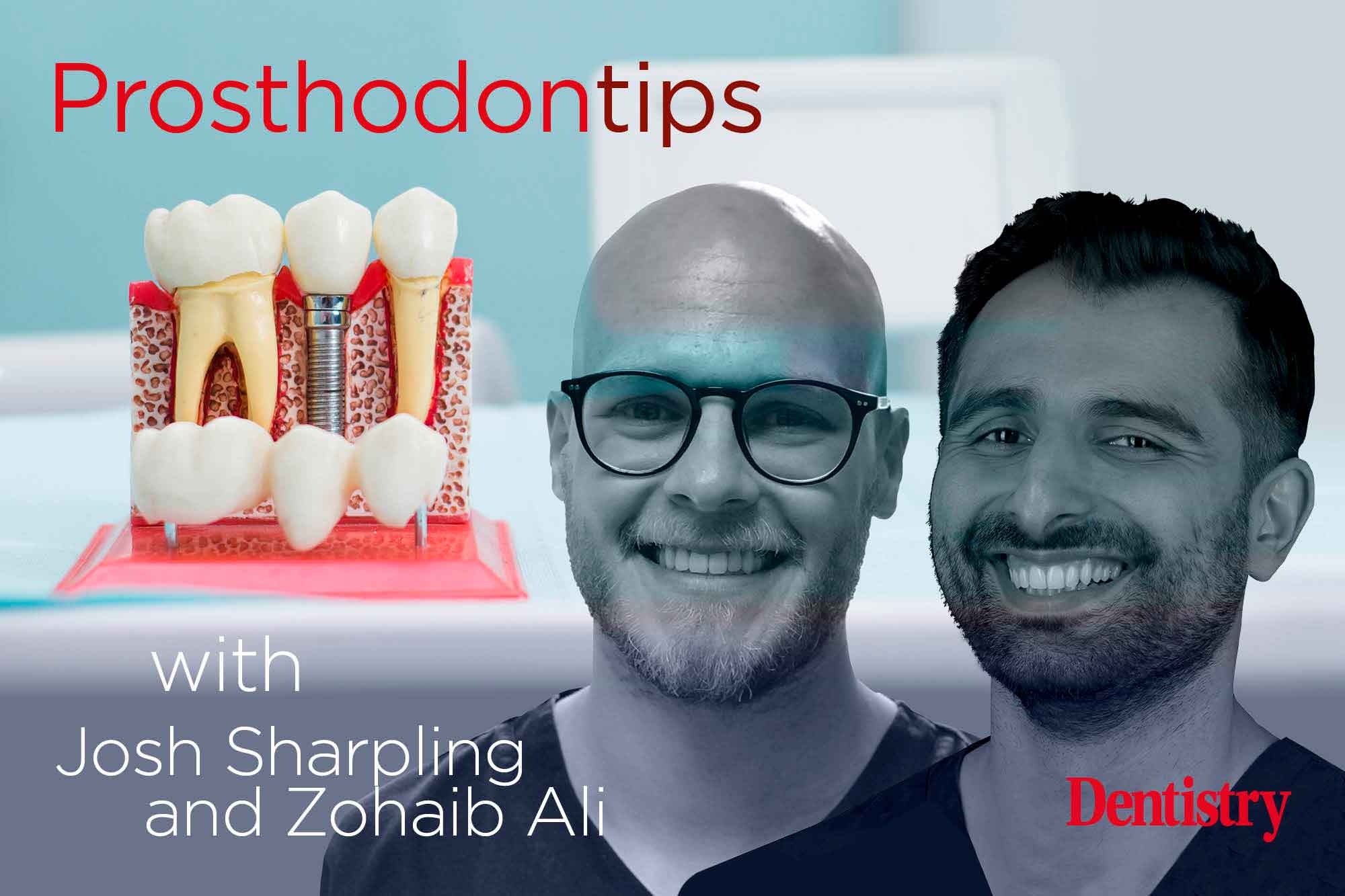 This months Prosthodontips column focuses on ceramic abutments for implant crowns.
In this column I wanted to show how ceramic abutments have been the difference between an aesthetic survival, and a probable failure.
Figure 1 shows a patient with implant fixtures placed in the UR12 region. These were placed approximately 25 years ago and the patient has been very pleased with them throughout their service.
A close up photograph of the implants is shown in Figure 2.
A periapical radiograph (Figure 3) shows external hex type implants, with bone loss to the first thread (a typical presentation for a healthy implant of this type).
Over the lifespan of the restorations there looks to have been some apical migration of the gingiva, and in Figure 4 and Figure 5 the position of the contralateral gingival margins is shown.
If the implant abutments had been non-ceramic (likely to be a cast gold UCLA abutment in a restoration of this age) then a significant amount of metal would be present (shown in Figure 6).
If a CoCr or titanium abutment had been used, then the aesthetic failure would be even more pronounced (shown in Figure 7). Difficult further intervention would then be required to remedy this.
Thankfully a ceramic abutment was chosen. This was made the same shade as the restoration, and therefore, despite significant recession, the implant is still considered an aesthetic success to the patient.
Difficulties with ceramic abutments
Ceramic abutments have an increased risk of fracture in comparison to conventional metal abutments. There can also be some wear between the titanium of the fixture and the abutment.
This is particularly true with internal hex implants. The thin diameter of the ceramic in the internal portion of the fixture is particularly at risk of fracture.
In the case shown above there is less risk of abutment fracture, due to the external hex implant used.
---
I hope you enjoyed this month's column, and, as always, please get in contact if you have any questions.
Please keep the questions coming for the Prosthodontips team. You can contact us on Instagram (@sharplingdental and @prostho_zo) and also email ([email protected]).
If there are specific topics you would like us to cover in a column, please let us know.
Previous Prosthodontips: