Veganuary – life as a vegan dentist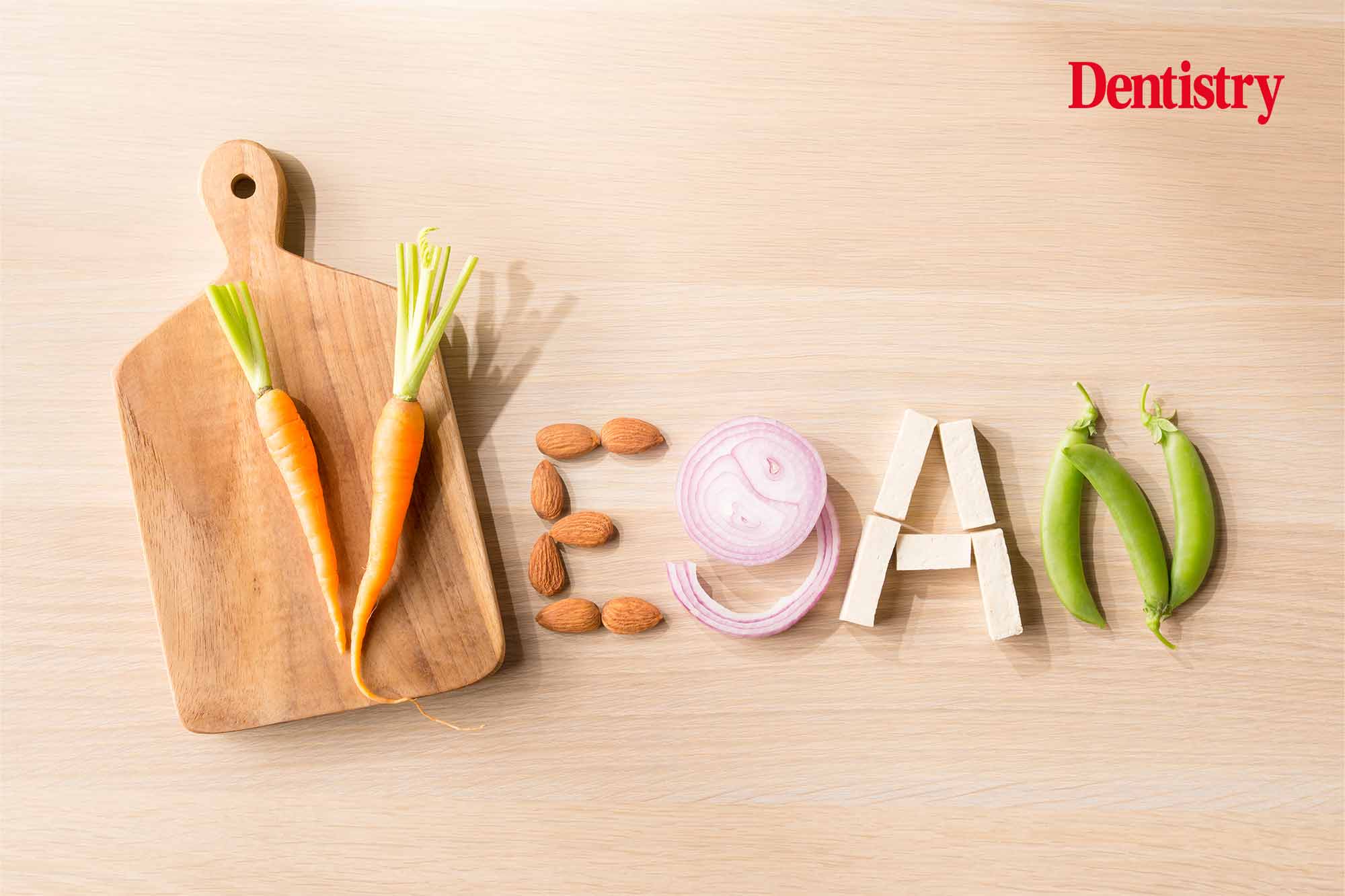 With January sparking the start of Veganuary, Jeylan Ramis speaks to Bijal Sisodia-Shah about her experiences being a vegan dentist.
Veganuary is an annual challenge. It encourages and informs people about veganism by inspiring them to follow a vegan lifestyle for the month of January. 
Starting conveniently at the beginning of the year, this gives people the opportunity to wipe the slate clean and put their best foot forward into being healthier and more ethical. The concept of following an animal-free diet isn't new, but it has grown dramatically in popularity. Despite Veganuary becoming a bit of a fad, it's clear that going vegan can certainly benefit your health in many aspects. The benefits of veganism for your oral health are often overlooked. Particularly as there are plenty of arguments against a plant-based diet being good for your oral health.
In a conversation with Dr Bijal Sisodia-Shah, some of the concerns about the effects of veganism on oral health are discussed. Bijal also gives us an insight into the world of a vegan dentist and how that has affected her and her career.  
Jeylan Ramis (JR):
Can you explain why you decided to go vegan and how it has impacted you?
Bijal Sisodia-Shah: Life, has a funny way of taking you on a path that is often unplanned. You end up on a journey of finding yourself through obstacles.
My journey started back when I was around 18 years old. I found myself feeling really unwell, constantly tired, suffering gastrointestinal pain and eczema. I felt like I was losing myself, and I couldn't eat anything without some sort of reaction.
So, I sought help from a multitude of healthcare professionals. Over the years, I had multiple tests and investigations, all of which came back as normal. There were no indications as to why I was feeling the way I was! 
I have always embraced harmony in mind and body as essential to my wellbeing. So, I started listening to my body and compiled a diet diary with triggers. 
I was now at a stage in my life where I was completing my first degree – a BSc in physiology – the study and understanding of how the human body works from a cellular level to the whole body. This, I felt, helped me hugely in understanding my own body. And this in turn helped me appreciate the impact of diet and nutrition.
After learning how to critically appraise research papers, I used this to help my own research. This is where I came across a 'whole foods plant-based diet'.
At the time, I was vegetarian. My research helped me understand how milk and cheese were triggering my eczema and gastrointestinal issues. So these had to go!
The more I researched into this, the more I questioned my reasons for being vegetarian in the first place. I have always been against animal cruelty; it didn't feel right to eat other individuals who were also capable of feeling pain and emotions.
Research also revealed that dairy products contained a variety of contaminants, chemicals and hormones including insulin growth factors, recombinant bovine growth factors, antibiotics, pesticides etc. These are known toxins that can lead to harmful effects to the immune and reproductive system, and can even contribute to the development of cancer. 
If eliminating dairy products had such a dramatic effect, what was the regular consumption of eggs, meat and fish doing to our health and bodies?
The knowledge I gained empowered me to make changes for myself. I started feeling like myself again, my eczema cleared, and my gastrointestinal problems significantly subsided.
But I was also feeling quite agitated! Why wasn't our healthcare and education systems teaching us this? 
It was reassuring to learn that the most common nutrients people worry about when shifting to plantbased nutrition, for example protein, calcium, B12 etc, were abundantly available and easily obtainable.
As my journey continued, I met a wonderful person, my husband Dr Keval Shah. He is a fellow colleague and vegan too!
I still remember attending one of his early talks on the animal cruelty involved in the egg, meat and dairy industry. It was a harsh truth to accept that in today's world, we are still imprisoning, enslaving and exploiting billions of other sentient beings for our personal gain.
As for the impact on the global environment, researchers at Oxford University analysed data from 40,000 farms in 119 countries, and discovered that: 'A vegan diet is probably the single biggest way to reduce your impact on planet Earth, not just greenhouse gases, but global acidification, eutrophication, land use, and water use.'
This means that the health of our planet is literally in our hands, and each one of us has the power to improve or worsen it.
JR:
How has it impacted you personally and has it changed the way you practise dentistry?
Bijal Sisodia-Shah: On a personal level, I try to live more conscientiously, and strive to tread more softly on this planet.
I advocate for using more sustainable products when giving oral hygiene advice.
Living a vegan lifestyle to me is about doing the best I can for the planet and everything we share this planet with. It's definitely made me more mindful about the materials we use as clinicians, enquiring if it has been tested on animals or if they contain animal products.
For example, after an extraction when placing haemostatic agents, some have gelatine, which is derived from other animals. I know that my vegan patients, and those who practise particular religions, would prefer a non-animal containing product. As would I. 
As dentists, antibiotics are something we regularly prescribe when we see the clinical need.
I remember around 10 years ago now when I first graduated from dentistry, it was emphasised that we should never prescribe them unless there was a clinical indication to do so. Especially because antibiotic-resistance was on the rise.
The routine overuse of antibiotics in the animal agriculture industry is huge. It's one of the biggest contributing factors to global antimicrobial resistance. Scarily, a recent review by the UK government has estimated that this will cause 10 million deaths annually by the year 2050. 
JR:
Would you recommend dentists talk to patients about their diet and what suggestions would you give to vegan patients?
Bijal Sisodia-Shah: I think as dentists we have such an amazing platform to connect and make an impact on our patients.
We have the pivotal role of preventing oral diseases, but this extends further. Because the mouth is a mirror to the rest of the body.
I recommend we do ask our patients about diet. This aids our risk assessment to caries, tooth surface loss and other oral manifestations. This includes aphthous ulcers, sensations of the tongue, which could be a sign of lack of B12, iron etc.
I believe we have a moral and professional obligation to equip ourselves with the right knowledge. Our dental, medical (and other medically-allied professional) education syllabuses should incorporate diet and nutrition as a fundamental tenet.
This is why I am so grateful to The Plant Based Health Care Professionals UK. This is a growing group of different healthcare professionals from doctors, dentists, dieticians etc. They all advocate for wholefoods plant-based nutrition to help prevent and treat chronic illnesses. The website and online talks are excellent resources of evidence-based information. You can find out more here: www.plantbasedhealthprofessionals.com.
JR:
What concerns do patients raise when discussing going vegan?
Bijal Sisodia-Shah: I have noticed over the years that an increasing number of child and adult patients are presenting with dairy allergies and intolerances. Parents often get concerned about not meeting calcium requirements.
For the record, calcium is a mineral found in the soil, that plants take up. That is how cows get their calcium, and that is how we can too, without obtaining any of the hormonal residue, cholesterol, acidic protein and saturated fat endemic in dairy products.
You can easily obtain calcium from a vegan/plant-based diet, through a variety of leafy greens, fruits, seeds and fortified plant-based milks.
Plant-based milks such as almond, soy etc actually contain the same amount of calcium per glass as animal milk.
I do recommend to go for the unsweetened versions. I will often show patients a leaflet that contains all the different types of plant foods rich in calcium.
The European Clinical Journal of Clinical Nutrition highlighted a study showing vegans often have a higher intake of many nutrients like vitamin C and E and magnesium.
There are four main nutrients that vegans generally need to be mindful of. These are vitamin B12, iron, calcium and iodine. 
Bacteria commonly found in soil produces vitamin B12. Due to its depletion within natural sources it is commonly supplemented to animals. It is therefore found in eggs, meat and milk.
A more optimal and efficient way to obtain vitamin B12 is to simply take a daily supplement. I universally recommend this, regardless of whether you are ingesting animal products or plant foods. Evidence continually shows that most people are deficient in it.
JR:
Is there anything else you'd like to add?
Bijal Sisodia-Shah: I've learnt it's not about perfection but doing the best that you can in your capacity as a human being and as a dentist.
Thankfully, most if not all of us have the privilege to make those choices on a daily basis.
With awareness we realise that we have the power to make a difference. We can change lives and to ensure a better future for all.
JR: What resources would you recommend to health care professionals or patients taking part in Veganuary?
Bijal Sisodia-Shah: I would recommend the following:
1. Veganuary website: www.veganuary.com
2. www.plantbasedhealthprofessionals.com
3. Comfortably Unaware: What you choose to eat is killing our planet (2012) written by Dr Richard Oppenlander
4. How Not to Die (2015) by Dr Michael Greger 
5. The World Peace Diet: Eating for Spiritual Health and Social Harmony (2005) written by Dr Will Turtle
6. Netflix documentaries: Seaspiracy and Cowspiracy 
7. Earthlings: www.nationearth.com.
---
Over on Instagram check out Dry Jan v Veganuary – the effects on Oral Health and share your thoughts and tips on the subject.