Dentistry Scotland Show – catch lectures on caries management and the patient journey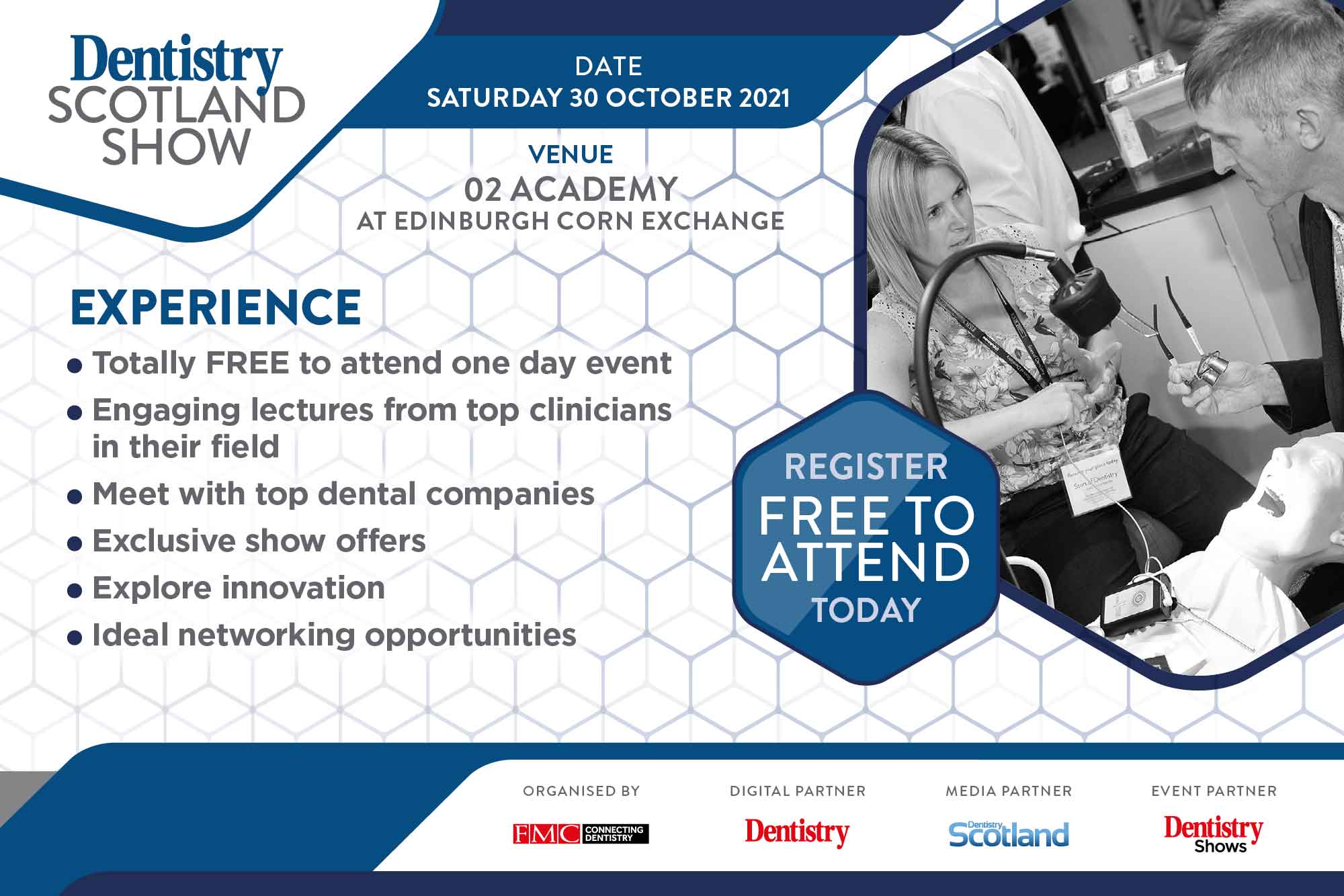 We cannot wait to welcome delegates to the Dentistry Scotland Show on Saturday 30 October at the Edinburgh Corn Exchange.
Free-to-attend, the day will bring clinicians in Scotland the latest dental equipment along with an impressive selection of 'power lectures'.
The Dentistry Scotland Show is your chance to learn, engage and experience the latest in dentistry.
Register for free now by simply visiting dentistry.co.uk/shows/dentistry-scotland-show.
'It's a while since we've been able to see clinicians in Scotland and we're so looking forward to it,' Seb Evans, Dentistry editor, says.
'With complementary beer and bubbles in the afternoon and tea and coffee throughout the day, there'll be plenty of opportunity to catch up as well as an excuse to stay.
'The day promises an exciting line up of speakers, along with the very latest dental equipment.
'We're sure this is a day you won't want to miss.
'Make sure you grab the opportunity and register to come along now.'
Dentistry Scotland Show line up
The exhibition will host short 'power lectures' lasting only 20-30 minutes each. This will give delegates an opportunity to catch up with cutting-edge techniques and still have time to peruse the latest innovations.
Speakers at the Dentistry Scotland Show include:
Andrew Osafo – medical management of caries
Are you an informed clinician? The main aim of this presentation is to encourage clinicians to keep up to date with dental products and evidence related to Dentistry. In this lecture Dr Osafo will discuss ways to slow caries progression, arrest caries and restore teeth.
Dr Osafo will speak from 10.30 to 10.50 at Lecture Theatre 2.
Chris Baker and Lisa Bainham – the patient journey – who supplies the map?
Everyone seems to talk about the patient journey these days. But where does it start? What's their destination? Why do they sometimes turn off and where do they go? This presentation will deliver the answers you seek.
Chris and Lisa will speak from 15.10 to 15.30 at Lecture Theatre 1.
Other speakers on the day are:
Jolene Pinder – An introduction to Guided Biofilm Therapy – the game change for hygiene rooms
Kevin Lewis – High tech: high risk?
Tariq Bashir – An introduction to biomimetic dentistry
Morven McCauley – Common mistakes with composite veneers
Maria Papavergos – The mouth, it's microbiome and why it matters.
There will also be a whole host of other leading speakers to help improve your business.
You can see the full line up of speakers, as well as registering for the show for free, here: dentistry.co.uk/shows/dentistry-scotland-show.
---
Follow Dentistry.co.uk on Instagram to keep up with all the latest dental news and trends.