From Exocad to the world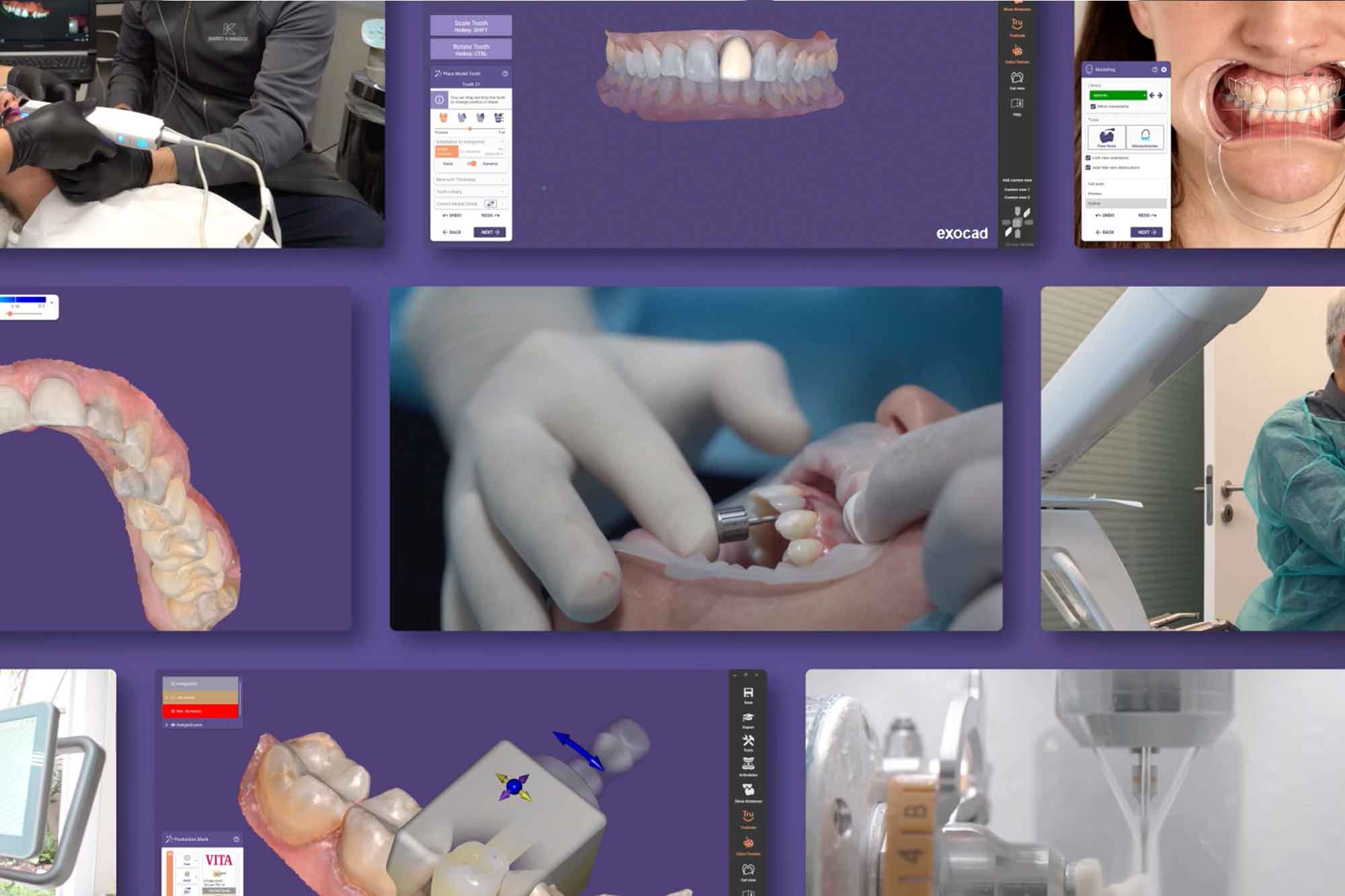 Following its impressive appearance at IDS last week, we spoke to Tillmann Steinbrecher, CEO, about Exocad's plans for the future.
Exocad's presentation at IDS not only showcased an exciting future for dentistry and dental labs, but also the exciting software that is already available to the profession. Design, implant planning, orthodontics, production, scanning and communication – Exocad's mission is to create the complete software solution for digital dentistry.
Dentistry is moving at a fast pace and it is sometimes daunting to keep up.
'Anybody who wants to do it can learn to do it, it's not hard,' Tillmann said exclusively to Dentistry. 'But if someone says, I prefer not to take the time for that, the lab is there to help.
'I think it's fantastic if labs get more involved in the treatment planning.
'Our mission is really to provide the tools and the platform for labs and doctors to communicate. One part of that can be, for example, the lab creating a digital mockup. It doesn't matter where the part is printed.'
Jumping into digital dentistry
Digital dentistry is the buzzword around dentistry at the moment and everything starts with a scan of the patient's mouth.
One of the major sticking points though is the cost of the equipment and the rapid rate technology evolves. So when should a practice make that initial investment?
'What practices invest in first is the intraoral scanner,' Tillmann continues. 'This is really the beginning of the digital journey. And that is an investment that is very easy to justify.
'Digital communication with the lab, it's more comfortable for the patient. It has so many advantages that really I'm surprised the adoption rates aren't higher than they are today.
'So why not now?
'From there, you can start adding software to expand the capabilities of the scanner. And that's where we come into play. You can do smile designs in 3D. You can design restorations. And you have an optimal platform for communicating with the lab.
'Getting the intraoral scanner is the the doorway in.'
And where does the clinician go from there?
Well Exocad has a vast platform of easy-to-use solutions that can help in every aspect of digital dentistry. 'We take complex processes and make them easier and accessible for everyone,' Tillmann points out.
Below are some of the opportunities available with Exocad that were demonstrated so impressively at IDS.
Imagine the CADabilities
CADabilities are boundless with Exocad. Whatever the requirements, indications or hardware, Exocad offers users vast design options and seamless integration.
Exocad provides open-platform solutions and offers a full range of digital dental solutions for both simple and complex cases, utilising advanced CAD/CAM technology.
The Exocad portfolio includes implant planning, cosmetic dentistry, design and production. New capabilities are continuously in development.
Exocad's individual software solutions work well together and link together easily through Dentalshare. This is a platform for digital data transfer between clinicians, dental technicians and production centres. A wide range of add-on modules, offer great flexibility and easy collaboration along the digital workflow.
Creating smiles worldwide
Thousands of dental professionals across 150 countries use Exocad.
To stay in close contact with this global community, Exocad prioritises targeted, regional outreach. With five offices located near major hubs and three representative offices in Brazil, Italy and South Korea, Exocad representatives are available to provide first-class service and technical support to a diversified network of partners and resellers.
Fresh takeaways
Exocad is a dynamic software company dedicated to creating new innovations in digital dentistry.
Flexible, dependable and easy to use – Exocad's CAD/CAM software is relied on by dental labs and practices worldwide.
Customers can boost productivity and create next-level restorative designs with the revolutionary instant anatomic morphing feature.
Elegant and powerful – this software for implant planning and surgical guide design offers flexibility and ease of use for labs and dental practices.
Instant anatomic morphing and AI-assisted smile design simplifies complex cases.
Our one-stop shop for online and in-person events to educate and inspire our users.
Customers can check if their software is an officially licensed Exocad product to avoid loss of data and harm to patients.
Exocad's reaching out in new ways. Check Exocad out on Wechat and Instagram. And don't miss its new online press area.
Why experts trust our digital dentistry solutions
Exocad's comprehensive software solutions provide the tools to quickly react to the fast-moving dental industry.
Dental experts choose Exocad for a variety of reasons:
Robustness
The easy acceleration of daily workflows
Support of flexible business models
Continuously improved software security are just a few.
With the guiding principle: 'Your freedom is our passion,' Exocad is committed to providing software solutions that work on a wide spectrum of devices and systems.
1. Fast and efficient
Our users save time with our robust, high-performance software that runs quickly. Even when processing large and complex cases.
2. Complex cases simplified
The cases are complex. But using our software is easy.
3. Flexible software, flexible business model
We offer flexibility and freedom through our modular and open approach.
Customers can select modules according to their needs, buy perpetual CAD software licenses or subscribe to the software at attractive rates.
4. Reliable
We focus on the details when developing our software. That's why Exocad products are known for their reliability.
5. Independent and innovative
Our open platform software puts our customers at the forefront of digital dentistry.
Our engineers and researchers continuously push the boundaries of dentistry.
6. Truly future-proof
We're the dental CAD/CAM software provider with a wide choice of integrated solutions using third-party scanners, mills, printers and materials.
We are always open to new ideas, ready to support today's and tomorrow's best innovations.
Global network
Exocad's software solutions are distributed by a global network of trusted partners. Equipment manufacturers choose Exocad for its open system technology platform, the smooth integration possibilities and the ease of use.
An extensive international network of resellers ensures that dental professionals worldwide can benefit from Exocad's software solutions.
And the direct relationship between Exocad users and resellers makes after-sales service – installations, training and technical support – easy to access.
Exocad from lab to practice
Exocad is the software of choice for leading manufacturers of dental CAD/CAM systems and dental professionals alike.
Our open platform makes integration with a wide range of hardware seamless and flexible. Our users simply select and activate add-on modules based on individual needs.
Exocad's portfolio constantly evolves based on the newest technology. Current applications for dental labs and practices include Dentalcad, Chairsidecad and Exoplan.
All Exocad software applications blend seamlessly together and can be built out of additional modules.
Users of the lab software Dentalcad choose from two different license modules: a subscription-based Flex License or a permanent Perpetual License with an optional upgrade contract.
Dentalcad – a powerful tool for experts and beginners
Exocad's Dentalcad is one of the leading dental CAD software with thousands of licenses sold each year.
Specifically designed for dental technicians, Dentalcad offers productivity, flexibility and the ability to create outstanding dental restorations.
From quick volume production to the most complex, customised solutions – Exocad's modular CAD software offers a wide range of possibilities. Thanks to Exocad's extensive portfolio of add-on modules, dental laboratories can easily and cost-effectively expand their range of services according to their needs.
Dentalcad at a glance
Versatile – broad range of applications
Robust – speedy operation even with complex cases
Consistent and logical – rich user experience
Freedom of choice – seamless integration with third-party production equipment
User-friendly – guided workflows in wizard mode
Comprehensive – combines multiple data sources.
Chairsidecad – single-visit dentistry made easy
For three years running, Chairsidecad has won the Cellerant 'Best in Class' award.
Chairsidecad is the first, completely open-architecture CAD software platform for single-visit dentistry. It's based on Exocad's Dentalcad lab software, renowned for its reliability and robust features.
Chairsidecad supports various indications, dental restorations and appliances. Users can upgrade it with numerous add-on modules. A wide range of intraoral scanners, production systems and materials are supported.
For cases not produced in the practice, Chairsidecad users can take advantage of the integrated communication platform Dentalshare to easily collaborate with labs of their choice.
Chairsidecad at a glance
Compatible – supports a large number of intraoral scanners
Versatile – wide range of indications for single-visit treatments available
User-friendly – guided workflows in wizard mode
Comprehensive – open library of production materials
Free choice – seamless integration with third-party production equipment
Expandable – add-on modules for supplementary features and indications obtainable.
Exoplan – inspiring excellence in guided surgery
Implantology is an integral part of modern patient treatment. With Exoplan, dental labs, dentists, implant specialists and surgeons are guided from implant planning to surgical guide design and manufacturing in one intuitive, digital workflow.
Exocad's integrated software solutions allow for seamless functionality across the digital workflow. In addition, Exoplan users can take advantage of seamless integration with Dentalcad, Exocad's OEM-branded dental CAD software.
Exoplan at a glance
In-house surgical guide production – with Guide Creator module
Free choice – comprehensive implant and component library
Accuracy – advanced alignment of scan data
Excellent usability – wizard and expert modes
Ultrafast – Exoplan's DICOM viewer
Secure – planning reports and surgical protocols.
Dentalshare – collaborate and communicate
Dentalshare, Exocad's next-generation collaboration tool, covers the full spectrum of multidirectional digital data transfer between clinicians, dental technicians and production centres.
Exchange, modify and review designs prior to production without any per-transfer fee or commission.
Dentalshare is fast and straightforward – enabling distributed workflows and efficient online collaboration. Send even large data sets.
All Dentalshare data exchanges utilise encryption technology.
---
For more information about anything on Exocad, visit exocad.com.